Garmisch rec center director fulfills goal of qualifying for Ironman
---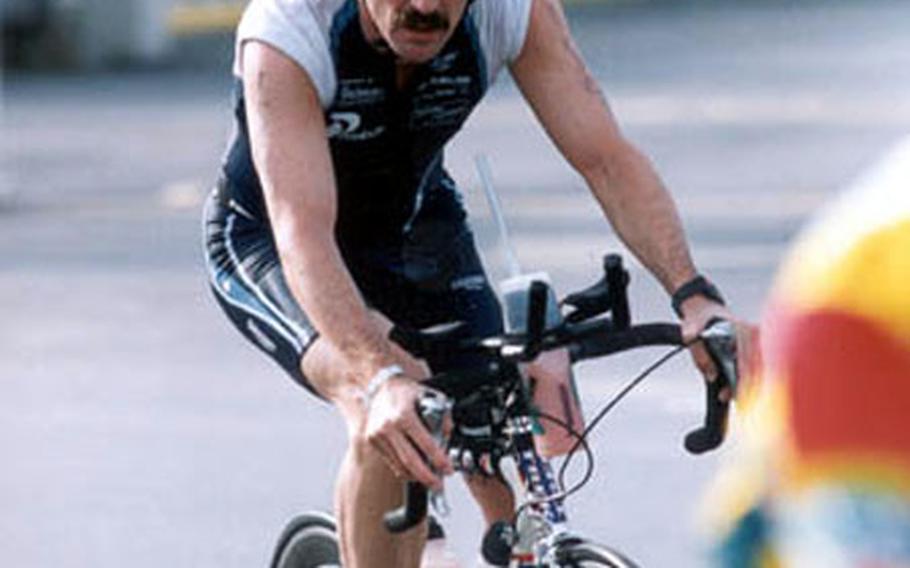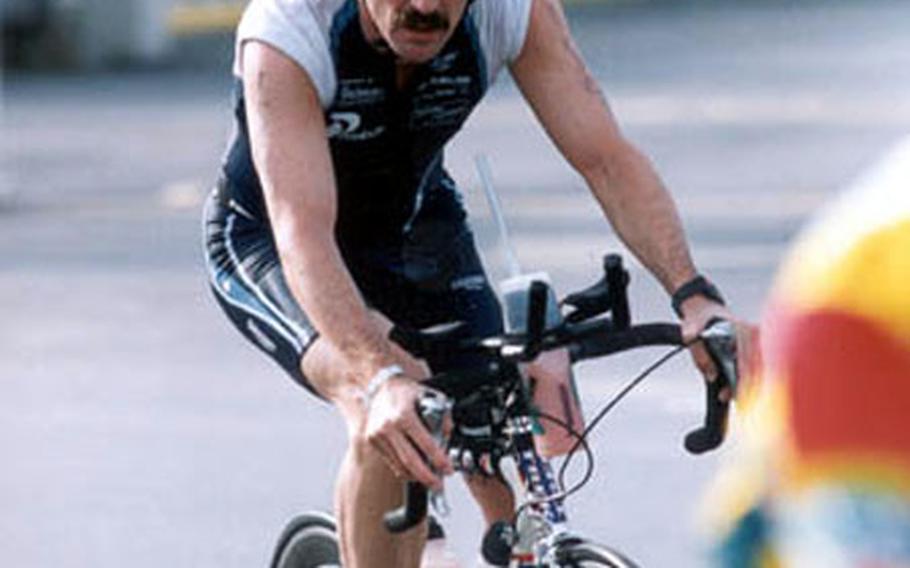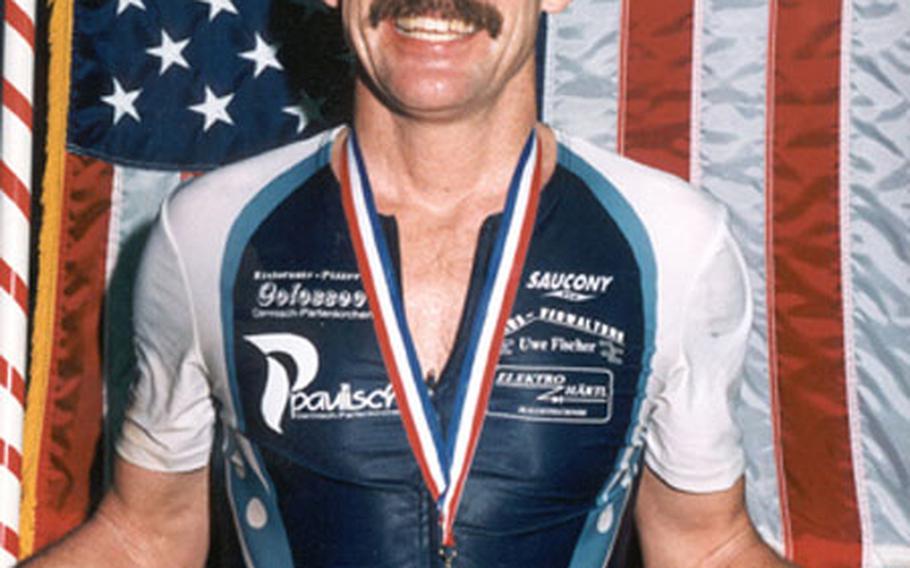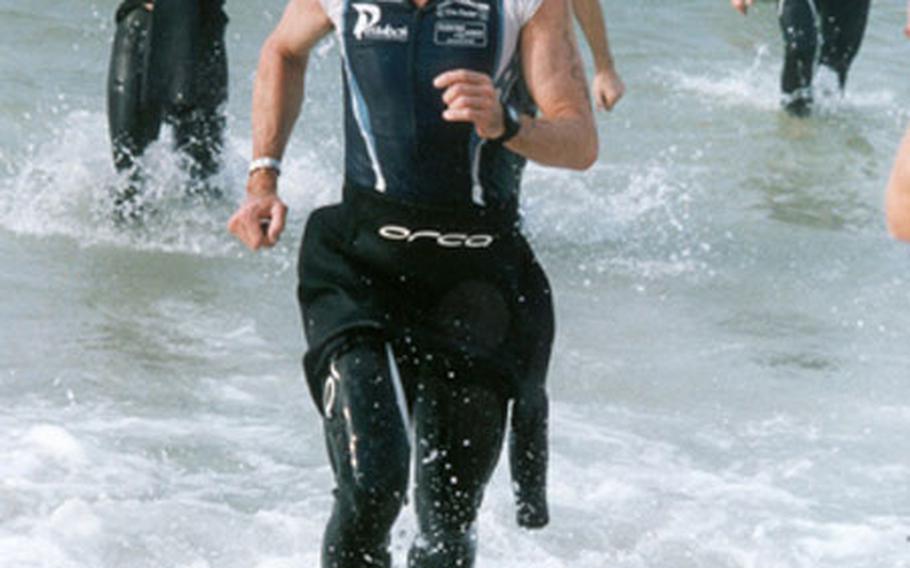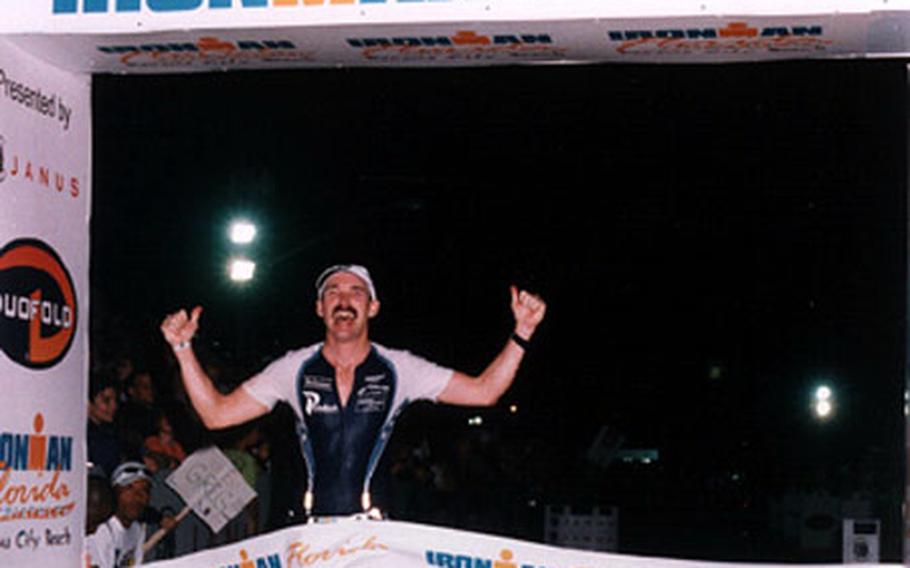 Standing beside the course at the Ironman Triathlon World Championships in Hawaii two years ago, Leigh Plowman decided he was cut out for something more than spectator sports.
He was right.
Next year, Plowman — recreation director for the Armed Forces Recreation Center in Garmisch, Germany — will return to the world championships — this time, as a competitor.
At the Ironman Florida triathlon in Panama City, Fla. on Nov. 9, he earned one of seven berths in his age group for next year's event.
Plowman said he got into the sport about 10 or 12 years ago, but took about a three-year break from training.
Plowman, a perennial U.S. Forces-Europe mountain bike and ski champion, cited the passage of years and a slight dose of middle-aged spread for his return to the punishing sport.
"I had just turned 40," he said Friday, "and I began to put on some weight. I decided to take up triathlon again."
Take it up and, as it turned out, take it seriously.
"I actually went to Ironman Hawaii in 2000," he said. "As I watched the participants go by, I began to think I could do it."
After that he ran in the Chicago Marathon.
"I figured I'd have to be able to run a marathon to go on in triathlon," he said.
His time of three hours and 13 minutes in the 26-mile event lit a spark.
Last month, the 45-year-old Plowman clocked a personal best time of 10 hours, 21 minutes, 46 seconds for the 2.4-mile ocean swim, 112-mile bike ride and 26.2-mile run in Florida.
The time, sixth-best in his 44-49-year age group and 165th overall, was good enough to put Plowman into the field at Kona, Hawaii, on Oct. 18, 2003.
"Since I first entered the sport, competing in that race has been a dream for me," Plowman said. "This was the perfect ending to my best season in the sport so far."
As is typical of endurance sports, Ironman Florida was a case of try and try-again.
"I had entered Ironman Switzerland in July and finished sixth there as well," Plowman said. "Unfortunately, there were only four Hawaii-qualifying spots available for my age group."
Plowman, a former high school quarter-miler and pole vaulter, said there are 3,000 athletes in his age group trying to claim one of the 100 berths available for Hawaii 2003. Thanks to his performance in Florida, one of 24 qualifying events held throughout the year all over the world, one of those berths in Hawaii belongs to him.
"Just being one of the top 100 is something I still can't believe," he said.
As usual, Plowman had to come from way back after the swim in Florida. He came out of a choppy Gulf of Mexico in 1:13, nursing stomach cramps and standing in 684th place.
"I had just swallowed about a gallon of seawater," Plowman recalled, "and I was worried about my nutritional program. You can't eat during the swim and you don't eat all that much during the run, so when you're on the bike you have to eat almost constantly. I had to decide whether to eat anyway and perhaps make it worse or wait and fall behind on my nutritional plan."
Plowman decided to eat, and began feeling better as he swung into his two strongest events.
"Once I was on the bike, I was in my element," he said about setting out on a course known for its flat terrain and fast times. "I don't have to kill myself on the bike, so I have plenty left for the run."
However, the same breezes that stirred up those three-foot waves in the Gulf also blew in 90 minutes of heavy rain during the bike race.
"Many of the riders were losing focus and slowing down due to the horrible conditions," Plowman said. "I figured, hey, I'm from Garmisch. Wind and rain is nothing new. At least it wasn't cold."
The rain let up during the marathon, but standing water slowed the runners.
"Looking back at the 3:47 marathon, it seems like a dream," Plowman said. "You get so involved in the task you can't feel the pain. With about three miles to go, I noticed that the end of my right shoe had turned red, so I figured I'd better hurry to the finish. My last two miles were the fastest of the race."
It was painful, Plowman said, but not damaging.
"Most of my body bounced back pretty quickly," he said, "but I did have a few toenails that weren't looking forward to getting into ski boots."
To prepare for next October, Plowman plans to participate again in the Bavarian Cup series of six half-triathlons in which he finished second last season, and perhaps a full triathlon May 17 at Lanzarote, Canary Islands.
"It's hot and windy, just like Hawaii," he said. "Plus, I'll have five months to recover before Hawaii. I might also do a spring marathon."
Plowman said he gets plenty of support from his family: wife, Dagmar, who looks after his nutritional needs, and daughters Anna, 9, and Sophia, 5.
He'll need them all in the coming months.
"The next year will be hard work," he said. "My training schedule calls for about 10 hours a week all winter and up to 20 hours during the summer. My dream is only half-fulfilled at this point. A strong finish in Hawaii is the next step."
---
---
---
---