Marksmanship AOY
Funk-led Panthers maintained reign of excellence
by
Gregory Broome
March 3, 2018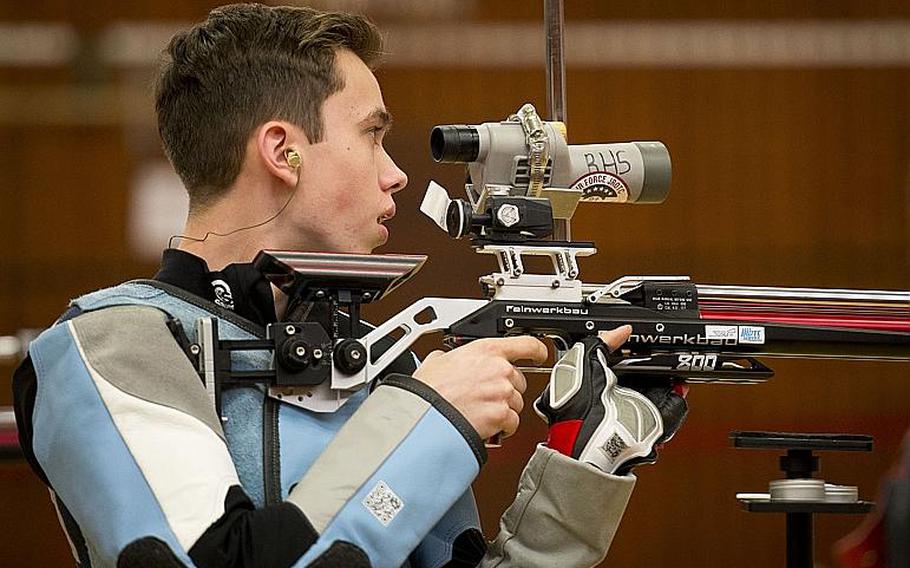 Stuttgart senior Callum Funk came into the 2017-18 DODEA-Europe marksmanship championship meet in something of an awkward predicament.
Funk had topped the European leaderboard throughout the winter, and therefore was a heavy favorite to do the same in the finals and complete his dominant final season.
But there was a flipside: his No. 1 status left only one direction to potentially travel when Europe's top shooters converged on Kaiserslautern for the decisive Feb. 3 meet.
"I can only lose ground," Funk said.
That scenario, however, will remain forever in the realm of the hypothetical.
Funk didn't lose ground at the season's final event. Instead, he confirmed his spot as DODEA-Europe's premier marksman, claimed the individual European title and led his Panthers to yet another dynasty-extending championship. Now, Funk is the 2018 Stars and Stripes marksmanship Athlete of the Year.
Funk admitted experiencing "a little bit of pressure" entering the championship meet, the culmination of a six-week DODEA-Europe marksmanship season. As a senior leader for a program that had grown accustomed to success, Funk said he felt "obligated" to perform up to his established standards.
In fact, he did even better. Funk said he wanted to shoot a 570 in the finals; he finished with a 574.
"I know I did a lot better than I was expecting," Funk said. "It came together today."
Though he outperformed his own expectations in the finals, Funk won the individual prize by just two points ahead of Panther teammate Isabelle Ploechinger. Teammates Eileen Dickinson and Fallon Dickinson finished just six points off Funk's winning total, completing a Stuttgart monopoly on the event's top four spots.
That was an appropriate end for a seasoned group of Panther veterans, also including Macy Kimball, that usually found its toughest competition within its own ranks. The consistent in-house challenges, Funk said, allowed the Stuttgart shooters to "develop all year" and secure a fifth straight European championship before most of that "core group" graduates.
"We've been together for a long time," Funk said. "We've gotten to know each other really well."
And that group's legacy, including Funk's wire-to-wire dominance in the winter of 2017-18, will be well-known in DODEA-Europe long after this group of Panthers move on.
Twitter: @broomestripes