Friends first, Okinawa rivals second
---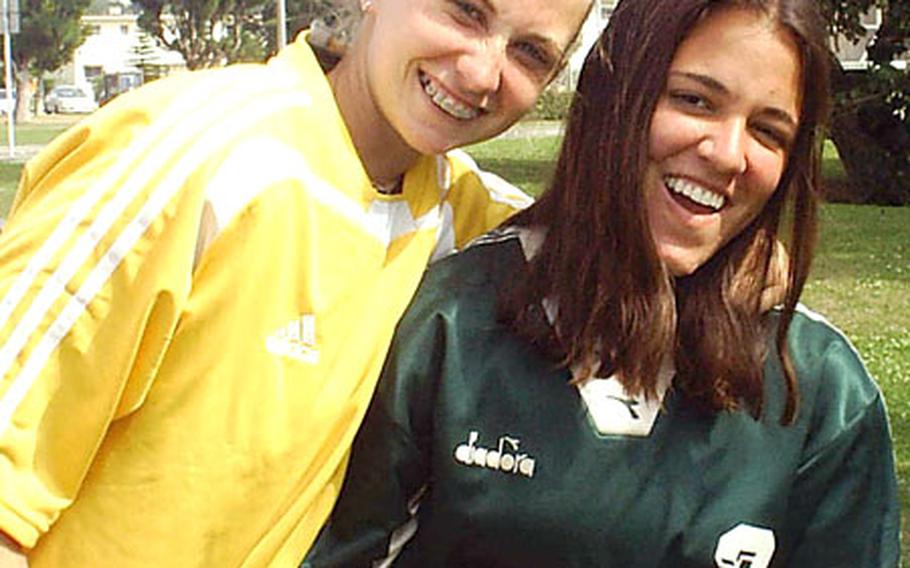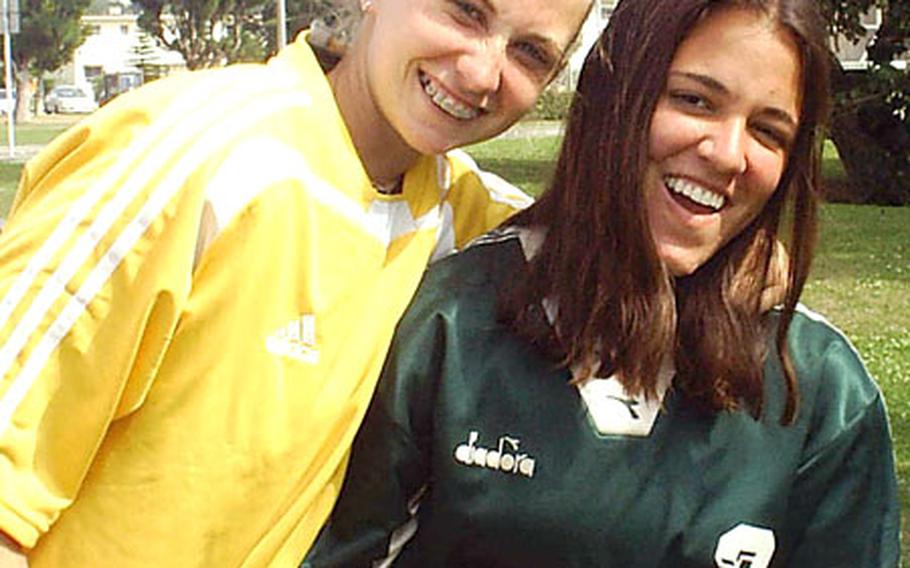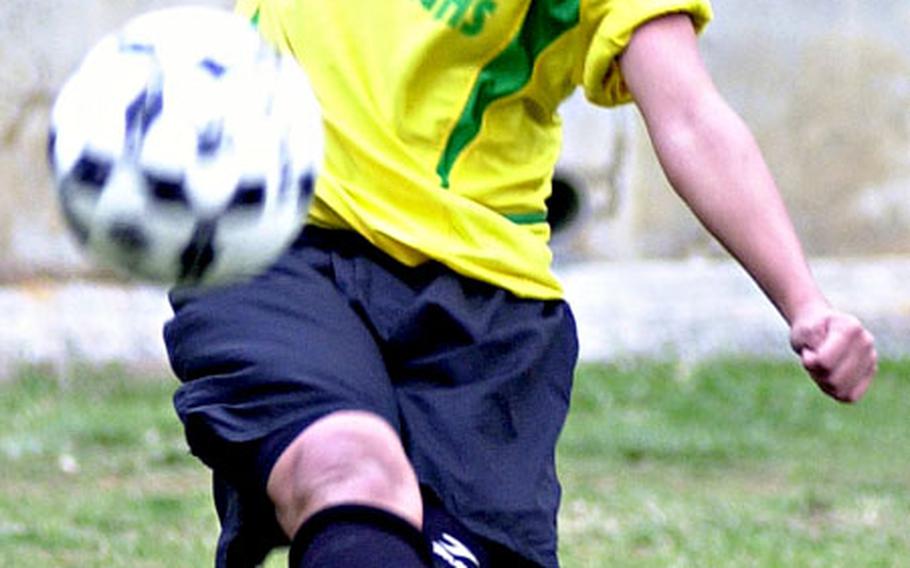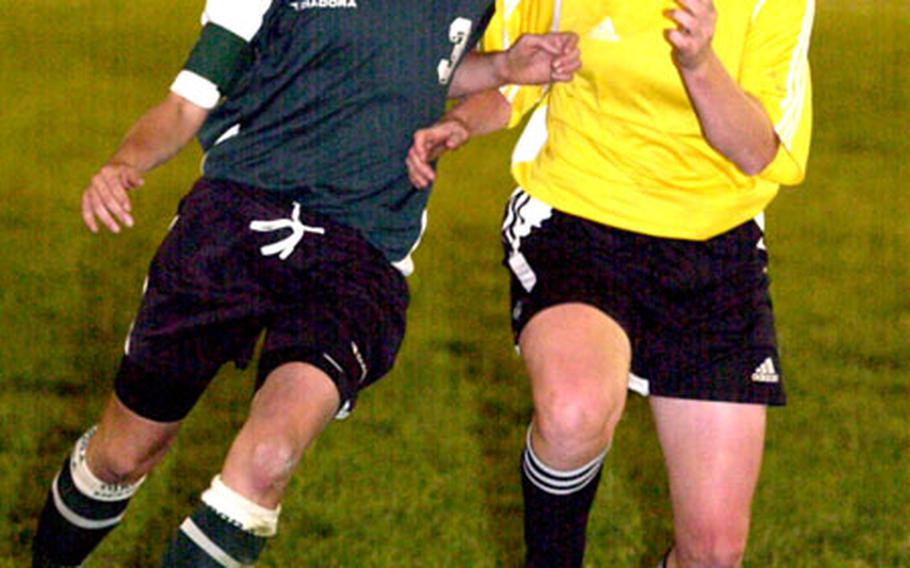 KADENA AIR BASE, Okinawa — At first glance, junior Dianne Abel and senior Erin Foote might appear the most inseparable of teammates.
They've befriended each other. They share wardrobes and dreams. They're both centerpiece players; both officiate youth games. Foote has accepted a partial scholarship to play at Winthrop; Abel says she might follow.
They even hope to become Department of Defense Dependents Schools teachers, perhaps returning to coach where they now play.
Which happens to be Okinawa arch-rivals Kubasaki and Kadena high schools.
The friendship gets shelved, temporarily, when they set foot on the field; there, they're about nothing but outdoing each other and their respective teams.
"People expect us to back down but I see more the black and gold [of Kadena uniforms] than the person" on the field, said Kubasaki's Foote.
"Whenever we step on the field," said Kadena's Abel, "it's all about the team, playing your best and helping the team win."
"We're alike," she said. "We're competitive. And we want the same things in life. We have the same ideas."
But a Panther chilling with a Dragon?
"We set the example," Foote said. "We show that it is possible for one of us to hang with somebody on the other team."
Awfully big of them, considering the acceptable way for students of the two schools to refer to one another involves tones of utter contempt, spoken with a hint of a hiss.
The schools are just five miles apart in southwest-central Okinawa, but Kubasaki is on a Marine base; Kadena, an Air Force base. On the fields of play, ardent supporters of Kadena's black and gold wrinkle their noses and squint on sighting Kubasaki's green and white — and vice versa.
"Until recently, we've been the only two schools each other has played," Foote explained, alluding to the growing number of Japanese schools they face during league play. "But even they don't come close to what it's like to play each other."
Only during Far East tournaments does that rivalry get pushed aside, when Kubasaki's players might cheer on the Panthers. "It's Oki pride from then on," Foote said.
Through it all, there are Foote and Abel, Abel and Foote. They watch Kadena play Kubasaki in softball, go to track meets, play video games, do homework, shop. They just hang out — often at each other's homes — that of Marine Master Sgt. Bill Foote on Camp Foster or Capt. David Abel on Camp Shields.
"Dianne probably has more of Erin's wardrobe in her closet than she does her own," David Abel said. "And vice versa."
The two also share strong soccer pedigrees.
Abel came into her own last season by scoring 34 goals and assisting on 19 as Kadena went 21-0, including 19 shutouts, allowing just three goals in winning the school's third Class AA championship.
"Her competitiveness, and always wanting to win," says Foote of what about Abel impresses her the most.
Foote, with 93 goals in her three-plus seasons, has three All-Far East selections, an MVP and two Class AA team titles to her credit.
"Her drive to be the best, which on the field makes me want to be better," Abel said of Foote. "She pushes me."
When Foote applied for a scholarship in the fall, Abel came along for virtually the whole ride, viewing the process from start to finish. Now, she's strongly considering following in Foote's steps.
"Winthrop is in my top three," she said of college choices.
Should they step on the field together as a "Pacific connection?"
Said Abel: "We know each other's strengths and weaknesses."
Said Foote: "It would be awesome. We play well together."
They have discussed plans beyond their playing careers, too. They've talked often about getting their teaching certificates, then applying to return to Okinawa and, in time, becoming coaching rivals at their current schools.
It could happen, Kadena coach Hoa Nguyen said.
"She'll be a better coach than I am," he said of Abel. "She's a much better player than I was at her age. She takes what I teach and makes it better. And Erin, she's a quick learner, she works hard and pushes everybody, gets them to work harder."
---
---
---
---