Freshmen fabulous in Kadena victories
by
Dave Ornauer
October 26, 2003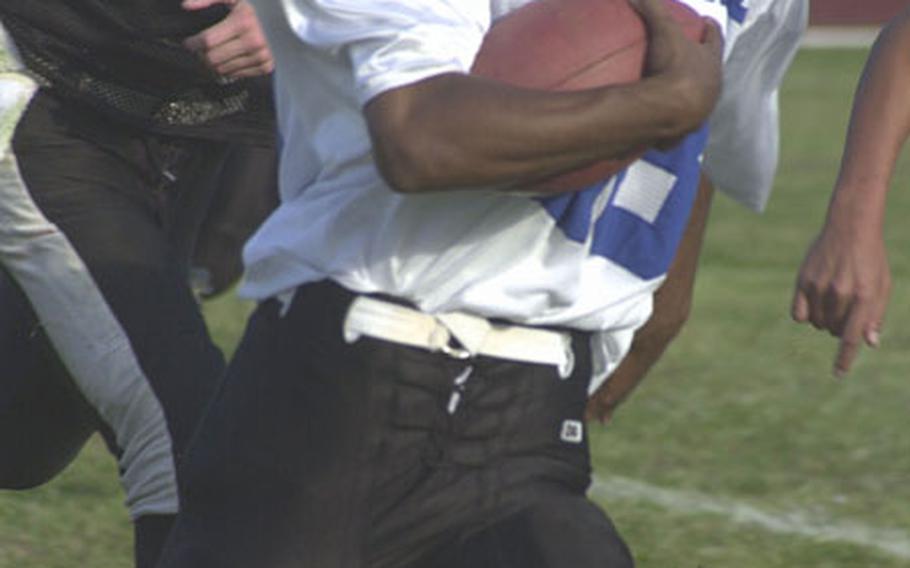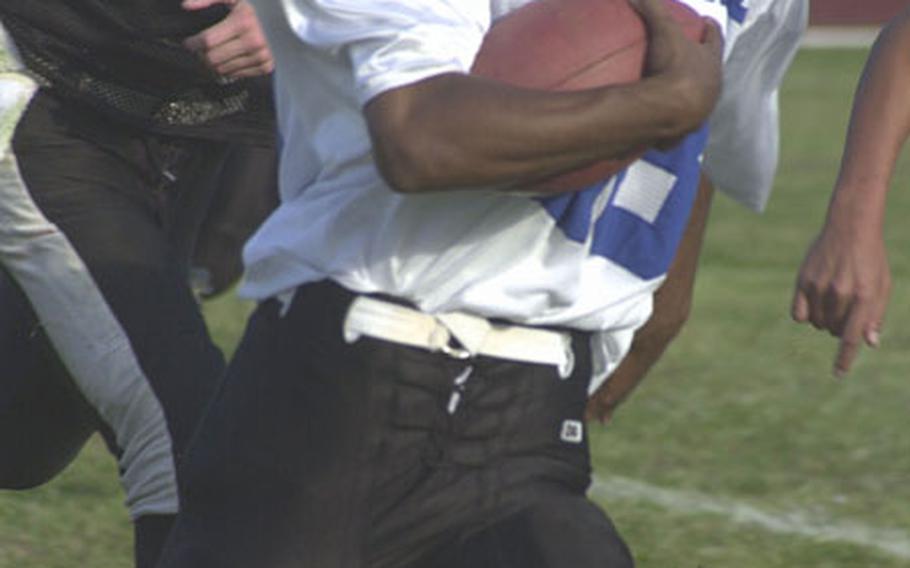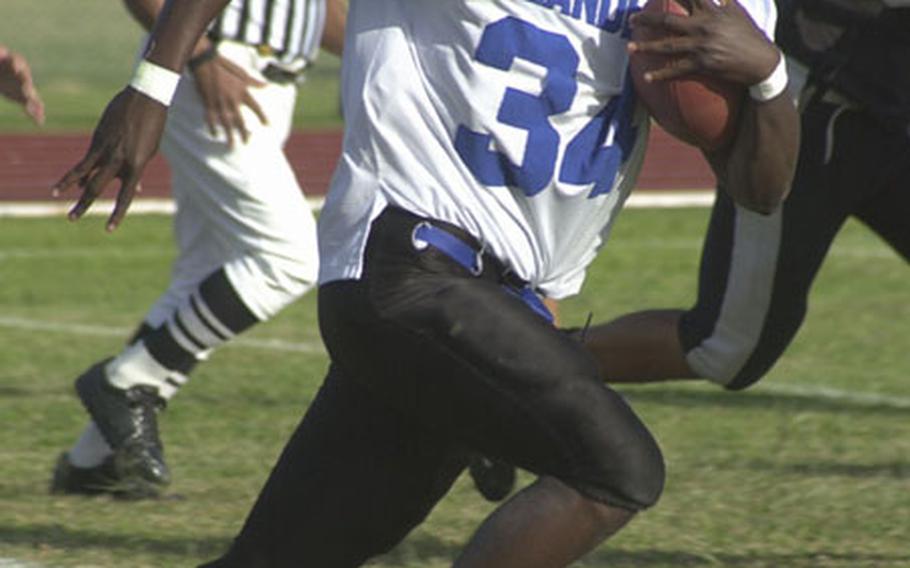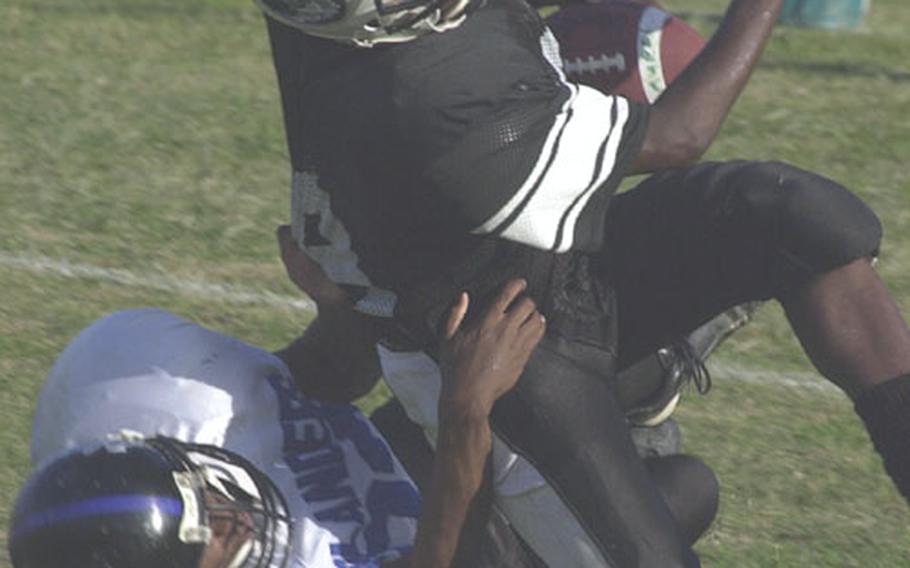 CAMP FOSTER, Okinawa — Homecoming at Kubasaki turned into kids' night out for Kadena's two football teams.
Freshman running backs Darnell Womach and Terrence Crenshaw rushed for a combined 207 yards and five touchdowns on 28 carries to power the Kadena Buccaneers past the Kubasaki Shogun 55-8 and the Kadena Islanders over the Kubasaki Samurai 68-0 in Okinawa Activities Council games Friday.
The Islanders (5-0) earned at least a tie for the top seed in the OAC playoffs starting Nov. 4 at Kubasaki's Mike Petty Stadium. The Bucs (4-1) stayed on their heels.
Kadena Buccaneers 55, Kubasaki Shogun 8
Womach rushed for 139 yards on 20 carries, scoring on runs of 1 and 9 yards for a Buccaneers team that played its second offense much of the way.
"He played awesome when he was in there," coach Brian Wetherington said of Womach. "We tried to set challenges for our team, to show what they can do, but the young kids are stepping up. My hat's off to them."
Upperclassmen also had their turn in the spotlight as senior quarterback A.J. Morgan piled up 247 all-purpose yards, running 57 yards for a touchdown, throwing TD passes of 19 yards to David Toa and 70 to Gary Wright and returning one of his two interceptions 33 yards for a score.
"He's a madman," Wetherington said of Morgan, who accomplished all that in just over a quarter of play.
Tyler Schmidt ran 3 yards for a score and threw a screen pass 18 yards to freshman Joshua Johnson for a touchdown.
The Buccaneers outgained the Shogun (1-5) by 407 yards to 130 and forced seven turnovers, while committing none.
The Shogun scored their first points of the season in four tries against Kadena teams, getting a 6-yard TD run from Ronnie Stevens in the fourth quarter.
Stevens amassed 114 yards of offense, quarterback Nick Leemaster accounted for 120, and Matt O'Neill had 97 all-purpose yards.
Kadena Islanders 68, Kubasaki Samurai 0
Crenshaw contributed touchdown runs of 3, 9 and 7 yards, finishing with 68 yards on eight carries as the Islanders handed the Samurai their worst defeat in team history.
"Crenshaw is the future," coach Sergio Mendoza said. "He has the best eyes I've seen in picking out a hole, and he just goes. He's going to be something to watch."
Mendoza spread the wealth, as six players scored touchdowns in the only game in the Pacific this season without a turnover.
Keith Loving led the Islanders with 120 yards on 10 carries, including touchdown runs of 26 and 24 yards on consecutive possessions as well as a 29-yarder to open the scoring.
Cole Maxey, who normally plays the line, had one carry for a 14-yard touchdown.
Fred Cook added a 1-yard TD run and David McCowan scampered 36 yards for a score.
Alex Berrios' completed one pass for an 11-yard touchdown to Arnold Tillman.
The Islanders held a 310-3 advantage if yardage over the Samurai (0-5), who dressed 16 players, finished with 14, and never crossed midfield.
Next up for the Bucs and Islanders is a Thursday showdown to determine the top seed in the playoffs, which culminate in the island championship Nov. 8.
The winner earns a berth in the Rising Sun Bowl on Nov. 15 when the Japan Football League championship is up for grabs.
"We need to execute better," Mendoza said. "Next week will be the real test. But they're progressing more than I though they would."
"The talent's pretty even. It will probably come down to coaching," Wetherington said of what he calls the "game of the week."