Freshman's speed, space-making have been key for Kubasaki
---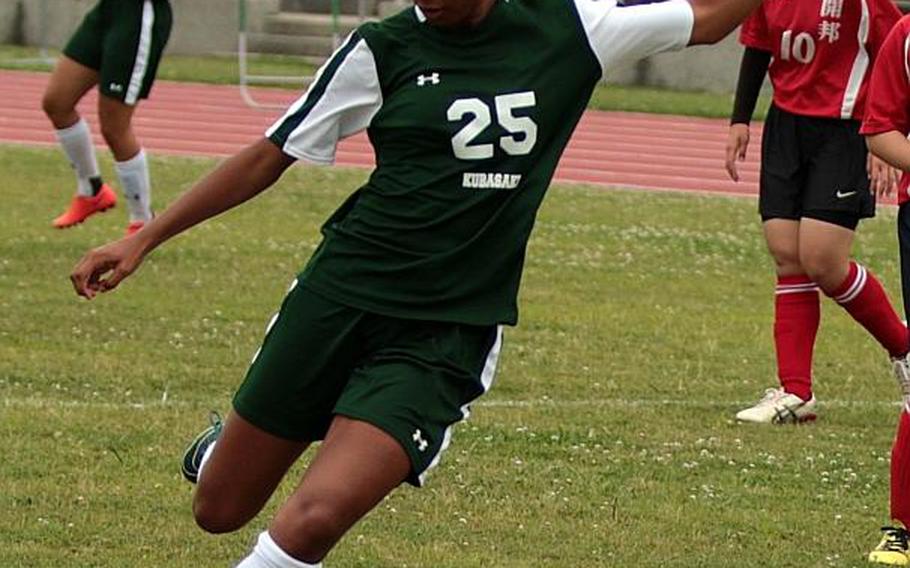 CAMP FOSTER, Okinawa – It's not so much the goal total, though that does speak high-scoring volumes for Myca Ingram.
Teammates marvel at how she gets open and finds space to create scoring opportunities and finish them off.
The freshman, a recent transfer from Mission Vista High School in Southern California's Oceanside area, has become the latest in a long line of scoring weapons to adorn the lineup of two-time Far East Division I Girls Soccer Tournament champion Kubasaki.
Of her team-leading 20 goals, 14 have come either with Ingram having knifed directly in front of the net or weaving between defenders and making a long run toward the net.
It's a major reason why the Dragons have a 9-1-2 record this season, including a 2-0-1 record and the Okinawa championship against island rival Kadena. And teammates, coach and opponents have clearly taken notice.
"I've never seen anybody as fast as Myca," said Kubasaki sophomore goalkeeper Lexi Klimek, who, like Ingram, has played since she was a child. "She's able to outrun defenses, even with the ball. She is that good."
"She brings this fire, this positive energy" to the team, said junior midfielder Alexis Townsend, the 2014 D-I Tournament Most Valuable Player.
"Myca can leaf through multiple defenders, she can shoot from farther out, she's there to clean up loose ends; if we have a shot and there's a rebound, she's there for it; we didn't have that in the past."
Ingram credits her scoring to a combination of being in the right place at the right time and having teammates who can get the ball to her in open spaces.
"I think I'm just good at being where I need to be, making it easier for the team to get the ball to me," Ingram said. "I guess it's just natural ability."
Ingram inherits a legacy of high-scoring center-forwards who've served as centerpiece players for a team with the most titles in Far East Division I Tournament history: six.
Among that lot was Erin Foote, Class of 2005, Kubasaki's career goal-scoring leader with 146 who helped the Dragons to D-I titles in 2002 and 2003. Liz Fabila netted 112 goals, 100 in her first three seasons before moving to center-mid and boosting Kubasaki to the 2012 title.
Marissa Mesquita moved into Fabila's center-forward spot as a freshman in 2012, won three D-I titles in four seasons with the Dragons and graduated last spring with 73 career goals.
Ingram's parents would put her in "all the sports" as a youth in California, starting from age 8. By the time she was 12, she said, she realized that her favorite sport was soccer.
"I was good at it," she said. "It was a sport where I could really exert my speed that I had. In other sports, I found that I wasn't using my speed, so I stuck with soccer."
More and more back then, Ingram said, her teammates would send the ball through opposing defenses and she would be the one to track the ball down and stuff it into the net. "I would be the only one who could run up, get it, make a play off of it," she said. "It's natural for me."
But now as then, Ingram says, goal scoring doesn't come without passing from teammates.
"I can't really give myself all the credit," Ingram said. "It's about all 11 people out there. … If I have one goal or seven, as long as we've won, I'm happy."
Ingram's ability to create openings and get past multiple defenders is "something that's rare in a lot of players," Dragons coach Saleem Malik said.
But Ingram herself has four assists, and Malik says that while the team knows Ingram is the one who butters the bread, the Dragons play unselfishly which helps lead to more scoring and wins.
"I think that shows," he said. "We do distribute the ball. We do practice passing and sharing. We're not a selfish team. That's the best thing about the team this year. None of them are selfish. I love it. It's great that they move the ball around and find different people to score.
"It's about winning matches, but more importantly, it's about the girls playing exceptional soccer together as a team," Malik said.
"I just know I need to get (the ball) into open space for her to run onto it," Townsend said. "I know if I get it to her feet, she can make something happen."
A third straight banner for Kubasaki would be the nicest thing that could happen, Ingram said. "I'm really excited for Far East," she said.
ornauer.dave@stripes.com
Twitter @ornauer_stripes
---
---
---
---