Far East football
Four teams, two rematches, two titles up for grabs
by
Dave Ornauer
October 26, 2017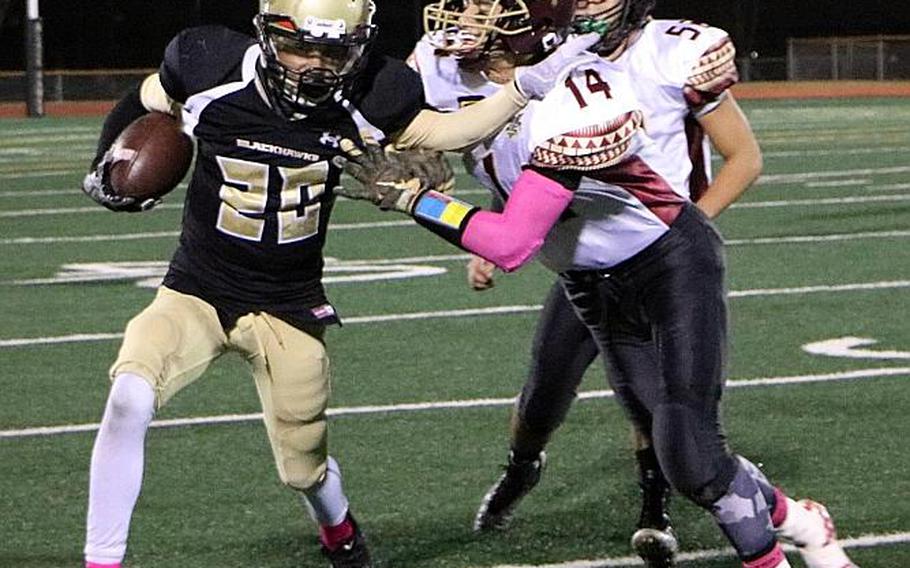 An air of anticipation hangs over Yokosuka Naval Base in Japan and Korea's Camp Humphreys because the local high school is venturing into uncharted football territory.
Nile C. Kinnick and Humphreys are hosting Far East divisional football title games for the first time in their respective schools' histories. And for the first time since the Far East playoffs began in 2005, both division games feature teams that have already faced each other this season.
Kinnick hosts Kadena, whom the Red Devils beat 45-40 on Sept. 30 at Yokosuka, at 4 p.m. Saturday. Two hours later, defending champion Matthew C. Perry visits Humphreys; the Samurai beat the Blackhawks 20-10 on Oct. 15.
"There's definitely a buzz around base," Kinnick's eighth-season coach Dan Joley said. "But it's more like let's finish this. We've got this ball rolling; now, let's get the job done."
Of all the schools playing for titles, Kinnick is the oldest, having opened its doors in the late 1940s. Joley said he's looked back on that history and has even received e-mails from players and people stationed at Yokosuka in the 1960s, '70s and '80s.
"We're excited to be a part of that history and in this game," he said. "It's nice to feel that support from them."
The Red Devils (8-0) square off against a 5-2 Panthers team that's very much used to the D-I finals spotlight; this is their Pacific-record 10th title-game appearance and they hold a record five titles.
The two teams played a back-and-forth showdown on the same turf 28 days prior to Saturday's final, a game that featured 13 touchdowns, 910 yards total offense and five lead changes on five straight fourth-quarter possessions.
"They're good on both sides of the ball," Kadena coach Sergio Mendoza said. "They're well coached. They're certainly one of the better Kinnick teams I've seen. Their offensive line is better than people realize. They've been coached well."
Kinnick has outscored its last three opponents 180-6. Senior quarterback Kacey Walker has been the triggerman on offense, accounting for 1,220 yards and 18 touchdowns.
"He's making a lot of big plays," Mendoza said.
Saturday is a whole new game, though, the coaches said.
"We have to keep firing on all cylinders," Joley said. "Our offense is running in high gear. But we need a couple of big stops, big plays (on defense) to get the ball back. If we hold serve on defense, it could be a different outcome."
Kadena has had two weeks off prior to the game. "We're hoping that pays off for us," Mendoza said. "We have to do better on defense and better in the offensive and defensive lines."
Humphreys needs to execute in a quest for its first D-II title and avenge last year's 44-6 finals loss at Perry.
"That's been the word of the week," Blackhawks second-year head coach Steven Elliott said. "We need to execute what we practice and execute during the game with perfection. They're good at what they do. If we don't execute, it's going to be an uphill battle."
There's a vast difference, Samurai coach Frank Macias said, between the 2016 finals blowout and the contest the teams played on Oct. 15.
"We were fortunate to get out of there with the win the last time," Macias said.
All four finals coaches said it was a blessing for each to get a preview of their finals opponent during the regular season.
"It gave us a chance to see our deficiencies, what we have to do to get better, and their strengths," Macias said of Humphreys. "They're a good team. We're going to have our hands full. They have a ton of weapons. Their coaches are doing a fantastic job with them."
Perry has weapons of its own, and it might come down, Elliott said, to taking Samurai quarterback Garrett Macias out his rhythm.
"If we can disrupt his flow, that's going to be key to stopping their offense," he said. "They executed almost flawlessly. They're well oiled."
For the Samurai, it will take a "stellar" effort on defense and special teams, Macias said. "If we take care of business … I like our chances," he said.
ornauer.dave@stripes.com
Twitter @ornauer_stripes
---
---
---