Former All-Marine wrestler Harper conducts clinic at Kubasaki
---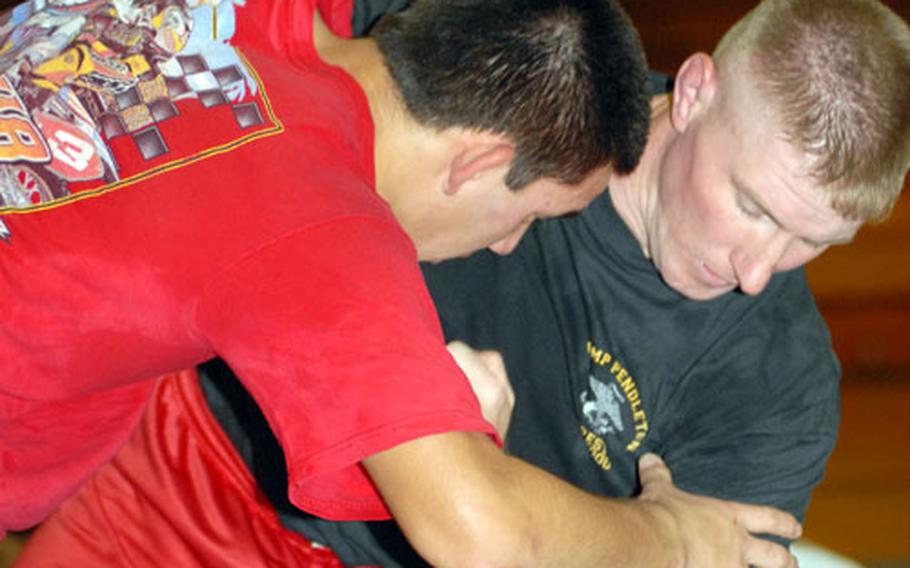 CAMP FOSTER, Okinawa — Fifteen Kubasaki High School wrestlers learned a bit about conditioning and technique during an almost non-stop 2-hour clinic Friday evening at the Dragons' Den under the watchful eye of former All-Marine coach Chad Harper.
Harper, 31, a two-time All-American at Indiana University, conducted a clinic Friday and Saturday touching on all aspects of wrestling but focusing on getting in shape and attaining a wrestling mind-set.
"It's not just how much you learn here, but how hard you work," Harper told the students.
Parents of wrestlers who played football this fall recommended Harper to Kubasaki coach Terry Chumley.
"I'd love to give the kids a good workout and give them that mind-set," said Harper, of South Bend, Ind., a first lieutenant with Headquarters Battalion, 3rd Marine Division at Camp Courtney.
He said he liked what he saw of Chumley's charges. "They have a good work ethic, good attitude and open minds. I think they'll do fine."
That judgment is backed by more than two decades of wrestling and coaching experience. A wrestler since age 5, he's been on teams in high school, at Indiana University and the Marine Corps, for which he was on the All-Marine team for three years. He coached the Marine Corps varsity team at Camp Pendleton, Calif., from 1998 to 2000, then the All-Marine team the next two years.
Harper "brings a wealth of experience and a strong desire to help us out," Chumley said. "We very much appreciate his time out here, absolutely."
Friday's session touched mostly on conditioning, with a variety of drills that left almost all sweat-drenched and exhausted.
Harper and Chumley put the wrestlers through exercises designed to hone their conditioning.
Harper put the wrestlers through the "McFlurry," in which the grapplers began by slowly circling each other in stance. Then Harper would call, "McFlurry!" and the wrestlers would circle more rapidly.
"That's pretty tiring and you might get a headache a little," Harper said after the "McFlurry," which left some of the wrestlers winded.
"You ain't lyin'," said senior 180-pounder Ricky Jones.
Replied Harper: "But you understand how important it is to remain in your stance and circle."
Then he showed them how to better learn various moves by drilling at half speed. "Going 50 to 70 percent to get the feel of a move without going at full speed. Working smarter," he said.
The Dragons have 20 Far East tournament team championships to their credit. But this year's defending champion is Kadena, the Dragons' Okinawa island rival — and Harper was willing to help the team prepare for a shot at reclaiming the title.
The Friday session concluded with a grueling bout of "shark wrestling:" Wrestlers were grouped in fours and took turns wrestling each other. Two combatants grappled for 1 minute each — and those waiting to wrestle remained in pushup position.
"It's a bit exhausting. I thought some of those were never going to end," said senior Matt Maza, the 2005 Far East tournament 129-pound gold medalist.
"But this gives us an edge."
---
---
---
---