For Yokota's volleyball team, a spike in the win column
by
Dave Ornauer
September 30, 2004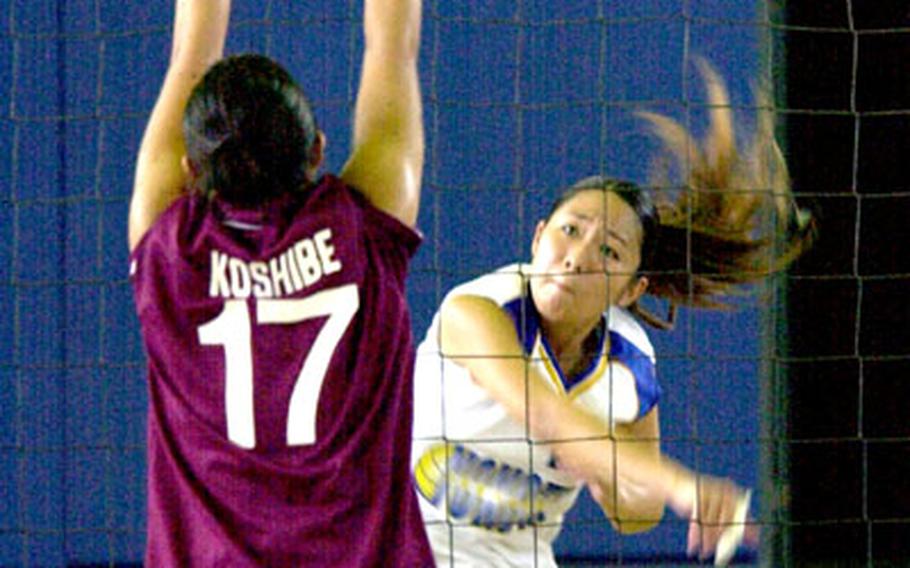 Though the players are pretty much the same, the difference in Yokota's volleyball team from last year to this season is night and day.
In 2003, the Panthers muddled through a 7-11 regular season, then went winless for the first four days of the Far East High School Class AA Tournament. They finally broke through on the fifth day, in their last match, to finish 15th in a 16-team field.
Look at them now.
The Panthers streaked to an 8-0 record — the best in school history — sweeping three Japan Volleyball League matches with Edgren and the two-match season series with Zama American.
The winning streak ended Saturday with a four-set loss to Seisen International. But Seisen had to work for it, winning 26-24, 25-16, 24-26, 25-19.
"They've been playing super good," Yokota coach Bonnie Seeley said. "The fans are loving it. Even when we lost, everybody was coming up to me and saying, 'Now, that's some volleyball.'"
Given that six members of last season's team are on this season's squad, why the turnaround?
This year's team has more maturity, experience and chemistry, said captain and setter Darlene Seeley, the coach's daughter.
"They all witnessed the harm done last year with the attitudes," Bonnie Seeley said. "We've gone over and over how important it is to have a good attitude and keep the melodrama out."
"We had the talent last year," said Darlene, who posted 167 set assists in the team's nine matches this season. But this year, she said, "we really have good personalities on the team. Everybody gets along. We try to leave all that outside stuff outside the court."
A far cry, Bonnie said, from last year's discontented lot that was "arguing on the court from the get-go."
From the first day of practice, the coach said, the concepts of "good attitude" and "no drama" have been drilled into the players.
Having six seniors, including Seeley, middle blockers Shawna Vitarbo, Rachel Wright and Andrevia Thomas and outside hitter Jonica Childress, was of great help, she said, along with junior Shiori Kaneko.
"We're determined not to let anything take us down because we have so much potential," the coach said. "They're working hard, not just on the court, but in all aspects of being a teammate."
"If one person's upset, then everybody's upset and it radiates" among the rest of the team, Darlene Seeley added. "If we all get along, everything works well and that's happening this season."
Other coaches have noticed, including Sarah Richardson, who has coached Edgren since 1990.
"They have so much confidence on the court, and that's something you just can't give kids," Richardson said. "They hustle and move. You seldom find any of them standing around. I think they'll be a force to reckon with at Far East."
The Class AA tournament is six weeks away. But the Seeleys exude confidence that a far different Yokota team will compete in Far East this year.
"We're saying we're good enough to finish in the top whatever number," the coach said. "Yokota's going to be up there this year."
"We can really excel at Far East," her daughter added. "You won't see a 15th-place finish. Not even close."