For Seoul American's Tunis, practice makes perfect
---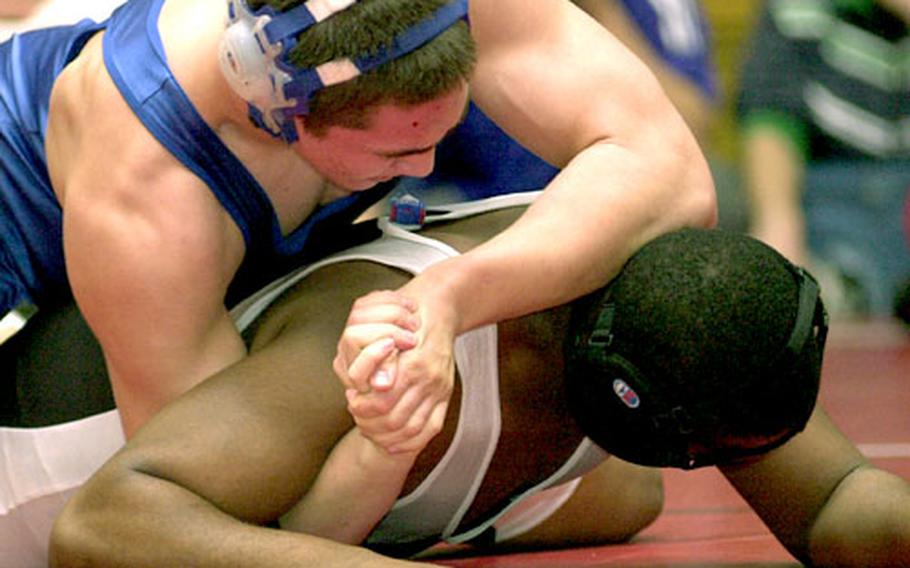 Scott Tunis' experience entering last year's Far East High School Wrestling Tournament was four dual-meet bouts against Osan American.
He still won the 180-pound class and led Seoul American to its first dual-meet team crown.
Tunis appears to be looking for a repeat performance this year.
The senior suffered an injury during football season that kept him out of action until the Kinnick Invitational on Feb. 5. All he did there was win the 215-pound class, beating a fellow defending Far east champion, and earn Outstanding Wrestler honors.
According to Tunis and Seoul American coach Julian Harden, Tunis simply substituted mental preparation and motivation for on-mat experience.
"All hard work, work on finesse and wrestle in the practice room to keep up endurance," said Tunis, who will seek another gold medal in this week's Far East tournament at Yokota Air Base, Japan. "That's all I've been doing, keeping motivated and working hard. ... It worked last year, and it's working again this year. I didn't expect all this, but I've won."
"I've had very few guys with his mentality. He has an excellent work ethic, a willingness to learn and he listens," Harden said. "He has an ability to self-motivate. He's not satisfied with what he did before, when he realizes he can do so much more."
The senior's success comes despite having minimal in-season league competition.
Mental preparation and motivation help counter the toll that long waits between matches can extract, say Harden and Tunis.
"You can't really take it easy," Tunis said. "You have to keep going. I don't know what the competition is going to be like."
But he does know "there are guys who want to get back at me," Tunis said. "They want the gold; they're going to try to beat me. That makes me work harder."
Harden's practices are well-salted with two clichés, he says:
If better is possible, then good is not enough. Tunis "is very good about critiquing his own shortcomings," Harden said.If you always do what you've always done, you'll always get what you've always got. "You can't keep working the same way you did before," Harden said. "Attain a goal and move on. ... What you did before might not work the next time."Harden challenges all his wrestlers to build their abilities by doing a few things well at first, then adding from there — tactics he says he picked up from two of the Pacific's major programs, St. Mary's International (six Far East titles) and Kubasaki of Okinawa (18).
One learns "two or three ways to take somebody down, turn somebody over and not get turned over," Harden said. "If you master those options, you know what to expect."
Getting on-mat time with opponents is nice, Harden said, but winning "doesn't take wrestling 20 or 30 guys from around Korea. It takes working on things again and again. We proved that last year. And we'll try to prove it again."
Tunis cut his wrestling teeth under coach John Hohenthaner, at American School In Japan middle school.
"He was a scrawny little thing," said Hohenthaner. But "he's become an accomplished wrestler."
Tunis's older brother Alex "had a great work ethic and Scott just sort of inherited that," Hohenthaner said. "Julian has done a good job with him. He wanted to be a good wrestler, and Julian brought him along. Preparation, staying in shape and drilling, drilling, drilling."
Among the results: downing David Burnett of Zama American, last year's Far East heavyweight champion, 8-1 in the 215-pound final at Kinnick.
"The kid wrestled well on his feet and kept moving," said Jordan Collins, who wrestled for Harden in the mid-1990s and now is an assistant for Okinawa's Kadena Panthers. "He's got a tremendous amount of athletic ability, and he doesn't make stupid mistakes. Scott saw his openings against Burnett and he never seemed to tire in a physical match."
As to this week's Far East tournament at Yokota, Tunis knows he and his Falcons teammates will enter Capps Gym with a bull's-eye on their backs.
"I don't really like it," Tunis said of such visibility, but "I can't feel intimidated ... or something will happen on the mat and I won't do well. I have to keep focused ... and do the best I can."
---
---
---
---