For Pacific wrestlers, Kinnick's "Beast" is becoming a thing of beauty
---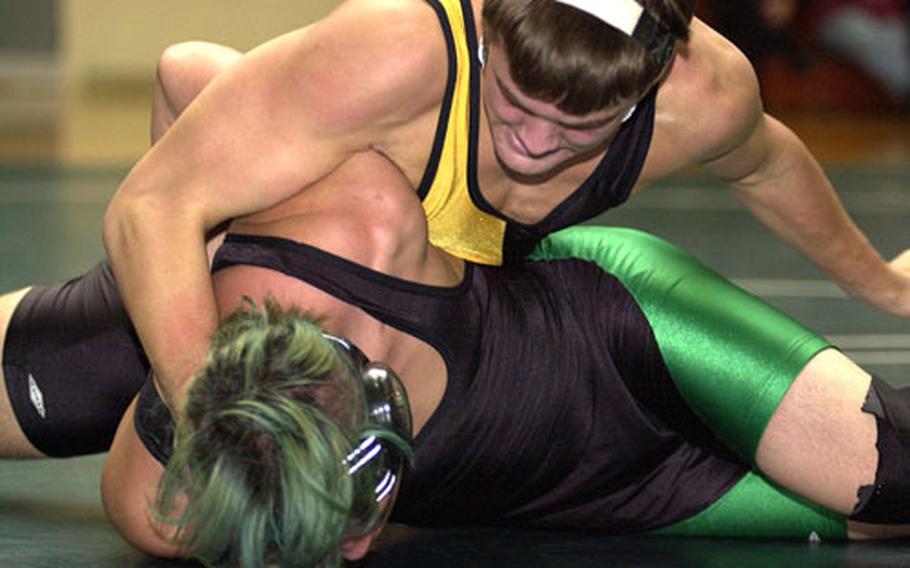 For the DODDS-Pacific crowd, Saturday's Nile C. Kinnick Invitational "Beast of the Far East" Wrestling Tournament serves as a scouting mission, skills builder and confidence booster for the DODDS Far East Tournament later this month.
But for the international schools, no longer a part of DODDS-Pacific's Far East Tournament, the Beast becomes their unofficial Far East championship.
For both groups this year's Beast has grown in importance and stature. It will welcome eight DODDS and five private schools, all regular players in past Far East Tournaments, in a one-day battle of skills, challenges and a new type of rivalry.
"It's the best possible competitive tournament, with everybody there," said coach Steve Schrock of Okinawa's Kadena Panthers. "We just can't call it 'Far East.'"
From their inception in 1976, DODDS' Far East wrestling tournaments have included international schools among competitors. But in September, DODDS-Pacific's Far East Activities Council announced that due to concerns about billeting and available facilities, Far East tournaments no longer would be open to those schools.
That leaves teams such as St. Mary's International, with six Far East titles, and American School In Japan, with four, on the outside looking in — and viewing the Beast quite differently.
"I would think they're looking at it as their Far East," said Beast organizer and Kinnick head coach Robby Rhinehart. "They won't get to compete again against the other schools. This is their focal point, probably, for the season."
Rhinehart said "some people are saying" privately that it's an "unofficial, real" Far East championship. While believing that international schools bear no hard feelings, he said, "I think there's a little more motivation on their part. And I would say on the DODDS schools' part, too. We don't want to give them any bragging rights.
"Far East is still Far East, as far as I'm concerned," he said. "But I'd be a fool not to recognize the importance of this tournament."
For starters, every school that has won a Far East team title is in the Beast field. And there are nine previous Far East individual weight-class champions, including three-time champion Zolboo Enkhbayar of Brent International-Subic, the only two-time winner of the Far East Tournament's Outstanding Wrestler award.
DODDS-Pacific coaches benefit from scouting their Far East Tournament opposition a couple of weeks in advance, while wrestlers get to improve their skills.
Coach Julian Harden of defending Far East dual-meet team champion Seoul American calls it a "steppingstone to get us ready for Far East."
Said Yokota coach and Far East Tournament organizer Brian Kitts, "You get to see the three [Class AA] schools that will be at Far East: Kadena, Kubasaki and Seoul American. You can see what other Japan schools have. It's always great to see the other lineups and how you do against international schools."
Harden's Falcons will bring just three wrestlers, each of whom placed in last year's Far East: Chris Steuerwald (122 pounds), John Crabtree (135) and defending 180-pound titlist Scott Tunis (215). It's their first look at somebody besides Osan and Taegu American, their only opposition in Korea.
"This will give them a chance to see where they're at, what they need to work on, moves that can be done in succession, conditioning, whether they can go three or four bouts," Harden said. "We hope to answer those questions with this tournament. It's win-win for us."
A young team such as Kitts' Panthers gains "valuable experience" at the Beast, he said. "Every day we tell the kids ... whenever you wrestle against a St. Mary's, you improve 10 times because they're so good. Even if you lose, you improve."
St. Mary's, which won the Far East individual freestyle team title last year, enters the Beast as the favorite.
"They've won everything [this season]. They don't have any weak spots," Rhinehart said. "Even their JV kids are tough."
Three weight classes — 135, 168 and 215 — each will include two previous Far East weight-class winners.
Two-time champ Mark Striegl of St. Mary's could face 2002 Far East 101-pound champion Brenden Stanford of Kadena at 135.
Defending 158-pound champion Joey Wood of Kinnick could wind up battling 2004 168-pound champ Devon Copeland of Kadena.
"I'm looking forward to that," Copeland said. "I just need to work my moves and bring the intensity. It'll be a good match."
And last year's Far East heavyweight champion David Burnett of Zama could drop to 215, where he might face Tunis. Also in the mix: sitting 215-pound runner-up Paul Haecherl of Kubasaki and Yokota's unbeaten Jim Scott.
"You might see the best wrestlers at Far East come out of 215," Kitts said. "That's going to stand out this year."
Then Enkhbayar could make the 148-pound weight a race to see who finishes second. "Zolboo is so good," Kitts said. "If you get second to him, no matter what the result, you've got something to be prond of."
That Enkhbayar and other international school talents won't be in Far East left Copeland and Stanford with mixed feelings.
"It won't be the same without them," Copeland said.
Far East, Stanford predicted, "will be less spectacular;" private schools "bring a lot more moves."
But the "Beast" should provide the DODDS-Pacific schools a "good gauge" of how they stand entering the Far East Tournament, Kitts said.
"You're almost going to be able to tell who's going to win at Far East and who's not. I can't wait to see it."
Rhinehart agreed.
"Some teams have an advantage in an all-DODDS tournament but throw more teams in and it can really change things," he said. "I want to see what happens in a big tournament. I'm excited about this."
"Beast of the Far East"
WHEN: 9 a.m. Saturday, Feb. 5.
WHERE: Yokosuka Middle School, Yokosuka Naval Base, Japan.
WHAT: Invitational tournament among eight Department of Defense Dependents Schools-Pacific and five international and missionary school teams that have competed in DODDS-Pacific Far East Tournaments since they began in 1976.
SCHEDULE: Weigh-in, 7 a.m. Wrestling, 9 a.m. until conclusion. Closing ceremony 10 minutes after final bouts end.
FORMAT: Modified single-elimination championship bracket and consolation bracket. Each team may enter one wrestler per weight class. Top four finishers score points for their teams.
PARTICIPANTS: DODDS-Pacific: Yokota, Zama American, Robert D. Edgren, Nile C. Kinnick and E.J. King of Japan, Kadena and Kubasaki of Okinawa, Seoul American of Korea. Private: St. Mary's International, American School In Japan and Christian Academy In Japan of Tokyo, Brent International Subic and Faith Academy of the Philippines.
NOTEWORTHY: Nine former DODDS-Pacific Far East tournament individual weight-class gold medalists will compete, headlined by Zolboo Enkhbayar of Brent-Subic, a three-time gold-medalist and the only two-time Outstanding Wrestler in Far East tournament history. He returns at 148 pounds. Zama's David Burnett (215) won at heavyweight last year; Seoul American's Scott Tunis (215) won at 180; Kadena's Devon Copeland returns at 168; Joey Wood (168) took gold at 158; CAJ's Yoshiya Morita (115) won at 108; CAJ's Jordan Foxwell (122) was the 115-pound champ; St. Mary's Mark Striegl (135) won at 108 in 2003 and 122 last year; Kadena's Brenden Stanford (135) captured the 101-pound gold as a freshman in 2002.
Weight classes to watch
215 pounds: With Burnett dropping down and Tunis moving up to 215, this weight is one of three with two past Far East champions. Also in the mix: unbeaten Jim Scott of Yokota, Grady Pennell of Kadena and Kubasaki's Paul Haecherl, last year's Far East 215-pound runner-up.
168 pounds: Wood very likely could meet Copeland in the championship, although St. Mary's Pavel Kachailov could move down from 180 and Brent's rising star Ryland Geiger, a freshman, might have an impact.
148 pounds: Another potential four-way battle. It's Enkhbayar's to win or lose but challenging him will be Kubasaki sophomore transfer Steve Courtney, Far East 141-pound runner-up Kenji Doughty of Kinnick and J.M. Kwak of St. Mary's.
---
---
---
---