For Kubasaki's Thompson, it's painful to be on sidelines
by
Dave Ornauer
November 3, 2005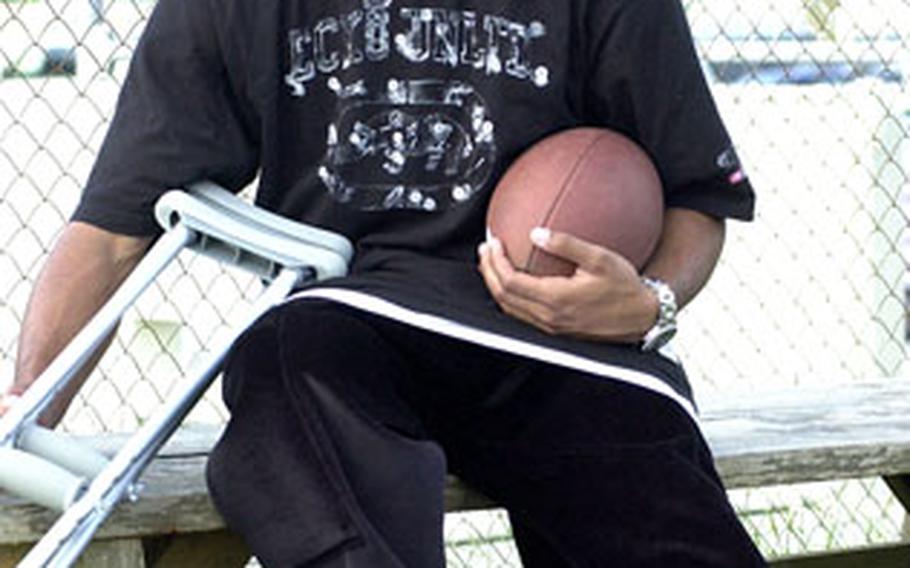 CAMP FOSTER, Okinawa — Stephen Thompson had it all going for him ... or so it seemed.
He shined in the Kubasaki Dragons' 35-3 victory over the Kadena Panthers on Oct. 14 in Game 1 of the best-of-three Okinawa Activities Council football championship series. The 6-foot-5 tight end leaped over a defensive back to snag a touchdown pass and ran 29 yards for another, amassing 128 all-purpose yards and fueling a smoking Dragons defense.
But just a week later, an unfortunate twist of his left ankle torpedoed his season. It chipped a bone on the left side of his ankle; two ligaments on the right side were bleeding.
"I never thought I'd get hurt or if I did that I would bounce back," Thompson said. "It's my first major injury."
Now, as his Dragons teammates head for Guam Naval Station for a Far East Class AA semifinal game with Guam High at 3 p.m. Saturday, he'll remain on Okinawa.
The senior's leg was put into a cast Tuesday. Doctors and specialists at U.S. Naval Hospital Camp Lester have told him he'll miss at least a month, perhaps two — taking him well into basketball season.
More immediate is dealing with the disappointment of not being able to participate in the football playoffs.
Being told of the injury's severity was like a kick in the gut, Thompson said. "I broke down right then and there."
Seeing his star playmaker in pain on the ground also pained Fred Bales. "You're in two minds," the veteran coach said. "You sincerely feel sorry for the person and the team. But your mind is also going a mile a minute, thinking of how to adjust. He was our vertical stretch. He's our biggest, strongest guy. … We lost a lot when we lost him."
Bales knows no one can plan for injuries. They're like "an elephant sitting in the living room," he said: Even if no one talks about it much, "it's an ever-present reality. As a coach and as a player, you bring to the table an understanding that there's always a chance of injury."
For most injured players, healing the physical damage may be only part of the challenge. They also must try to stitch up a torn mind: wanting to heal but aching to play.
"It's an ongoing battle," Thompson said. "I want to go out there but … if I go out too soon, I might ruin the leg for the rest of my life.
"It's not just making the leg well but making it better," he said, "so I can improve on what I did last year." Last school year, he helped lead Kubasaki to the Far East Class AA basketball tournament Final Four and high-jumped a school-record 6 feet 4 in track.
But, he said, his father is helping give the young athlete something to think about other than missed games: Marine Master Gunnery Sgt. Ira Thompson, assigned to Camp Kinser, keeps his son mindful of his grades — he carries a 3.5 grade-point average — to stay in the hunt for athletic scholarships.
Thompson said he hopes the cast can come off in early December. Then he'll enter rehabilitation, hoping to resume basketball in early January.
But he'll take things as they come, he said, because the injury "could get in the way" of his future scholarship hopes "if I don't take care of it. … If I go out there too soon, I could hurt myself worse in the end."