For Bitburg's Parker, basketball camp was a confidence-builder
---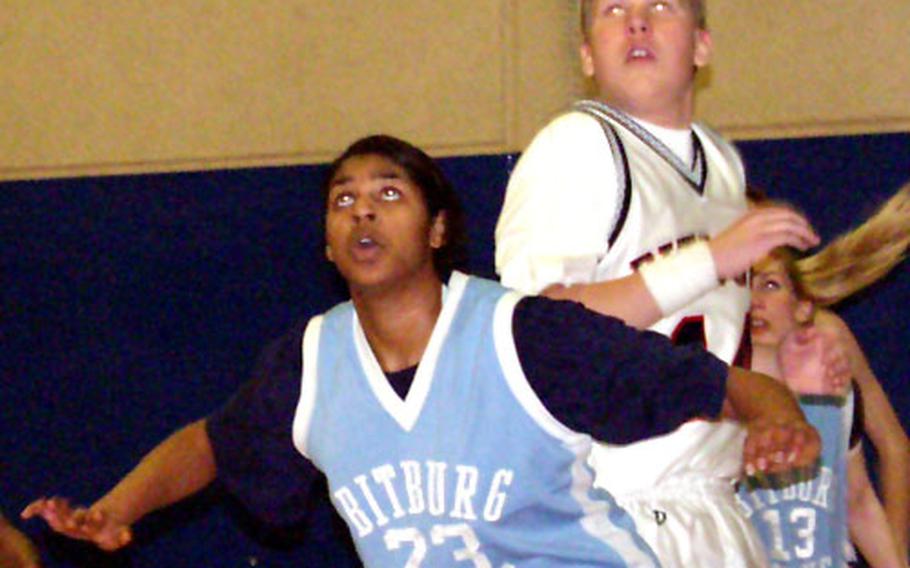 BITBURG AIR BASE, Germany — If Bitburg center Nadia Parker picks up where she finished her freshman year last February, the AFNORTH Lady Lions might have their hands full when the two schools finally get to play basketball Jan. 10.
Parker, a speedy 6-foot-2 athlete, closed out last season by burning SHAPE's Lady Spartans for 23 points and 20 rebounds and blocking five shots as the Lady Barons won the European Division II crown.
For the season, she averaged 17 points on 50 percent shooting from the field, 14 rebounds, five steals and three blocks per game, upping the totals to 19 points and 15 rebounds per game during the Division II tournament.
"She was a dominating force," said Bitburg coach Denny Lemmon, who's entering his 24th season at Bitburg. "She was one the fastest players on our team."
That, however, was almost 10 months ago.
"I went to Pat Summit's Tennessee basketball camp last summer," Parker said before a recent Lady Barons' scrimmage against the Bitburg boys JV team. "It was awesome. I'm going back this summer."
Even without a second look at the competition, Parker said her summer trip to Knoxville proved a useful barometer.
"I've never played stateside ball," said the Okinawa-born Parker. "At camp, I played against girls who were even bigger than I am. There was one girl who was 6-4."
Still, Parker felt she held her own.
"Some of the girls weren't as good as I am," she said, "and some of the others were so much better."
Parker's camp experience left her hoping to play post for the Lady Vols some day.
"If I put enough into what I'm doing, I should be able to play at the next level," she said.
Her basketball bloodlines should help, too.
Her parents met while playing college basketball in Louisiana, and her mother still plays professionally for a German league team in Trier. Her brother, Joel, is a senior on the Bitburg boys team.
Before the next level, though, there's the prospect of defending that European championship without the help of graduated All-Europe point guard Constance Maziel.
With Parker and Maziel leading the way, Bitburg lost only two games last season, back-to-back early in the season to eventual Division I champion Ramstein and Division III champion Baumholder.
The new-look Lady Barons will take a 15-game winning streak into the Jan. 10 opener.
"We're rebuilding," Parker said, "but we definitely have potential."
Any team that includes Parker is dangerous, said Black Forest Academy coach Pat Woodward.
"She's a great player," Woodward said.
"You can't stop her. You just hope you can contain her a little bit and keep the rest of the team from beating you."
Containing Parker even a little bit is no mean feat, but Parker is prepared for the worst as she becomes the Barons' main attack.
"My dad was saying that people will be gunning for me," Parker said, "using special plays to isolate me. I'll try to do the best I can and not worry about anything else."
That includes her leadership responsibilities for the defending champs.
"I've never been a team captain before," she said. "I don't know what to say and what to do.
"Somebody said, 'Don't look back and don't look ahead. Keep focused on one game at a time.'" Parker said. "As long as I can play well, I'll be happy."
Parker took up volleyball for the first time this fall, helping the Lady Barons to a second-place finish in Europe and making second-team All-Europe. She's working on something new for the basketball season, too.
"I'm learning how to dunk," she said. "I can dunk a volleyball and pop the rim, but I haven't done a basketball yet."
---
---
---
---