Finales could be first time top girls meet
by
Rusty Bryan
May 19, 2010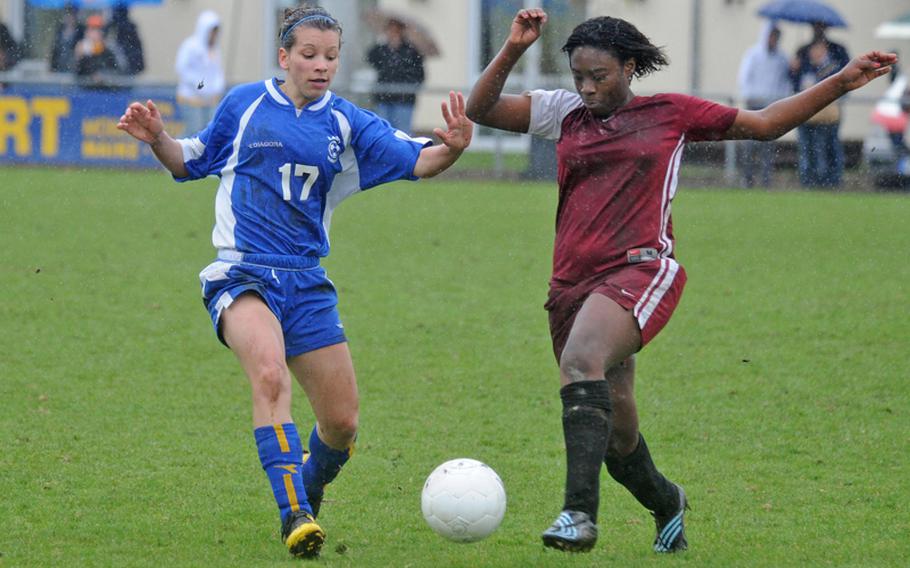 KAISERSLAUTERN, Germany — The three DODDS-Europe girls soccer tournaments, which kick off at 8:30 a.m. Wednesday at seven area sites, possibly are headed to three dramatic finishes Saturday at Ramstein High School, thanks to the much-maligned system of regional scheduling.
Because the regional system segregates many divisional schools from one another, Saturday's finales, provided the seeds hold, could match powerhouses that have yet to meet this season.
Nowhere would that showdown be more epic than a potential clash between top-seeded defending Division I champion Ramstein against last year's runners-up, the No. 2 Patch Panthers. Region II champion Ramstein and Region III champion Patch bring legacies of past soccer success and 7-0-0 records into this event, and each tops its pool for the opening two days of this four-day event. They did not play during the regular season.
Below the top two, however, all first-time bets are off. No. 3 Wiesbaden and No. 4 Heidelberg each has fallen to Ramstein, and Heidelberg dropped its game against Patch, too. Both teams, however, are capable of turning things around, so if there's a rematch in the D-I title game, don't look for a replay.
As Ramstein boys coach Dan Nukala put it in a Tuesday e-mail describing his event, "Everyone in Division I is a tough game. They're all out to win." Ditto for the girls.
There's a similar situation of a finals clash between strangers in Division II, where Black Forest Academy of Region III earned the No. 1 nod in spite of a 4-2-0 record, while Region IV champ Vicenza drew the No. 2, despite going 6-0-1.
If the seeds fail to hold in the 15-team D-II event, however, all the possible first-meeting excitement could go out the window. Nos. 3 and 4 Marymount and Naples, respectively, each fell to Vicenza this year and would love a shot at revenge on this side of the Alps.
None of the top four, however, has yet faced No. 5 AFNORTH, which is 5-1-1 going in. The Lady Lions will get their first shot against a top-four team when they face BFA at 5:15 p.m. Thursday.
Because there are just six schools entered in this year's D-III event, that tournament will be a straight single round-robin with the team emerging with the best record earning the title.
The seeds don't have to hold in this division to arrange a first-time meeting between the top two in Saturday's finale. No. 1 Brussels, the D-IV champion in 2009, is scheduled to play No. 2 Sigonella in Saturday's 10 a.m. final D-III pool-play game at Ramstein High School.
Whether that game will be the equivalent of a title-game showdown is uncertain, however, according to Alconbury coach David Claassen, who sees a competitive event up and down the line.
"The quality of play has been outstanding…," he e-mailed Monday in assessing his team's event. "For the first time in years, I feel like the teams are pretty evenly matched and any of them could come out as champions."
bryanr@estripes.osd.mil