Girls track AOY
Fielding carried over wrestling mentality to track
---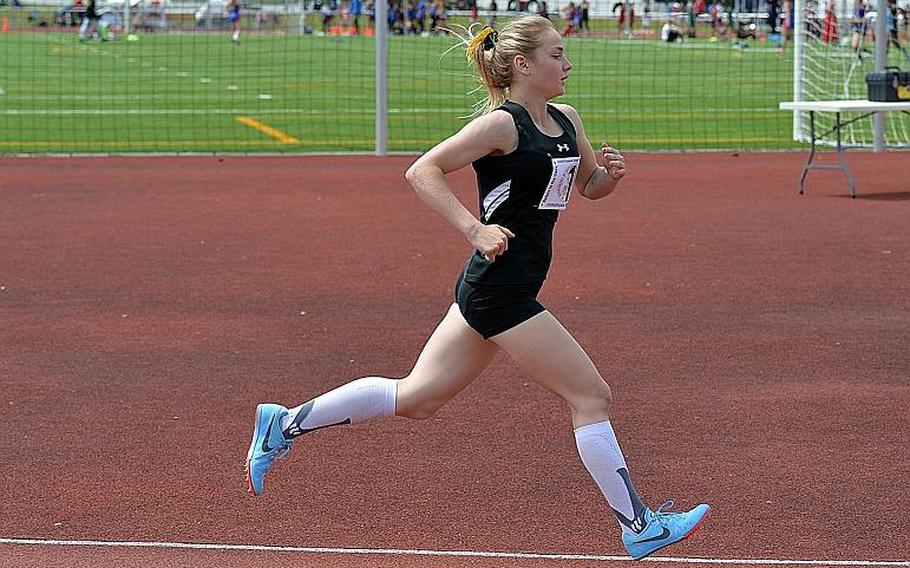 McKinley Fielding just keeps getting better.
The Stuttgart sophomore ran personal bests and smashed European records in the 1,600- and 3,200-meter runs at this spring's DODEA-Europe track and field championships.
For her accomplishments, Fielding has been named the Stars and Stripes girls' Athlete of the Year for track and field.
Fielding made her mark on the DODEA-Europe track and field scene last year as a freshman when she won both events at Europeans.
But this year she added an exclamation point. In the 1,600, Fielding ran nearly 12 seconds faster and slashed her 3,200-winning time by 41 seconds. Her time in the latter of 11 minutes, 7.78 seconds dusted the old European record by a whopping 20 seconds.
Fielding also ran a leg on the Panthers' championship 3,200-meter relay team and took bronze in the 800.
Impressive feats for a sophomore who hasn't reached her full potential yet, according to Matthew Snoeyik, her track coach at Stuttgart.
"I think she can get better," he said. "It's hard to believe because of what she's doing now. She's still young and she can definitely improve."
A combination of talent and hard work drives McKinley's success on the oval, Snoeyik said. "But I think the big underlying factor with her is her determination and her grit. She's physically and mentally strong."
Fielding runs cross country in the fall, an endurance pursuit that no doubt helps build her stamina. But Fielding credits wrestling, a sport she's been doing since the age of three, for giving her an edge on the track. In 2018, Fielding was the first female wrestler to reach a DODEA-Europe wrestling championship.
"Wrestling honestly puts me in amazing shape," she said. "It really helped me. It just works certain muscle groups that you can't work, I guess, running."
With two new records under her name, Fielding has her sights set on running even faster next year. She's aiming to dip under 11 minutes in the 3,200 and break the 5-minute mark in the 1,600.
For now, though, Fielding hopes to kick back for a while, at least until it's time to start training for cross country.
"I'm definitely glad to have a lot more free time and hang out with my friends, because track took up so much time," she said.
svan.jennifer@stripes.com Twitter: @stripesktown
---
---
---
---