DODEA-Europe Track - Day 2
Fielding breaks second record as Panthers share title
by
Jennifer H. Svan
May 25, 2019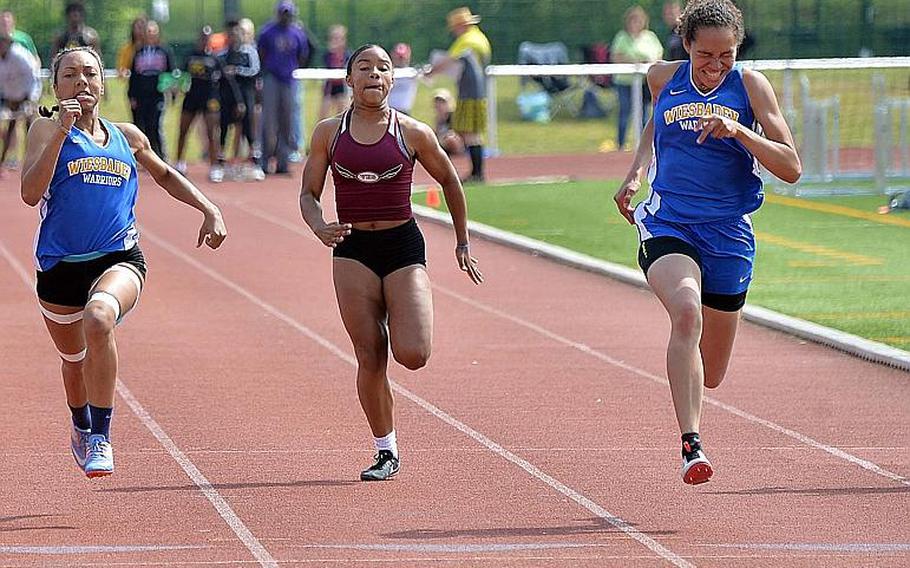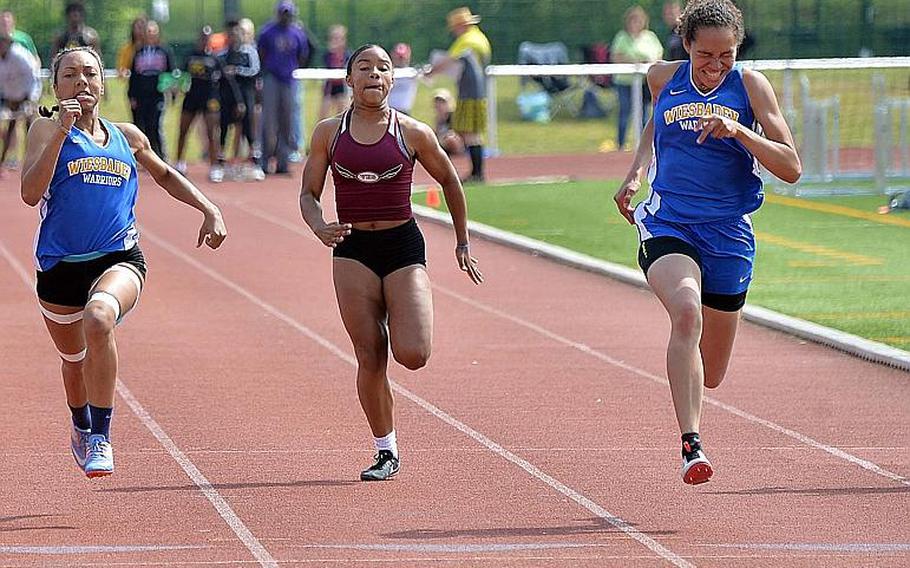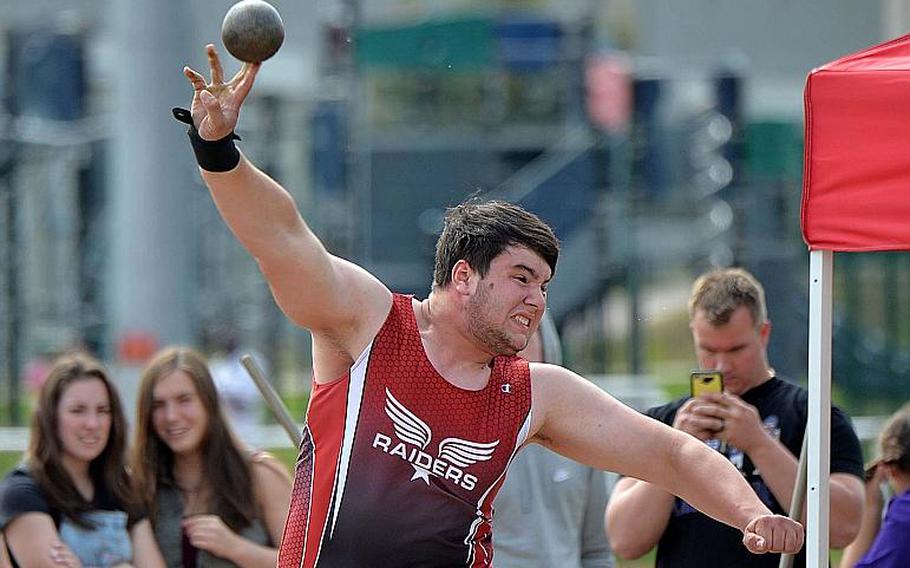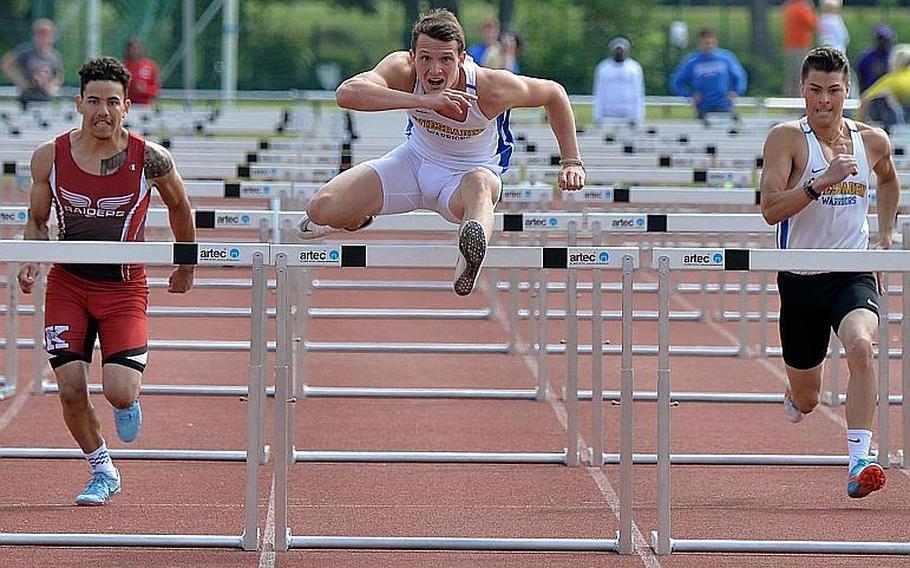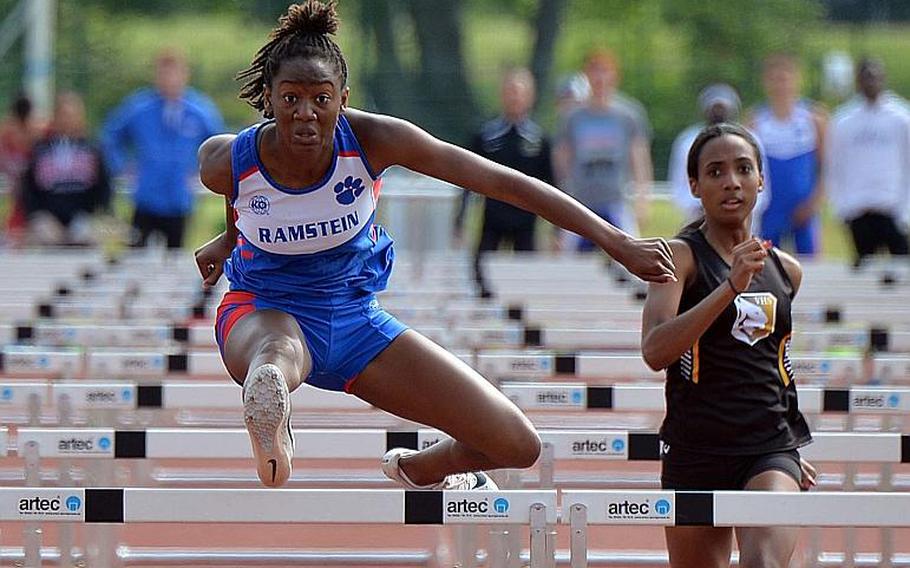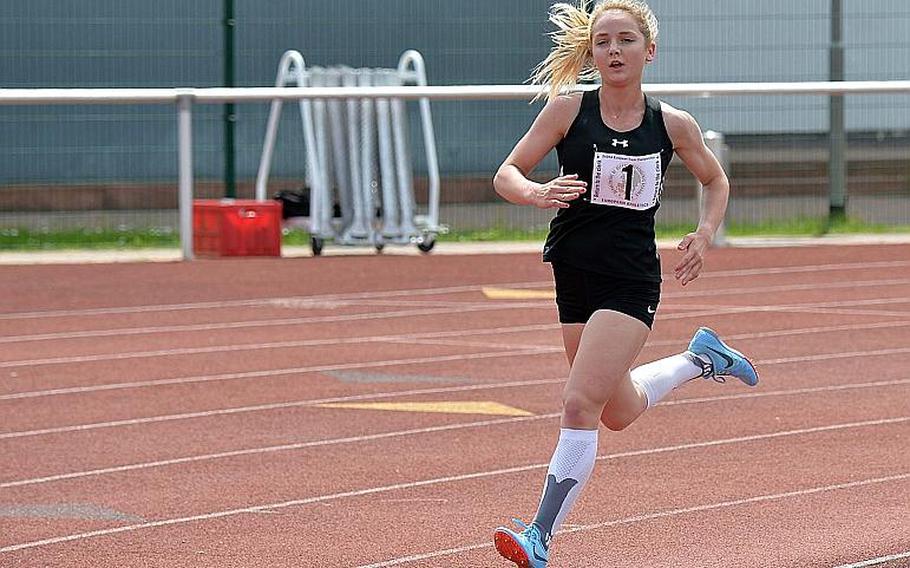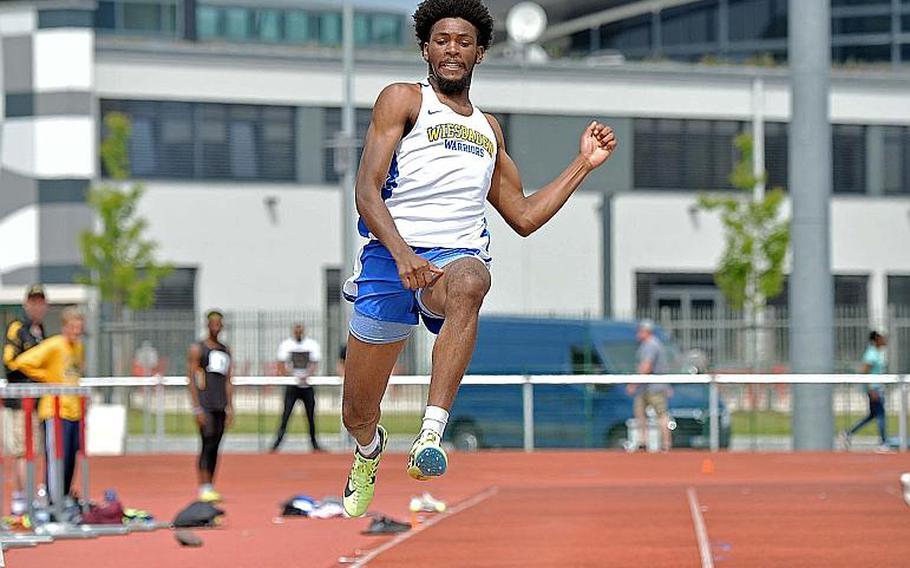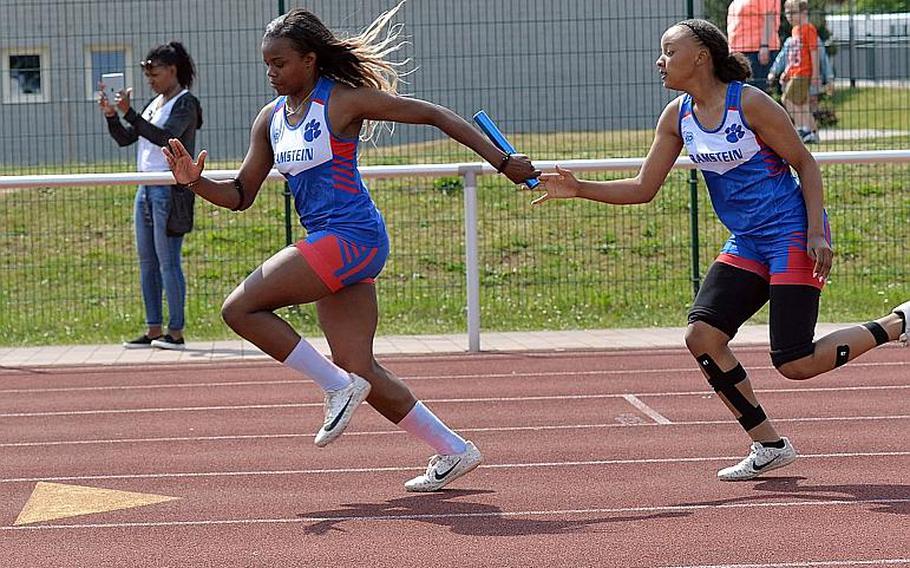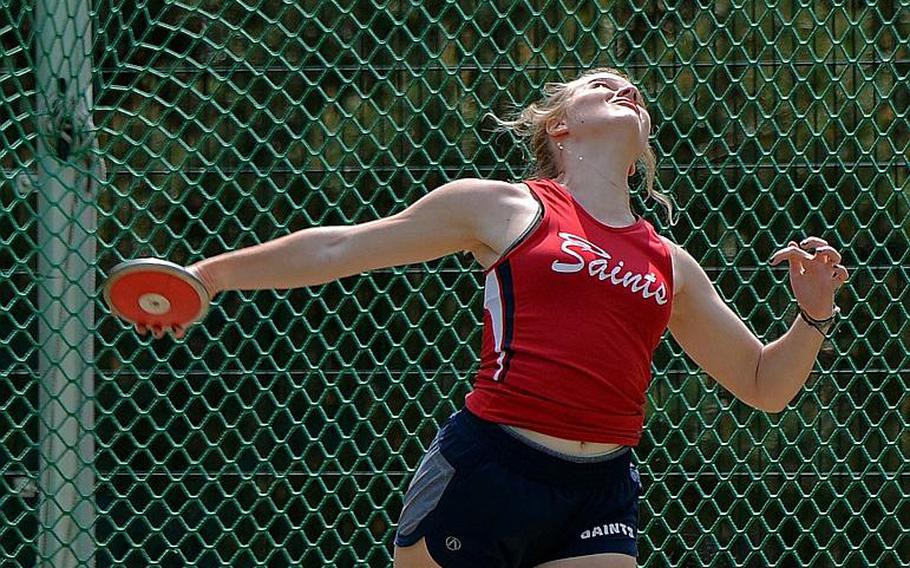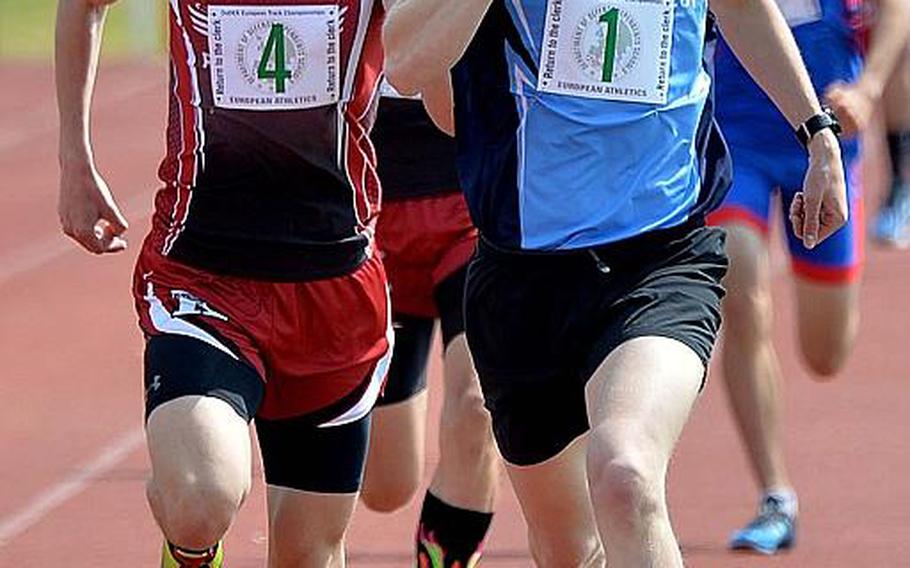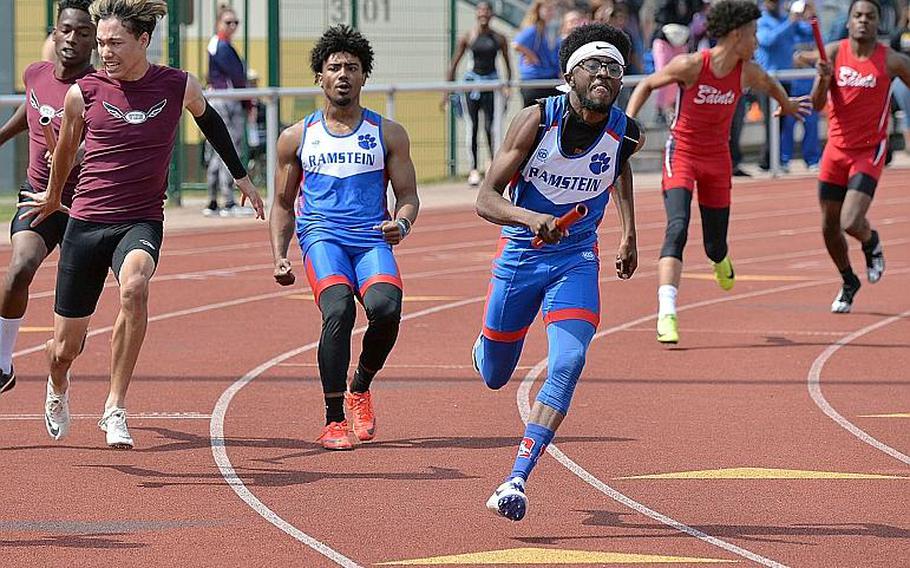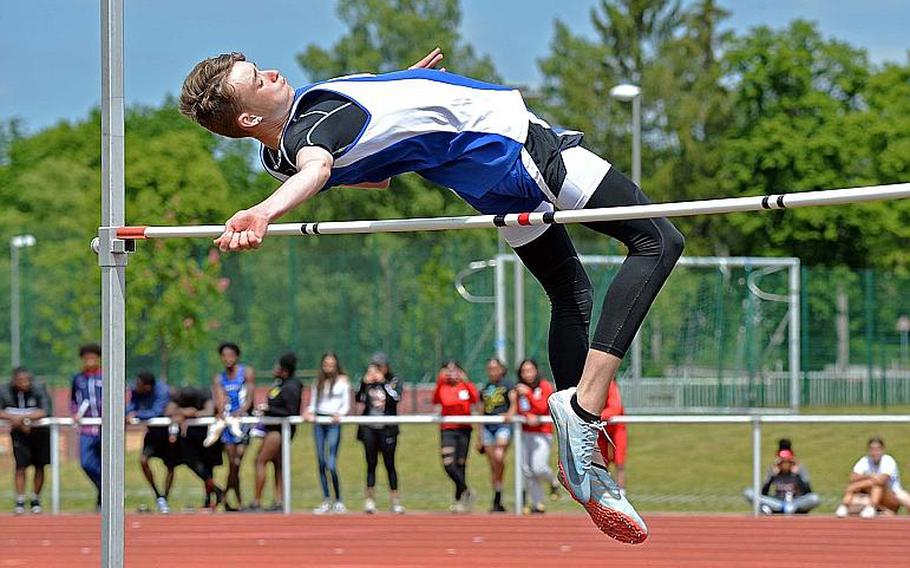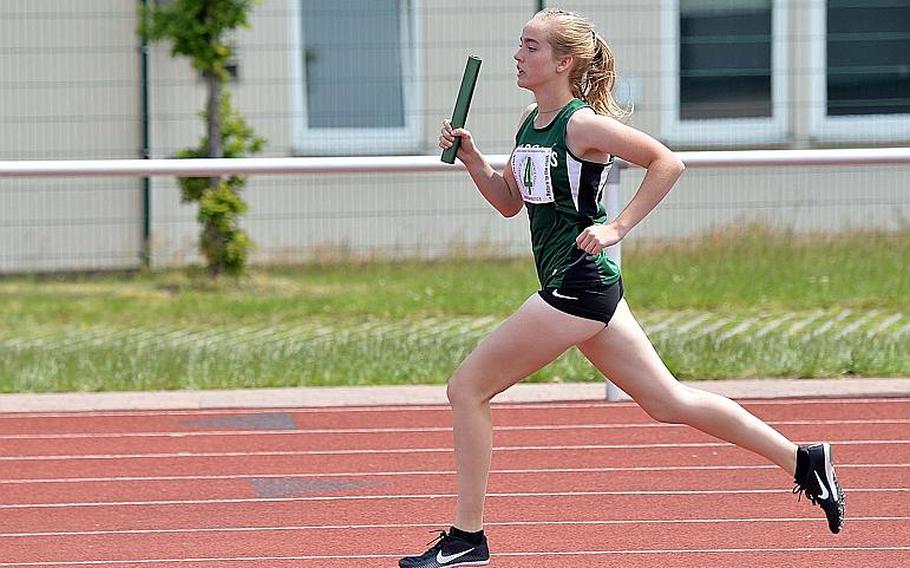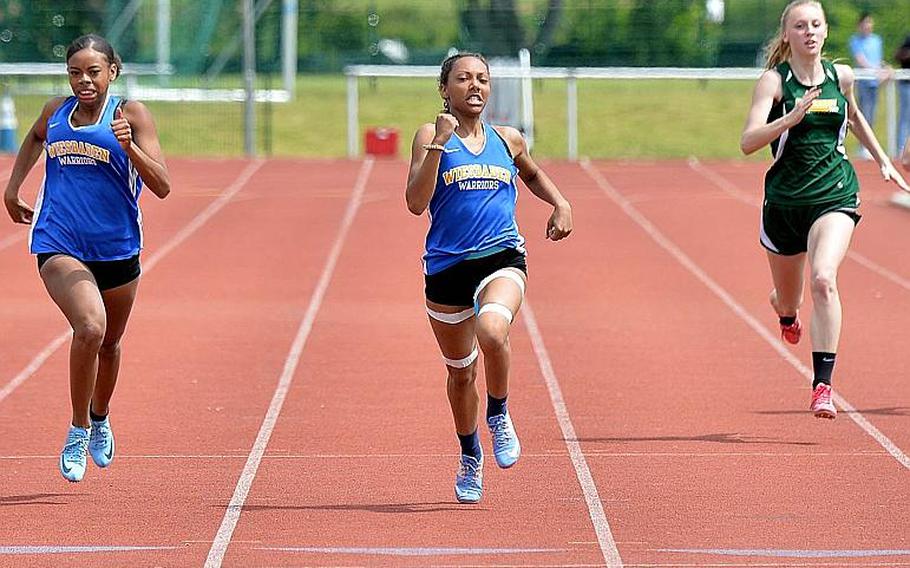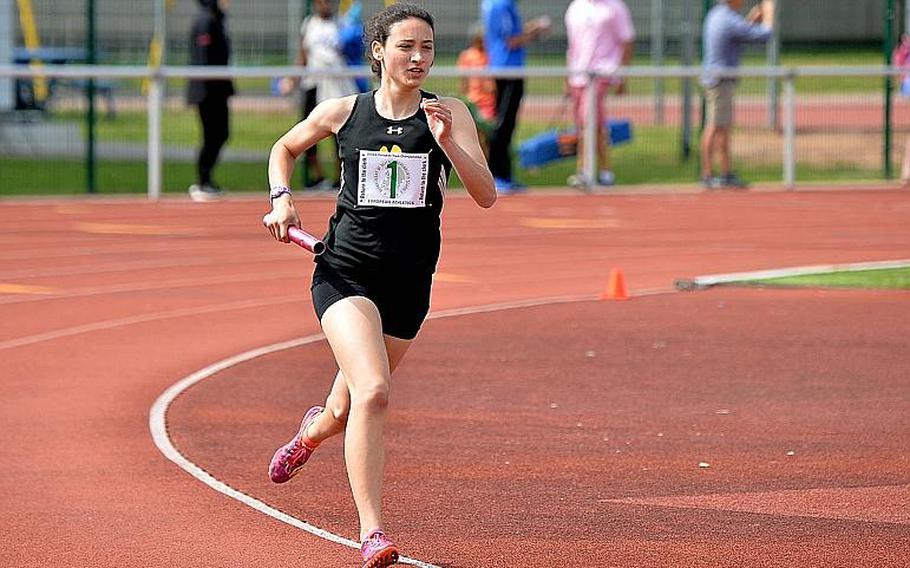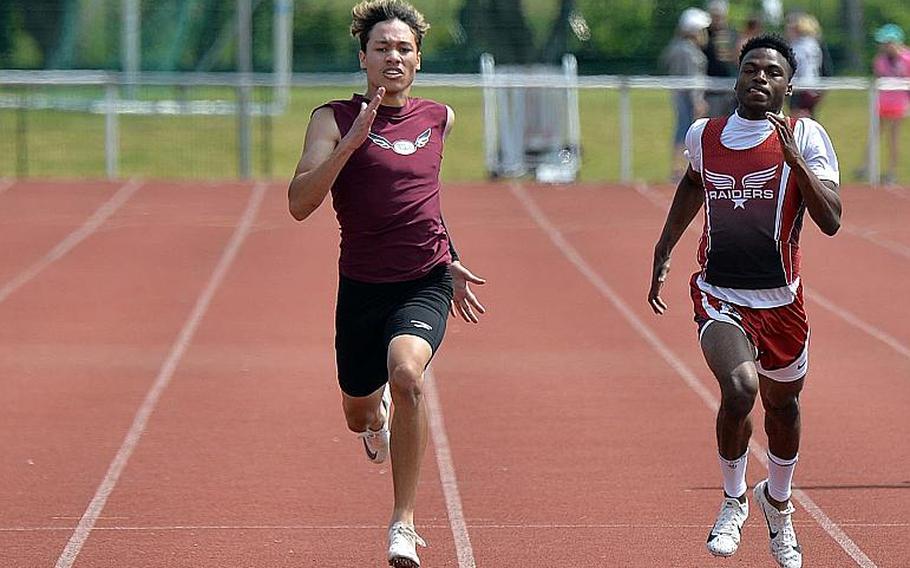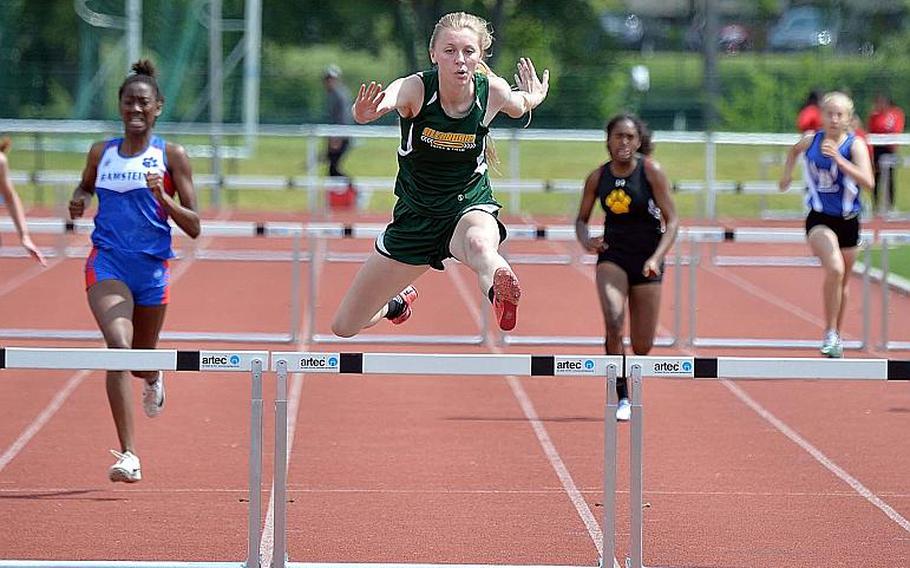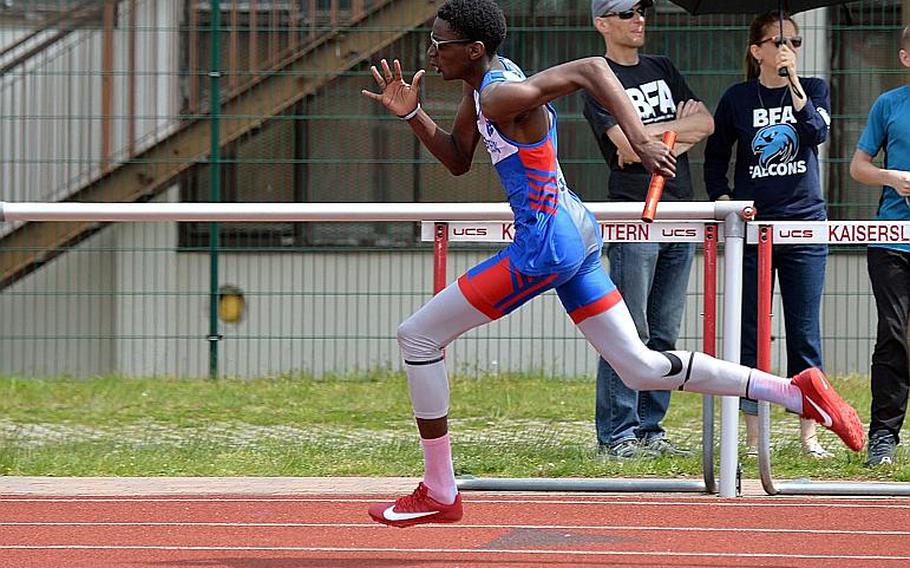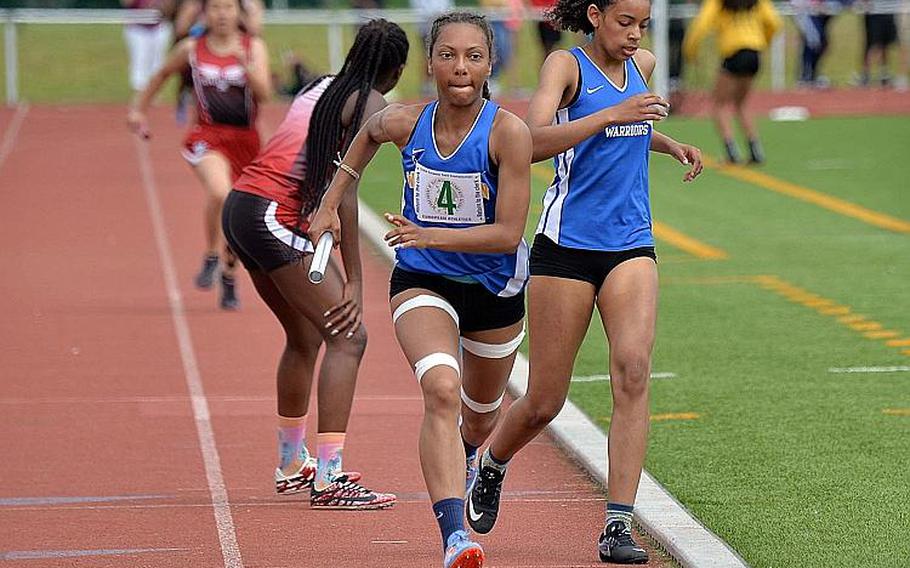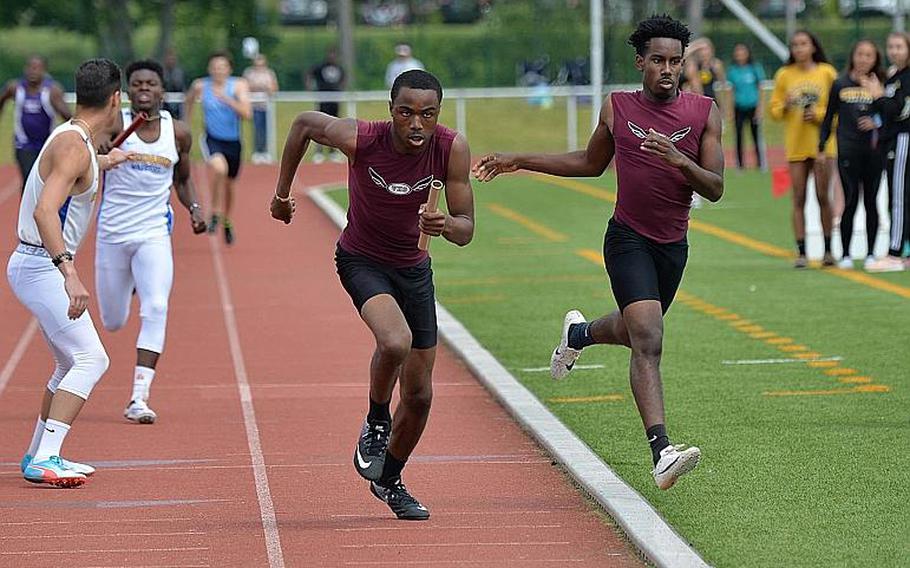 KAISERSLAUTERN, Germany – One record was shattered on a day that saw a parade of returning and new champions take their places on the podium Saturday.
Stuttgart sophomore McKinley Fielding smashed the European record in the 3,200-meter run by nearly 20 seconds, her second such feat at the DODEA-Europe Track and Field Championships after Friday's record performance in the 1,600. Fielding also ran leadoff on Stuttgart's winning 3,200-relay team to help boost the Panthers to a tie atop the girls' team standings.
After a string of titles, the Panthers were in familiar territory but this year, they shared the top spot with the Wiesbaden Warriors, last year's Division I runner-up.
The Warriors relied on a talented sprinting corps and success in the field events to vie for a piece of its first team title since 2008, something coach David Brown didn't see coming when the season began.
"We have basically 13 girls," he said. "I didn't think we were deep enough to compete for the team title. They stuck together, worked every single day," he said. "It's exciting that they actually get a chance to win."
On the boys' side, Kaiserslautern ended cross-town rival Ramstein's run of Division I titles by scattering points across multiple events.
"We didn't win a lot of first-place trophies, but we were able to put a lot of points together and really strategize," said first-year coach Gabriell Horton. "I think Ramstein has won the banner seven years in a row. It feels good to be able to hang one up in our gym."
Kaiserslautern senior Austin Higby ended a stellar career with the Raiders by defending his title in the shot put and earning third in the discus throw. He earned a total of five medals at Europeans in four years.
Aviano freshman Elizabeth Woodruff began her DODEA-Europe track and field career with a bang, winning both the discus throw and the shot put. Of 13 throwers in the discus finals, Woodruff – who hurled the discus 117 feet for the win - was the only freshman.
"It's really fun," she said of competing at Europeans, "especially being a freshman because no one expects you to be so good."
Besides Fielding and Woodruff, a number of multiple-event winners made their marks.
Wiesbaden senior Markez Middlebrooks turned up the after burners to take both the 100 and 200 dashes. In a display of versatility, he also won the long jump - despite being only a sixth seed - and fell just short of gold in the high jump based on number of attempts. Rota senior Callum Wilkerson took the high jump title, clearing the bar with fewer misses at 6-1.
Middlebrooks' teammate Garrett Armel won both the 110 and 300 hurdles; in the 300 hurdles, an event he missed last year due to an injury, Armel was the only athlete to crack 40 seconds.
On the girls' side, Wiesbaden senior Whitney Bivins ran 59.67 in the 400 to hold off a surge down the final stretch from Shovonda Jones, a Lakenheath freshman who clocked 60.95 seconds.
Bivins also won the 200 and anchored the Warriors' winning 1,600 relay team, along with freshman Myriam Friel, sophomore Ashanti Scott and junior Catianna Binyard-Turner. In the 100, Bivins missed gold by 1/100th of a second, edged out by teammate Isabella Pizarro, a talented sophomore who also won the triple jump.
"If I want anybody to beat me, it would be somebody from my own team," Bivins said.
In the boys' 1,600 relay, Vilseck beat Wiesbaden by three seconds. The Falcons had the advantage of 400-meter ace Joshua Walter on anchor leg. Walter earlier in the day won the 400 open in 50.96 seconds.
In the boys' 1,600, Black Forest Academy senior Mac Roberts finished in 4:30.22 to lead a tight pack of four runners that all went under 4:35. Roberts held off Kaiserslautern junior Joseph Purvis by less than a second.
"Mac has a great kick," Purvis said of Roberts. "So, if your strategy is to beat him in the last lap, even last whatever, it's going to be really hard to do."
Ramstein senior Denver Dalpias kicked early in the 800 – a strategy that paid off with his first title in the event at Europeans.
Dalpias passed Vicenza senior Chase Brahaney with about 250 meters left in the race.
"I knew that if I was going to take the lead, I had to push it right at that mark," he said.
"It's my senior year. I just wanted to run for the team, make my team proud."
The girls' 3,200 was only a contest for second and beyond. Fielding led from the get-go and starting lapping runners on the sixth lap.
Her time of 11:07.78 dusted the old record of 11:27.24, set in 2012 by former Ramstein runner Jessica Kafer.
"It was hot," Fielding said, of trying to break the record as a hot sun beat down on the track. She kept on task by watching the clock. "I was racing my time," she said.
Dalpias also led the Royals to a win in the sprint medley, running the 800-anchor leg after seniors Isaiah Allen, Jeremiah Allen and Jaelaun Bell took turns carrying the baton.
The Royals were particularly strong in the relays, nabbing wins in the boys' and girls' 400 relays on Saturday. The Ramstein girls matched their qualifying time of 50.87 in the 400 relay for the win, executing their hand-offs near perfectly and getting a lift from the crowd.
"I just got out of my blocks and I just ran my fastest," said freshman Jarai Jones. "I heard everybody screaming. That motivated me to go faster."
Naples hit their stride in the girls' sprint medley. Junior Kaliyahat Gilmore, sophomores Kayla Rascoe and Alyssa McKamey and freshman Abigail Michienzi narrowly beat Stuttgart, 4:32.26 to 4:33.05. McKamey, on the 800 anchor leg, held off Stuttgart sophomore Linnea Meier at the finish line.
Michienzi said she had no doubt McKamey would hold on for the win.
"Alyssa's great. She is the beast of the 800's," she said.
Other winners on the day included Ramstein senior Jaya Worthington in the 100 hurdles. Worthington followed that up with second in the 300 hurdles, behind Alconbury senior Marissa Kastler, a newcomer to one of the longer technical races on the track.
Kastler ran 48.62 seconds in only her fourth official time doing hurdles "at all," she said.
Her rudimentary technique seems to work: "I think of it like checkpoints. I don't know how to hurdle so I'll just jump over and sprint to the next one."
svan.jennifer@stripes.com Twitter: @stripesktown