Female lineman dishing it out for Yokota football team
by
Dave Ornauer
September 14, 2006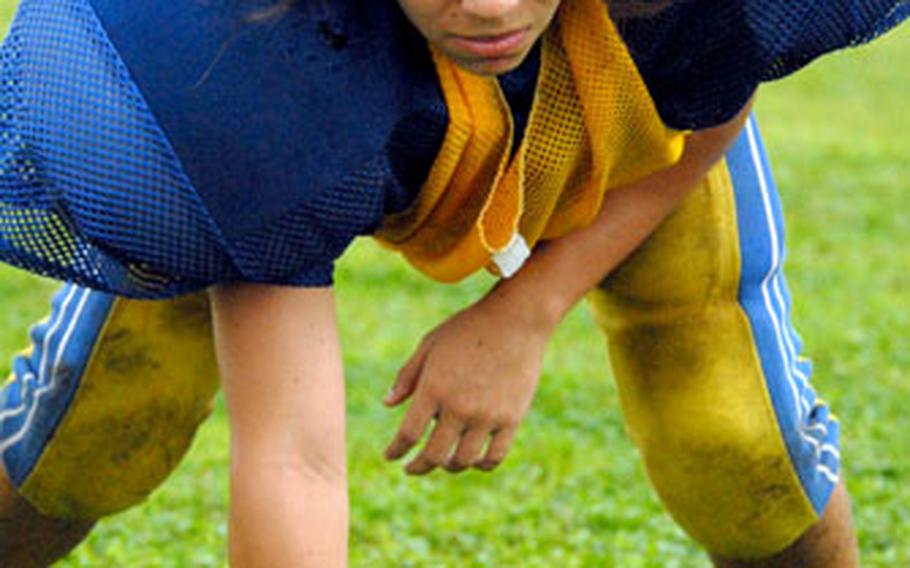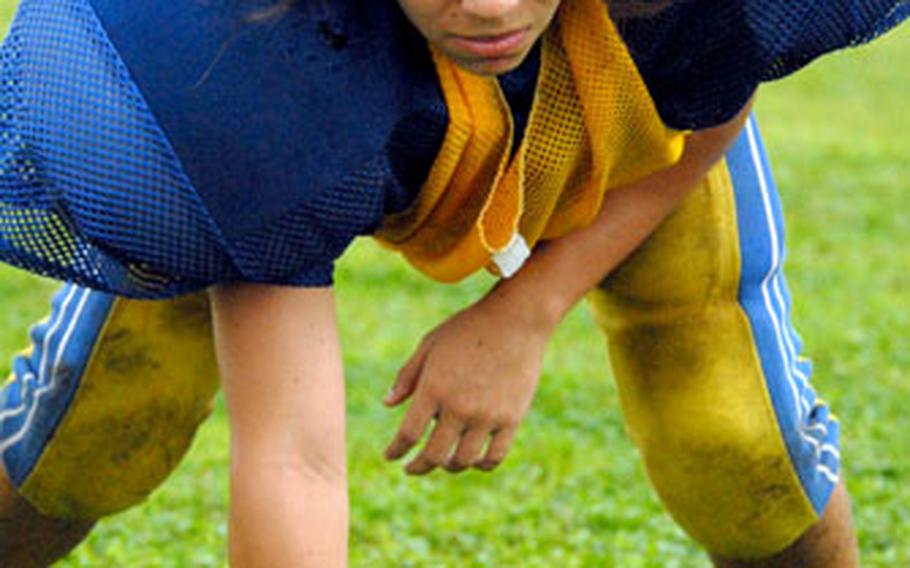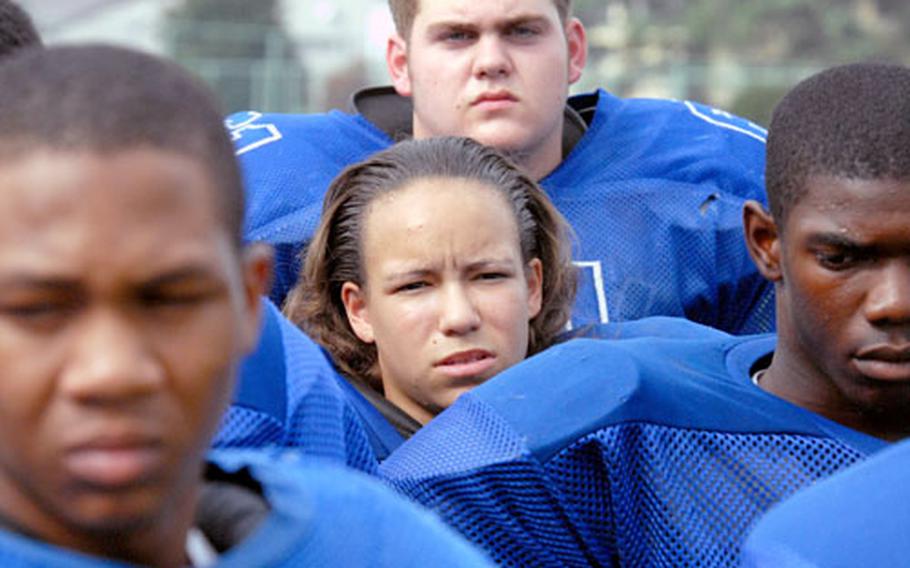 YOKOTA AIR BASE, Japan — Of the four girls who donned helmets and pads and played varsity football at Pacific high schools in the past 11 years, none has been in the middle of the action like Yokota's Samantha Little.
The only Panther who's been with the program, varsity and JV, for four years, Little plays the hit-and-be-hit positions of guard and linebacker. And her coaches and teammates say the senior isn't shy about taking and doling out punishment, nor is she trying to make a feminist statement.
"She's not a sideshow. She's not a headline. She's a football player," Panthers coach Tim Pujol said. "She's been three years in our program blocking, tackling and playing football. She's very coachable and not afraid to hit. Frankly, some of her teammates as freshmen and sophomores were scared to get hit by her."
"I've had kids quit, she hits so hard," said Brian Kitts, her JV coach the last three years. "She's tough. She's a football player who happens to be a girl."
It's an assessment with which Little agrees. The 5-foot-6, 145-pounder began playing football while in middle school in Virginia, again playing guard, and said the notion of being a girl playing a nominally boys game never once fazed her.
"You find what you like and just keep at it. Football is something I was good at," she said.
Previously, girls on DODDS-Pacific football teams played less physically demanding roles.
Liz Dolan, a soccer player, went 7-for-7 on extra-point kicks and just missed a 30-yard field goal for the Zama American Trojans in 1995. Monica Holman became the first Pacific-area player to run for a touchdown in 2004 for Zama. And Michelle Daniel lined up at wide receiver for the Kubasaki Shogun of Okinawa in 2003 and 2004.
None of them took the type of risk that Little takes by lining up in the trenches.
"When she first came out as a freshman, I had a discussion with her and said if she was a female and an athlete, there might be other sports that would benefit from her presence, cross country, girls volleyball, tennis," Pujol said. "But there was no second-guessing it. This was where she wanted to be."
From her middle school days to the present, Little said she never thought about danger, only about the team.
"When you try out for a team, they put you where you're needed most," said Little, who started out at Yokota playing guard as a freshman, tight end as a sophomore and guard and linebacker last year on the JV.
Only once, in her freshman year, did she suffer an injury, a dislocated shoulder, "and I didn't miss much practice," she said. "I just like the game. I like the contact. I like hitting other people."
Though she stands out as the only female on the team — she has her own locker in the girls' bathroom at the Blevins Field House near the Panthers' home Bonk Field — Little doesn't relish the role of being unique.
"I don't like getting special attention," she said. "I think of myself as a player on a football team."
What of her teammates? Any resentment having a girl suit up alongside them?
"Never," Little said of hearing such undercurrent. "They've accepted me."
"We fully accept her," said Corey Reich, a junior center who lined up next to Little in last year's JV offense and says Little goes all-out on the gridiron, in practice and in games.
"She gives 100 percent effort. She hits hard. She gives it everything she's got," Reich said, adding that what impresses him most about her game is "how strong she is. She obviously works at it. She's determined. She's a very welcome addition to the team."
By Kanto Plain rules, as a senior Little had to play varsity football or not at all. "I told her if she did come out, she would have to play at a whole new speed, a whole new level, and I would support her in whatever she decided to do. She stuck with it," Pujol said.
Reich, among others, said Yokota's opponents will find out in short order that Little is anything but window dressing in a program that's as thin in numbers as it's been in years.
"They'll figure it out after the first contact," Reich said. "She's not to be taken lightly."