FEAC chief Hobbs looks back at first 12 months as time of observing, change
by
Dave Ornauer
September 15, 2004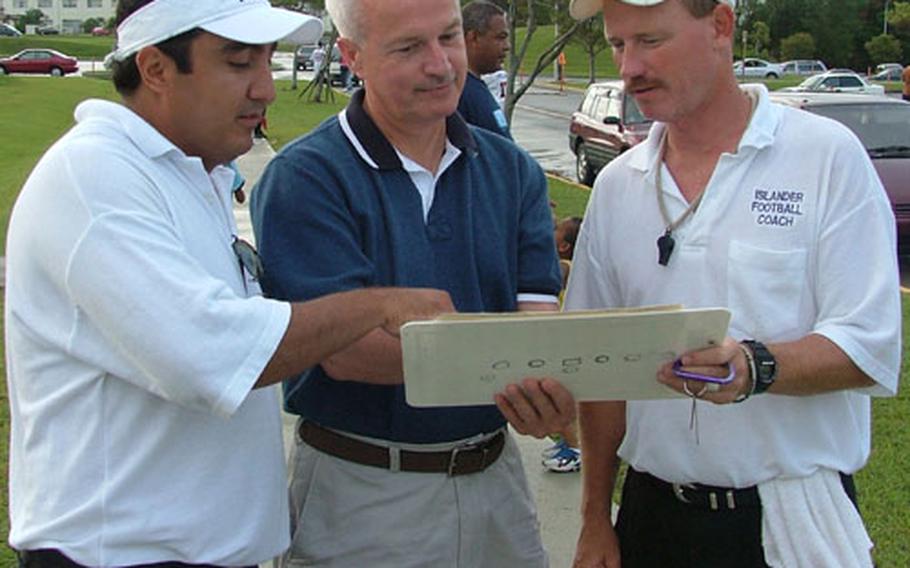 TORII STATION, Okinawa — Don Hobbs had said that his first year as Far East Activities Council chair would be one of "observing." But when the former basketball coach and tournament director at Okinawa's Kubasaki High School observed something needing to be fixed, he acted.
Tennis and cross country became annual, instead of biennial, Far East events. A 13th weight class was added in wrestling. And Far East soccer was moved to mid-May, away from late April, to resolve Japan Golden Week travel and Advanced Placement test conflicts.
Hobbs, 55, promoted last year to the FEAC chair's position, shies from any suggestion that he was solely, or even chiefly, responsible for the changes.
"It wasn't all me," the native of Roseburg, Ore., said. "We work as a unit. The structure of FEAC lends itself to a lot of positive, constructive changes in Far East activities."
The nine-member panel, representing each of the four DODDS-Pacific districts, meets twice yearly on Okinawa. Before the meeting, FEAC members seek ideas and agenda items from their school administrators, coaches, athletics directors, even parents.
"There are a lot of good ideas, lots of good discussion," Hobbs said.
Part of the discussion at a FEAC meeting last October was how to finance tennis and cross country as annual sports. That they are both "lifetime" sports was important, Hobbs said.
FEAC's solution was to reduce the number of participants in boys and girls basketball and soccer from 11 to 10.
"I'm really proud of what occurred at the meetings," he said, adding that the changes were examples of FEAC acting by consensus.
As for the immediate future, Hobbs said he sees no glaring issues that need repair. Athletic directors seem to agree.
"Things are going well. I haven't heard otherwise," said Don Hedgpath, in his 11th year as Seoul American's athletic director.
Instead of more changes ahead, Hobbs envisions some fine-tuning. He plans to send out what he calls a Far East event checklist, covering everything from billeting to transportation to awards, programs and pre-publicity as a guideline for event directors.
"But I want the specific formats left up to the host school," said Hobbs, citing
FEAC policy.
DODDS-Pacific plans to continue rotating tournaments every two years among different host sites, which Hobbs calls an "unwritten guideline."
"Part of the idea of being overseas is having the opportunity to travel. We're going to try our hardest to do that," Hobbs said.
"Some things we don't want to mess with, though," Hobbs said, citing Pusan American, which has hosted girls Class A basketball since its inception in 1990. "That is probably THE model tournament for the Far East. There's great community support, the entire community, they're all involved, and they come together to support it."
Billeting, in some locations, "can pose a problem," Hobbs said. Last year, boys Class A basketball at Osan Air Base, South Korea, was pushed back a week, as was the wrestling tournament at Yokota.
"Some bases have difficulty when military exercises come through," Hobbs said. "But it isn't a problem that can't be or hasn't been overcome."
"We have to be flexible," said Japan district superintendent Bruce Derr. "Principals need to work with their respective commanders, keep positive relations and continue to work on student behavior."
Increasing competitive opportunities is perhaps the main reason Hobbs says he took the job and why he loves it.
"I'm a firm believer in the role that extracurricular activities play in . . . developing students. It's very easy for me to support in any way possible," he said. "I want to make sure things continue to move smoothly and be proactive in preventing anything that can go wrong.
"Right now, I don't see anything going wrong, so it's a matter of keeping the ship on course."
Hobbs on more Far East sports topics
Other topics discussed by Far East Activities Council chair Don Hobbs and others in a wide-ranging interview Thursday:
Hazing: Came under the national spotlight last fall when the football season at Wellington C. Mepham High, Bellmore, N.Y., was suspended last year after a hazing incident at a summer camp in Pennsylvania.
"It was unanimous among FEAC members, there is no place for this," Hobbs said. "We take a 'zero-tolerance' approach to this, before we get some bad news."
"If it does happen, there will be consequences," added Japan district superintendent Bruce Derr. Punishments will include "no travel, no participation at Far East, no awards; their punishment may spill over into the next sport season," he said.
High school football's future: Questions persist about Japan's and Okinawa's continued Rising Sun Bowl involvement and whether DODDS-Korea's and Guam High's programs might fit in.
Involving Guam and Korea "will be under consideration and we will be observing what happens this year, but I can't even promise they'll be in the mix next year or even when they'll come into the mix," Hobbs said. "We're just going to see how Korea's program develops for now."
Split squads on Okinawa, unified teams in Japan: The Japan representative in the Rising Sun Bowl is a unified team representing its entire school, but Okinawa's representative is one of four split squads from two schools, the Kadena Islanders and Buccaneers and Kubasaki Shogun and Samurai.
"There's been some talk" of a unified Kadena Panthers or Kubasaki Dragons team representing Okinawa at Rising Sun, Hobbs said.
"But for right now, the agreement stated that it would be one of the split teams coming from Kubasaki or Kadena. We aren't ruling out the possibility of change. But for now ... it's going to remain that way."