Favorites move on to basketball title games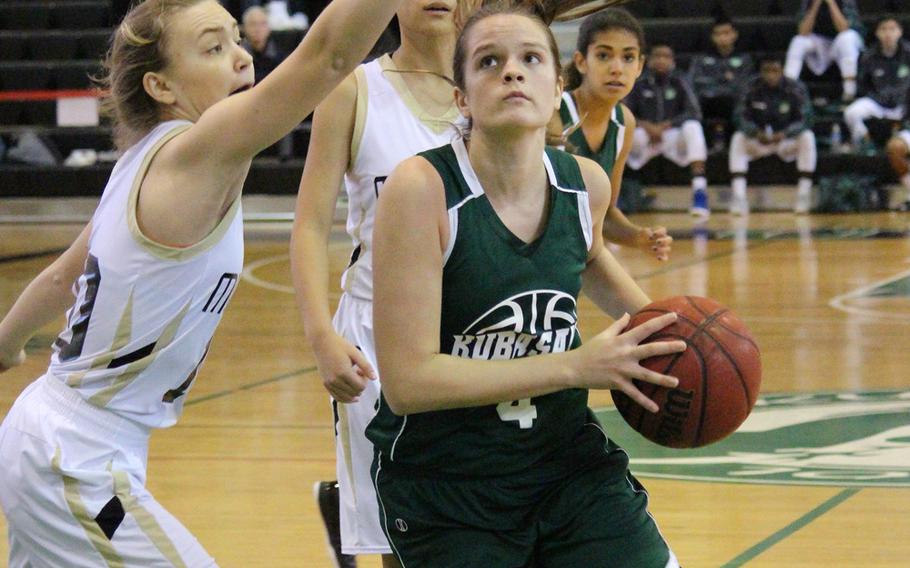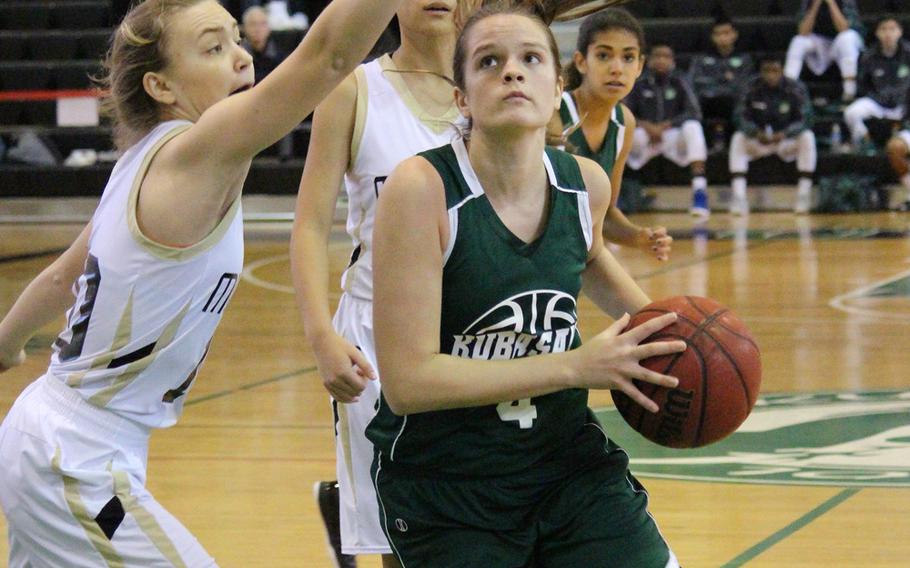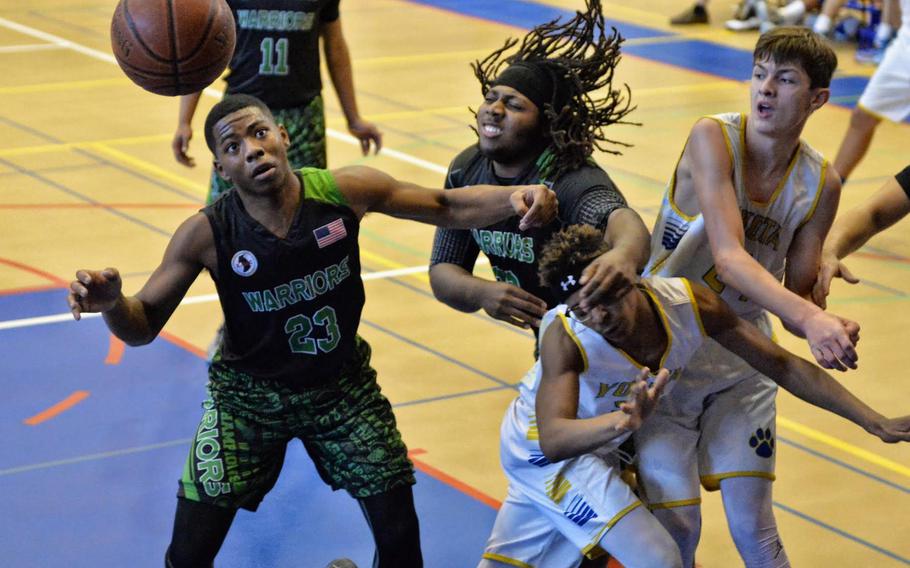 After three days and dozens of basketball games, three of the four championship matchups are set at the Far East Basketball Championships.
Many pre-tournament favorites are battling for titles, especially in girls' action, where the top two seeds will play for the title in both the girls Division I and II tournaments.
In boys' action, Kadena slipped past St. Mary's 46-43 in one semifinal to join favored Kubasaki in the Division I title match. In Division II play, nine games will be played before a champion is crowned Thursday, but favorites Yokota and Humphreys haven't lost and are both playing in the semifinals.
DI girls Kadena breezed past Seoul American in one semifinal, taking a 22-4 advantage after one quarter and never looking back. American School In Japan, the two-time defending champion, had a much tougher time, trailing for most of its game before topping Kubasaki 24-19.
Rhamsey Wyche led Kadena, which led 37-8 at halftime, with 20 points. Krista Bradley had 23 for Seoul, which plays Nile C. Kinnick for third on Thursday.
The Mustangs were behind 13-11 entering the final period against the Dragons, but suddenly started finding the basket. ASIJ scored more points (13) in the final period than it did in the first three combined for the victory. Taylor France had 13 points for the winners.
DII girls Yokota continued to romp over the opposition, routing Matthew C. Perry 42-10 in one semifinal. Zama edged Osan 26-25 in the other.
Freshman Kaliah Henderson had 20 points to lead the defending champion Panthers, while Sarah Cronin added 10. Yokota, already up 12-5 after one quarter, blew open the game with a 17-0 second period.
Zama, which defeated Yokota early in the season before suffering two straight defeats to the Panthers, trailed Osan 20-19 heading into the final period.
DI boys Big second and fourth quarters were enough to lead Kubasaki past Seoul American 62-52 in one semifinal. Kadena took a small lead after one quarter and held it for much of the game before eventually knocking the Titans out of the title game.
Matt Ashley (17 points), Connor Howlett (16) and Skylor Stevens (15) led a balanced attack for Kubasaki, which has lost only one game this season. The defending champs trailed 20-19 after one period, but an 18-14 second period put them up and an 18-11 fourth quarter sealed the victory. Myles Haynes (18), Quintin Metcalf (12) and Jezreel Harper (11) led Seoul American.
Justin Wilson (13), Jahron Mitchell (12) and Jeremiah Steed (10) paced Kadena. Avi Schafer (18) and Thomas Wood (17) were the leading scorers for ASIJ.
DII boys Defending champion Yokota had to win five times on the final day last year to take the crown, but the Panthers would have to win only twice on Thursday to achieve the same feat.
Yokota meets Okinawa Christian on Thursday in one semifinal, while Humphreys takes on Edgren in the other.
The Panthers earned their spot in the semifinals by defeating Daegu 51-32 on Wednesday after receiving a bye to open the elimination portion of the tournament. Humphreys, which also received a bye, took out Osan 47-30.
Okinawa Christian defeated Matthew C. Perry 59-44 to reach the semifinals and Edgren topped E.J. King 60-53.
---
---
---