Fauntleroy, Grosselin make All-Europe first team for third straight year
---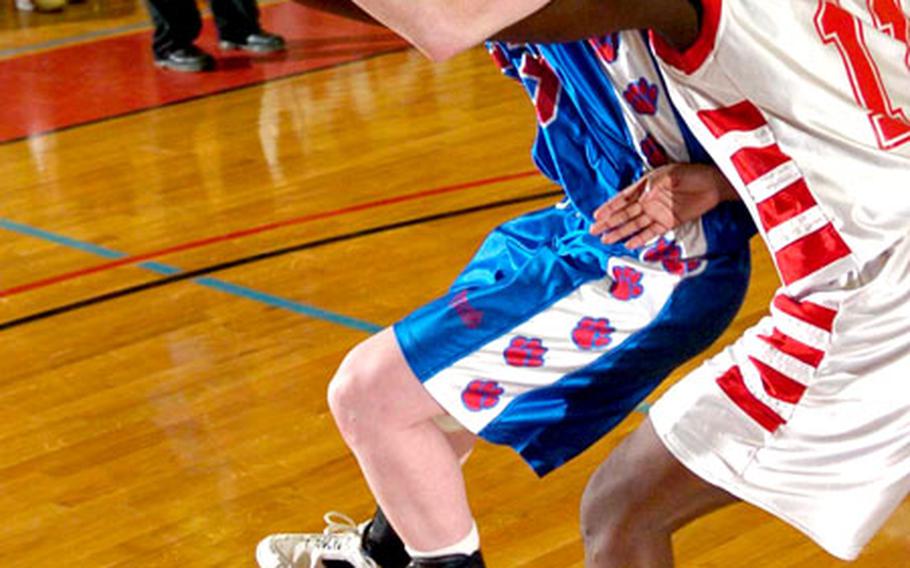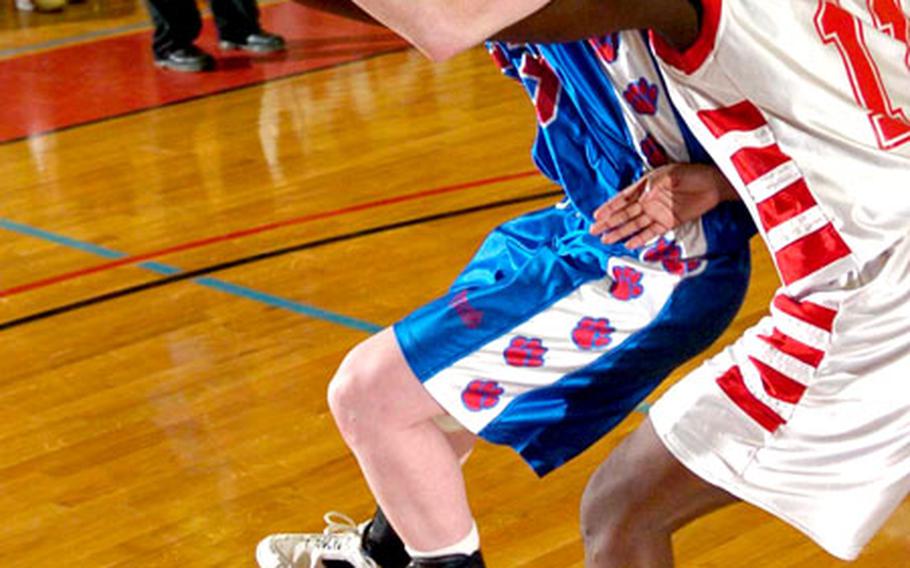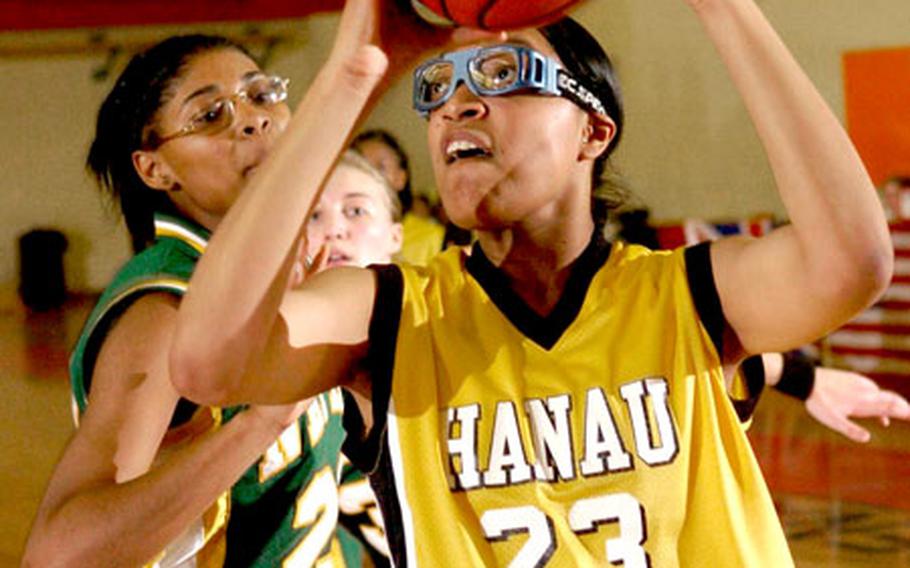 The panel of coaches that selected the 2005 girls All-Europe high school basketball team last month emphasized something DODDS basketball fans already knew. Hanau senior Katisha Fauntleroy and Ramstein senior Krissy Grosselin are going out as winners.
"It's always fun to make All-Europe," Fauntleroy, a 6-foot center who helped spark Hanau to the European Division II crown, said after she closed out her career by making the all-star first team for the third straight year.
Grosselin also earned a European title and a third year on the All-Europe first team in her final season with the Division I champion Lady Royals. She even used the same words as Fauntleroy to describe the feeling of being recognized as one of Europe's best.
"It's always fun," she said of making the team. "I always go out and try hard, so it's still exciting to be picked."
Grosselin, a guard who already has accepted a basketball scholarship to NCAA Division II's Shepherd University in West Virginia, actually went Fauntleroy one better — pulling off an All-Europe quadruple. As a freshman, she made the second team.
Grosselin, who is running the 800 meters on the Ramstein track team this spring, isn't losing any sleep about the end of her high school career.
"I'm really excited about moving on," she said.
Faulteroy, who's planning to attend UTEP but unsure about trying to play college ball, and Grosselin were the only choices from the 2004 first team to make the top 10 again this season.
But the lack of repeaters freed up slots for a quartet of 2004 second-teamers on the first team. They are: Ansbach seniors Brittney Britton and Keke Johnson; Baumholder junior Tish Schelhas; and Rota senior Samerria Crowder.
Britton, a 5-foot-7 forward who averaged nearly 16 points and seven rebounds per game, and Johnson, a 5-foot-2 ball-handler who scored more than 15 points and handed out nearly five assists per game, were part of Ansbach's near-record 33-game winning streak, ended by Rota in the Division III title game.
Schelhas is a 5-foot-4 guard who scored an astounding 342 of her team's season total of 687 points.
Crowder is a shooting machine who chose to distribute to her teammates this season. She averaged 22 points and five assists per game in leading Rota to the Division III Final Four in 2004. In 2005, she scored about 11 points a game, but but upped her assist average to nearly seven and helped Rota claim the Division III crown.
Also making the first team were Kyri Bye-Nagel of Hanau, Caelan Crotty of International School of Brussels, Bianca Gerena-Perez of Kaiserslautern and LaPorchea Sanders of Vilseck.
All of the 2005 first-teamers are juniors and seniors. On the second team, Rota forward Cindy Brice was the only freshman selected; Ramstein center Kaylen Bannister, Kaiserslautern guard Anisha Ingram and Mannheim guard Nyesha Green were the only sophomores on the second team. Green was a second-teamer last year, too.
Seven of the 20 2005 All-Europeans played for Division III schools, the same number that came from Division I programs. Hanau joined Ansbach as the only schools to land two players on the first team.
Girls 2005 All-Europe basketball teams
First team
Name School Class Pos. Ht. Statistics
Brittney Britton Ansbach Sr. F 5-7 15.9 pts, 6.75 rebs, 4.25 steals, 3 assists per game.
Kyri Bye-Nagel Hanau Jr. G 5-5 13 pts, 3 steals per game.
Caelan Crotty ISB Jr. F 5-9 12.3 pts, 3.5 rebs, 2.5 assists, 29 percent three-point shooter.
Samerria Crowder Rota Sr. F 5-8 10.7 pts, 7.6 rebs, 6.5 assists, 4.8 steals per game.
Katisha Fauntleroy Hanau Sr. C 6-0 16 pts, 10 rebs, 3 blocks.
Bianca Gerena-Perez Kaiserslautern Jr. C 5-8 14 pts, 12 rebs, 48 percent from floor, 65 percent from foul line.
Krissy Grosselin Ramstein Sr. G 5-7 19 pts, 4 assists, 3 steals.
Keke Johnson Ansbach Sr. G 5-2 15.1 pts, 4.75 rebs, 4 steals, 4.75 assists.
LaPorchea Sanders Vilseck Jr. F 5-6 16.5 pts, 8.1 rebs, 2.8 steals/game; 41 three-pointers/season.
Tish Schelhas Baumholder Jr. G 5-4 22 pts, 8 steals, 4.8 rebs.
Second team
Guards:Michelle Aguila, Naples senior; Germaine Calvin, Heidelberg senior; Nyesha Green, Mannheim sophomore; Anisha Ingram, Kaiserslautern sophomore.
Forwards:Cindy Brice, Rota freshman; Renna Damon, Naples junior; Keshia Hunt, Alconbury senior; Elizabeth Lally, Sigonella senior.
Centers:Kaylen Bannister, Ramstein sophomore; Megan Gibson, International School of Brussels junior.
Selection panel:Dexter Bohn, Brussels; Cecilia Grosselin, Ramstein; Michael Lee Hunt, Hanau; Craig Lord, Naples; Mick Plummer, Ansbach; Corey Sullivan, Kaiserslautern.
---
---
---
---