Far East wrestling tournament
---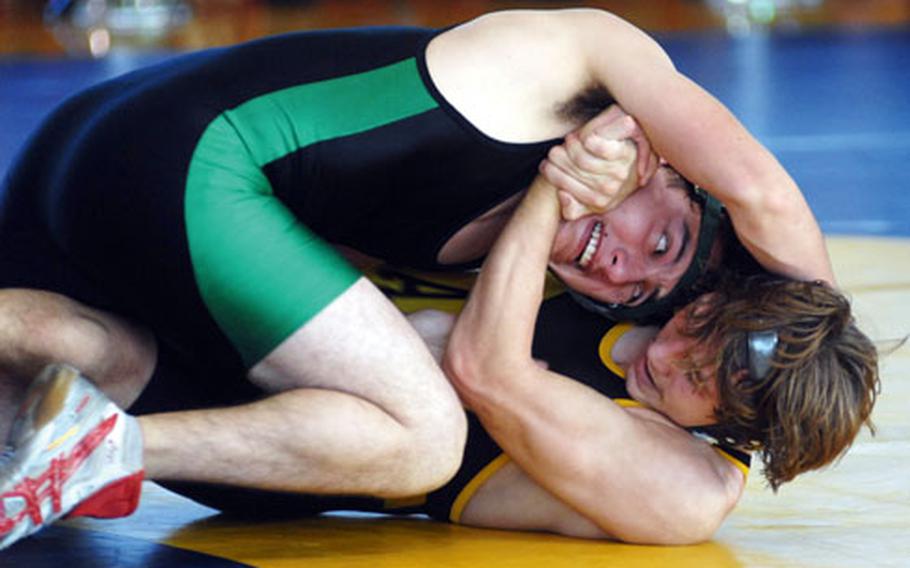 CAMP FOSTER, Okinawa — Scott Wood claims the head-in-arm throw isn't his signature move. On Friday, it was the main reason the Kubasaki senior became the second four-time gold medalist in DODDS-Pacific Far East High School Wrestling Tournament history.
Wood, a 122-pounder, used two head-in-arms to defeat Kadena's J.C. Henderson 2-0, and teammate James McDowell (141) also won gold as the Dragons won their Pacific-record 21st team title as the freestyle competition ended.
"It's usually not my move, but today, it seemed to click," Wood said after joining Kubasaki's Justin L. Miller (1996-99) as a four-time champion. "The last one is always the best one."
Wood's coach, Terry Chumley, said it was also Wood's greatest challenge. "The increase in weight, the competition was fierce. He had to step it up. He turned it on when he needed to."
The team title, Chumley said, "matches completely" the one Kubasaki won four years ago. "Nobody expected us to be here. Flying under the radar was certainly fine with us."
Kubasaki scored 74 points to win the Class AA team title and dethroned Kadena, which finished second with 58 points. Yokota, with a tournament-high four gold medals, was third with 54.
The first Class A championship was won by Osan American, led by gold medalists Jesse Crockett (215) and Michael Gilliam (heavyweight). The Cougars had 23 points; runner-up Robert D. Edgren had 16.
"We thank DODDS for establishing the Class A championship," Cougars coach David Hemmer said. "It inspired our kids to work hard."
All six returning champions repeated their gold medals, with varying degrees of difficulty.
The most controversial involved Kadena's Harry Bloom at 148 pounds. He needed to beat Zama American's Elias Labrador twice in the tournament's double-elimination format, and did so by majority 2-1 decisions.
Late in the second bout, Labrador appeared to have scored a takedown to go ahead 2-1. The mat referee signaled the takedown, and it went up on the scoreboard, but it was not confirmed by the two other officials and was taken off the board, according to international freestyle rules.
The period ended 1-1, with Bloom winning, since he got the last point.
"There was no confirmation. That's why there are three referees," Kadena coach Steve Schrock said. "Harry wrestled back and beat him twice. Sometimes, good things happen to good people."
"It's pretty bad. I had him, all three periods," Labrador said.
Noting that Labrador had chances to pin Bloom in both matches, coach Chris Iredale said: "They do what they're told, there's no problem. He had him where he could have pinned him."
Yokota's Chris Cournoyer needed a two-point throw in the last period to beat Kubasaki's Cody Allen 2-1 at 115 pounds.
The rest of the returning champs won with relative ease. Yokota's Mark Meade (108) and Tony Presnell (168) superior decisioned their quarries; reigning Far East Outstanding Wrestler Cameron Butts of Nile C. Kinnick pinned Kubasaki's Jon Goddard in 1 minute.
"It's harder to repeat; everyone's after you," Cournoyer said.
Butts said he didn't feel added pressure as a returning champion. "I just took it one match at a time and ended up on top," he said.
Among the new champions, Zama's Michael Spencer (158) accomplished in the Pacific what he failed to do as a freshman in Europe.
"I still want a rematch," Spencer said of his conqueror of last year, Matt Lyon of St. John's International of Brussels. On Friday, Spencer easily pinned Kubasaki's Jake Haynes in 1:50.
Spencer's teammate, Jacob Iredale (180), became a first-time champion by pinning 2007 champion Justin Stokes of Seoul American.
Crockett's and Gilliam's golds at 215 and heavyweight weighed heavily in the Cougars' Class A championship.
"Something new. I've never been a champion before, which is great," Gilliam said.
Like Bloom, McDowell needed two bouts to finally vanquish Kadena's Shanon Lautenschlager, who beat McDowell in last month's Rumble on the Rock at Kubasaki. Yokota's Devin Day (129) had it much easier, pinning Kubasaki's Josh Bales in 1:53.
One first-time champion sounded a warning shot for the future: Kinnick freshman Marcus Boehler (101), who scored a two-period decision over Kubasaki's Zack Standridge.
"Can you believe it?" Kinnick coach and athletics director Nico Hindie said. "He didn't have plans to go out for wrestling. We're happy he did. He's a scrappy guy. He'll be around for four years."
---
---
---
---