Far East Wrestling, Day 3: Kubasaki needs tiebreaker to earn dual-meet title
---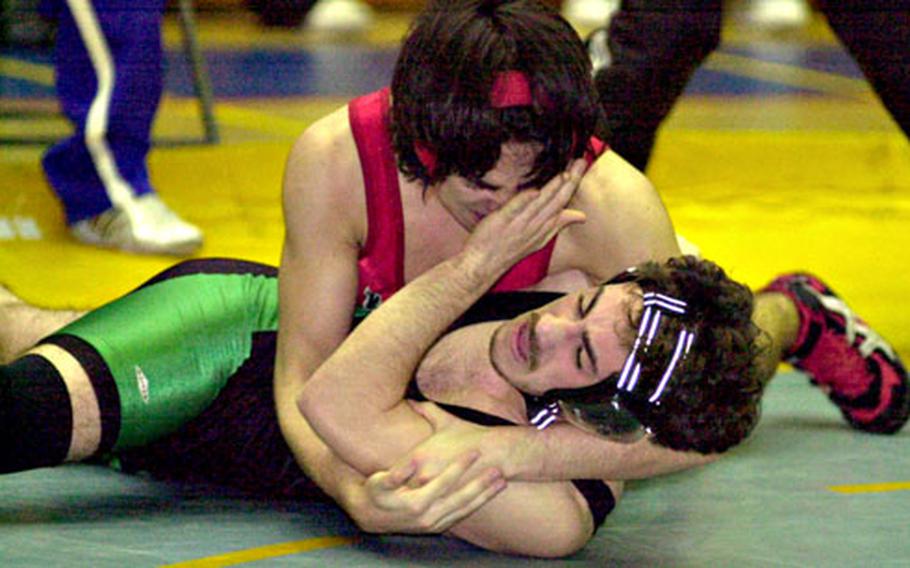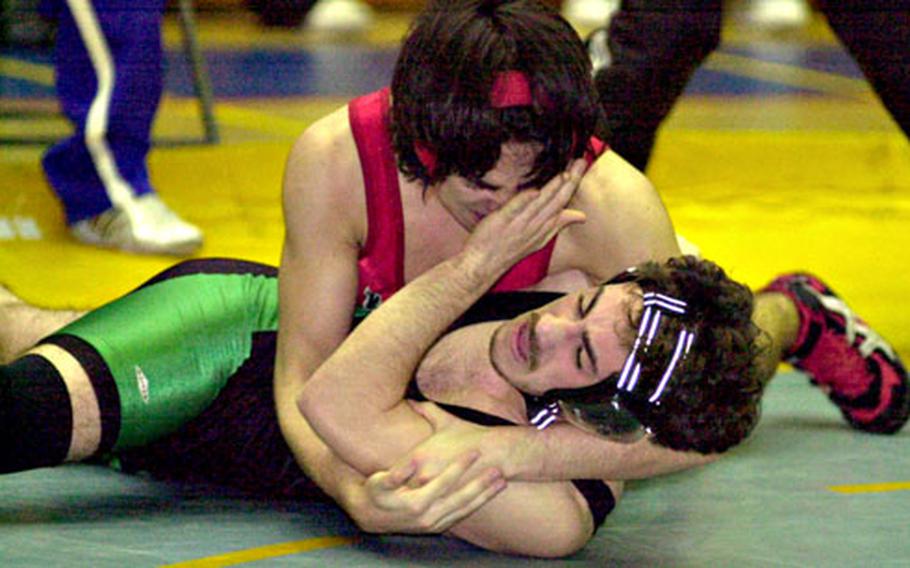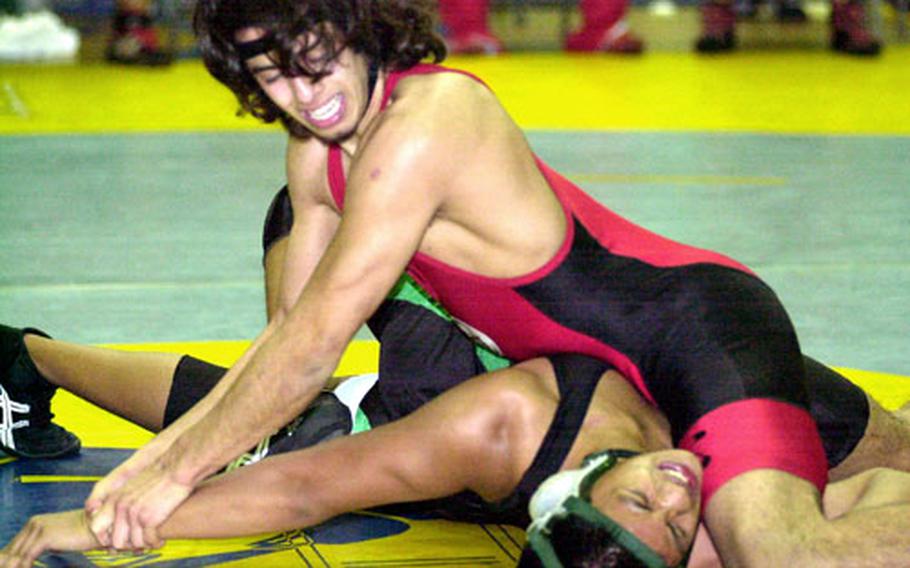 YOKOTA AIR BASE, Japan — Nile C. Kinnick coach Robby Rhinehart tried a calculated gamble Saturday that almost worked.
That it didn't was solely due to the heroics of Kubasaki 158-pounder Kris Martinez, a "lucky loser" who lost a 5-3 decision to Kinnick's Andrew Brown but avoided being pinned.
That spelled the difference when the two most storied programs in the annals of the Far East High School Wrestling Tournament engaged in the closest dual team championship meet in the event's history.
Kubasaki and Kinnick finished with 26 points apiece. Kubasaki claimed the title on the tiebreaker, with three pins to the Red Devils' two.
Kubasaki, stronger at the lower weights, roared ahead of Kinnick 16-4 before the Red Devils charged back to lead 26-22. Dragons heavyweight Paul Haecherl pinned Kinnick's Phil Ergus to create the tie.
Had Brown pinned Martinez, Kinnick would have won 27-25.
"I give credit to him [Martinez] for staying off his back for a whole minute and getting us that team point," Kubasaki coach Terry Chumley said.
"Just stay off my back was all I was thinking," Martinez said of the critical last 60 seconds of his bout with Brown, a surprise substitute for 158-pound individual freestyle champion Yamato Cibulka. "I was looking at the clock the whole time. I was thinking, 'No way I'm giving this up.'"
That Brown wrestled at 158 pounds instead of his usual 148 was part of Rhinehart's gamble.
As the "home" team, Rhinehart had final say on who would wrestle at each weight against Kubasaki.
Thinking that Brown would likely lose to Kubasaki's 148-pound champion, Steve Courtney, Rhinehart opted to give Courtney a walkover victory, move Brown up to 158, Cibulka to 168 and 168-pound runner-up Joey Wood to 180.
Rhinehart thought of that lineup change in the moments leading up to the final, but mainly because of the health of his regular 180-pounder, Chris Sanders.
"His [Sanders] ankle was as big as a grapefruit," Rhinehart said.
"It was a great scheme," Wood said. "That's why I was so calm when we were down. We knew we could come back."
Wood and Cibulka recorded technical fall victories, when pins might have saved the Red Devils.
"Some people could have pulled off a pin," Wood said. "Every point mattered in that meet. He [Martinez] fought hard and he deserved not to get pinned."
Chumley said she knew "something was up" when nobody went to ring's center to face Courtney and "I saw their 148-pounder warming up."
After some quick calculating, she arrived at a solution.
"I told my guys we needed just one team point," she said.
Reggie Barton got the Red Devils on the board by pinning Kubasaki's 101-pound gold medalist, Jack Abate.
The Dragons won the next four bouts, on pins by Cameron Daugherty (108) and Nic Dennard (115), a walkover victory for 122-pound champion Matt Maza and a technical fall by C.J. Tapang (129).
Kinnick's charge began with a decision victory by Mervin Ibanez (135) and 141-pound champion Kenji Doughty's pinfall victory, cutting the gap to 17-11 and leading to Rhinehart's lineup adjustment.
Brown, Cibulka and Wood followed with victories. Roderic Thomas (215) won by walkover to give Kinnick a brief 26-22 edge, but Haecherl put Ergus away to tie it at 26-26.
Kubasaki extended its tournament record to 20 titles to six for the Red Devils. The Dragons also became the first team in five years to sweep the dual-meet and individual freestyle crowns.
Dopslaf, Burnett prevail in battles of gold medalists
Rhinehart wasn't the only gambler on Saturday. Kadena coach Steve Schrock alternated Brandon Stout and two-time 168-pound champion Devon Copeland at 168 and 180 throughout the day, but the strategy backfired when host Yokota's 180-pound gold medalist, Zach Dopslaf, encountered Copeland.
Dopslaf handed Copeland only his second loss of the season and first in two years in the Far East meet, a 13-3 technical fall in the consolation bracket semifinals. Yokota topped Kadena 31-20 and went on to finish in third place.
"I was nervous," Dopslaf said. "I just used double-leg takedowns, over and over, to put him on his back. Just be aggressive and keep it going."
And 215-pound gold medalist David Burnett of Zama American finished his season series 2-1 against Scott Tunis, Seoul American's 180-pound gold medalist of last year.
Burnett and Tunis went to overtime tied 1-1. By rule, they had to start overtime clinching each other, and Burnett succeeded in putting Tunis down first for a takedown that made the final 2-1. Seoul American beat Zama and eventually finished fourth.
Burnett became the first Zama American wrestler in 15 years to win the tournament's Outstanding Wrestler award.
---
---
---
---