Far East Wrestling, Day 2: Chumley guides Kubasaki back to summit
---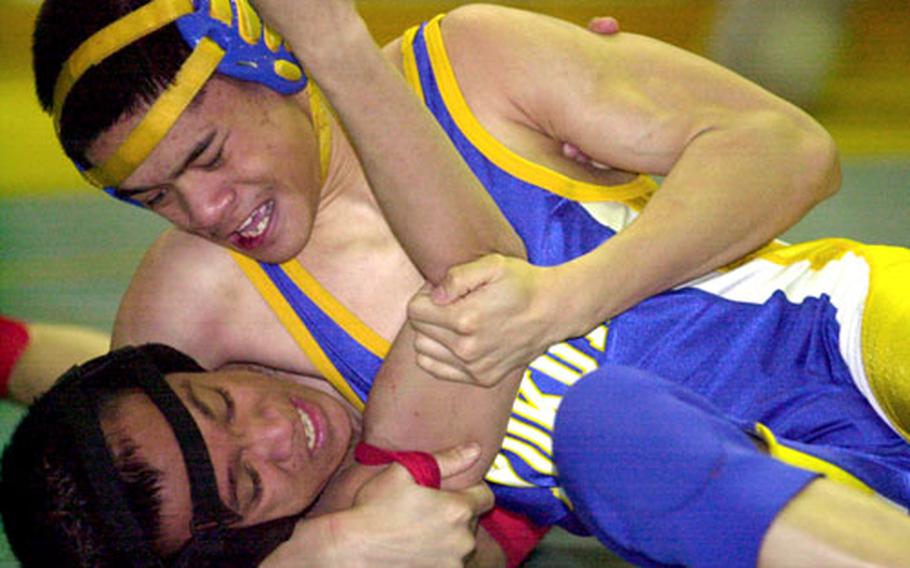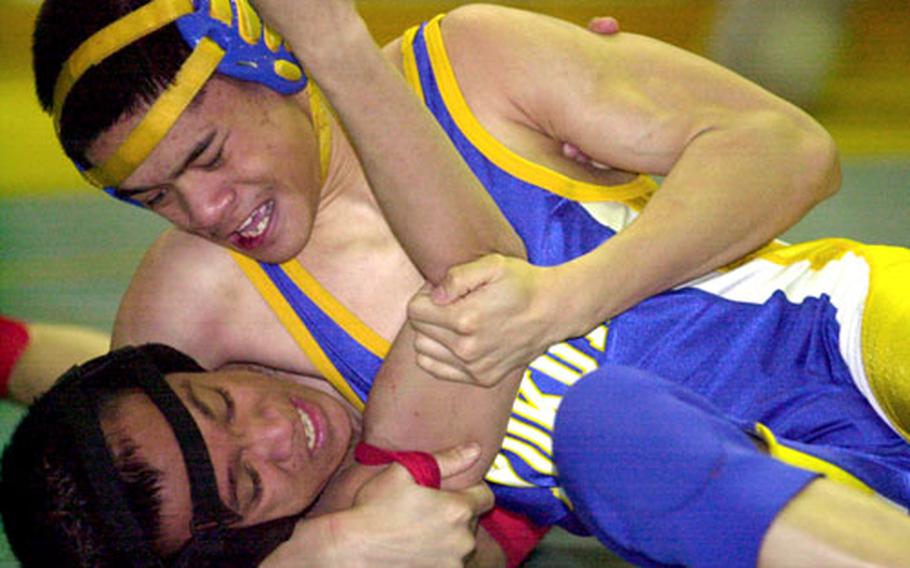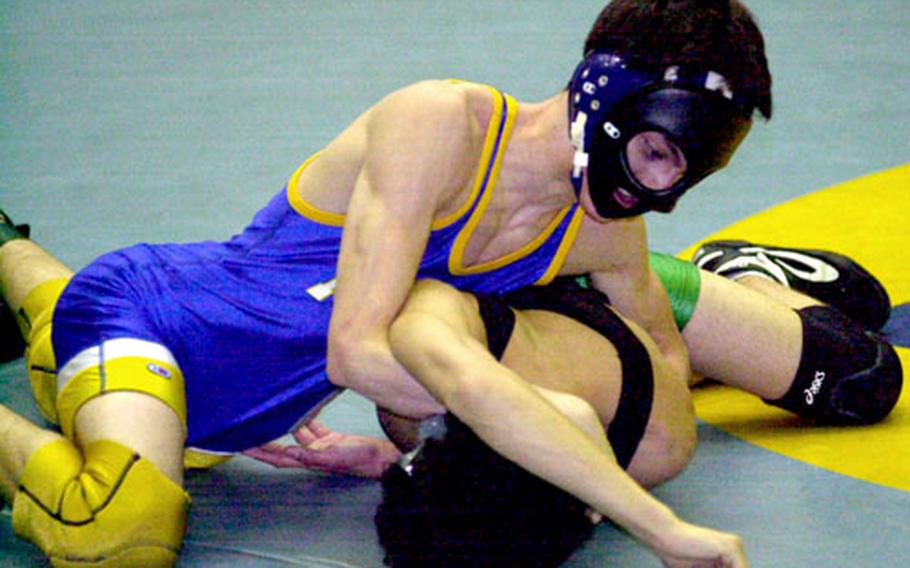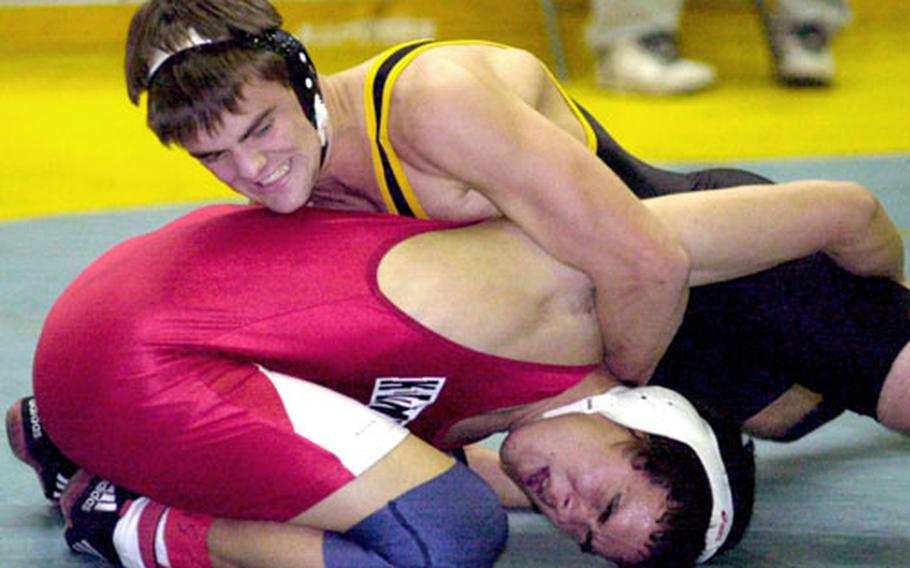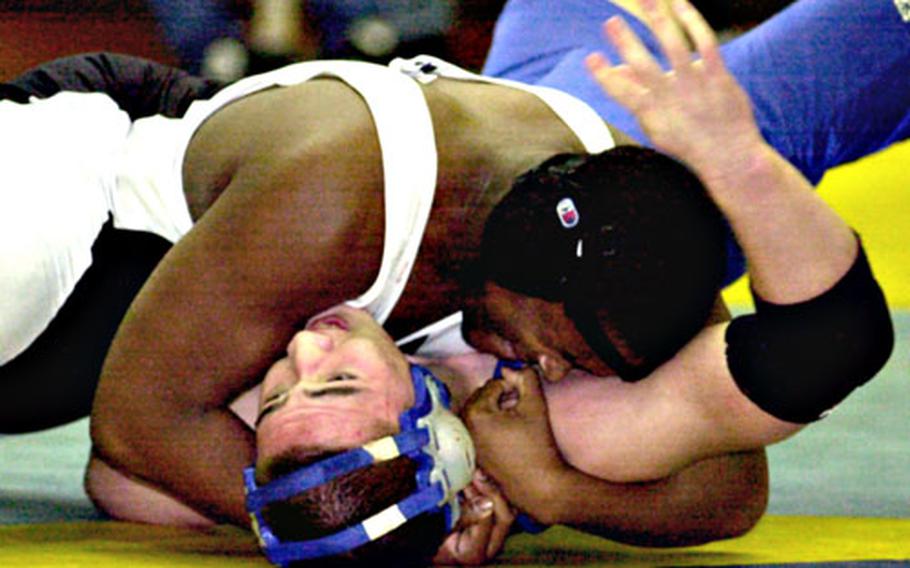 YOKOTA AIR BASE, Japan — On a day on which 11 first-time gold medalists made their way to the awards podium, a storied program revived itself Friday as Far East High School Wrestling Tournament powerhouse.
Okinawa's Kubasaki Dragons extended their Pacific record to 19 Far East titles, winning the individual freestyle team crown by edging island rival Kadena 69-66 in one of the tightest finishes in tournament history.
"Ecstatic. Overjoyed. I'm really proud of my guys," said Terry Chumley, who took over the Kubasaki program three seasons ago from longtime mentor Jeff Pellaton.
Chumley became the first female coach in tournament history to win a team championship. She should also quiet the voices around the island that whispered privately that the program was "done" without Pellaton.
"This is my program. That's what makes this the sweetest of victories, that we were able to win it within three years," Chumley said, adding that she'd "heard the voices" proclaiming the death of the Dragons. "I've always had faith that we would become a strong program again."
The Dragons also led the tournament with four individual gold medalists, all first-time winners — Jack Abate (101), Matt Maza (122), Steve Courtney (148) and Paul Haecherl (heavyweight).
Thought to be in rebuilding mode and overshadowed by talk before the tournament of a four-way battle among host Yokota, Nile C. Kinnick of Japan, Kadena and defending dual-meet team champion Seoul American, Chumley knew on Thursday, the first day of the meet, that Kubasaki had a shot.
"The way we wrestled yesterday, they showed me a lot of heart, desire and toughness," Chumley said. "Whatever it takes, that's our team motto, and we did it."
One opposing champion emulated that Kubasaki motto, including Yokota 115-pounder Jason Rodriguez. He suffered a broken nose in a Thursday round-robin bout with Kubasaki's Nic Dennard, but came back Friday — wearing a face mask — to defeat Dennard for the gold.
"It was extremely frustrating," said Rodriguez, a freshman. "But with my mask, my vulnerability became my invincibility. I never thought I'd get this far. It's my first taste of victory and I plan to keep drinking."
Rodriguez joined teammate Patrick Pamintuan (108) as a champ in his first season.
"He [Rodriguez] has more heart and conviction than any freshman I've ever seen," tearful Panthers coach Brian Kitts said. "I love him like he was my own son."
Kinnick's Kenji Doughty achieved his long-sought goal of winning the 141-pound category, and in so doing joined older brothers Jonny and Billy as Far East gold medalists.
"I know my whole family is proud of me," Doughty said. "It's just an overwhelming feeling. It feels like a weight has been lifted off my shoulders, definitely."
The two weight classes featuring two returning 2004 gold medalists lived up to the hype with memorable final bouts.
Kinnick's Joey Wood, last year's 158-pound champion, and reigning 168-pound titlist Devon Copeland of Kadena went to overtime, after Copeland rallied from a 4-0 deficit. Copeland secured a takedown at 6:46 after a titanic struggle.
"I know I worked hard. Joey's a hard worker, too," Copeland said. "It seemed like he was tiring as the bout went on. But Joey Wood's a great competitor. I'd wrestle him any day."
Just two weeks after losing to him in the Kinnick Invitational "Beast of the Far East" Tournament, David Burnett of Zama American gained revenge on Scott Tunis of Seoul American in the 215-pound final.
Last year's heavyweight champion showed unusual speed and agility to take command of Tunis, the 2004 180-pound titlist, finally pinning him in 4 minutes, 36 seconds.
"He came out really aggressively," Tunis said of Burnett, who was also voted the tournament's outstanding wrestler. "Maybe I was too anxious and should have been more calm, did moves that I shouldn't have done. Today, he was the better guy."
Other first-time winners were Kadena's Brandon McCullough (129), Seoul American's John Crabtree (135) and Kinnick's Yamato Cibulka (158).
Matthew C. Perry senior Adam Krievs, the only wrestler from the Japan school, won a bronze medal at 180 pounds by rallying from a loss to eventual champion Zach Dopslaf of Yokota.
"Coming all the way from the bottom to reach third, it shows how much heart I've got," Krievs said.
---
---
---
---