Far East Wrestling, Day 1: Krievs takes big first step for newcomer Perry
---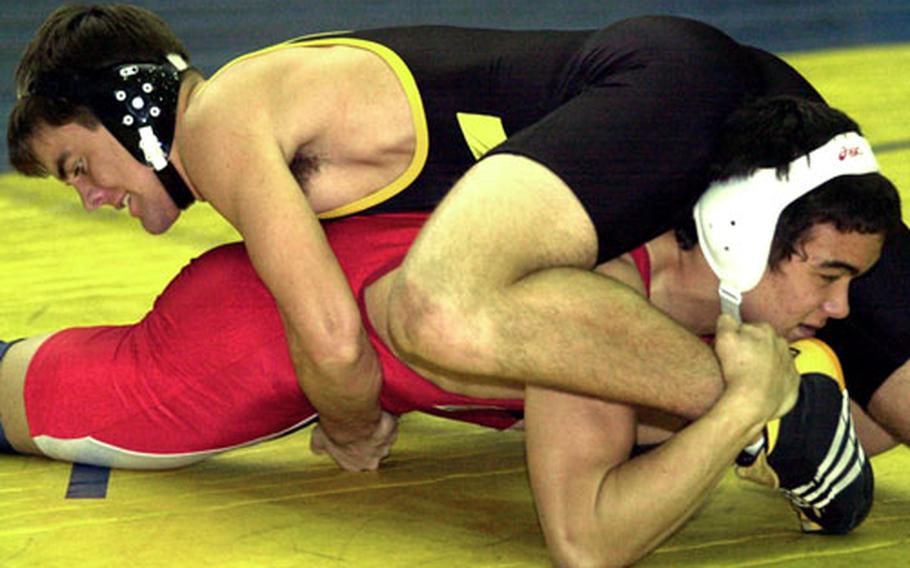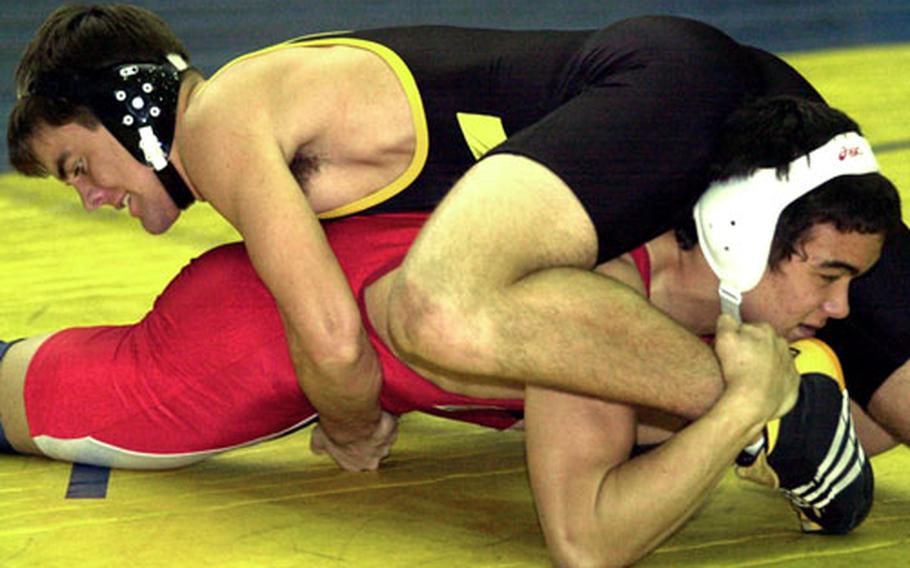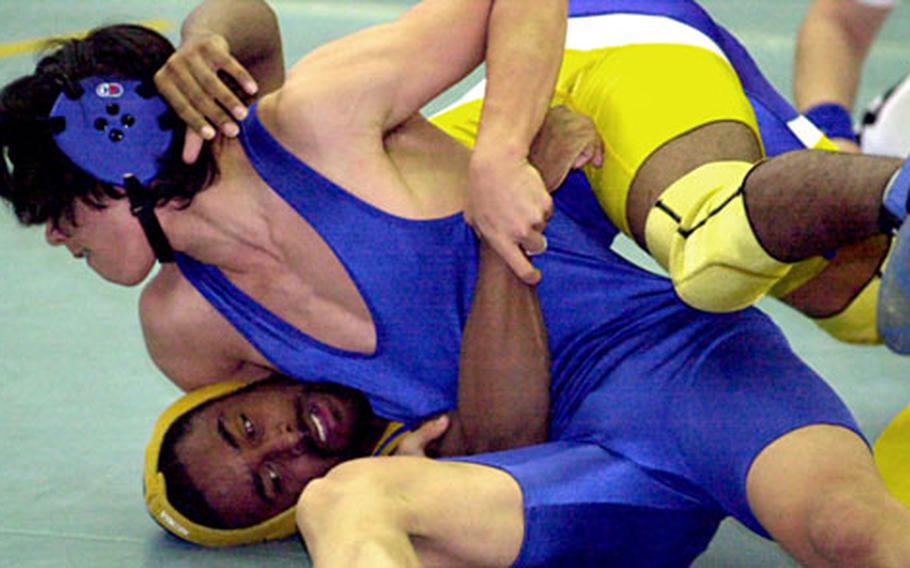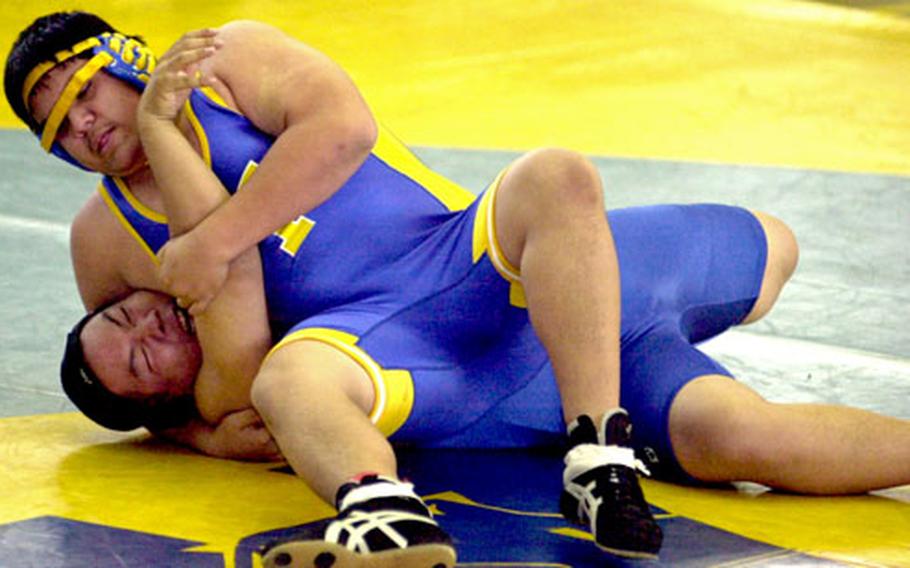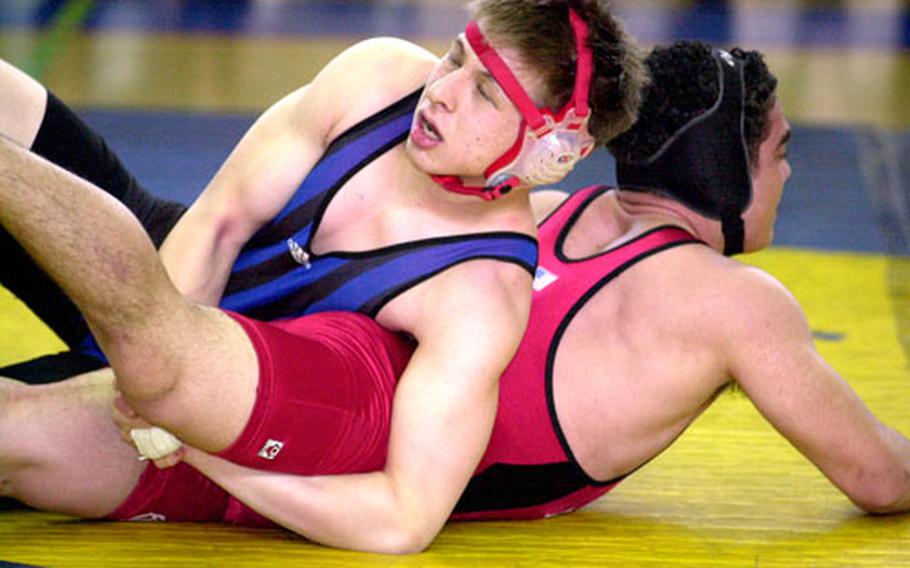 YOKOTA AIR BASE, Japan — Matthew C. Perry High School's wrestling program was out in force.
All one of 'em.
Adam Krievs made Samurai history on Thursday representing Perry in the Far East High School Wrestling Tournament.
Krievs hopes it also signals a reversal of a trend of sports programs dying out at the small school — about 125 students — at Marine Corps Air Station Iwakuni, Japan. Perry suspended its football program this past fall, and its baseball and girls softball programs last spring, due to lack of players.
"With Perry losing athletic programs," Krievs said, "a wrestling program would be great for the school. If we don't have the numbers for football, I'm sure we'd have enough to wrestle and perform at a higher level."
He had a rough start in the 180-pound class, getting pinned by Aaron Clifton of Osan American in the round-robin bouts, held for seeding purposes for the double-elimination playoffs. But he rebounded, pinning Jonathan Hamilton of Taegu American to go 1-1 for the day.
Krievs' road to the Far East tournament has been roundabout, just as his senior year has been an exercise in hopscotching throughout Japan.
He began the year playing football at Nile C. Kinnick after Perry dropped its program, then stayed for most of the wrestling season until transferring back to Perry in late January.
Krievs and his family spent the next two weeks trying to gain a spot for him in the Far East tournament at Yokota.
"I was a little worried," Krievs said. "If I hadn't gotten to go, I'd have been disappointed."
And there were obstacles to overcome, from staying in shape for the two weeks after his transfer to getting permission from the school and the tournament.
With no wrestling coach at Perry, Krievs' family sent e-mails throughout Iwakuni to find anybody who knew about wrestling.
All-Marine women's wrestler Sheena Dowd answered the call. With two male Marine wrestlers, she helped prepare Krievs for the tournament.
His dad, Master Sgt. Eric Krievs, said he would chaperone and coach his son at Yokota, and Kinnick offered to let Krievs stay with its team. Finally, Friday, Perry approved Krievs' request to attend the tournament.
"He deserves to be here," tournament director Brian Kitts said.
The episode made Krievs' already memorable senior year that much more of an adventure, he said.
"It's been a great experience," he said. "Going to Kinnick, doing something I love, then coming back to family. It's helped build character. All this will help me later on in life."
Copeland-Wood Part I
One of the two weight classes in which there are two defending champs competing offered a preview of what could be an exciting final.
Kadena's Devon Copeland rallied from a 5-0 deficit to pin Joey Wood of Kinnick at 4 minutes, 13 seconds. Wood won the 158-pound title last year, and Copeland took gold at 168.
"I came in too confident," Copeland said of falling behind early.
Copeland was confident he and Wood would meet again Friday in the playoffs.
"I know I can wrestle better," Copeland said. "I know I'll see him tomorrow when it really counts."
---
---
---
---