Far East volleyball tournaments: Taegu, Kubasaki aiming for new heights
by
Dave Ornauer
November 5, 2005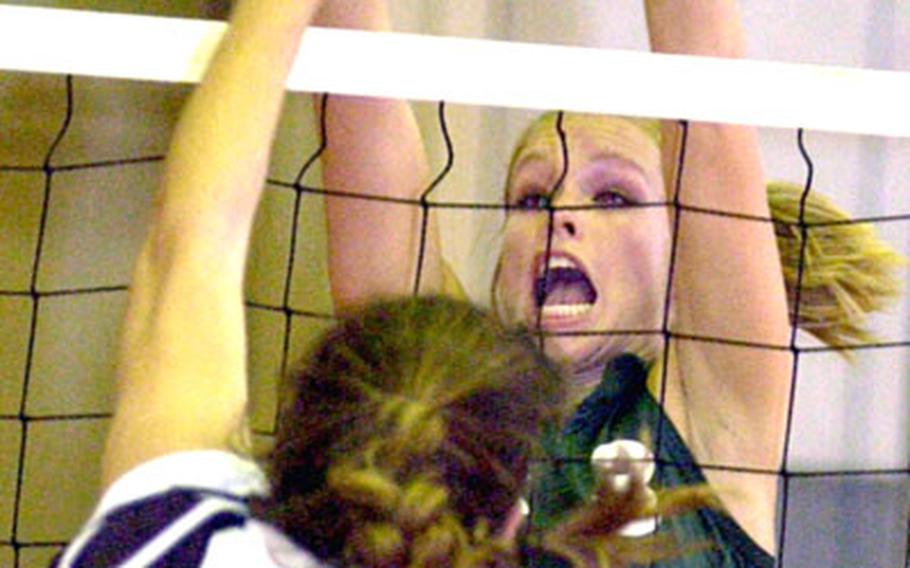 Riding a wave of homegrown talent, Taegu American's girls volleyball team surfed to the best regular-season record in school history and a third-place finish in last weekend's Korean-American Interscholastic Activities Conference tournament.
On Okinawa, skilled senior middle blocker Alex Fernandez transferred from California to Kubasaki High School — and helped transform the Dragons into a powerhouse that rivals Kubasaki's 1983 and 2001 Final Four squads.
The questions now:
How far can Taegu American go in next week's Far East Class A tournament at Sasebo Naval Base, Japan?Can Kubasaki achieve two Final Four finishes in four years in the Class AA tournament on Yongsan Garrison in South Korea?"If we put all the pieces together and keep working as we have, and improve every day while we're in Seoul, we have a legitimate shot," Kubasaki coach Terry Chumley said.
Seoul American Falcons coach Denny Hilgar believes the Warriors can at least duplicate their 1999 Center Court appearance.
"That is the best team Taegu has ever had on the floor," said Hilgar, whose Falcons lost twice to the Warriors in the regular season. "I do not have a doubt that they will be in the finals."
The Warriors, two other South Korea Class A teams and three from Japan begin the five-day journey to Center Court on Monday at E.J. King School and at Sasebo's Fleet Gym. The Dragons and six teams from Japan, South Korea, Okinawa and Guam play the six-day Class AA tournament at Seoul American's Falcon Gym and the Collier Field House on Yongsan's South Post.
Behind spiking senior Lynnette Grant (175 kills), sophomore setter Courtney Hallenbeck (173 set assists), Kadijah Parker's all-around play and four-year starter Kelli Cox's leadership, the Warriors turned in a banner year in standings and stat sheets.
Taegu teams have had such talent before but also tended to fall apart in the clinch. Not now, first-year coach Jennifer Sharp said.
"Their team unity is … stronger than I have ever known," she said. "I know the girls are having fun. … I love coaching them. They know they can win and I know they can, too."
At Kubasaki, Chumley credits improved "speed and teamwork by all the players, across the board" for the Dragons' sweep of the Okinawa Activities Council three-match season series with Kadena.
"We have strong hitters and good offense, with good passing and setting," he said. "Our basic skills are good this year. Our consistency is quite good." And Fernandez, in addition to being a force at the net, also can play all positions on the court.
Besides their DODDS opponents, Taegu and Kubasaki must face international school teams — which, unlike DODDS teams, can "keep people from middle school until they graduate," Chumley said, and so have tended to dominate Far East tournaments.
They "communicate well, they're very effective on defense and they're consistent," he said, adding that players comfortable with each other tend to do well.
International school teams can be beaten, Chumley said, but "you have to do a lot of team building and maintain consistency in a short amount of time. Volleyball is seasonal for a lot of these (DODDS) players."
The six-day week will go far toward building that for any DODDS team, he said. "Any team needs to do more talking and get more time on the court. Consistency will determine how well a team will do."
An ability to bounce back from what Sharp termed the "huge disappointment" of Taegu's third-place KAIAC tournament finish also will be a factor in her team's chances, she said.
"I hope the experience (they) have under their belt (and) the fact that they were so close to a KAIAC title will be a contributing factor" to a better result this time.
She also predicted what victory will require: "Never underestimate any team. Believe in yourselves and each other, play aggressively 100 percent of the time and leave your heart and soul out there on the court."
Far East High School Girls Class A Volleyball TournamentDates: Nov. 7-11.
Sites: E.J. King High School Gym and Fleet Gym, Sasebo Naval Base, Japan.
Host: E.J. King High School.
Participating schools: Faith Academy Vanguards, Rizal, Philippines; Taegu American Warriors, Camp George, South Korea; Morrison Christian Academy Mustangs, Taichung, Taiwan; International School of the Sacred Heart Symbas, Tokyo; Osan American Cougars, Osan Air Base, South Korea; Robert D. Edgren Eagles, Misawa Air Base, Japan; E.J. King Cobras, Sasebo Naval Base, Japan; Pusan American Panthers, Camp Hialeah, South Korea; Matthew C. Perry Samurai, Iwakuni Marine Corps Air Station, Japan.
Returning All-Tournament players: Heather Craker, Brandi Dickman, Morrison Christian Academy.
Format: Single round-robin play, Monday through Wednesday morning, all nine teams in one pool playing two-set matches for purposes of seeding into double-elimination bracket. Double-elimination play, best-of-five matches from Wednesday afternoon to championship match Friday.
Schedule of events: Opening ceremony 8:30 a.m. Monday at E.J. King Gym. Round-robin matches at 1 p.m. Monday through 10:30 a.m. Wednesday, followed by skills competitions and start of double-elimination play at 4 p.m. Championship match at 11 a.m. Friday, with second "if necessary" match at 1:30 p.m. Awards ceremony at 5 p.m. Friday at E.J. King Gym.
DODDS-Pacific teams to watch
Taegu American (coach Jennifer Sharp, first year) — Best Warriors team since 1999 squad that reached Center Court. Four-year starter Kelli Cox provides leadership, Lynnette Grant (175 kills) leads the way in the middle, Kadijah Parker shines all around and setters Michelle Weal and Courtney Hallenbeck set the tone. Could capture the gold.
Osan American (coach Brian Swenty, third year) — Losing middle blocker Margaret Nurse (transfer to Seoul American) and Jannel Acoba (injury) hurt this building Cougars bunch, but they're still solid, thanks to setter Celine Baldevia, freshman Jessica Richert and transfer Sasha Gluzinski.
Robert D. Edgren (coach Sarah Richardson, 16th year) — Will be hard-pressed to replace the power of graduated hitter Arlie Boera and all-around stars Stephanie Patrick and Langley Yard, but will still be competitive, dropping to the Class A level and with senior sisters Valerie and Veronica Jones leading the way.
E.J. King (coach Michael Seitz, seventh year) — As usual, Seitz fields a team of short, scrappy defensive players who can somehow elevate at the net and cover the court like a blanket, trying to frustrate the opponent into mistakes. No height continually hurts this bunch.
Pusan American (coach Elizabeth Nygard, first year) — First-year coach of a final-year team; Pusan American closes its doors at the end of the school year. Senior Jeni Smith, sophomore Yeojin Niehaus and freshman Linda Martinez are the team's lone returnees.
Matthew C. Perry (coach Jewell Smith, first year) — Rebuilding continues unabated in Samurai country. Yet another new coach and group of youngsters. Cristina Sindac is the lone returning experienced player.
Far East High School Girls Class AA Volleyball TournamentDates: Nov. 7-12.
Sites: Falcon Gym and Collier Field House, South Post, Yongsan Garrison, South Korea.
Host school: Seoul American High School, Yongsan Garrison, South Korea.
Participating schools: Academy of Our Lady Cougars, Hagatna, Guam; Christian Academy In Japan Knights, Tokyo; American School In Japan Mustangs, Tokyo; George Washington Geckos, Mangilao, Guam; John F. Kennedy Islanders, Upper Tumon, Guam; Kubasaki Dragons, Camp Foster, Okinawa; Simon Sanchez Sharks, Yigo, Guam; Southern Dolphins, Agat-Santa Rita, Guam; Seisen International Phoenix, Tokyo; Zama American Trojans, Camp Zama/Atsugi Naval Air Facility, Japan; Seoul American Falcons, Yongsan Garrison, South Korea; Nile C. Kinnick Red Devils, Guam High Panthers, Nimitz Hill, Guam; Kadena Panthers, Kadena Air Base, Okinawa; Yokota Panthers, Yokota Air Base, Japan; Hong Kong International Dragons, Hong Kong.
Returning All-Tournament players: Cassandra McFadden, Academy of Our Lady; Saini Eseroma, George Washington; Kelsey Masuda, Christian Academy In Japan; Catherine Thornton, American School In Japan.
Format: Single round-robin play Monday, four pools of four teams each playing two-set matches for the purpose of seeding into Tuesday's divisional play. Top teams in Monday's pools enter Gold Division, second-place teams enter Silver Division, third-place teams enter Bronze Division, fourth-place teams enter Copper Division for another day of single round-robin play, playing best-of-three matches. Modified single-elimination playoff begins Thursday, with teams playing best-of-five matches, concluding with Saturday's championship.
Schedule of events: First round-robin matches Monday start at 8 a.m., ending at 9 p.m. Tuesday's and Wednesday's divisional matches start at 9 a.m., concluding at 6 p.m. Playoffs start at 9 a.m. Thursday, continuing through championship match at 3 p.m. Saturday. Award ceremony follows championship match.
DODDS-Pacific teams to watch
Yokota (coach Troy Oliver, seventh year; fifth last year) — Will be a sharp dropoff from team that nearly reached Final Four last year, but still gets good hitting from senior Shiori Kaneko, setting from Melissa Dixon and defensive play from Brooklyn Neal. They'll learn and grow lots.
Seoul American (coach Denny Hilgar, 26th year; eighth last year) — Another rebuilding year saw the emergence of senior transfer Margaret Nurse (Osan American) and Avianca Manning (States). Kim Lee and Whitney Grandy form a good setting duo, and Mindy John and Lorna Haney shine on back row.
Nile C. Kinnick (coach Shane Hernandez, first year; 10th last year) — Setter Mariko Wood passing to hitters Erica Niemeyer and Frances Zukowski is this team's trademark. Could be dangerous. Consistency is key.
Guam High (coach Ruth Maher, fourth year; 12th last year) — Having to replace graduated setter Shella Mesa and hitter Sarah Bushong was a chore, but Panthers got excellent defensive and all-around play from seniors Maryann Riano and Divina Bruan.
Kubasaki (coach Terry Chumley, fifth year; ninth last year) — Watch out for this bunch; could be the best Dragons team Kubasaki has fielded in 22 years, thanks to the presence of senior transfer Alex Fernandez (Woodland, Calif.). Raelene Tajalle is more than a capable setter and Katie Leonard and Brittany Fultz can be dangerous in the middle and outside. Potential Final Four team.
Kadena (coach Jim Lewis, second year; 15th last year) — Only senior Bailey Paschal remains from team that finished third two years ago. Lewis fields a collection of athletes whose volleyball skills are coming along. Erica Kerr and Alison Montes de Oca can be dangerous hitters.
Zama American (coach Dennis Decker, fifth year; 16th last year) — From the depths of two straight second-place finishes, the Trojans have come on strong as the top DODDS team in Japan this season. Seniors Kate Shicks and Kat Schultz and sisters Amber and Whitney Wilder lead the way.