Far East track can't quite clear the bar
---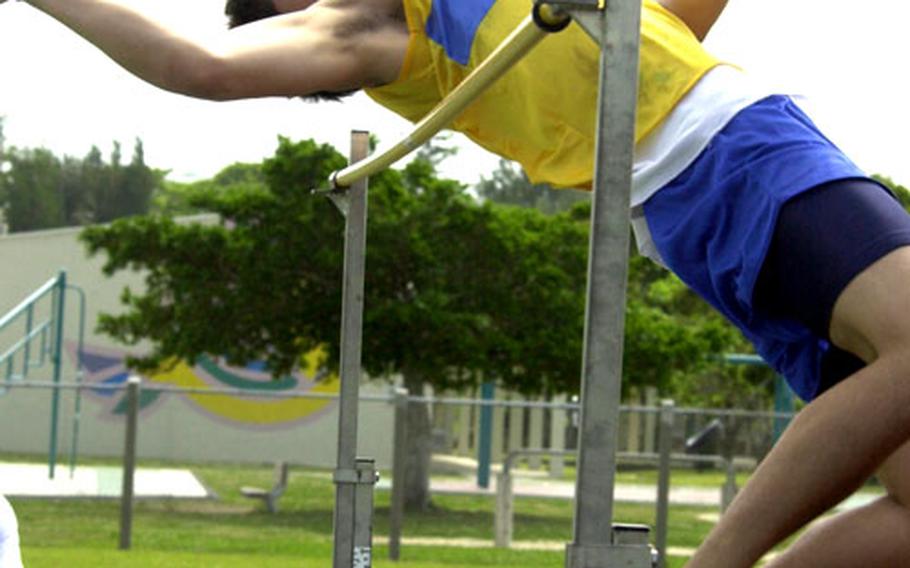 CAMP FOSTER, Okinawa — Charles Burns has watched for years while students in the Pacific compete in fully funded season-ending Far East tournaments, many in faraway locales.
The track and field coach of Kubasaki High School wonders why track has been left out of the equation.
"Why can't they do the same for track and field?" Burns asked. "The kids work just as hard."
He was speaking after last weekend's third installment of the Alva W. "Mike" Petty Memorial Track and Field Meet, his brainchild and perhaps the closest thing to a regional Far East track meet. It has involved DODDS schools Kubasaki and Kadena of Okinawa and Nile C. Kinnick of Japan, international schools from Tokyo and, last weekend, Guam's first entrant, John F. Kennedy.
The entrants for the Petty meet must pay for travel to Okinawa — at least $500 per head for airline tickets — find billeting (if available) and furnish just about anything else one can imagine for a weekend away from home.
All such expenses are paid by DODDS-Pacific in Far East events.
Besides Kubasaki, only Kinnick, Kadena, Yokota and Zama American high schools have DODDS-Pacific track programs. Guam High's few athletes compete as members of Kennedy's team. And Camp Casey — not located near a DODDS school — has the only regulation 400-meter track on a U.S. military base in South Korea.
Far East Activities Council chairman Don Hobbs said limited participation is the largest obstacle to adding a Frat East meet for track.
"You have to have enough schools that have the sport for it to become part of the calendar," Hobbs said. "Same with baseball and girls softball; not enough DODDS schools have the sport."
During a FEAC meeting in February, a group of track coaches, headed by Yokota's Matt Grant, proposed returning the sport to the FEAC calendar, Hobbs said, but "no recommendation was made."
So, coaches and DODDS officials say there's little prospect of funding for track and field unless more schools participate.
Said Kinnick coach Matt Martinez: "Any activity, no matter how big or small, academic or athletic, if it benefits the kids, then it should be pursued. I would like to see a Far East, to have that kind of competition on a big stage … and to get them a look for scholarships."
Some schools offer track and field without DODDS-Pacific funding. At Robert D. Edgren High School, coach Tony Ruffin recently formed the Misawa Flyers track team, which operates as a private club. Based on the precedent set by Edgren's baseball and softball teams, Ruffin hopes track will achieve varsity status in two to three seasons.
Some coaches and students believe they shouldn't have to wait.
Said Burns: "What if only five schools have Model United Nations? You go ahead and have it because it keeps kids involved."
Track coaches also argue that, unlike baseball or football teams, track and field teams can be equipped inexpensively.
"Track is one of the easiest sports to fund," Burns said. "It's the cheapest uniform of any sport: a jersey, shorts and a pair of shoes."
Martinez said a Far East meet could be staged much more quickly than basketball tournaments, which occupy one week.
"Let's say, five runners and a thrower for boys and the same for girls — enough that you could run relays and distance races and throw shot put and discus — 12 per team," Martinez said. "And we're cranking this [the Petty meet] out in two days. Just do a Far East over a weekend."
The Petty meet is the only one a DODDS-Pacific school stages that involves athletes outside of Okinawa.
"Charles is doing a remarkable job with the Petty meet, considering he's more or less doing it on his own," Hobbs said. "But unless something further occurs, for now, it's going to have to" suffice.
---
---
---
---