Far East championship runs fueled by aid from unexpected sources
by
Dave Ornauer
March 1, 2007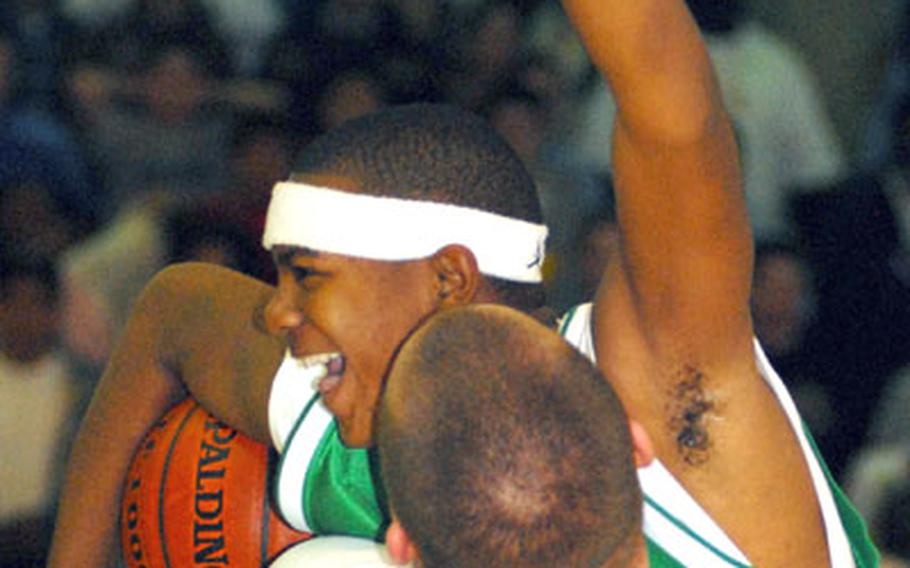 YONGSAN GARRISON, South Korea — Sometimes, the most decisive championship performances can come from the least expected sources.
So it went during last month's Far East tournaments — wrestling at Yokosuka Naval Base in Japan, boys Class AA basketball at Seoul American and girls Class AA hoops at Kadena on Okinawa:
Strong at the lighter and heavier weights, but short on mat preparation, Seoul American's wrestling team won two gold medals and the freestyle and dual-meet team titles.Known for their hustle, teamwork and strong defense, Kadena's girls, led by junior guard Brooke Hudson, unexpectedly showed a propensity for long-distance shooting as the Panthers overwhelmed American School In Japan 85-32 in the most lopsided girls Class AA tournament final in history.Thought to be rebuilding, with a first-year coach at the helm, Kubasaki's boys, including tournament MVP Quinton Mason and rising star Jacorian Callier, took the lead role as the Dragons rallied time after time to capture the school's 10th Class AA title and its first in 10 seasons."Some players step up big in big-money games, and those are the players you want to have," Kadena girls coach Ken Hudson said.
Seoul American's wrestlers may have had the least amount of mat time of any team that has won a Far East tournament, particularly at the upper and lower weights, where the Falcons' DODDS-Korea League rivals Osan American and Taegu American fielded few opponents.
Eventual Far East 115-pound champion James Nutter had two regular-season bouts; 108-pound teammate Andrew So wrestled only three, and 215-pounder Charles Jones listed one walkover loss to his credit for the entire season.
Other than wrestling Taegu and Osan six times, coming away with a 12-0 record, Seoul enjoyed one exhibition against a South Korean team. The Beast of the Far East tournament, normally held in late January at Yokosuka Naval Base, was called off due to a scheduling conflict.
"We didn't see this coming," coach Julian Harden said of championships won by a squad that fielded just three experienced Far East tournament wrestlers, only one of whom, Nutter, reached a gold-medal bout.
"I didn't think we had that strong a team. There were so many different schools with stellar athletes at various weights. So, I figured if we had enough people who could place and we could take third or fourth, we would do OK."
So, without much in the way of competition, Harden and his charges honed themselves to a fine edge by tossing each other around in the wrestling room, and entered Far East with a "no-quit" philosophy.
"We don't have the luxury of taking it easy. Every single moment (in practice), we had to do something to help sustain something on the mat," Harden said. "If you push your opponent hard in the room, then it has to have a snowball effect on the others. Practice as you compete. We don't quit, we don't give up and if we win in the end, great."
Behind Nutter's gold medal and another by 180-pounder Justin Stokes, the Falcons edged 20-time Far East champion Kubasaki 62-58 for the freestyle team title, then dethroned defending champion Kadena 38-24 for the dual-meet crown.
"We had several guys step up," Harden said. "Maybe we caught some schools off guard."
The same could be said of a Kadena girls team that few expected to be as accurate from outside as it was … except perhaps for Hudson.
"There's been some discussion about the type of team we have, about how aggressive and what a great job we did on defense, and if there was a weakness, it was shooting," he said.
Two weeks before Far East, he scheduled optional practice for players to work on shooting technique, and "about 80 percent" of the players showed up, Hudson said. "They'd been pretty serious about working on that."
Brooke Hudson's three-point barrage — four in the first quarter, five overall — might have surprised some, but her coach said he "saw it coming, not just from her, but from everybody."
Freshman Aja Walker came off the bench to toss in 19 points.
"We had our subs in, but we were on fire. It was simply incredible," Ken Hudson said.
Perhaps the most surprising development of tournament time was the rise of Kubasaki's boys, picking up the pieces after losing seniors Steven Thompson, Vance Maxey and Steven Ellis to graduation and also with 29-year-old Jon Fick at the helm, replacing the late Chris Sullivan, who died last April.
A squad of mostly underclassmen went to the Hong Kong Invitational in November and lost five games, then went on to lose all four Okinawa Activities Council regular-season games to Kadena.
But beyond the Dragons' 11-12 regular-season record, a few bright spots shined. The Dragons showed an ability to come back — they rallied to beat Kadena 75-65 in the semifinals of the Okinawa-American Shootout in January — and they played Kadena close in their last two meetings.
"We knew we were going to take our lumps," Fick said. "All the joy of winning and disappointment of losing, we kept our perspective, saw it all as a learning experience toward Far East. The Okinawa tournament was a glimpse of what we could do and that was huge for our confidence."
But could Fick and the Dragons see coming a 76-75 Class AA overtime semifinal shocker against unbeaten Zama American and a 75-71 championship upset of host Seoul American, with Mason going 6-for-6 at the foul line in the fourth quarter and Callier scoring a career-high 26 points?
"Absolutely not," Fick said. "We were going just to have a good showing, a lot of stars had to be aligned, and they were. We knew if we could hang around until the end, we had a chance. Everything fell together for us at the right moment."
---
---
---