Far East basketball: Kubasaki boys end Seoul American's reign in Class AA
---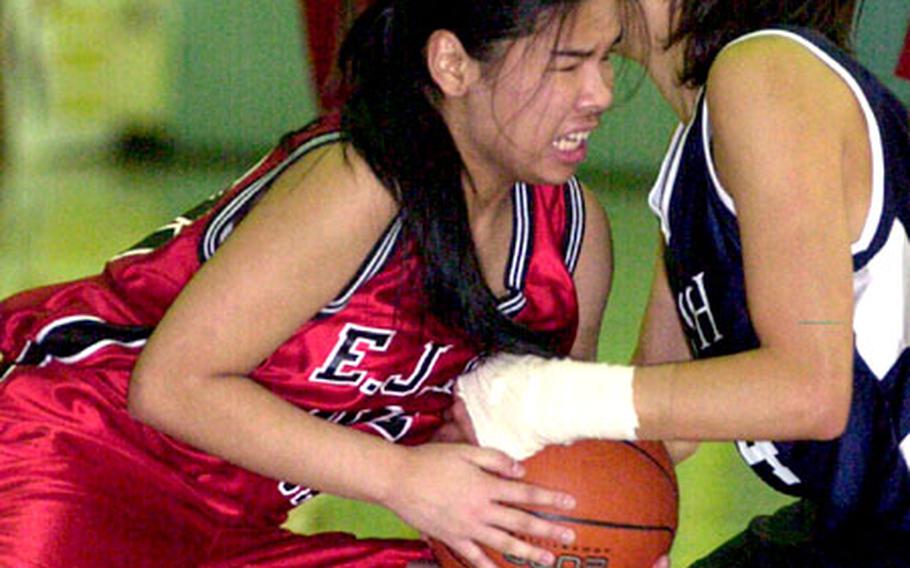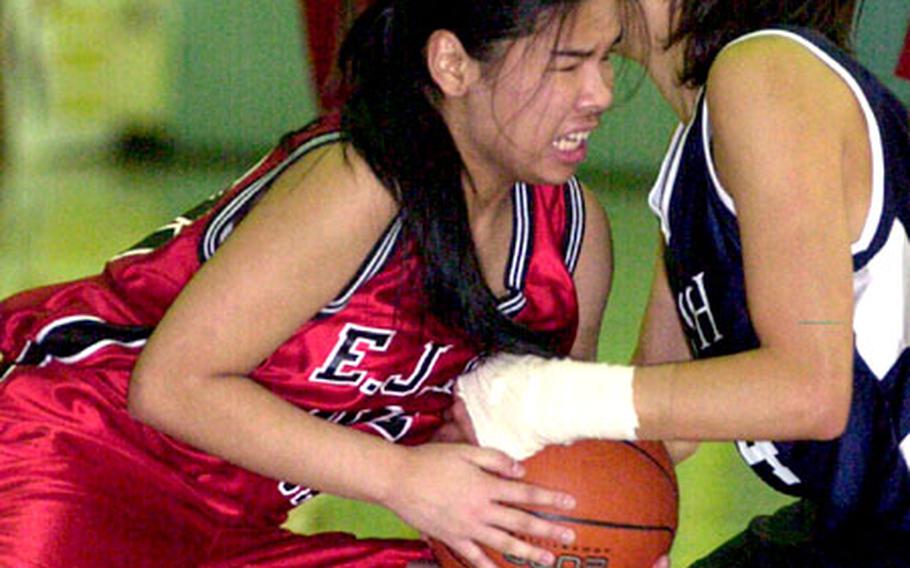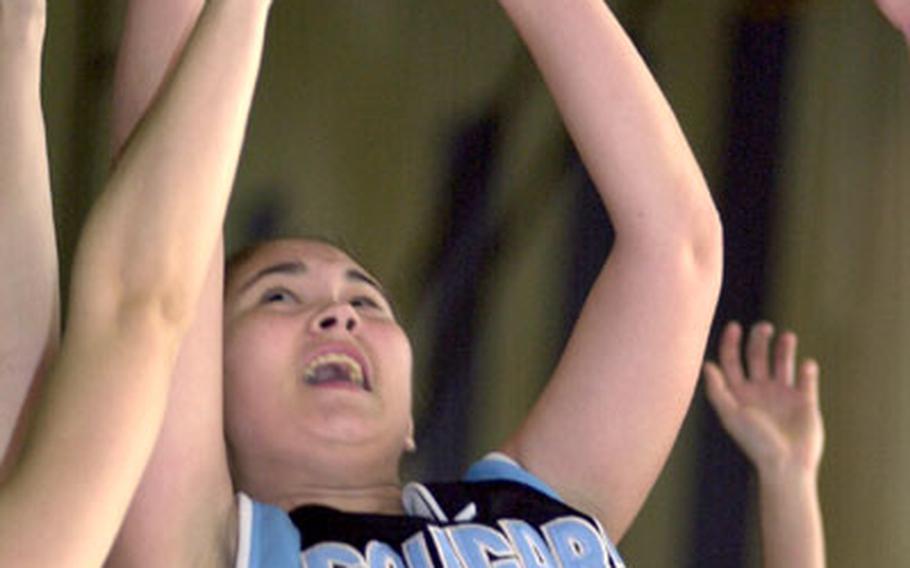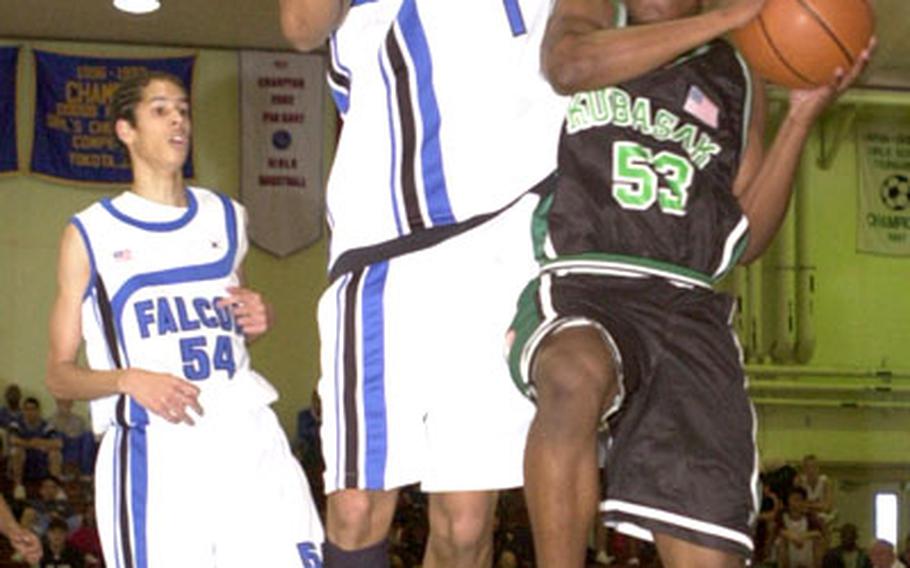 (Click here for tournament standings and summaries)
Kubasaki of Okinawa stopped Seoul American's bid for a third straight Far East Class AA boys basketball title on Thursday.
Steven Ellis had 22 points, Stephen Thompson 18 and Marcus Carson 17, and the co-host Dragons overcame foul trouble to upend Seoul American 78-69 in the quarterfinals on their home floor.
"It's someone else's turn," Kubasaki coach Chris Sullivan said afterward in a joyous Dragons locker room.
"It feels good. The credit goes to the players. They hustled, made shots that were important and never gave up, even when they were in foul trouble."
When senior guard Vincent Hobbs sat with four fouls in the third period, Reggie Pearson came off the bench "to hit some big shots, grab some big rebounds and run the floor," Sullivan said. Thompson had three fouls at halftime, and Carson played the last three minutes with four fouls.
The Dragons reached the semifinals for the second time in three years and avenged a loss to the Falcons in the 2003 final.
It also meant a trip to Kadena High, where the Panthers lay in wait for a semifinal matchup. Kadena and Kubasaki split four regular-season games.
"I'm taking nothing for granted," Sullivan said.
How does a coach keep a team motivated after expending so much emotional energy bringing down a champion?
"It's going to be difficult," he said. "Everything from this point on could be anticlimatic. … But they have good heads on their shoulders."
Cougars conquer press, reach Girls Class A final again
This time, Osan American was ready for the St. Paul Christian press. And the Cougars' reward was a trip to Center Court for the fifth straight year in the Girls Class A tournament.
After losing Monday in pool play 63-59 to the Warriors, a game in which Osan committed 28 turnovers, the Cougars used a patient passing game, and continually fed 6-foot-4 center Margaret Nurse (33 points, 26 rebounds) and forward Mina Davis (24-20) for easy layups.
"We've been watching them from the beginning of the tournament," said Cougars senior guard Sharon Kroening. "This time, we had it planned out. Pass quicker instead of dribbling, which is the only way to break their press. And feed Margaret. She's the key to the game in a situation like this."
No team besides Osan has made it to the Class A finals five straight years. Osan won the title in 2001 and '02 before losing to Faith Academy of the Philippines in 2003 and International School of the Sacred Heart last year.
Osan faced Faith in Friday afternoon's championship.
Kinnick girls get first win over Yokota this season
Unlike Seoul American's boys, the third time proved the charm for Kinnick's girls. Lualhati Johnson's half-court, three-point, buzzer-beating shot gave the Red Devils a 59-57 victory over Yokota, their first win in three tries against the Panthers this season.
The win earned Kinnick the top seed from Pool A and a first-round bye in the single-elimination playoffs.
"It was just like a championship game. It's never over with Yokota until the buzzer sounds," Kinnick coach Henry Falk said after Yokota rallied from five points down with 39 seconds left to tie. "Yokota is a heck of a team. That was the best game my girls have played all year."
The Devils weren't planning on celebrating too long.
"We know what happened to the boys," Falk said of Kinnick's boys, who lost in the first round of the playoffs in the Class AA tournament on Okinawa. "We're not in the semifinals yet. We're not in the top four yet. We can beat anybody and anybody can beat us. It depends on who shows up to play on what day."
Despite injuries, Osan's boys scramble all the way to third place
Osan's boys season, meanwhile, could be summed up in one word: injuries. Virtually from the start of the season to the Boys Class A tournament in Japan, the Cougars resembled an infirmary at times, playing the last two days of Far East with six healthy players.
Yet despite the adversity, Osan finished second in the Korean-American Interscholastic Activities Conference's large-schools division, then placed third in Class A.
Their bid for a second Center Court appearance in three years came up short when the Cougars rallied from a 20-point deficit, only to come up three points short of St. Paul 55-52.
"My guys were tired. St. Paul jumped on us early and we had to fight like anything," coach Bruce Collins said of a team that played three times on Thursday, rallying to win the first two — 48-44 over host Matthew C. Perry and 44-41 over last year's runner-up E.J. King.
"We had looked to finish higher but injuries hurt us," Collins said.
Brandon Holling aggravated a knee injury on Tuesday, Cory Black sat out two days with an ankle injury and Ellis Colton was hobbled by an ankle the past three days.
Freshmen such as Jay Carver and Joey Dennis "stepped up big time," Collins said. "Without them, we'd have never made it as far as we did."
Most observers, Collins said, left the Cougars for dead. "Those same people came up to me today and said they didn't know what to say. You can't count out Osan until the buzzer. They're fighters, they dig down deep and they know what to do to win games."
---
---
---
---