Falcons rout Osan to capture Kadena men's hoops title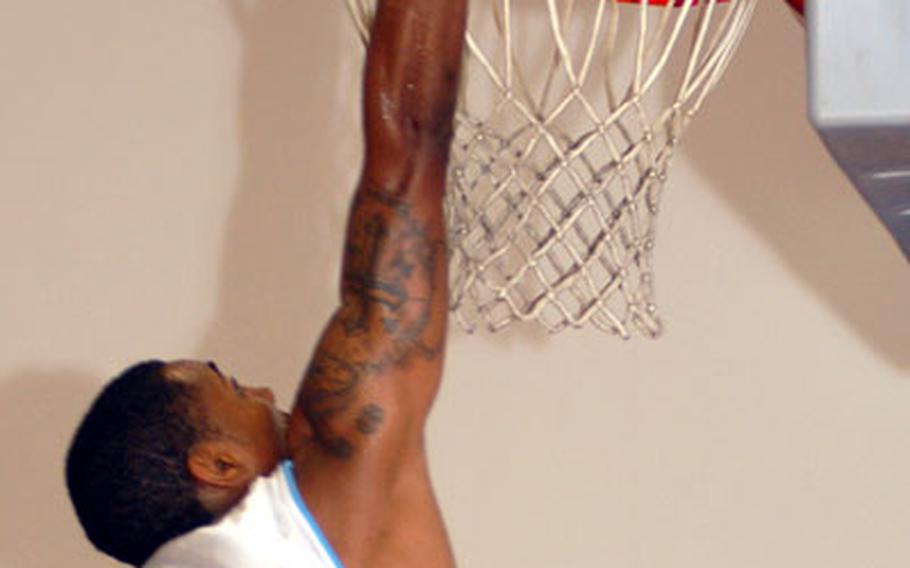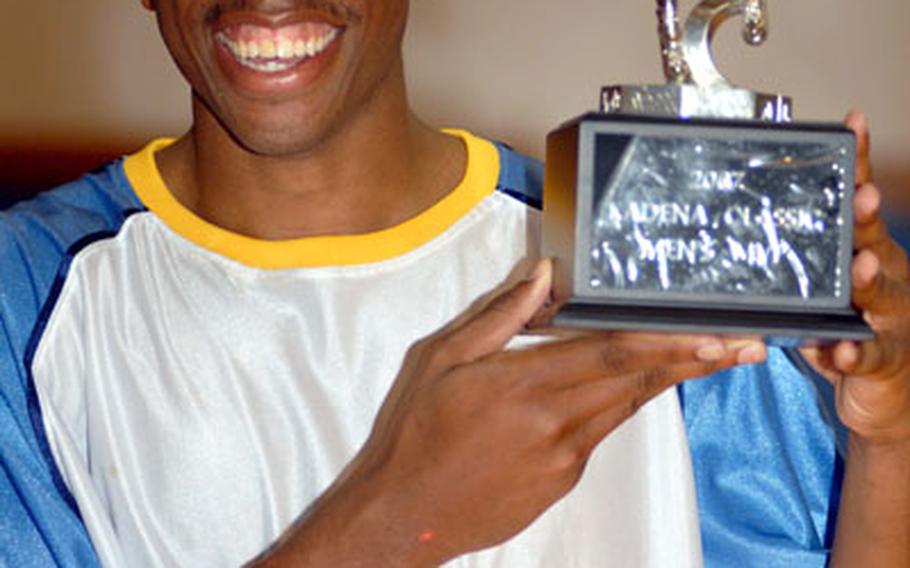 KADENA AIR BASE, Okinawa — Kadena's redemption is complete.
After suffering their only two losses this season at Osan in December's Pacificwide Open Holiday Tournament, MVP Bryan Simpson and the Falcons returned the favor on Thursday, beating the Defenders for the second time in two days, 65-48, in the championship game of the 4th Kadena Classic interservice basketball tournament. Kadena also beat Osan 57-47 on Wednesday.
"The guys wanted to prove that we were a quality team that deserved mentioning in the same breath as Osan," Falcons coach Gerry Barnes said. "They were champions in Korea; we were champions here."
Kadena (31-2) won the inaugural Okinawa Joint Military Athletic Conference regular-season and postseason tournament titles last fall. Osan (37-2) won its 11th Korea Traveling League regular-season and postseason tournament crowns on coach Tony Jones' 14-season watch.
"I have a lot of respect for Tony and that Osan program," Barnes said. "They're not going to lay down. They'll be back."
"They [Kadena] played a good game. They're a good team," Jones said. "The last two days, we just didn't have it. We got them there, they got me here."
Kadena's success and Osan's downfall came about largely due to Simpson's foul-shooting touch (10-for-13) and a defense that clamped down on Osan's bread-and-butter perimeter game. The Defenders hit just three three-point goals, the first one by James Williams with 9:40 left.
"We tried to deny their shooters open looks," Barnes said of getting a hand in the face of Williams, Gregory Wilson — who had the two other threes — and Kenyetta Prince. "They spark their team. We felt that if we ran traps and presses to keep them from shooting, we'd be OK."
Prince's lone field goal — he was held to two points — came with 13 minutes left in the first half, capping an 8-2 run that gave Osan its biggest lead, 15-9.
With 8:25 left before halftime, Simpson put the Falcons ahead to stay 20-19.
From the 10-minute mark in the first half until five minutes into the second half, Kadena outscored Osan 28-4, then took its biggest lead, 53-33, on former Defenders guard Romaine Hunter's two foul shots with 8:10 left.
The victory came despite Kadena not having All-Armed Forces players Carl Little and Kendric Green in the lineup due to duty commitments.
"That says a lot for this team," Barnes said. "They didn't let up. The whole season, we've always survived with somebody missing."