Falcons lead parade of Far East firsts
by
Dave Ornauer
February 18, 2007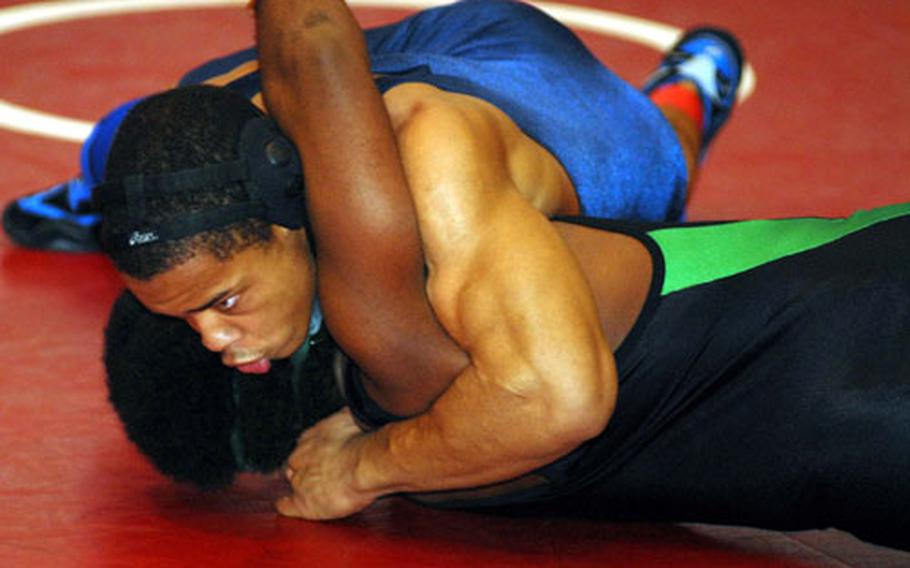 YOKOSUKA NAVAL BASE, Japan — Justin Stokes stepped off the mat and waded into a group of Seoul American teammates celebrating the 180-pounder's first DODDS-Pacific Far East High School Wrestling Tournament gold medal.
He had no idea, though, that his pinfall victory in 3 minutes, 10 seconds over Kubasaki's Ricky Jones clinched the Falcons' first Far East title in the individual freestyle portion of the three-day tournament.
They rode gold medals by Stokes and 15-pounder James Nutter to the second Far East title in school history, outscoring Kubasaki 62-58 in one of the tightest finishes in the 31-year history of the tournament. Six points separated the top three teams, with defending champion Kadena third with 56.
"I sure didn't see this coming," Falcons coach Julian Harden said. "I never thought we could do this. The most I expected was for us to come here and take fourth or fifth. We just wanted to come here and do well, and we did."
The Falcons boast no true standouts, Harden said, "just wrestlers who work together and do their fair share, do their level best in their weight class and focus on the next match."
Stokes said that was his mind-set going into his bout with Jones.
"We didn't talk about that" before Stokes' bout, Harden said of the team title. "You worry about what's in front of you and the rest will take care of itself."
He credited the Falcons' victory to the growing strength of the DODDS-Korea league. Seven DODDS-Korea wrestlers reached weight-class finals and three, including Osan American's Carlos Albaladejo, captured golds.
"We push each other," Harden said. "Winning this title is a testament to that hard work. We can do this."
Those four words might have summed up Friday's bevy of tournament firsts:
n Albaladejo won the first gold medal in Osan American's 12-year history and became the first Cougar to capture the tournament's Outstanding Wrestler award.
The victory capped a season of struggle in which Albaladejo began strongly but thought of quitting during a midseason slump. Teammates and assistant coach Jon Powell talked him out of it.
"It hasn't sunk in," the smiling Albaladejo said of the award. "It's unbelievable."
Guam High 101-pounder Dylan Pablo became the first Panther to win gold in the 10 seasons the school has fielded a team. The Panthers also achieved an island first by winning 11 medals.
"I'm really, extremely happy," Panthers coach Ed Paz said. "Ten years. History for Guam. All that hard work paid off."
Far East success has been doubly difficult to achieve for Guam High. Its Independent Interscholastic Athletic Association of Guam uses collegiate folkstyle rules, which differ markedly from Far East's international freestyle rules.
"All we really try to do is pin our opponents, just use basic freestyle technique," Pablo said.
Stokes, Nutter, Pablo and Albaladejo headed a group of eight new Far East individual champions that also included Kadena 122-pounder Chris Hoshaw, E.J. King 135-pounder David Heitstuman, Yokota 168-pounder Kyle Shimabukuro and Kubasaki 215-pounder Jorge Cristobal.
For Heitstuman, victory served as payback of sorts. He lost in last year's 129-pound final to Kadena's Jacob Bloom; in Friday's final, he pinned Bloom's brother Harry in 1:58. "I got some closure," Heitstuman said. "I worked hard for this."
Shimabukuro's 2-1 decision came at the expense of defending champion Kevin McDonald of Robert D. Edgren. "I was concerned that he would come at me hard, because he was the champion," Shimabukuro said. "I just wrestled my match and kept control of it."
Meanwhile, a handful of wrestlers who know their way around the gold-medal platform found their way there again.
Defending champions Bloom (148), Scott Wood (108) of Kubasaki and Phil Ergus (heavyweight) of Nile C. Kinnick made it two straight golds, while 2005 champions Brandon McCullough (141) of Kadena and Matt Maza (129) of Kubasaki returned to those heights after a year's hiatus.
"I gave him more than I should," Wood said after besting Kinnick's Lloyd Stipe 2-1 in the final. "Then I got lucky and took advantage."
Finishing third last year made Maza "more determined," he said.
McCullough called his victory a "great relief," especially after his 2006 loss by pin against Edgren's Matt Blankenship. "It's good to have my title back. A culmination of all I've worked for."
Bloom summed up his second straight gold more succinctly: "Mission accomplished."
---
---
---
---