Experience pays off at USAFE softball tournament
by
Kent Harris
September 3, 2004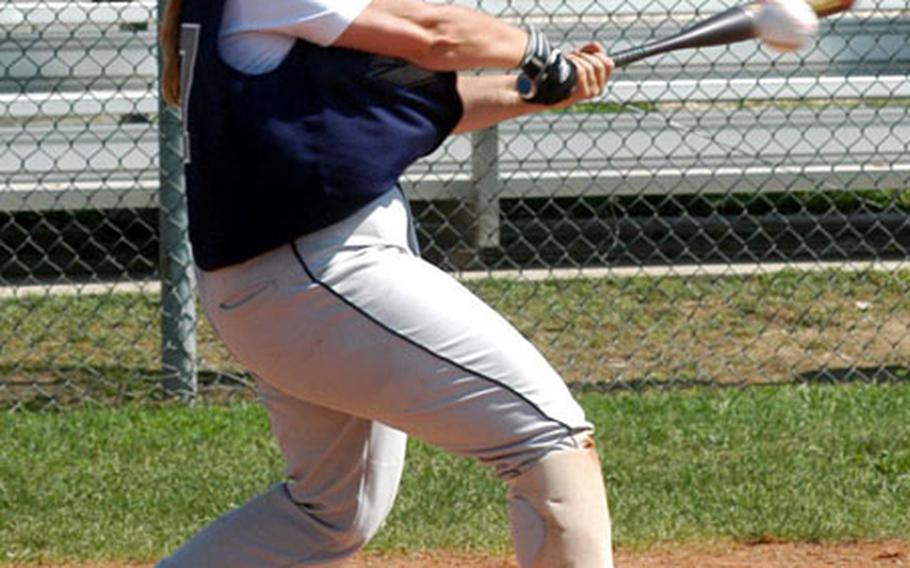 AVIANO AIR BASE, Italy — Chalk a few more wins up to experience.
The women's team from Ramstein and the men's team from Spangdahlem captured U.S. Air Forces in Europe softball titles Thursday by being patient and waiting for their opportunities.
Ramstein downed Lakenheath 9-5 by scoring the final four runs of the game. A few hours later, Spangdahlem outlasted Aviano 21-19 by tallying 14 runs in the final two innings.
"We got off to a slow start," said Spangdahlem coach Chris Heffner, whose team bounced back to win the championship this year after falling to Ramstein in the finals last year. "I didn't doubt it. I was just waiting for it to come."
Women
Ramstein 9, Lakenheath 5
The Ramstein women won their second straight title after losing in the finals in extra innings two years ago.
"I like winning a lot more than losing," said pitcher Mary Schmidt, who has been on all three teams. Only four other members of the team returned from last year's champions.
Lakenheath looked strong early and managed to keep most of the seemingly endless stream of Ramstein base runners from crossing the plate.
Dawn McKain's run-scoring single tied the game at 5 in the fifth, but she was out trying to stretch it into a double — the second Lakenheath player thrown out on the bases in the inning.
Ramstein, which tallied 17 hits, took the lead for good in the bottom half when Amy Longoria drew a bases-loaded walk and Schmidt followed with a sacrifice fly. Run-scoring singles from Amy Spurling and Billie Baber added a cushion in the sixth.
Ramstein coach Keith Baber said his team lost a lot of power from last year's team when members transferred from the base. So it had to compensate with defense and a different kind of offense.
"It's kind of like little ball," he said.
Men
Spangdahlem 21, Aviano 19
"Little ball" was important in the men's game, too.
Teams are allowed only nine home runs each before balls hit over the fences count as outs, so it's important for runners to get on base before a teammate clears the fence.
Aviano, playing in the final for the first time in a decade, worked that to perfection early. A pair of two-run home runs by Armando Huerta and one each from Jason Mathias and Chris Ianotti helped the Dragons take a 12-7 lead in the top of the fifth.
But Spangdahlem batted around in the bottom of the inning, with nine of the 11 batters in the lineup getting a hit and seven of them scoring. The big blow was Clifford Gonzalez's three-run home run.
After Aviano surged ahead again with five runs in the sixth, Spangdahlem scored seven runs in the bottom of the inning to put it away.
Lloyd Oxford had his second two-run single of the game in the inning, and Bo Brewer hit a two-run homer.
All four teams will take the field again this weekend when Aviano hosts the Army-Air Force final four tournament. Men's teams from Stuttgart and SHAPE and women's squads from Kaiserslautern and Heidelberg join the fun with games starting at 10 a.m. Saturday.
The women's championship game is set for 1 p.m. Sunday, followed by the men's contest.