Far East cross country
Experience counts as seniors sweep races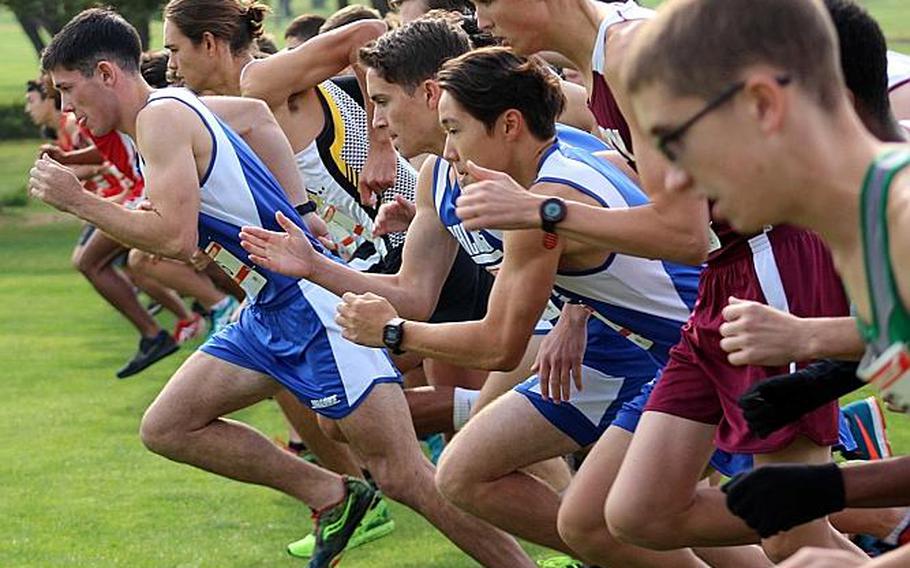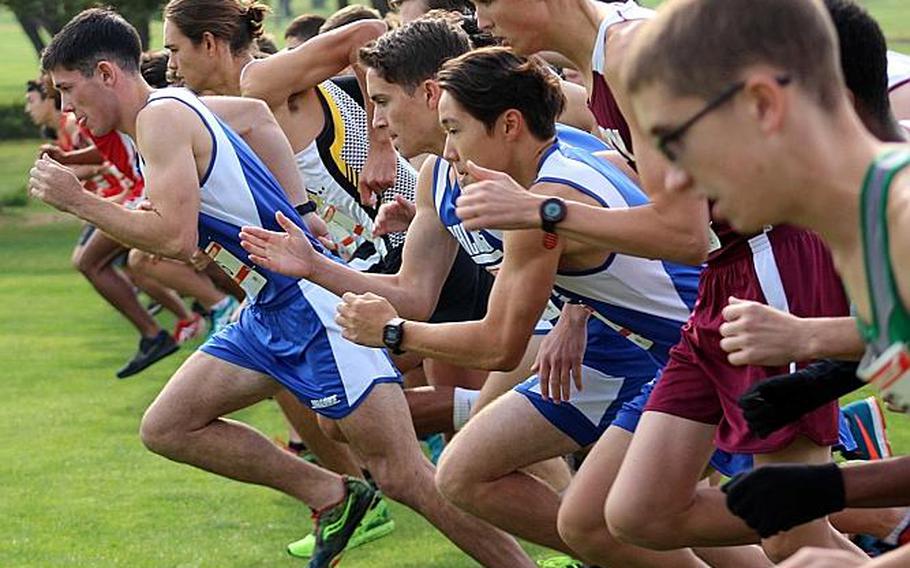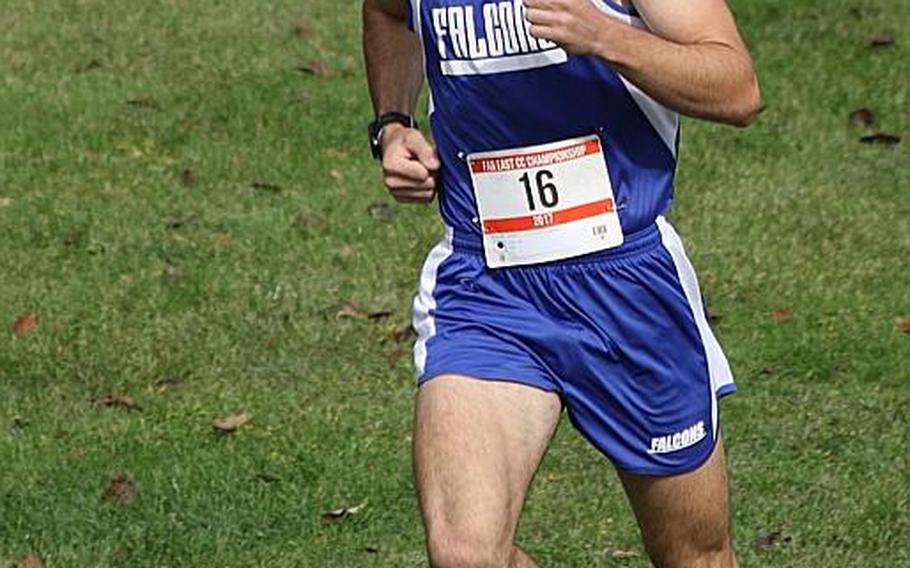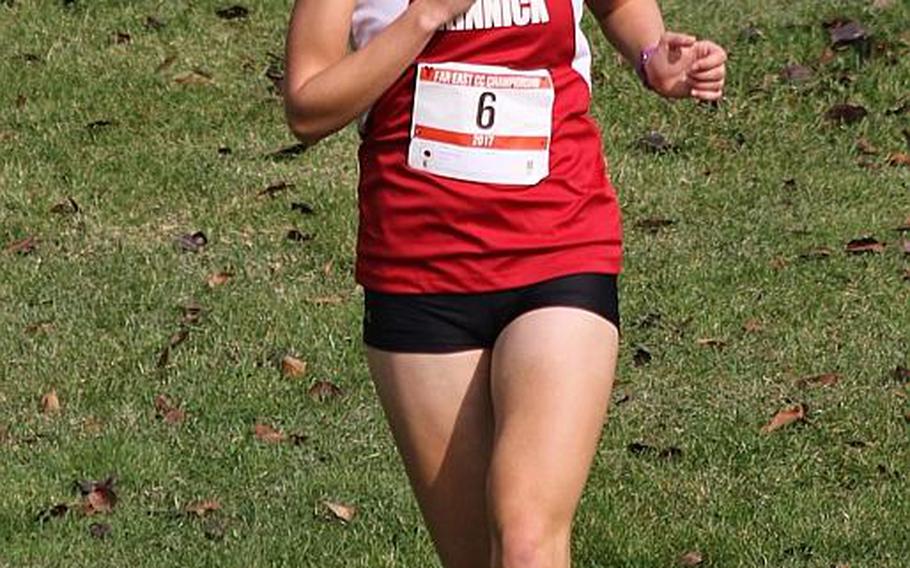 MISAWA AIR BASE, Japan – Call Wednesday "Senior Day" in the Far East Cross Country meet.
Tucker Chase became the first Seoul American boys runner to win a Far East individual race in eight years. He won the boys Division I title and was joined as an overall race winner by Nile C. Kinnick's Taryn Cates-Beier, who won the girls D-I race.
The Division II winners were also seniors. Jarod Swain became the third consecutive Yokota runner to win the small-schools component and was joined by Allison Hao of St. Maur.
Chase ran the 3.12-mile course on Misawa's Gosser Memorial golf links in 16 minutes, 32 seconds, beating his personal best of 17:30 which he ran as a junior while competing for Hanalani Schools in Hawaii.
"I'm really proud to represent Seoul American," said Chase, who led Seoul American to an unbeaten regular season. He beat Leonard A'DeLima of St. Mary's by 13 seconds and DODEA-Japan champion Aki Siibo of Nile C. Kinnick by 15.
It was much colder – the race was run under sunny skies with temperatures in the high 50s – than Chase is accustomed to in the 50th state, with far fewer runners than he's used to.
"It's the coldest I've felt in 3½ years," Chase said. He said had been nervous in years past until he talked to his brother Sam and his mother about changing nerves into excitement and to make the clock his competition instead of people.
"Those were the two big motivators," Chase said, adding that he ran the first mile Wednesday for himself, the second for his teammates and family and the third mile for God.
"Each mile had a different purpose," Chase said. "It was my last meet. My senior year. I had to give it my all."
Swain, who transferred from Cabrillo (Lompoc, Calif.) over the summer, succeeded Jeff Ferrand in 2016 and Danny Galvin in 2015 as Far East Division II champions. Swain was timed in 17:08, far off Galvin's D-II record of 16:32. But he said Galvin's time was on his mind.
"Danny's time is always a motivator," Swain said. "Trying to find the guy to be the one who beats him." Swain was six seconds ahead of runner-up Ken Johnson of St. Maur and 23 ahead of Galvin's younger brother, sophomore Mickey.
Swain professed to be "calm and collected" as he usually is when races start. Not so Cates-Beier, who confessed to nerves leading up to a race with plenty of new faces.
"Definitely a lot more adrenaline, racing against other schools; it made it more exciting" said Cates-Beier, who clocked 20:01 - 33 seconds ahead of Okinawa champion Elizabeth Joy of Kubasaki and 49 ahead of Kinnick teammate Rissa Eilmes.
"It was a pleasant outcome," Cates-Beier said. "I feel we were as prepared as we could be, just trusted our training and went out like we did any other race. It felt really nice to win my last race. I know I'll look back on it fondly."
The girls D-II individual champion, Hao, was 47 seconds ahead of runner-up Sydney Durham of host Robert D. Edgren.
For the second straight year, Yokota will come away with the Division II overall school banner, having won the boys and girls team titles with just the team relay left to compete Thursday.
"We had a lot of kids who picked a great time to run (their) best races of the year. Our program is improving," the elder Galvin said, adding that to get Swain off the PCS plane was a boon. "Today is Jarod's 18th birthday. I think a banner is a good present."
Seoul American won the D-I boys team title and Kinnick, the defending D-I school champion, took the girls team title. The team relay will decide the overall champion.