Ewing looks forward to encore
by
Rusty Bryan
June 22, 2004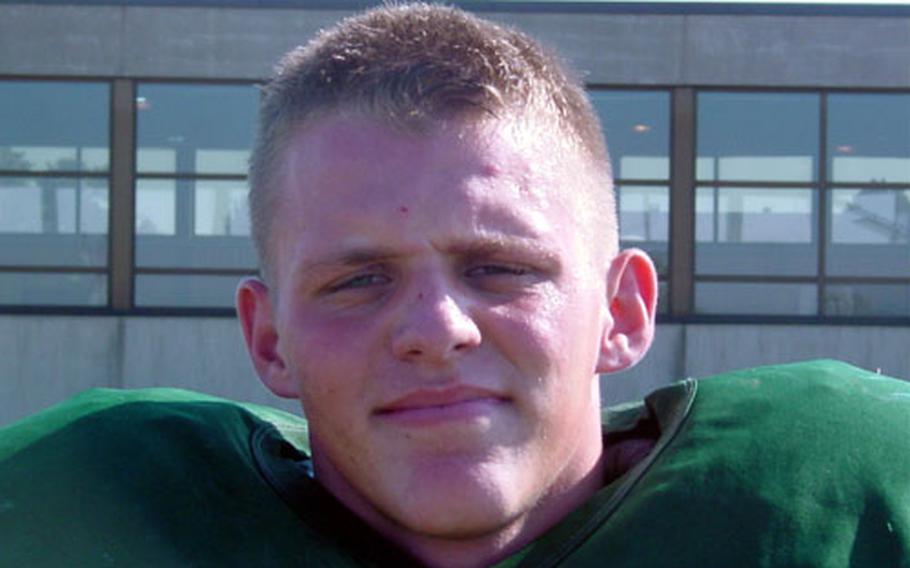 Despite being named the DODDS-Europe male athlete of the year, three-sport star Mike Ewing of Ansbach won't be resting on his laurels.
"People ask me what I'm going to do for an encore," said Ewing, a 6-1, 215-pound junior, who also was named All-Europe offensive tackle and anchored the defensive line during the Cougars' two-year, 16-game winning streak. "I answer that I'm going to try to repeat."
And improve.
Among his goals next year?
"I want to make the All-Europe football team both ways," he said.
Ewing said he'd also like to win a European wrestling title after finishing second last year. And he said he wants to improve in the shot put and discus, where he finished third in both events.
However lofty Ewing's goals for his senior season might sound, they reflect the work ethic that has boosted him to leadership positions on the playing field and in the classroom.
"He trains tenaciously," said Gary Feletar, Ansbach defensive coordinator and wrestling and track coach. "He works on his own to do what he feels he needs to do."
He's also a voracious weightlifter, Feletar said.
"He benched 135 pounds 37 times last year. At the end of school, we had a bench-press contest. He did 275."
For a person whose interests embrace non-sports activities ranging from community theater to the Boy Scouts to being Ansbach's JROTC battalion commander, the weight room might not seem like a stimulating place.
"It does get boring," Ewing admitted, "but if you don't do it, you don't get that day back. I look at what it's going to do for me in the long run."
Ewing spent last week at Würzburg coach Duane Werner's summer wrestling camp in Schweinfurt, Germany.
"I'm picking up a lot of stuff I didn't know," he said after a session of instruction with John Ziegler, coach of national junior college champion Northwest Wyoming. "I've got to be a sponge here."
Ewing said he was surprised at being named athlete of the year.
"Coach [Marcus] George was at the selection meeting, and he told me he thought I had a 20-30 percent chance of winning," Ewing said. "So I wasn't on the edge of my seat or anything like that.
"I was doing a play when they told me I had won," he said. "It threw everything off."
Still, he found the choice gratifying in spite of the damage done to his stage performance.
"Sometimes we moan and complain about all the work we have to do," Ewing said, "but you see results with something like this."
---
---
---