Boys - Day 1
Everyone still in the hunt heading into second day
---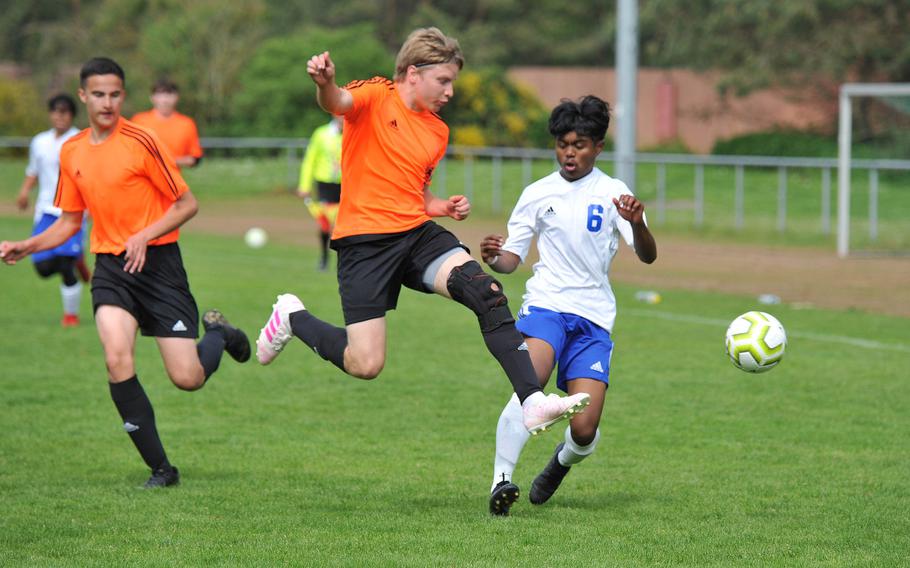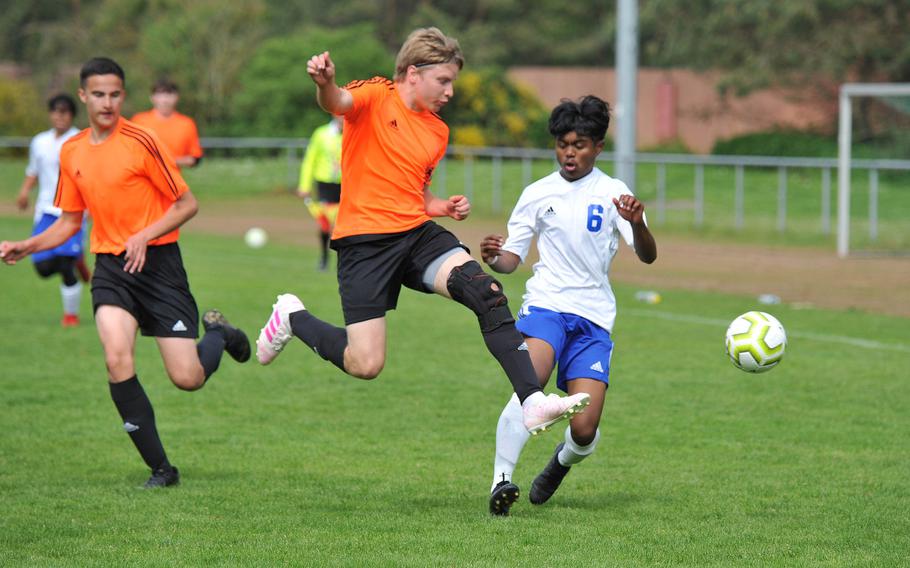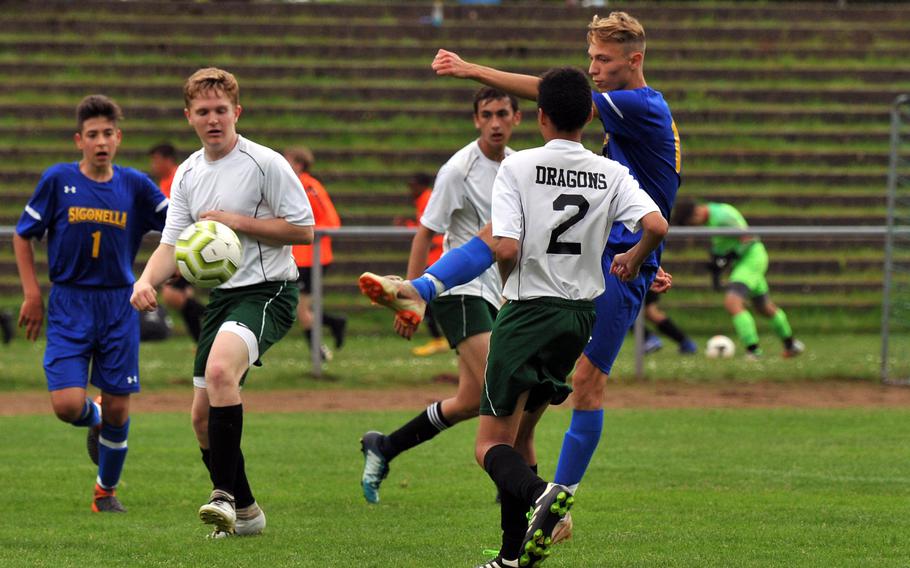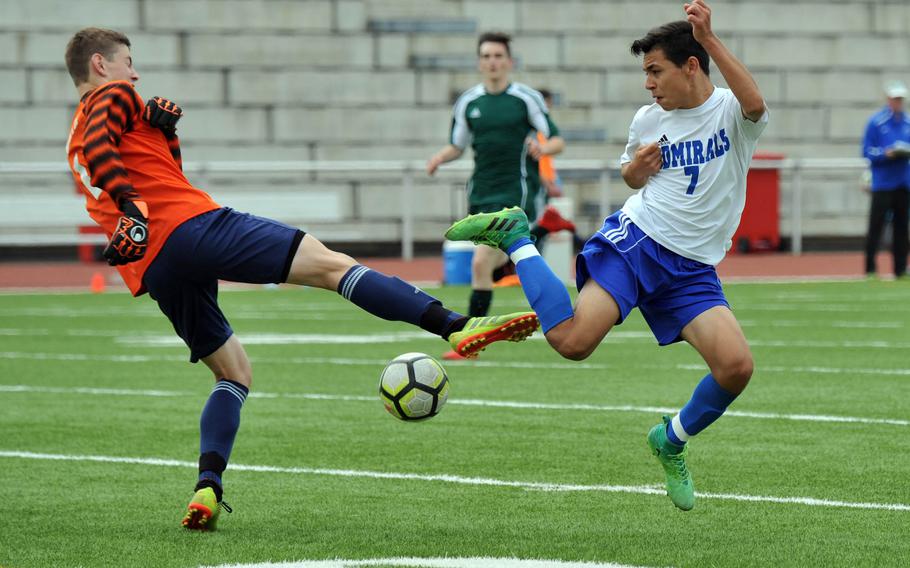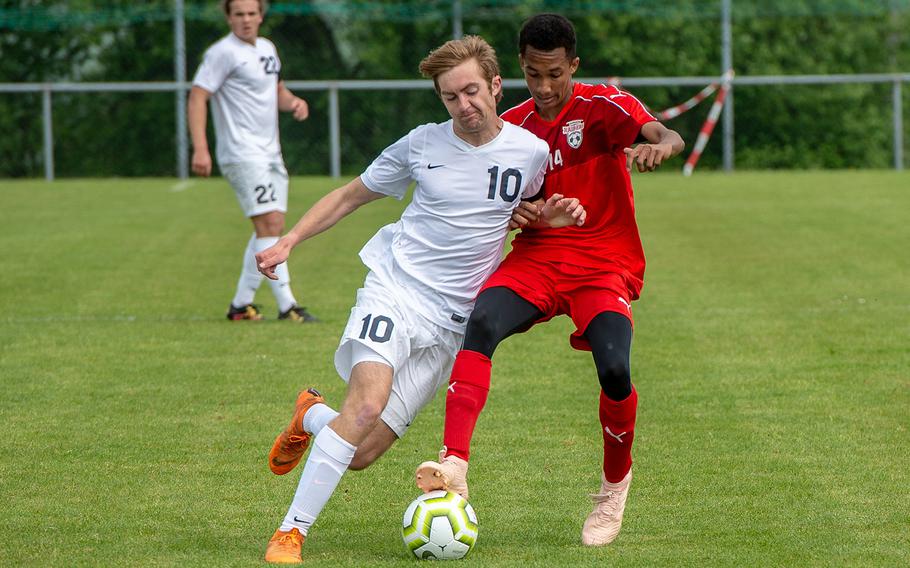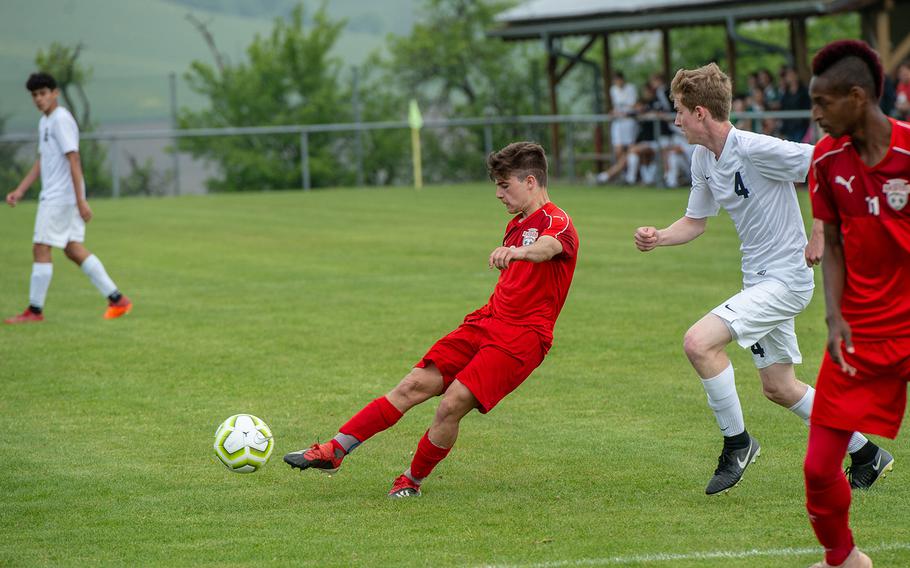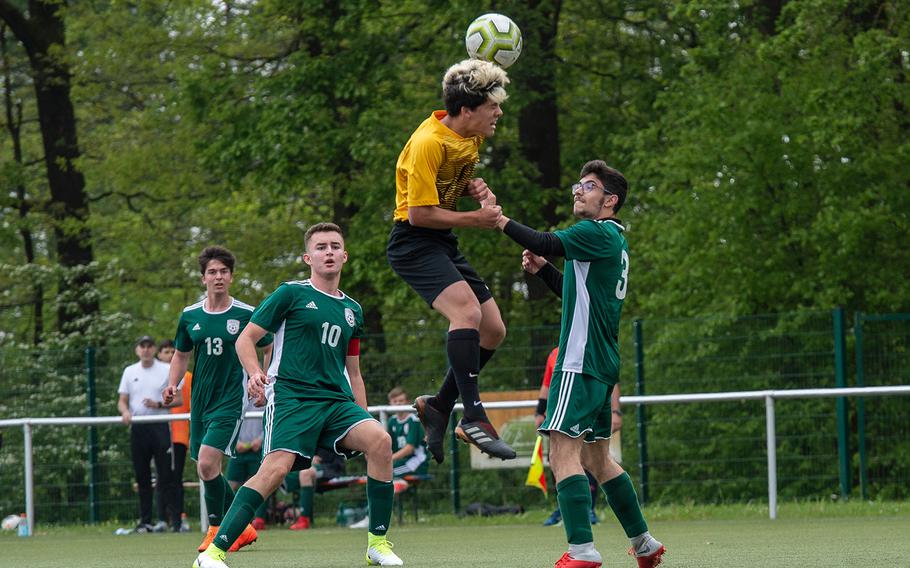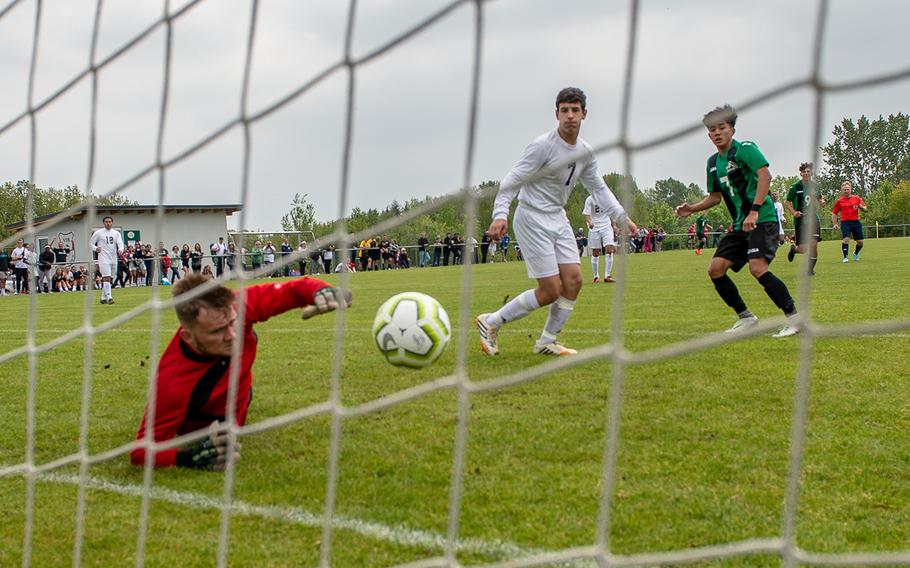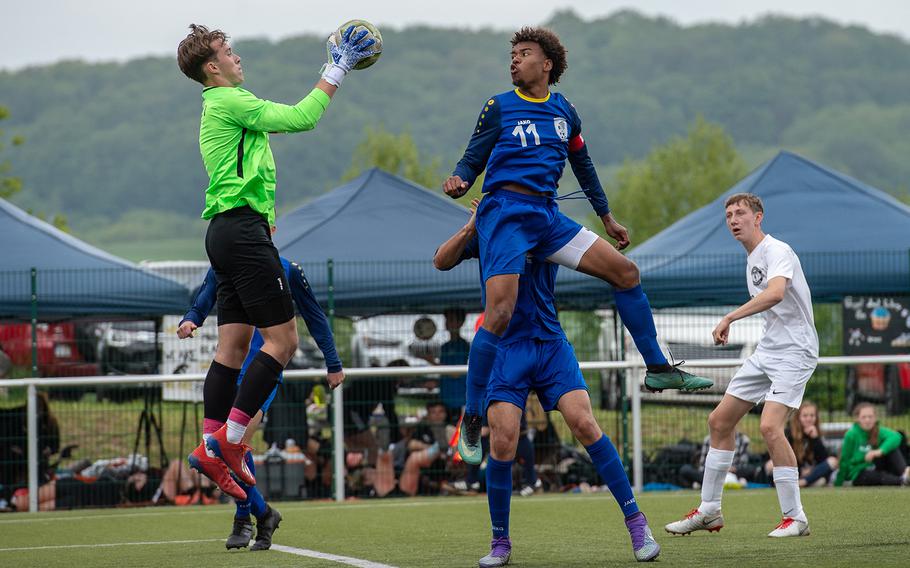 Not much was decided as the 2019 DODEA-Europe boys soccer tournaments opened Monday in the Kaiserslautern Military Community, leaving plenty of elimination-round berths still available as preliminary play continues Tuesday.
Division IKaiserslautern 1, Lakenheath 0: The lower-seeded but highly confident two-time defending champions opened their latest tournament run with a close victory.
Giannis Dones scored the match's only goal midway through the first half to give the Raiders an early advantage they'd maintain for the balance of the game.
Kaiserslautern head coach Enrique John said his team has brushed off all of the reasons for it not to succeed this year, from the team's relative inexperience to its middling sixth seed in the nine-team bracket and is focused solely on advancing.
"We have a young team, but that's not an excuse. Nobody cares if you have a young team or not," John said. "We're here, defending champions, and we're going to fight until the very end."
Elsewhere in the pool, the third-seeded Ramstein Royals eked out a pair of one-goal wins, defeating ninth-seeded Vicenza 1-0 in the morning and second-seeded Wiesbaden 3-2 in the afternoon.
SHAPE 2, Stuttgart 0: The Spartans locked in on defense to knock off the 2018 European runner-up.
Junior defender Batuhan Usta made a pair of key saves to aid goalkeeper Mihkel Kokka in preserving a clean sheet. The first-year Spartan lined up on the back post against Panther corner kicks, "jumped on" the dangerous balls in the box and erased Stuttgart's best chances at a goal.
That performance was an auspicious postseason debut for the recent arrival from Turkey.
"That was my first match at Euros," Usta said. "I wanted to make my friends proud of me."
Teammates Sverre Loso and Alvaro Acebal scored a goal apiece for the fourth-seeded Spartans. SHAPE kept up its two-way excellence later Monday with a 4-0 defeat of Vilseck.
Division IIFlorence 3, Black Forest 2: The bracket's bottom seed recorded the first big upset of the DODEA-Europe spring postseason, holding off a late rally to edge the second-seeded Falcons.
No. 7 Florence still has a lot of work ahead of it in the competitive four-team pool, with games against defending champion AFNORTH and Rota looming Tuesday. Third-seeded AFNORTH defeat sixth-seeded Rota 3-2 on Monday in its only opening-day match.
Black Forest avoided a disastrous opening day with a late 5-1 win over Rota.
Aviano 1, American Overseas School of Rome 1: The fourth-seeded Aviano Saints played the No. 1 Falcons to a draw.
The outcome was a stark reversal from the teams' regular-season meeting, a decisive 4-0 AOSR victory on March 22.
Fifth-seeded Bahrain jumps into the three-team pool Tuesday after an idle Monday. The Falcons will take on both AOSR and Aviano to determine the pool's two semifinal representatives.
The Division II field is sparser this spring than it has been in recent years. Former Division II mainstay Spangdahlem was shuffled to Division III this season, while former dynasty Marymount isn't participating this year, leaving just seven teams in the bracket.
Division IIISpangdahlem 4, Hohenfels 3: The last match of the day was also the only close match of the day. The Sentinels won 4-2 on penalty kicks after regulation ended in a 3-3 deadlock.
The other six games on the first day of the seven-team, round-robin tournament were decided by a margin of at least two goals. That includes four shutouts, including a pair of 7-0 routs.
Spangdahlem beat defending champion Brussels 3-1, but Brussels bounced back for a 3-1 defeat of Baumholder in the two other quasi-close games of the day.
broome.gregory@stripes.com Twitter: @broomestripes
---
---
---
---