Every score could matter when Humphreys, Daegu square off
by
Dave Ornauer
April 12, 2018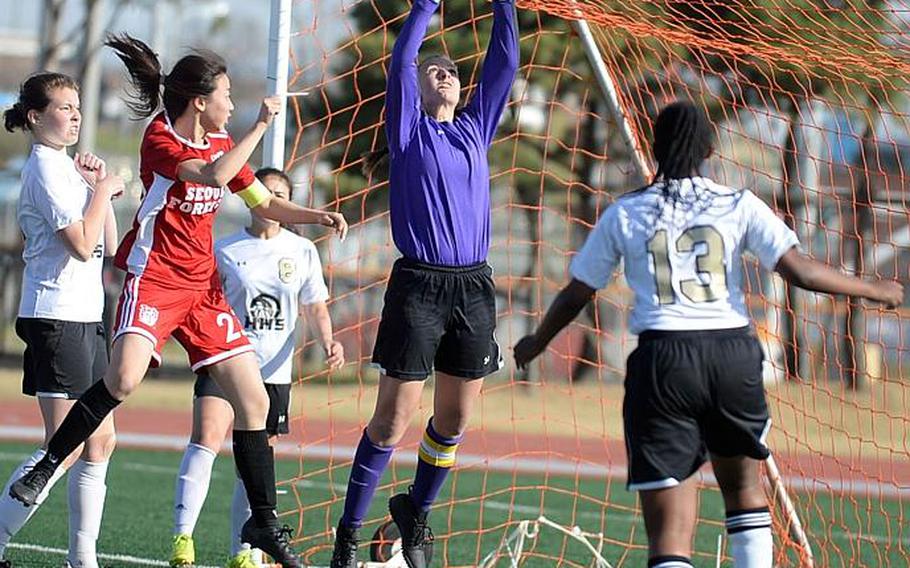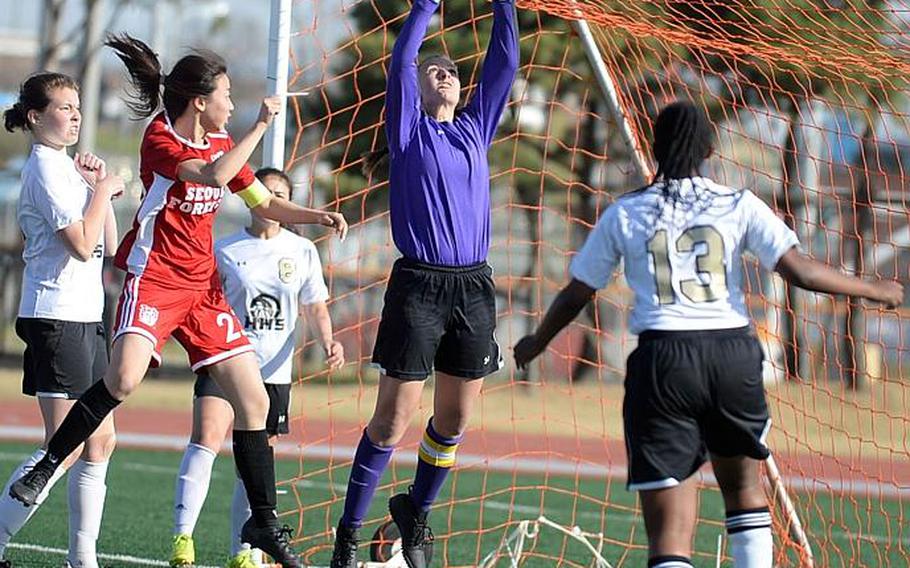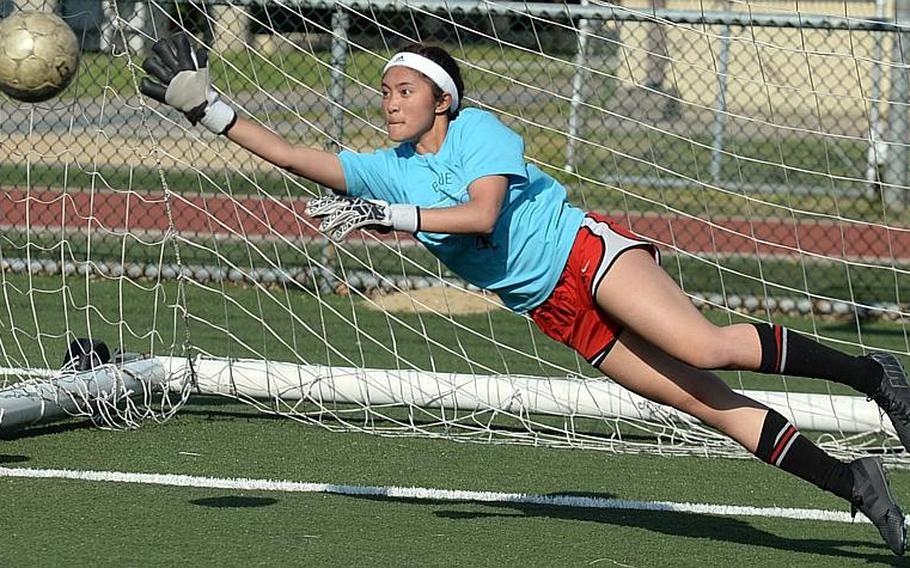 CAMP HUMPHREYS, South Korea – On paper, Friday's Daegu at Humphreys girls soccer match might not seem like a huge deal.
The Blackhawks are 3-3-1, but have gone 1-3 after getting off the best start in school history. The rebuilding Warriors are 0-7-1 with just two goals and have been plagued by injuries.
Still, there are a few able scorers and solid goalkeeping on each team, all of whom will bear considerable watching and could make their rematch on Friday intriguing.
Seniors Elayna Snyder and Neena Ibit are returning All-Far East goalkeepers. Ibit earned top goalkeeper honors in last season's Far East Division II Tournament and Snyder in the Korea Blue division tournament. Snyder averages 13.7 saves and Ibit 17.9 this season.
"We both get a workout," Ibit said.
Bearing considerable watching in the Blackhawks' offensive end are two freshmen, Arielle Stickar and Hayden McMillan, each veterans of youth club ball in the States. McMillan, a striker, has a team-record 11 goals and Stickar, a midfielder, has four.
"We have to shut them down," Ibit said.
Both of Daegu's goals belong to Natalie Garrido, a junior midfielder with a left leg that can send the ball vast distances. Each of the goals came off free kicks from 40 meters.
Snyder knows Garrido, having played alongside her on their middle-school team at Fort Irwin, Calif., and says every set piece for Daegu is a potential scoring opportunity. "She's dangerous," Snyder said.
Humphreys blanked Daegu 4-0 the first time the teams met on March 2 at Camp Walker's Kelly Field. The rematch is at 3:30 p.m. Friday at Blackhawks Field.
Although they've slumped somewhat, the fifth-place Blackhawks' 1-3 mark since early in the season is somewhat misleading. They have outscored opponents 15-7 and have lost to league-leading Seoul Foreign 1-0 on March 17 at Seoul and 2-1 on Wednesday at home; they led 1-0 at half.
Snyder says the Blackhawks have improved in every area, "even on the smallest things" such as throw-ins, traps and communication, which is "10 times better" than the first match at Daegu.
Despite being outscored 20-2 this season, the Warriors' record, too, is somewhat misleading.
Daegu played two close matches with the Crusaders, losing each 1-0 on March 10 at Seoul and 2-0 on March 23 at Kelly Field. Equally telling was a 1-1 home draw on March 17 against Taejon Christian.
"Since the start of the season, the team has improved overall, especially defensively," assistant coach Victor Rivera said.
Injuries, emergency leaves and other circumstances have taken their toll and "impacted our ability to be as competitive as we would like to be," Rivera said. "But … our team has heart, grit and will compete the best they can, each and every game, regardless."
Korea's Blue Division is in the final two regular-season weekends; the postseason tournament is scheduled April 25 and 28, the boys at TCIS and the girls at Daegu.
On the Japan pitch, Yokota visits Matthew C. Perry and Nile C. Kinnick is at Robert D. Edgren, with the jockeying for top seeds in the DODEA Japan tournaments April 26-28 still up for grabs.
Track and field resumes its regular season with meets scheduled in Tokyo, Okinawa and at Camp Humphreys, although rain could truncate the next-to-last regular-season Korea meet. The district finals in all leagues are on April 28.
Twitter: @ornauer_stripes