Even without stars of 2003, Kinnick volleyball team has improved
by
Dave Ornauer
October 21, 2004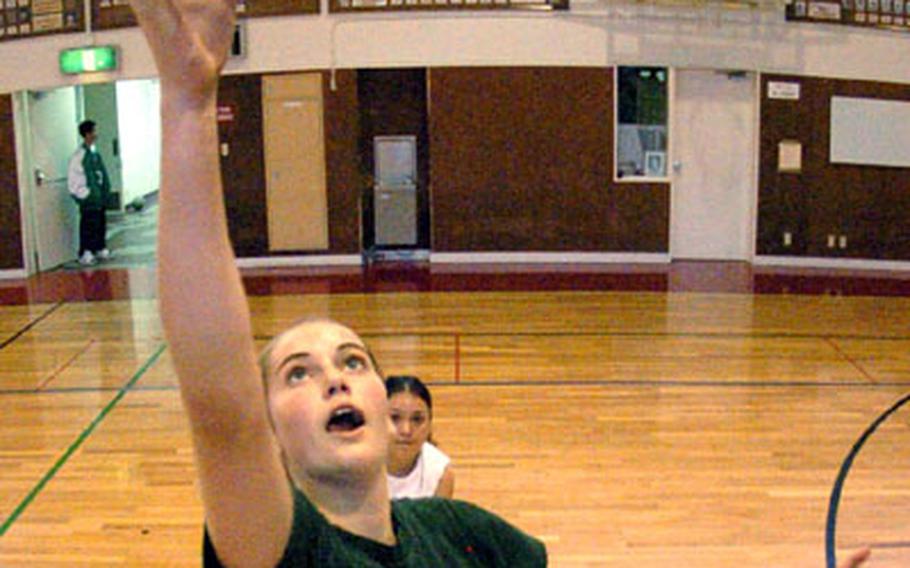 Erica Niemeyer might have found it tough to fill the void left by Alisa Gilson and middle blocker Carol Tully, who was one of Nile C. Kinnick High School's best female athletes.
But instead of trying to follow their act, Niemeyer and the Red Devils have created one of their own this year.
After losing on Oct. 2 to Seisen International and falling to 6-5 overall, the Red Devils won eight consecutive matches before losing Saturday to Robert D. Edgren at Misawa Air Base.
Kinnick's 14-6 record is a turnaround from last year's 8-10 regular-season mark achieved with Tully, who graduated in June, and Gilson, who transferred.
"We've always been our own selves," said Niemeyer, a junior who along with sophomore Katie Wilkinson has filled Gilson's and Tully's roles admirably. "We weren't born as Carol. We have our own style of doing things. We put it all together and create our own team."
The Red Devils have gotten contributions from every player, not just the stars.
"Not all the talent is concentrated on one person," said Mariko Wood, a sophomore who has taken over the role of Jackie Jimenez, who set a season ago for Tully and Gilson. "Everybody has to do their job. Everybody is good at what they do."
And it also has the team believing that good things are in store for next month's Far East Class AA Tournament on Okinawa. Last year the team placed eighth, its best showing since finishing fourth in 1995.
"We can do much better," Wilkinson said.
Bold talk for a school that has just one final-four finish in a Far East Class AA tournament (1982).
"You have to get the other people to work together and share the jobs, share the work," said Henry Falk, the team's first-year coach. "And they're doing that. It's been a collective effort. It has to be. If it's not, we're not going to win."
The 25-13, 25-7, 25-16 loss to Seisen might have been the turning point, coach and players said.
"They saw how a team really does a good job, and they kind of took some lessons from it," Falk said.
"I think we realized what we needed to work on," Wilkinson said of things such as court coverage, reading opponents' hits and not being predictable on offense.
"We're trying to fix them. We've been getting quicker, staying on our toes, being ready for everything."
Road trips and lengthy bus rides have helped the team become cohesive, Wilkinson said.
"We like each other," she said. "Not just in games or practice but we do things off the court. We have classes together. We go to dinner, hang out, shop together. They're interesting bus rides. They're very fun. Without them, we wouldn't be as close."
Other coaches have noticed Kinnick's surprising run.
"I see consistency, more so than at the beginning," said Sarah Richardson of Robert D. Edgren, which lost a four-set season-opening match to Kinnick on Sept. 11 and lost two of three matches to the Red Devils last weekend.
"They play well as a team. They move well. They cover really well. It's very hard to get a kill in on them. They have consistent servers, and they're hard servers. And they have that back-row hitting down pat."
The Far East Class AA tournament has been dominated by schools from Guam (10 titles) and the Tokyo area (eight). Only one DODDS-Pacific school, Zama American, has won a Class AA title (1979, 81, 88 and 97). Zama has finished second four times. Seoul American is the only other DODDS-Pacific school to reach Center Court, losing to Guam's Academy of Our Lady in 1999.
Teams such as Seisen "know where every single hole is and can read your spikes like a book," Wilkinson said.
"We have a more rounded team and hopefully more options that we can present, that they can't just zero in on one hitter," Falk said. "If we can get our hitters together, the serving going and the defense covering, if we play it right, it can happen again."
---
---
---