European H.S.football preview: Conferences, schedules shuffled this season
---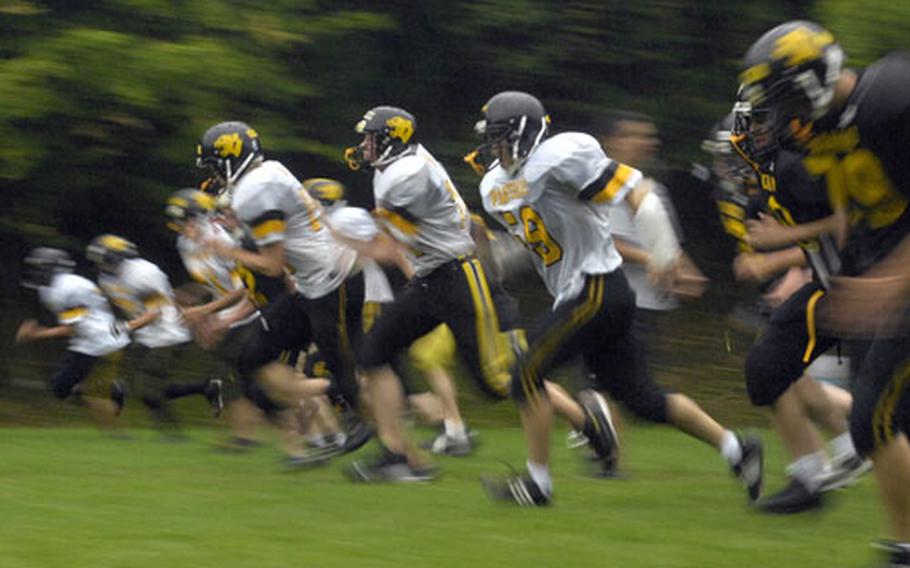 The high school football season kicks off Friday, and once again, there are plenty of changes.
The shuffling began last June, when Division IV champion Hanau and DIII's Würzburg became the 20th and 21st high schools to close since 1989.
It continued over the summer when expanding enrollment elevated Vilseck and Patch from Division II to D-I. They'll join Heidelberg, Kaiserslautern, Lakenheath and Ramstein in a new two-conference setup.
Bamberg moves from D-III to D-II for 2008, leaving five teams — defending champ Baumholder, AFNORTH, Hohenfels, Vicenza and Sigonella to vie for this season's crown. D-IV, embracing the system's smallest schools and featuring the nine-man game, has four teams chasing the title vacated when Hanau closed.
More exotic than mere organization is the trend of scheduling games against local teams. The move began last year, when Ramstein pulled out a frantic 25-21 victory over German league power Duesseldorf and Heidelberg romped over a team from Marburg. Playing locals guarantees each team, even those that don't make the playoffs, a minimum of six games.
On Saturday, Ramstein again will host Duesseldorf, and Heidelberg will entertain the Amsterdam Panthers. K-town (vs. Giessen) and Vilseck (vs. Amsterdam) are scheduled to host local teams in October, and Lakenheath entertains a team from Gateshead on Oct. 11.
Division II and III teams also scheduled games against locals. D-II king Ansbach, which opens a rebuilding year riding a 16-game winning streak, will host the Cologne Crocodiles for homecoming on Oct. 11, the same day Bamberg celebrates its homecoming against the local Bamberg Bears. Wiesbaden will host the Hamburg Young Huskies on Oct. 18. In D-III, AFNORTH, on Sept. 27, and Hohenfels, on Oct. 18, are slated for games against Amsterdam and Munich, respectively.
Don't get the idea that going out to see how the locals fare isn't worth using $4-per-gallon gasoline. If the '07 Ramstein-Duesseldorf battle weren't proof enough, listen to Lakenheath coach Matt Martinez:
"(Gateshead) should have a solid team and give us good competition," Martinez wrote in an e-mail. "I would like to play more games against host-nation schools … [In Japan] we would always scrimmage a Japanese team and I really liked the feel and camaraderie it built between the students on base and the community."
Ramstein coach Rudy Oliveira looks forward to the two-time defending D-I champion Royals' rematch against Duesseldorf.
"…I think it is great," Oliveira, Ramstein's third head coach in as many seasons, wrote in an e-mail. "It gives us another game against a top-notch team."
Wiesbaden's Steve Jewell isn't taking his playoff-tested guests from Hamburg as chopped liver, either.
"I believe it will be a very competitive game," he wrote. "… We will have to fire on all cylinders to win."
The victories that matter still will come against DODDS competition, in which Ramstein and Ansbach will be chasing record-tying European title three-peats.
The semifinals for Divisions I, II and III are scheduled for Oct. 25. D-IV will be off that week,. Then the eight finalists will descend on the Super Eight site, probably Baumholder, on Nov. 1 to crown the 2008 champions.
It all starts Friday night on Minick Field in Baumholder. Kickoff is 7 p.m.
Facts and figures2007 champions
Division I—RamsteinDivision II—AnsbachDivision III—BaumholderDivision IV—Hanau
2008 conference alignments(Head coach's name in parentheses)
Division I (500-900 students)Division I-North — Kaiserslautern (Tom Burriss), Lakenheath (Matt Martinez), Ramstein (Rudy Oliveira)Division I-South — Heidelberg (Brad Shahan), Patch (Allen Archie), Vilseck (Jim Hall)Divisional assessment by Marcus George, Ansbach head coach: "Ramstein returns many veterans. Should be preseason favorite."Division II (244-400 students)Division II-North — Bitburg (Mike Laue), International School of Brussels (Will Vreugdenhil), Mannheim (Frank Macias), SHAPE (Jay Bodine), Wiesbaden (Steve Jewell)Division II-South — Ansbach (George), Aviano (Rick Dahlstrom), Bamberg (Jim Davis), Naples (Dan Dittmeier)George's assessment: "Very competitive league…"Division III (160-209 students)AFNORTH (Greg Blankenship), Baumholder (Carter Hollenbeck), Hohenfels (Ed Lynch), Sigonella (Jen Bunyan), Vicenza (Adam Ridgley)George's assessment: "Baumholder returns several great athletes and a superb staff. Should be a favorite with AFNORTH."Division IV (fewer than 120 students)(Nine-man football)Alconbury (Duke Eidt), Brussels (Joe Fiedler), Menwith Hill (Pete Resnick), Rota (Robert Stovall)George's assessment: "Rota was a D-III finalist last year and will be tough in D-IV. Fiedler's return (as head coach) is big plus for Brussels."
Returning All-Europe players
Brock Blankenship, AFNORTH senior linebackerBryan Boatner, Baumholder senior linebackerBo Butcher, AFNORTH senior offensive linemanEvan Canfield, Ramstein senior running back/linebackerR.J. Curley, Rota senior linebackerT.J. Dignan, Ansbach senior offensive linemanFred Styles, Baumholder senior wide receiverJoseph Ward, Mannheim senior placekicker
This week's games
FridayNon-divisional—Bitburg at Baumholder, 7 p.m.
SaturdayNon-divisional—Duesseldorf Panthers at Ramstein, Lakenheath at International School of Brussels, Amsterdam Panthers at Heidelberg, Patch at Ansbach, Aviano at Vicenza, Bamberg at AFNORTHDivision I—Kaiserslautern at VilseckDivision II—SHAPE at Naples, Mannheim at WiesbadenDivision III—Hohenfels at SigonellaDivision IV—Rota at Alconbury, Menwith Hill at Brussels
2008 playoff schedules
Divisions I and IISemifinals, Oct. 25—No. 2 South at No. 1 North; No. 2 North at No. 1 SouthChampionship, Nov. 1 at Super Eight site TBD—Semifinal winnersDivision III Semifinals, Oct. 25—No. 4 at No. 1, No. 3 at No. 2Championship, Nov. 1 at Super Eight site TBD—Semifinal winnersDivision IVChampionship, Nov. 1 at Super Eight site TBD—No 1. vs. No. 2
---
---
---
---