European Division II H.S. football: Ansbach extends streak to 30 with quarterfinal win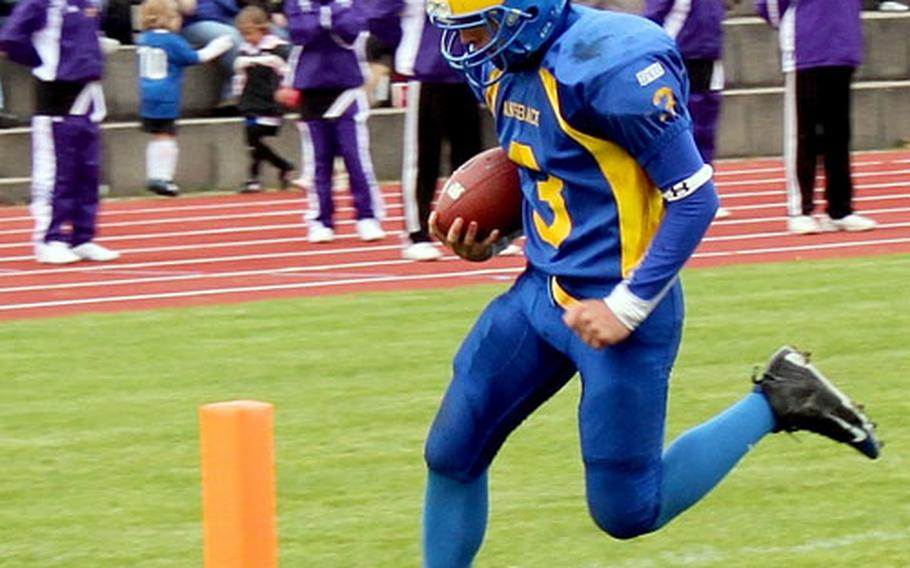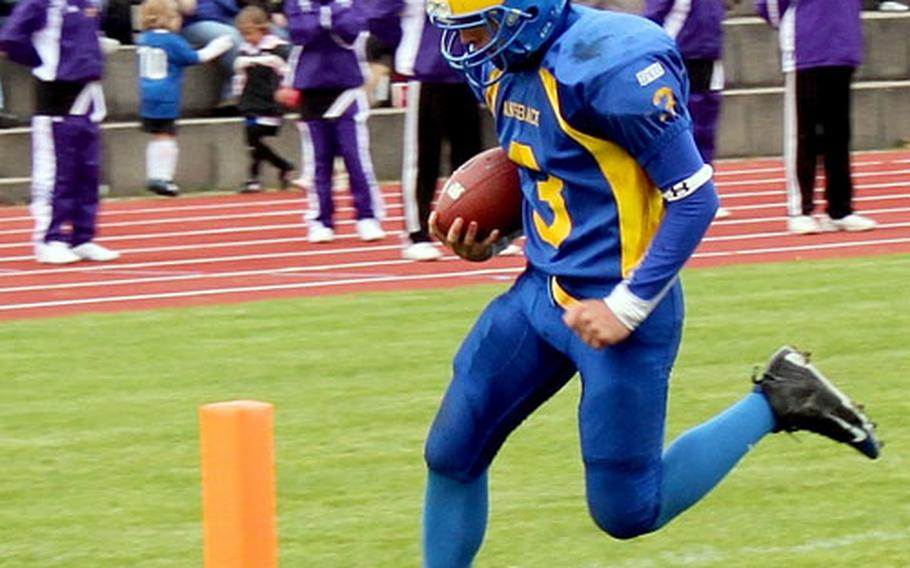 Alex Moya carried 17 times for 164 yards and three touchdowns Saturday as the Ansbach Cougars extended their DODDS-Europe record winning steak to 30 games with a 44-6 Division II quarterfinal victory over visiting Mannheim.
Moya scored on runs of 14, 14 and 4 yards as Ansbach (6-0) moved into a home semifinal game Saturday against Vicenza.
Mannheim (3-3) kept pace with its high-octane hosts through the game's first 12 minutes, forging a 6-6 tie at the end of the first quarter on quarterback J Sheppard's 10-yard TD burst.
Ansbach put the game away thereafter on Dominic Barrale's TD passes of 8 yards to Xavier Jones and 50 yards to All-Europe selection Carter Gunn, a TD run by Barrale and Moya's final two TD runs.
Barrale completed nine of 18 passes for 140 yards; Gunn carried eight times for 77 yards.
Sheppard led Mannheim with 61 yards rushing as the Ansbach defense dug in to shut down the Bison. Eddie Matheson led the way for the defensive unit with 14 tackles, a fumble recovery and two forced fumbles. Ron Smith, Pat Jones and Daniel Brookings each posted 10 stops for Ansbach.
In other European D-II quarterfinal games:
International School of Brusasels 49, SHAPE 17: On Friday night at ISB, Gino Culotta rushed for more than 200 yards for the fourth straight game and scored four touchdowns to power the Raiders into a home semifinal date against Bitburg.
Culotta, averaging 201 rushing yards per game, carried 16 times for 206 yards against SHAPE, which finished the season with a 1-4-1 record.
Ben Hausdorff completed seven of 10 passes for 136 yards for ISB (6-0). Two of his completions went for touchdowns, to Brennan Edwards and Stephen Clark. Clark and Edwards also rushed for 94 yards each.
Culotta had seven tackles and Edwards five for ISB, which also got interceptions by Christian Gingerella and Sam Wright.
Although SHAPE provided no game information, ISB coach Will Vreugdenhil reported: "Damien Anderson was their running game and was tough to bring down the whole night. Kewin Nielsen did a great job as a receiver, catching some tough balls and doing an excellent job kicking."
Bitburg 34, Bamberg 0: On Saturday at Bitburg, special teams racked up two touchdowns for the Barons (4-2), who won their fourth straight game.
Brandon Massie ran a kickoff back 77 yards for a touchdown and Cameron Jackson returned a botched punt 8 yards for the other score.
Jackson also hauled in a 36-yard TD pass from Matt Less, and Kirk Miller and Derek Waters each plunged in from 2 yards out for Bitburg.
Miller led Bitburg with 18 tackles. Pat Williams, Tim O'Donnell and Kyle Edgar added 14, 13 and 11 tackles, respectively.
Javonte Knuckles led Bamberg (3-3) with 54 yards on 16 carries. Forte Cunningham rushed 14 times for 42 yards, and Brian Hargreaves carried 21 times for 42 yards.
Vicenza 23, AFNORTH 14: On Saturday at Vicenza, Kyle Kaus rushed for 175 yards and all three touchdowns as the Cougars (5-1) set up a showdown at Ansbach.
Tizhuan Carroll scored both touchdowns and rushed for 206 yards for AFNORTH, the 2008 D-III champion, which finished 3-3.
Four turnovers proved costly for AFNORTH. Vicenza's Marcus Morton and Joe Boswell picked off AFNORTH passes, and Gabe Rosario and Steve Rajotte recovered fumbles.