European Div. III football: Ansbach blanks AFNORTH for 22nd in a row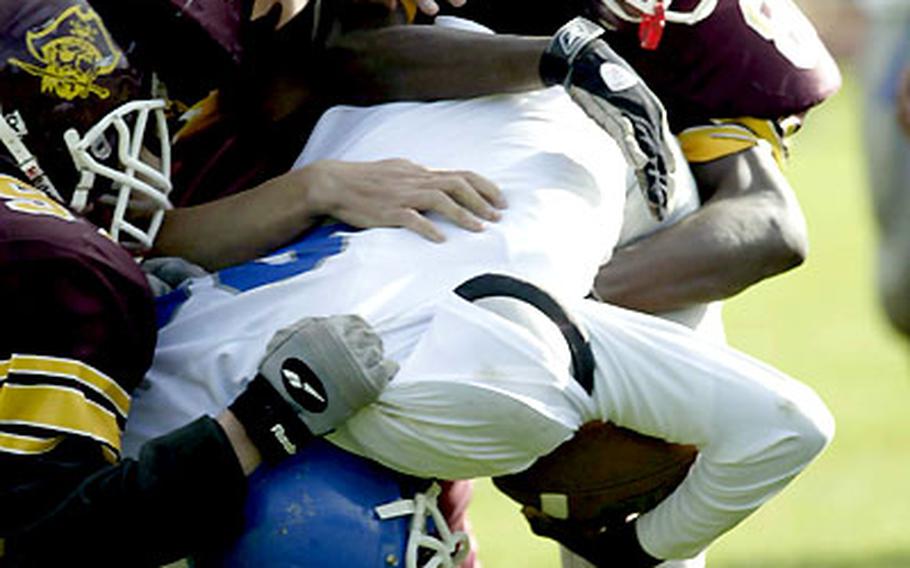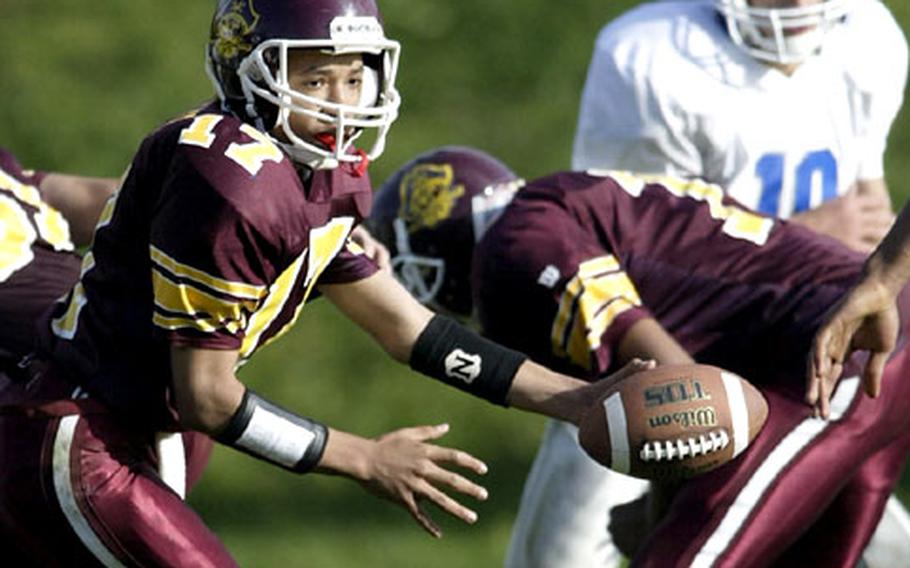 ANSBACH, Germany — Brian Bachtel threw two touchdown passes Saturday as the Ansbach Cougars coasted to a 36-0 victory over the visiting AFNORTH Lions in a Division III quarterfinal.
Bachtel, who was 8-for-9 passing for 285 yards, hit Russell Bailey with a 34-yard scoring pass and James Esters with a 49-yarder in the first quarter to leave little doubt that the Cougars were on their way to their 22nd straight victory.
Tuarean Moore closed out a 21-point first quarter with a 7-yard TD run. Dameon Outley and Xavier Sheppard added TD runs in the second quarter.
Ansbach (6-0) handed the ball to 11 different runners in the second half, resting its starters for this Saturday's semifinal game at Bamberg.
The Barons downed III-A champ Menwith Hill 28-8 on the road Saturday.
AFNORTH (2-4) could do nothing against the Ansbach defense, which was led by Esters' interception and fumble recovery. Jay Augustine added an interception and James Robinson a fumble recovery for Ansbach.
In other Division III quarterfinals on Saturday:
Baumholder 40, Rota 29
At Baumholder, the Bucs rallied in the fourth quarter to move into a semifinal game this Saturday at Hohenfels.
Trailing 29-26 with eight minutes to play, Baumholder mounted a 10-play, 62-yard drive capped by slot back Rashad Taylor's 9-yard touchdown run that put the Bucs ahead to stay.
They added an insurance TD as the clock ran down when Taylor crashed over from the 1 for his fourth TD.
Taylor (21 carries, 236 yards) opened the scoring in the first quarter when he launched a 44-yard TD pass to Ron James after catching a lateral from quarterback Chris Bray.
The play followed a successful onside kick the Bucs pulled off to open the game.
Baumholder followed that TD with scoring drives of 35, 80 and 70 yards in a frantic attempt to keep up with the hard-running Admirals.
Rota's Joseph Casey led that charge, rushing 16 times for 105 yards and all four Admirals touchdowns. The Rota star, along with his teammates, impressed Baumholder coach Carter Hollenbeck in another way, too.
"Rota showed the best sportsmanship of any team I've ever played," Hollenbeck said. "I saw Casey plow down one of our guys, and the next thing I knew he was over helping him to his feet. It was like playing against your family, and it all starts with their coach, Ben Anderson."
Rota, which ended its season with a 3-3 record, got 182 yards passing from quarterback Chris Trezise, He connected six times in 18 attempts.
Hohenfels 24, Sigonella 18 (2OT)
At Sigonella, Hohenfels quarterback Jason Parks ran in for a touchdown, his second in regulation, with five minutes to play to force overtime.
Sigonella's Keenan Jones ran in from eight yards out on the first possession of the OT, in which each team is given the ball at the 10-yard line and allotted four downs. Hohenfels matched Jones' score when Brandon Merriweather ran in from the two and the process began again.
Hohenfels went first on the second possession, and Merriweather crashed in from the five to put the Tigers ahead. The Tigers claimed the victory and the host's berth for the semis when Sigonella couldn't overcome 15 yards in penalties and fumbled the ball away at the three.
Sigonella, which ended its season at 3-3, opened the scoring when Michael Petty, who rushed for 111 yards on 17 carries, recovered a Hohenfels' fumble in the end zone on the opening kickoff.
After Hohenfels tied the score on a 10-yard run by Parks, Jade Garth ran in from a yard out to give the Jaguars a 12-6 halftime edge.
In spite of the 12-12 regulation score, Hohenfels rushed for 462 yards and passed for 53. Merriweather rushed the ball 12 times for 139 yards.
Bamberg 28, Menwith Hill 8
At Menwith Hill, Chris Starr threw TD passes of 78 and 12 yards to Marvin Gholston as the Barons won their fourth straight game and earned the host slot against Ansbach in Saturday's semifinals.
Tim Battle, who ran the ball 10 times for 119 yards, added a 10-yard TD run, and Christian Peel scored on a 48-yard interception return as the Barons improved to 4-2.
Menwith Hill, playing in its first-ever playoff game, lost for the first time this season and finished at 5-1.
Mike Bailey, who carried the ball 20 times for 102 yards, ran seven yards for the only Mustang score.