Wrestlers give it their all to try to reach next level
---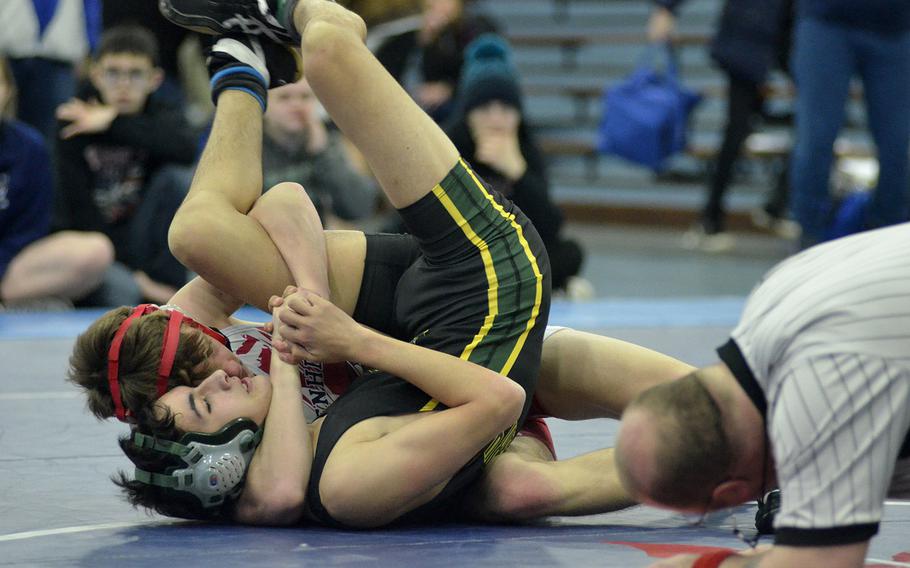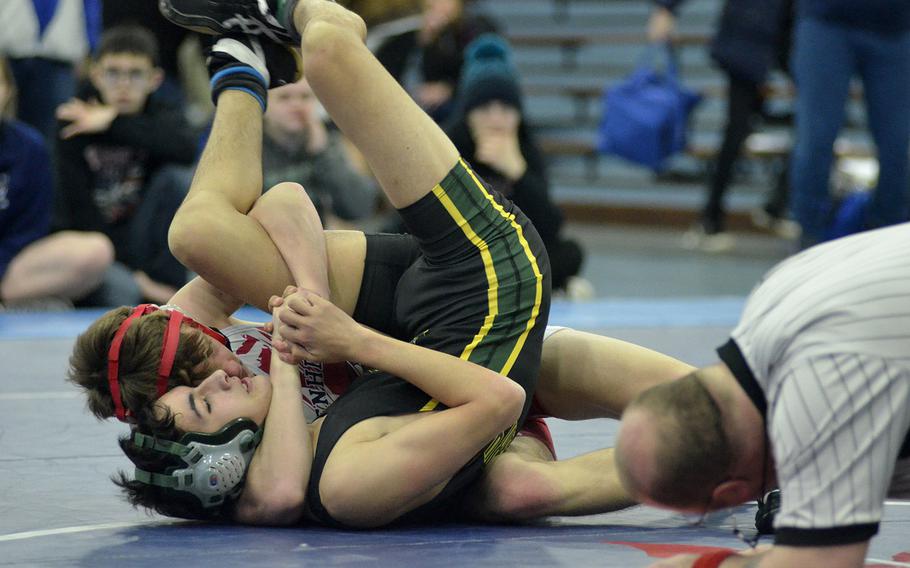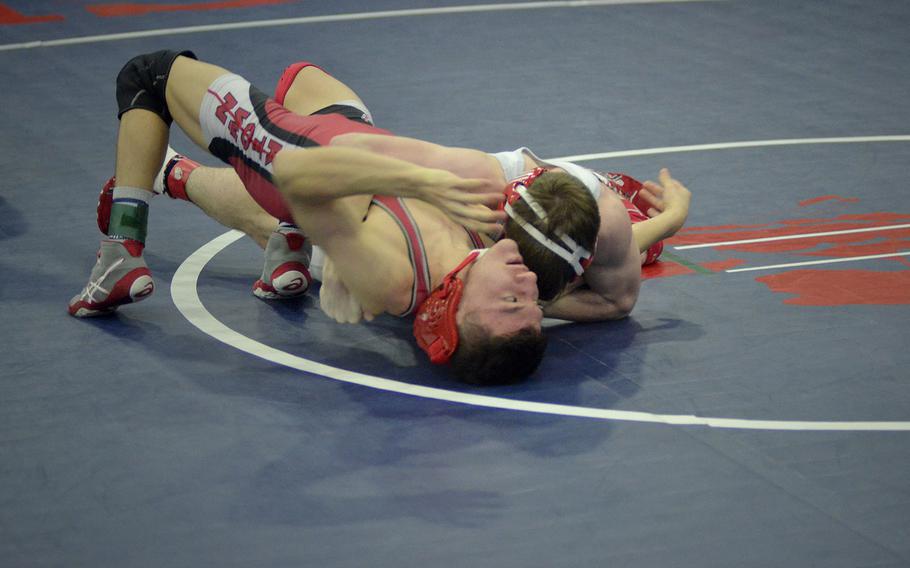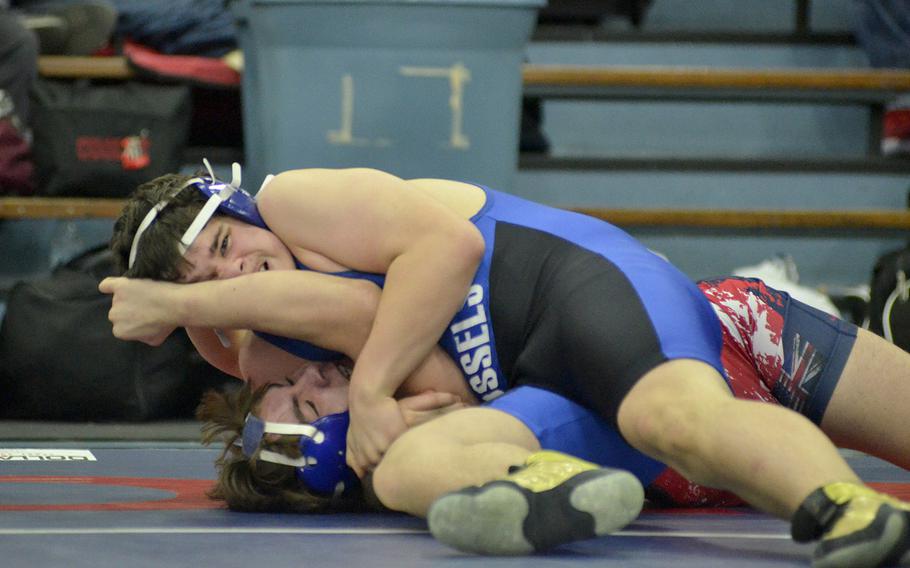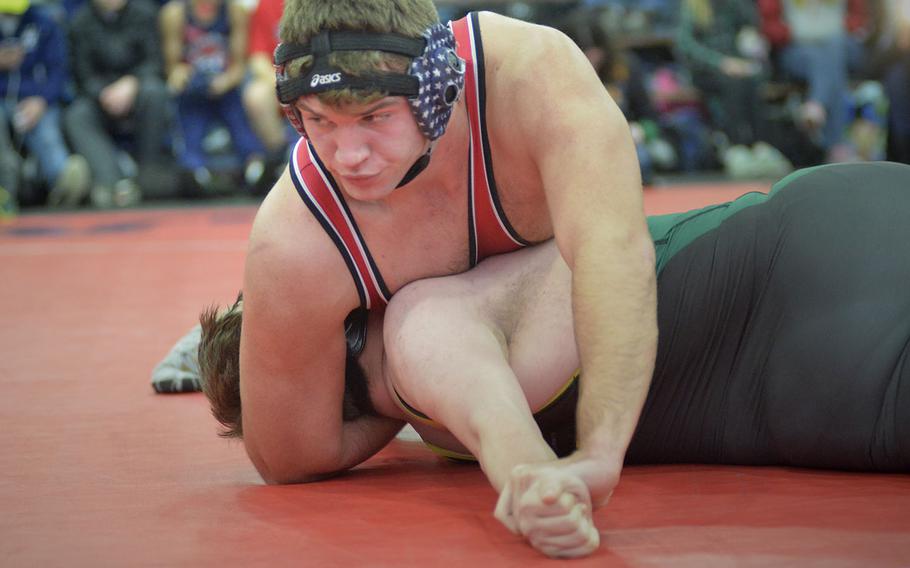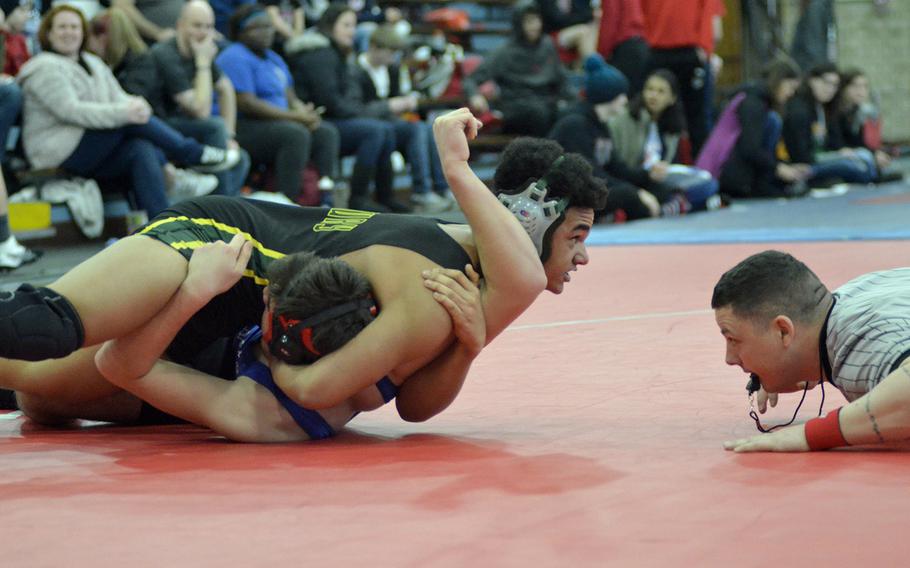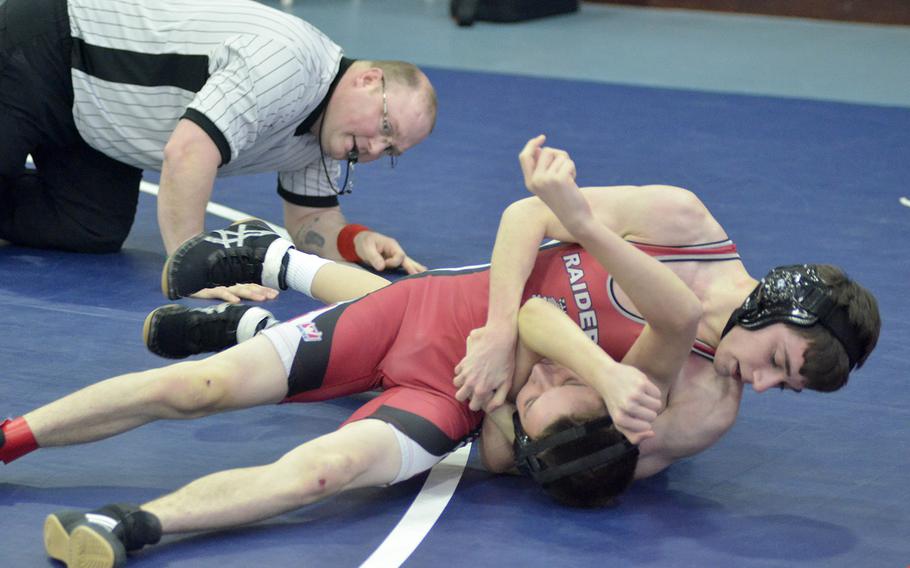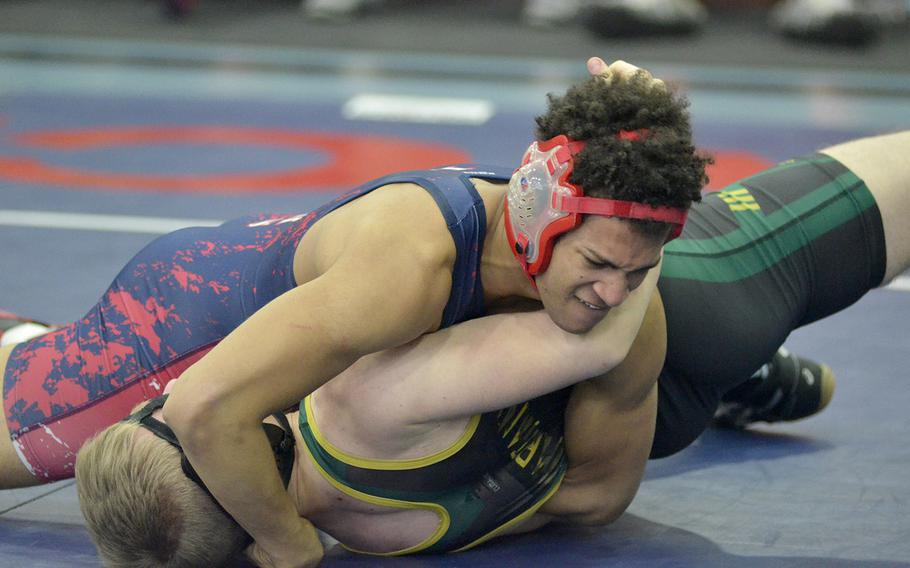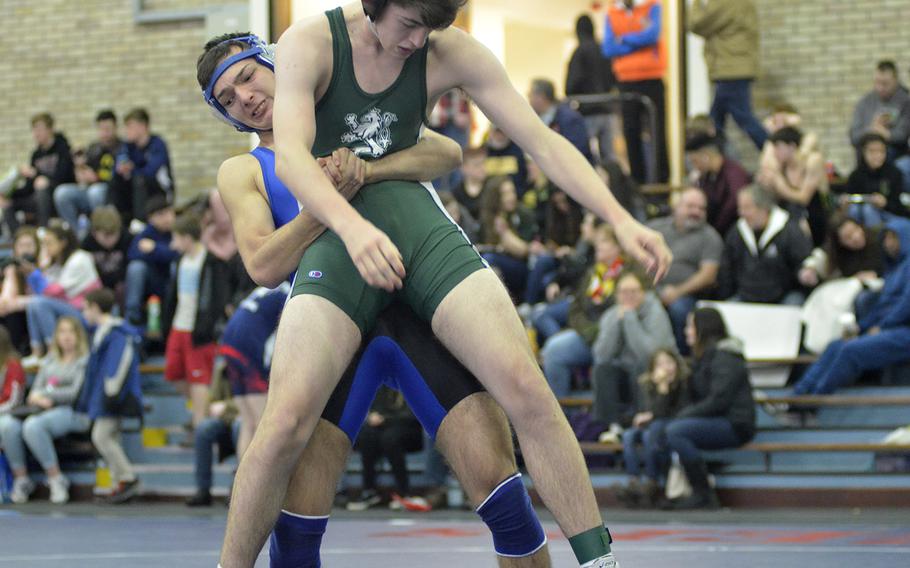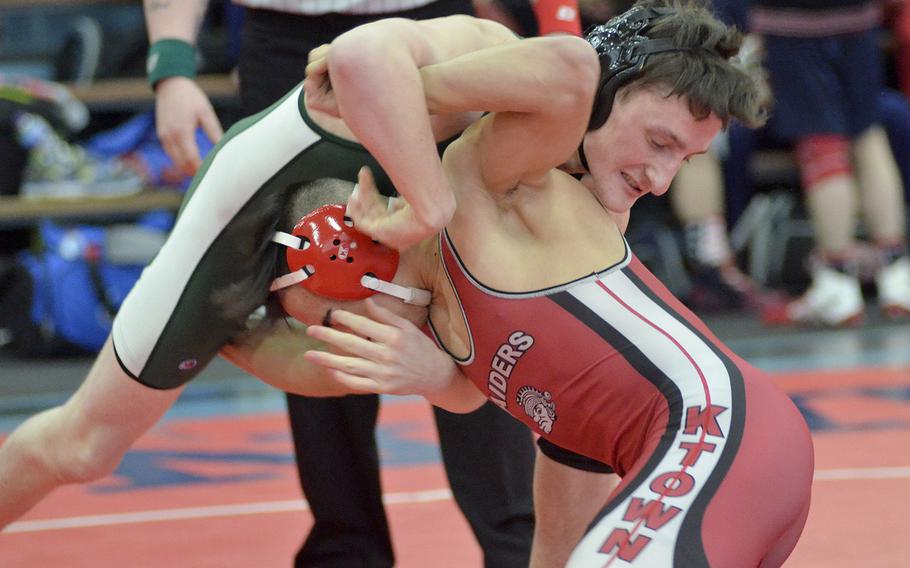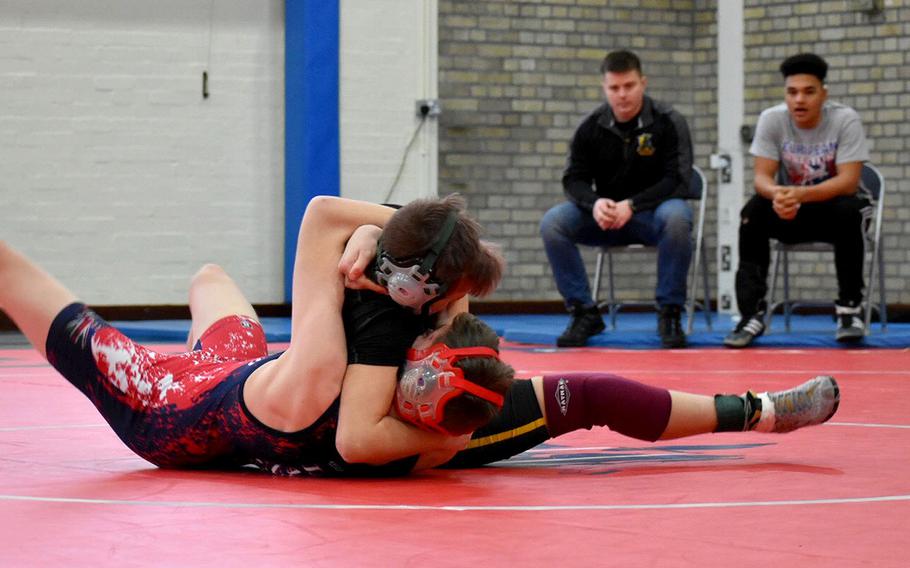 RAF LAKENHEATH, England ― More than 50 wrestlers left their blood, sweat and tears on the mat after giving their all Saturday in exhausting bouts at the northern wrestling sectional.
The Lakenheath Lancers hosted fellow Division I schools Kaiserslautern and SHAPE, AFNORTH from Division II and Division III squads Alconbury and Brussels in a series of battles to qualify for the upcoming DODEA-European wrestling championships.
Most of the competitors from the 14 weight classes fought through at least three matches to try to prove they belonged.
Matches ranged from defensive desperation and floundering to epic feats of strength and wrestling technique.
Lakenheath's Kyle Boren set the tone early with an 18-second pin against Alconbury's Micah Skariah in the first match of the day.
Boren also wrestled in the bout of the day against Kaiserslautern's Conner Mackie during the 120-pound championship that became a focus for everyone in the gym.
Mackie impossibly broke out of Boren's cradle and both wrestlers traded points to remain tied until Mackie eventually earned a victory with a pin.
"I've learned from the beginning to keep fighting and have a big heart. I just kicked like crazy and it worked out," Mackie said after the match. "Whenever I'm at a low point, I just keep my head straight and keep going."
At the other end of the spectrum, Raiders wrestler Royce Staley had less intense experiences in his 220-pound matches - beating each of his opponents in less than a minute with seemingly little effort.
Alconbury's Vivian Newcomer didn't win any matches in her second northern sectional appearance but drew the greatest amount of support from the crowd.
Newcomer was the only wrestler for the Dragons in last year's sectional and helped build the program over the off-season by recruiting students to her team.
"She was pretty instrumental," Alconbury coach Michele Jackson said. "Although she didn't qualify today, I think she's the reason we're at sectionals with six wrestlers."
Five Alconbury wrestlers qualified for the DODEA-European wrestling championships.
Lakenheath proved dominant with 11, while Kaiserslautern had eight, Brussels six, SHAPE five, and four made it from AFNORTH.
Others may receive wild card invites, but that's yet to be determined.
Twitter: @Howard_Stripes
---
---
---
---