Wrestlers' focus narrows as season approaches conclusion
by
Gregory Broome
January 31, 2019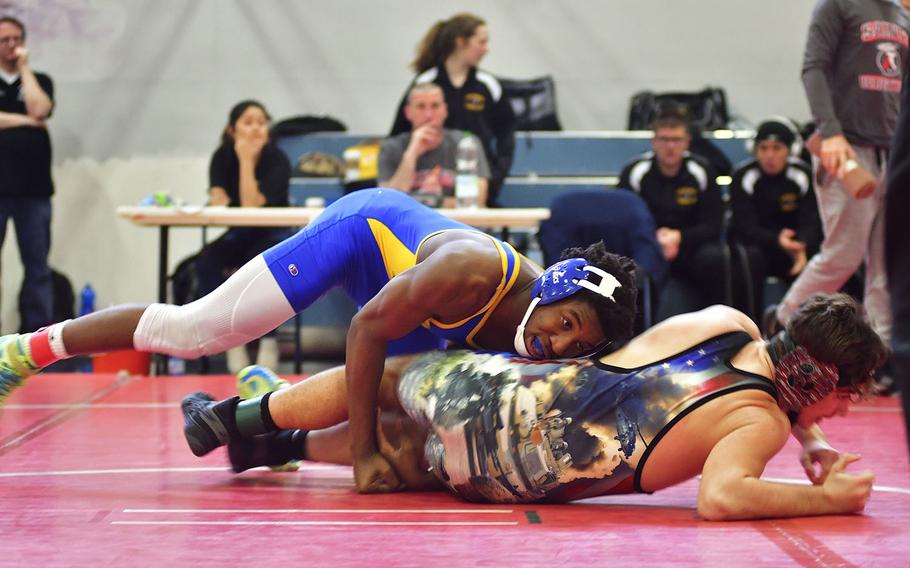 The DODEA-Europe wrestling season has reached its final three weeks, with a milestone in place for each.
This weekend brings a set of three regular-season finale meets, headlined by a massive nine-school gathering at Kaiserslautern that includes all of last season's top-five finishers in the Division I team points race.
The following weekend, Feb. 9, features three sectional qualifying meets at Brussels, Stuttgart and Vicenza. Those meets will determine the bulk of the brackets for the season-ending European championship meet, set for Feb. 15-16 at Wiesbaden.
While this weekend's regular-season action won't have much impact on the fast-approaching postseason, it's still a key part of the buildup to a European championship run.
"Our focus this week is to stay healthy and maintain," Ramstein head coach Thomas Wright said. "The wrestling season is long and grueling. The daily grind takes a toll. Peaking at the right time is key."
Head coach Norm Matzke of the reigning Division I dynasty Stuttgart Panthers has a similar approach, citing a mission to "fine-tune" his team's skills this weekend.
"Our approach to prepare for the championships does not differ for any of our wrestlers," Matzke said. "We train and work all of them hard every practice."
Wrestlers at different levels of ability often have different goals. Proven wrestlers largely assured of European berths might be more interested in preservation, while less accomplished entrants might need to make their push earlier.
"Elite wrestlers are maintaining health and rehabbing any nagging injuries to make sure they are in their best condition," Vilseck coach David Nichols said. "Those on the fringe need to bust their tails."
But even DODEA-Europe's finest grapplers must guard against complacency.
"Your reputation does not get you to the European championships," said Robin Clement, coach of the defending Division II champion Aviano Saints. "Our motto is 'improve every day.'"
Throughout this process, coaches also keep an eye on team points totals, which will determine the Divisions I, II and III team champions at the European finals. And those numbers can be tricky, fluctuating wildly based on the level of competition at a particular meet and the week-to-week availability of certain wrestlers.
To bear that point out, Stuttgart took a 255-215 decision ahead of Ramstein at a large meet on Dec. 8, but Ramstein got the better of the rival Panthers in each of January's first two meets. This weekend's mega-meet at Kaiserslautern might produce the most accurate math on where those teams stand, but even that data will be of limited utility when contenders from the north and south flood the championship brackets at Wiesbaden.
"Our team strives to win at each tournament, and when we do not win, we analyze the reasons for the loss," Matzke said. "Then use that information to focus on our weakness during practice the following week."
The time available to make those improvements, however, is nearly over.
"We consider the regular season practice. Sectionals are treated as a qualifying event," Wright said. "Euros is the big event."
Twitter: @broomestripes