Wiesbaden sweeps SHAPE to gain, retain confidence
by
Dan Stoutamire
January 13, 2018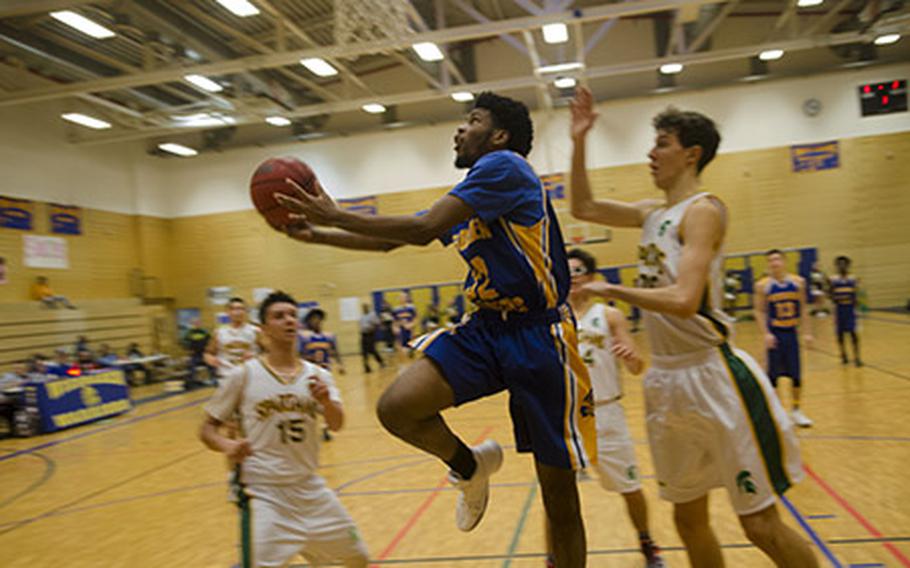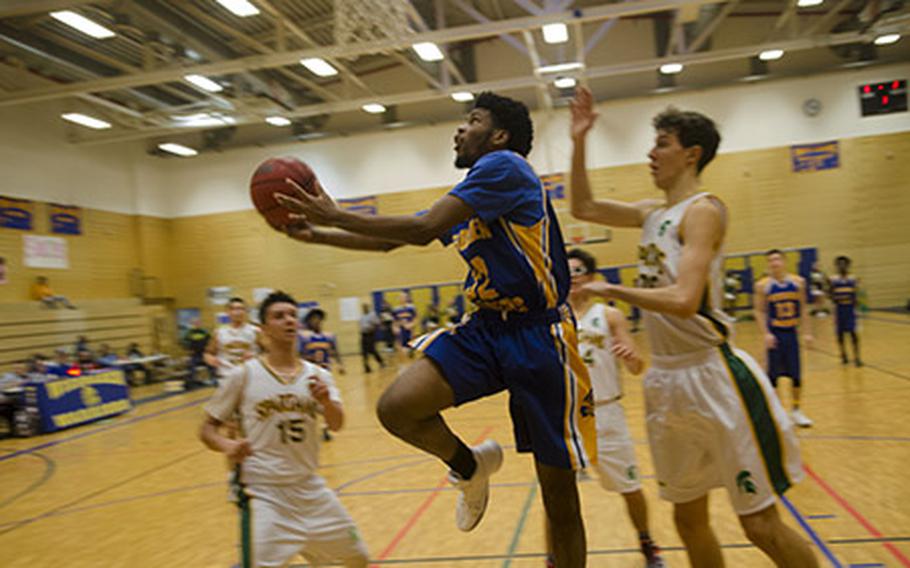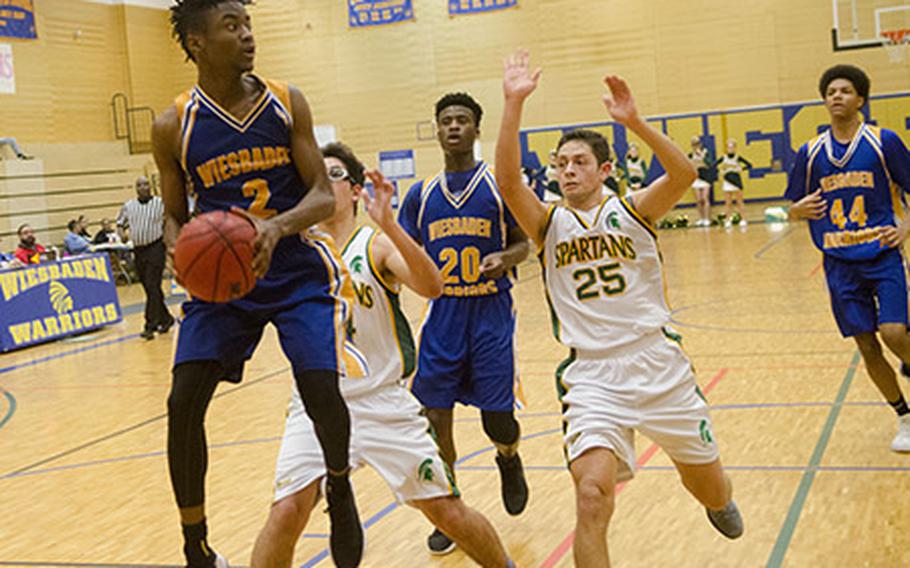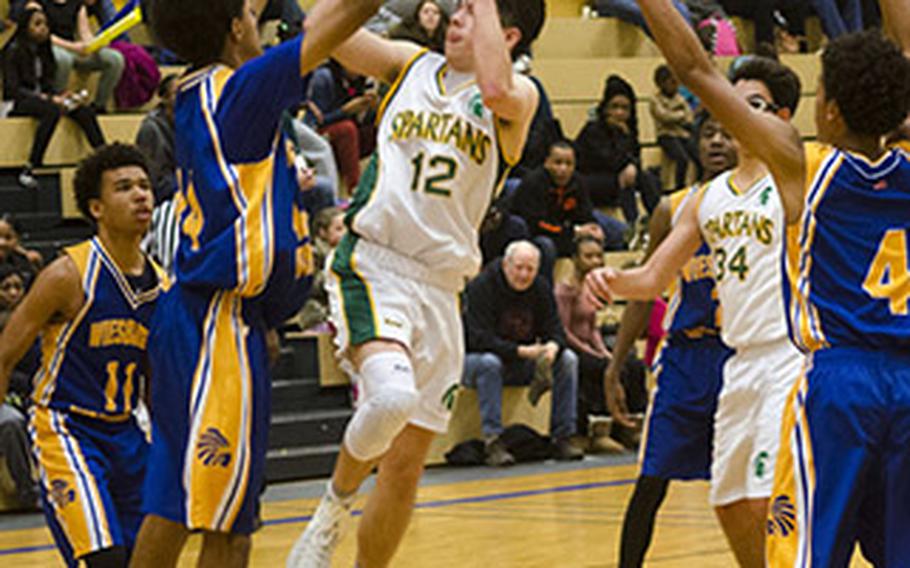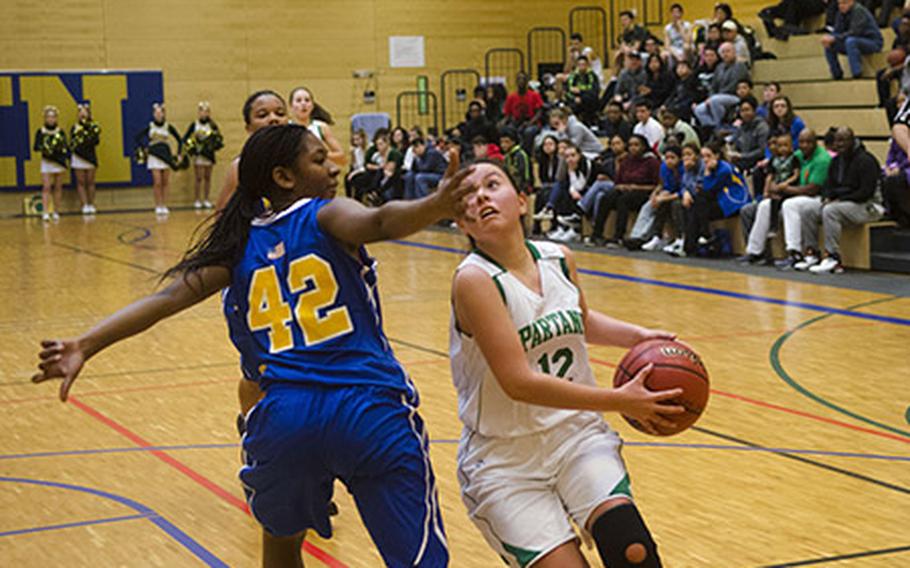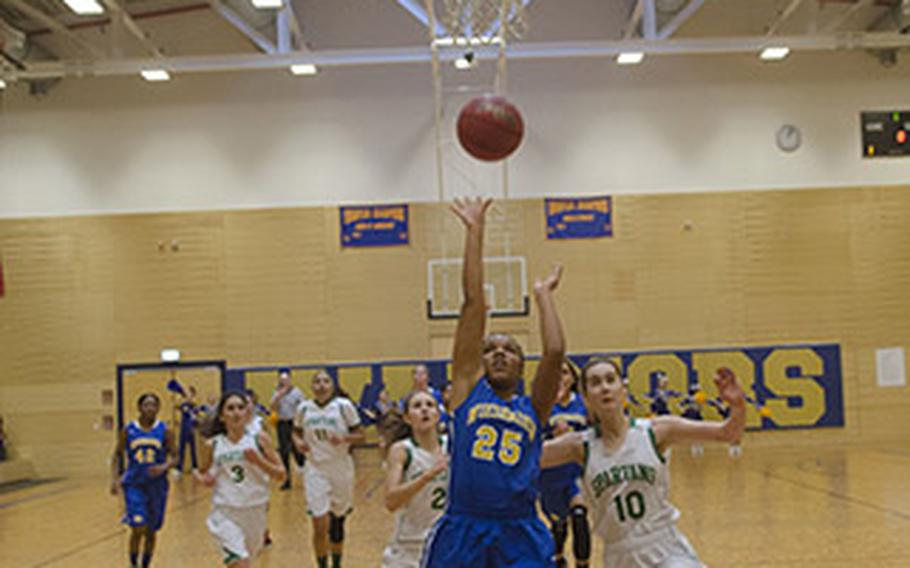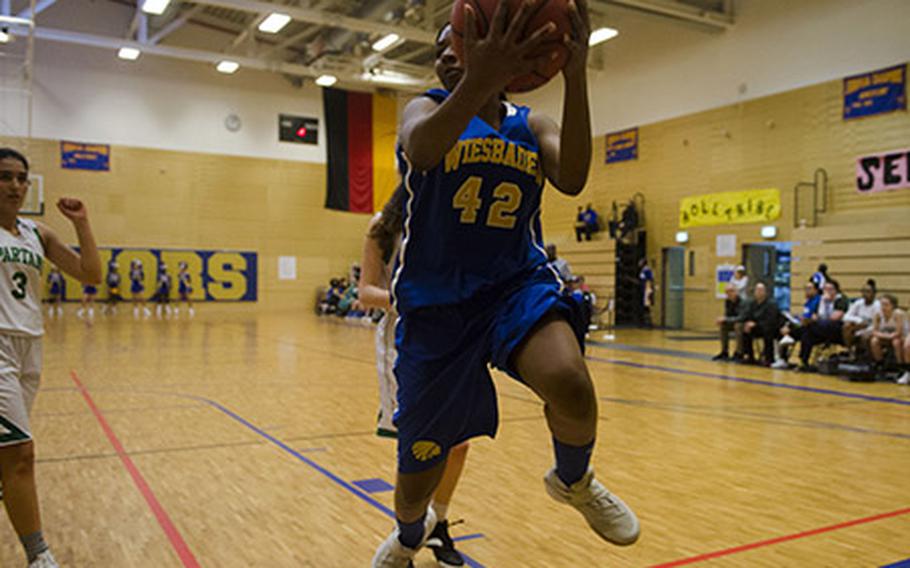 WIESBADEN, Germany — Both the Wiesbaden boys and girls celebrated a pair of wins over the visiting SHAPE Spartans in a quartet of games Friday and Saturday.
The dominant boys' team, still undefeated in regular-season DODEA Europe Division I and overall play, made short work of the rebuilding Spartans, winning by a combined 82 points over the eight quarters of play.
Wiesbaden's girls, who had come into the weekend winless in Division I play, will take some confidence away from their pair of victories, though they were more comfortable winners Friday than on Saturday, when their margin of victory was a single point.
GirlsSavannah Benson-China only had one thing on her mind as she stepped to the free-throw line on Saturday with Wiesbaden tied with SHAPE at 37 apiece.
"I just knew I had to take my time, make sure my power was right, do everything that the coaches taught me," she said.
Making the crucial first shot of a one-and-one opportunity sealed the game 38-37 for the Warriors and ensured they swept the Spartans, who made it much tougher on the hosts in the second game.
In Friday's 32-17 win, the Warriors were able to maintain a zone defense for the duration of the game.
The Spartans came out on Saturday with a new strategy, and one which proved effective for most of the game.
"We kept the ball on the perimeter, tried to get them to come out to us and take more time and get better shots," SHAPE coach Doug Shinaver said.
Wiesbaden coach Jim Campbell decided to switch to a man defense late in the third quarter, which made the difference as the Warriors outscored SHAPE 14-5 in the final period.
"We didn't have an answer for that," Shinaver said.
The game was an intriguing contrast in styles, with the undersized Spartans looking to use their speed and passing ability to work around the larger Warriors frontcourt. For much of the game it worked, but the larger bench and increased efficiency of the hosts told in the end.
"These wins give the girls more confidence, we know we have to improve, but of course, two wins is a nice weekend," Campbell said.
BoysA dominant Wiesbaden ran away early in both of matchups, using a deep bench, interchangeable players and defensive hustle to ensure its opponents never had a second to breathe on offense. The hosts triumphed 69-19 on Friday and 66-31 on Saturday.
"It's a lot of help side, denying the ball, jumping to the ball," junior Tyrese Harris said of the Warriors' focus on that side of the ball. "Overall, it's just team defense, and everybody has to be involved for it to work."
Harris scored 15 points in both games, with Isaiah DeVane contributing 20 on Saturday, many of which came on fast breaks after defensive pressure forced SHAPE into an error.
SHAPE is in rebuilding mode this year, with just one starter back from last year's squad, coach John Leipheimer said.
"They're working hard in practice and getting better," he said. "They're learning how to play, especially in the American style and the toughness of it."
The Spartans are in the midst of a tough run, facing Wiesbaden, Ramstein and Kaiserslautern over a three-week period.
"Even with the frustration of the last two days, they're still running, they're still coachable, so that's a plus," Leipheimer said. "As long as they do that, they'll get better."
For the Warriors, perhaps their most potent weapon is their depth, and how they can use that to give important starters long breaks on the bench to keep them fresh for key minutes down the stretch. It's something coach David Brown has preached to his team all year.
"We're only as strong as our weakest link, I've said for a long time," he said.
Judging by the impressive performance coming after the long holiday break – albeit one which included a three-day holiday tournament – the Warriors seem poised for a deep tournament run.
Twitter: @DKS_Stripes
---
---
---