D-I girls semifinals
Wiesbaden, Patch to square off for crown
By
Gregory Broome Matt Millham
February 21, 2014
---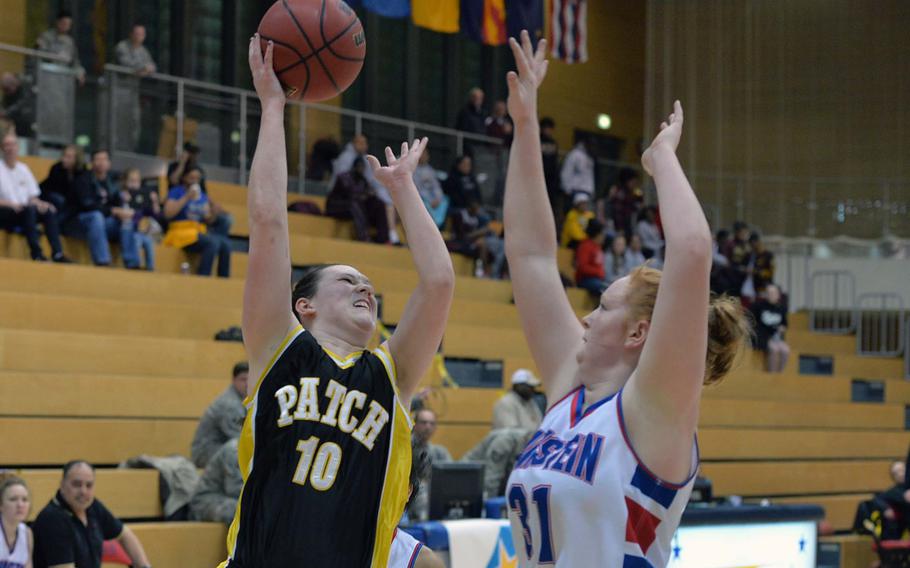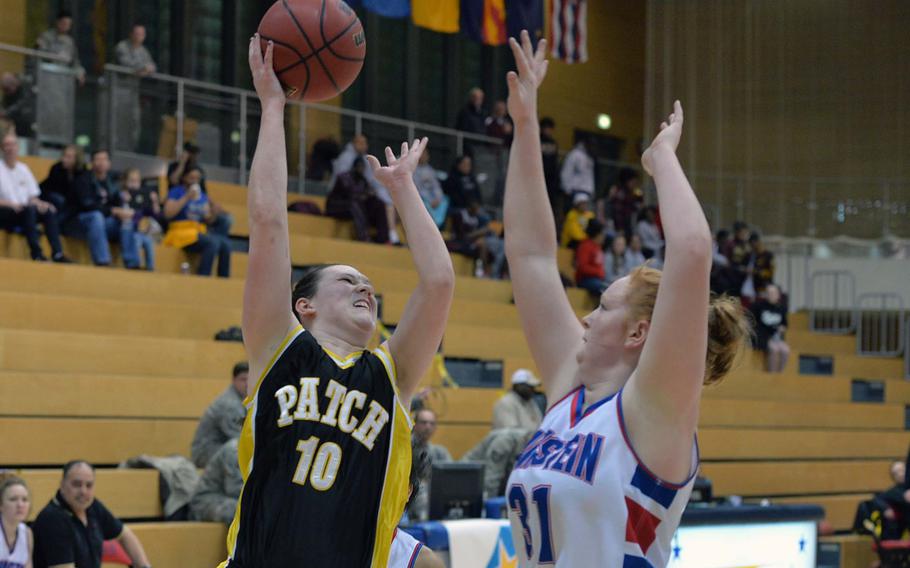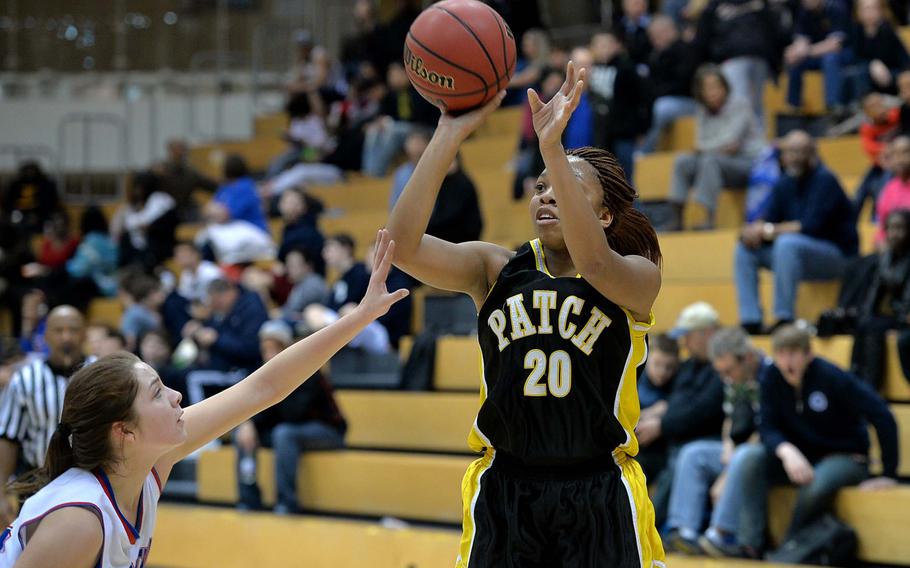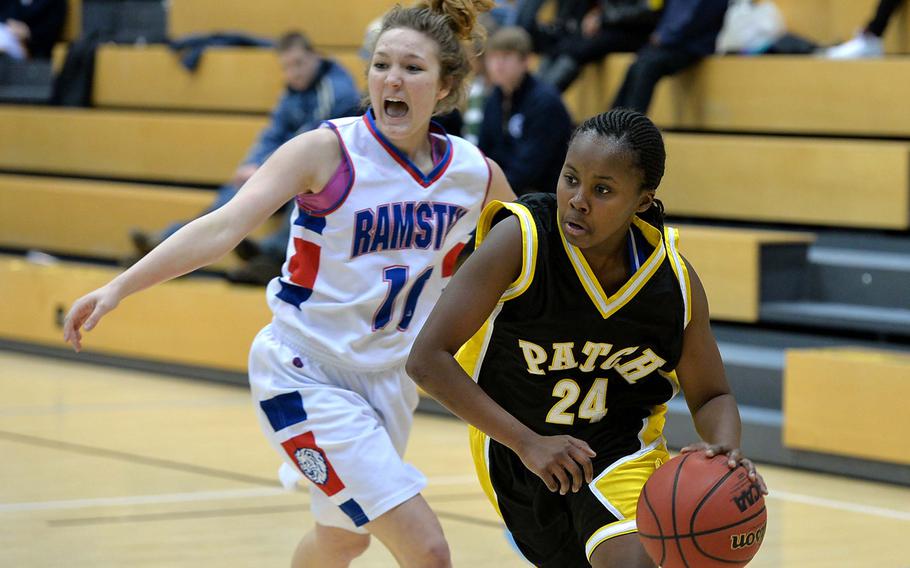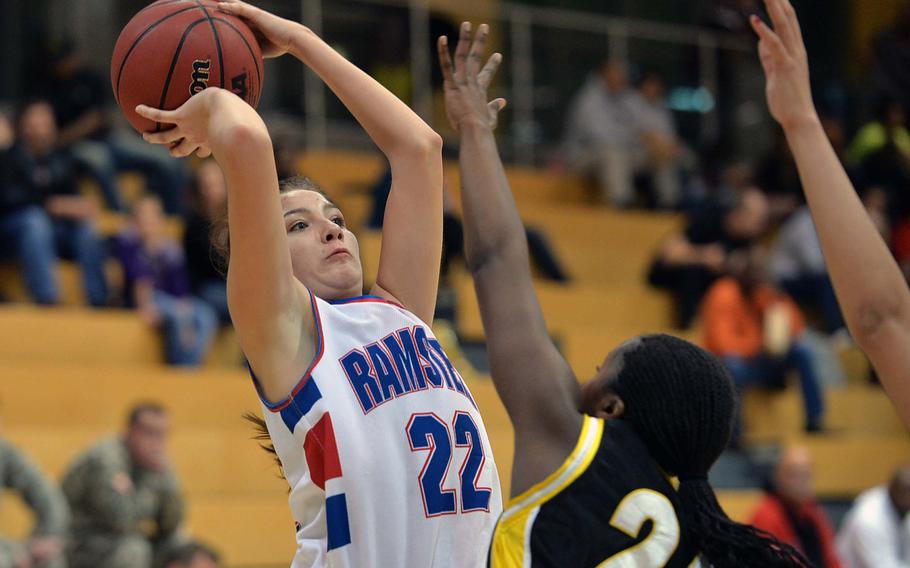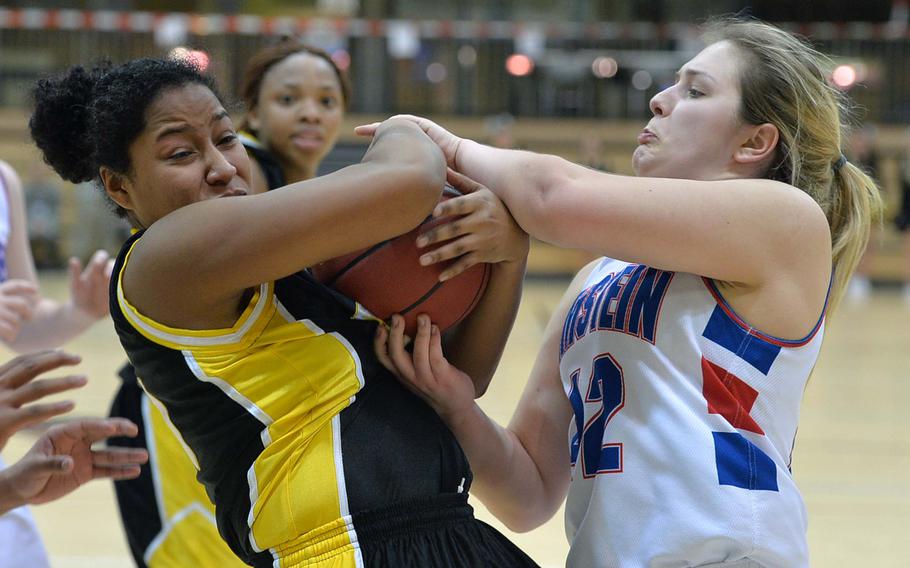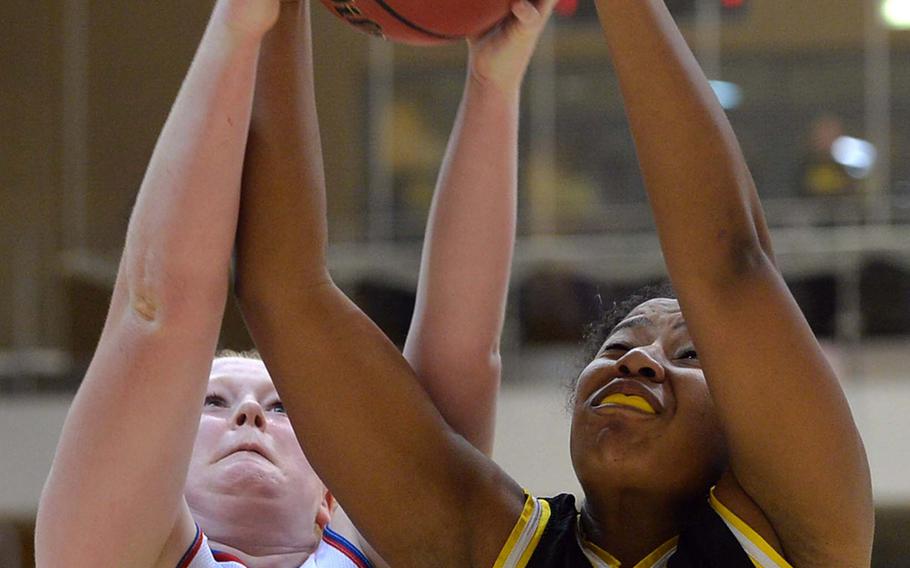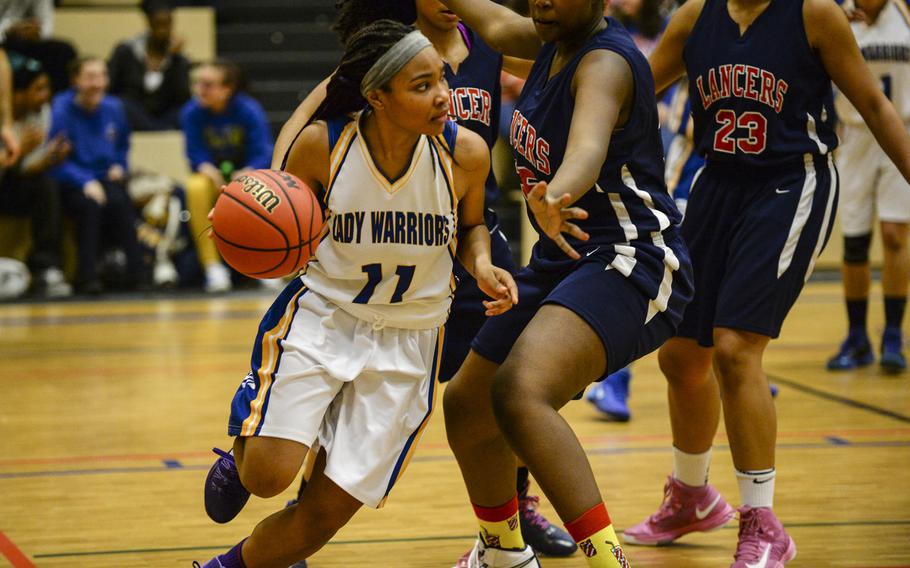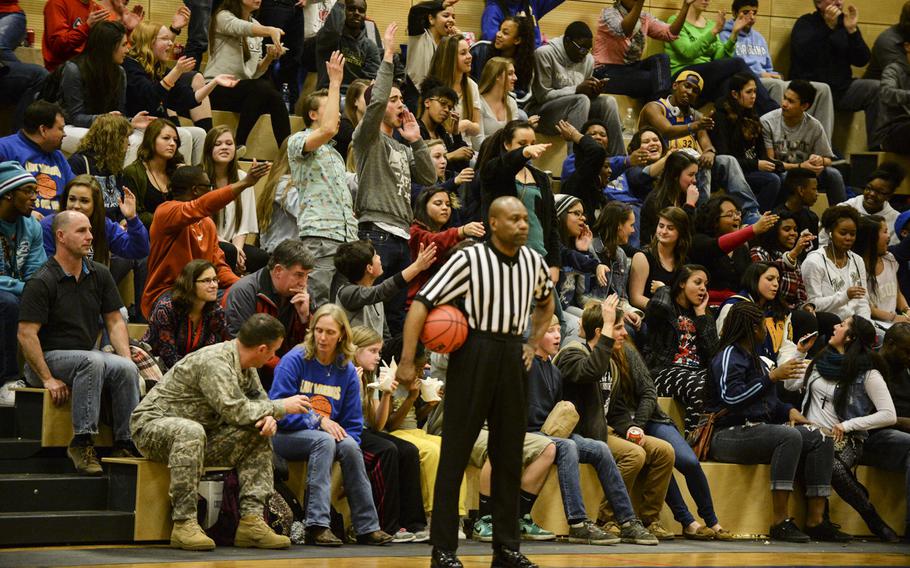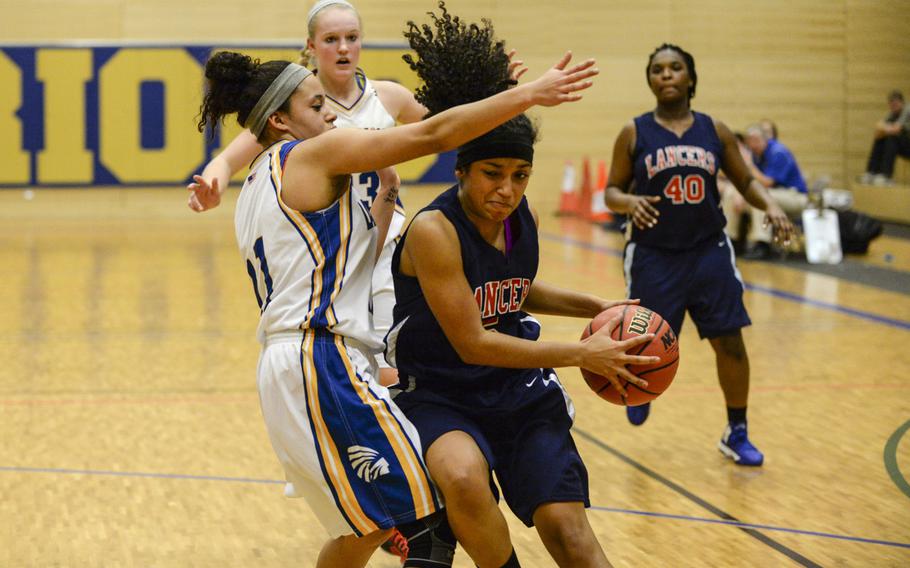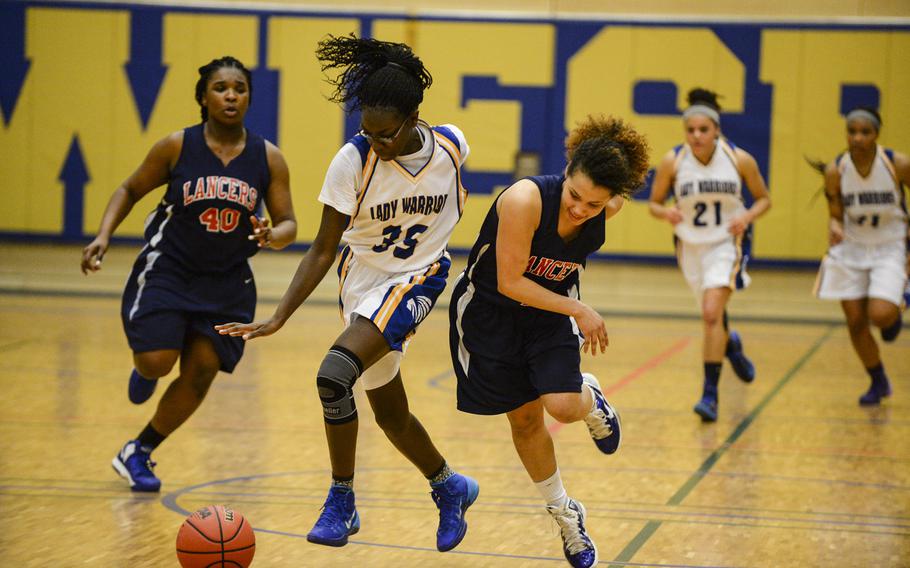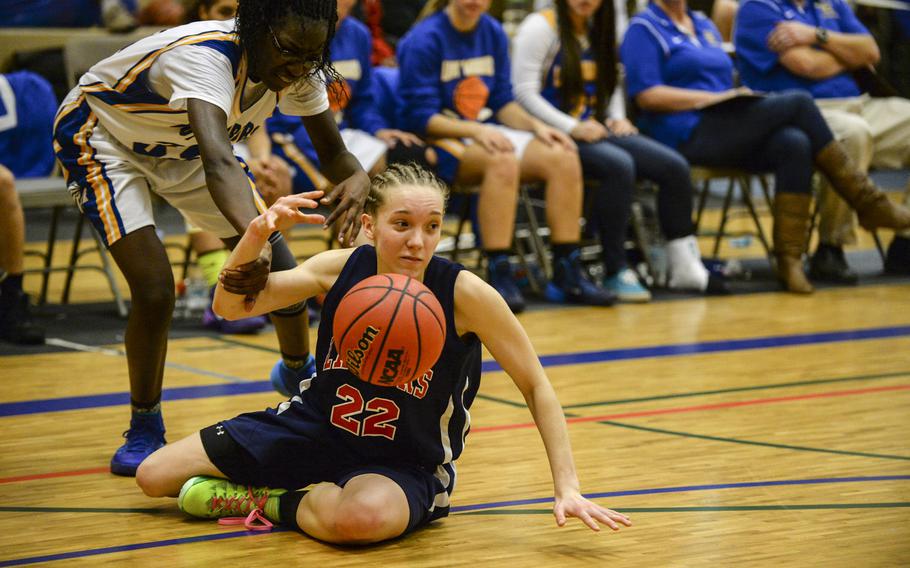 WIESBADEN, Germany — During the regular season, it seemed as if just about every Division I girls basketball team won and lost against all its competition.
Two contenders never played each other, though. Wiesbaden and Patch took care of that in pool play, with the Warriors earning a comfortable 40-27 victory Friday. That might give the Panthers hope for Saturday as the two earned spots in the finals with semifinal victories.
Wiesbaden 33, Lakenheath 26: Before a home-team crowd, the Warriors outdueled the Lancers with a gritty effort anchored by a pair of sophomores.
Lakenheath's efforts to get into the semifinal were mixed, including a loss and a two-point squeaker. Wiesbaden, meanwhile, had largely squashed its opponents, including a particularly grisly 47-9 romp over the International School of Brussels.
The semifinal matchup proved to be a much closer matchup.
Catherine Klein and Crisheena Rolack each had a three and a two-point bucket in the first half to pace the Warriors on their way to a 14-12 lead to end the first half – a margin much smaller than the Warriors were used to.
The last 16 minutes kicked off with the Lancers sinking a pair of layups to briefly take the lead.
Wiesbaden went on a nine-point Rolack-and Klein-led run to go up 23-16.
Lakenheath flashed back into the game to trade a couple buckets before Wiesbaden junior Cierra Martin tossed up a three at the buzzer to put the Warriors up 30-20 at the end of the third period.
The fourth quarter was frantic, as the Lancers scrambled to overcome their largest deficit. With six unanswered points, Lakenheath clawed to within four with four minutes left to play.
But Wiesbaden was back up by six as it headed into the final minute. The Warriors' swarming defense smothered the Lancers' attempts to get anywhere near the basket, forcing outside shots that had been a weak point for Lakenheath all game.
Rolack led the Warriors with 12 points – eight in the second half. Martin and Klein were right behind with eight apiece.
Lakenheath's Jourdan Hodge led all Lancers with 10.
"We worked our butts off all season," Klein said. "We're going to the championship. We knew that from the very start."
Patch 49, Ramstein 36: Once the Panthers built a lead, they weren't about to give it back.
Bold and aggressive from the opening tip until their opponents finally conceded, third-seeded Patch built an early double-digit lead and sustained it throughout, resisting every Ramstein advance with more full-court passes and forced jump balls.
"Our mindset was zero-zero the entire game," Patch senior Aly Littlejohn said.
A hot start and opportunistic defense gave the Panthers an 18-6 lead after eight minutes. Sustained intensity expanded that lead at 30-15 at halftime. A buzzer-beating free-throw line jumper by sophomore Meisha Blue kept that lead intact as Patch took a 40-25 edge into the fourth quarter.
"I was waiting for the girls to turn the light switch on, and it finally sunk in," Panthers head coach Bill Ratcliff said. "They came out on fire, played good defense."
The Panthers briefly tamed their ferocity midway through the fourth quarter, dribbling away stretches of game clock as the frantic Royals gave chase. But the slow pace didn't agree with them, and Patch returned to the attacking style to finish off the victory.
"I didn't want to go conservative too soon," Ratcliff said, despite his players' growing level of fatigue.
Littlejohn said the Panthers are at their best playing at a faster pace.
"We knew that we had to pressure them. We knew that we had to run the ball," Littlejohn said. "We were ready to push it."
With no progress to show for its prolonged efforts, Ramstein pulled its key starters with 96 seconds to play and that immoveable double-digit lead still on the scoreboard.
Rebecca Hess scored a game-high 18 points for the Panthers.
The fourth-seeded Royals, who shook up the tournament early Friday by completing the elimination of defending champion and top seed Kaiserslautern, were led by a 13-point, six-rebound effort from Katherine Enyeart.
---
---
---
---