Softball preview
What awaits new kids on a bigger block?
by
Gregory Broome
March 18, 2015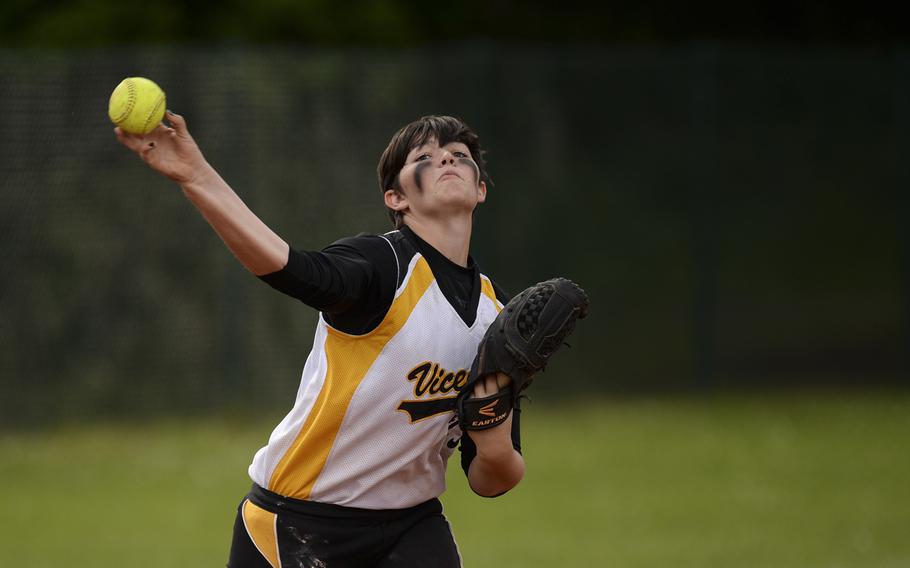 The big time just got a lot bigger in DODDS-Europe softball.
All four of the teams that played in 2014's two title games – the Division I champion Patch Panthers and runner-up Ramstein Royals and the Division II champion Vicenza Cougars and runner-up Naples Wildcats – will crowd into a single, stellar bracket this spring thanks to DODDS-Europe's divisional realignment.
While existing Division I teams have been able to fend off their new rivals to win championships in volleyball and basketball so far this school year, the softball diamond might be the site where the power is transferred. That question will begin to be answered Saturday as the 2015 DODDS-Europe softball season opens.
Division IThe evidence is circumstantial for now, but early trends are pointing towards a strong potential for an Italian takeover this spring.
Vicenza and Naples are led by well-established star players at crucial positions.
The Cougars return All-Europe pitching ace and reigning Stars and Stripes softball Athlete of the Year Megan Buffington alongside fellow seniors Jasmyn Gettelman and Nina Tarr. Buffington's dominant pitching and prolific power bat make her the most dangerous player in DODDS-Europe and give Vicenza, the winner of the last two Division II titles, a chance to beat anyone at any level.
The Wildcats have their own senior trio in Aundrea Hall, Abby Lynch and All-Europe shortstop Erin Dromerhauser. That group will look to deliver Naples' first softball crown since the school's 2009-2012 Division II title dynasty.
Patch and Ramstein, meanwhile, are vulnerable. Coach Brian Tingey said the Panthers are "starting fresh" after losing eight senior starters. The resulting Patch roster is comprised primarily of freshmen, he said, with a handful of sophomores and juniors and no seniors. Shortstop Shannon Nam, a catalyst of last year's championship run, is the only notable name back in black and gold.
Ramstein is in a similar situation. Senior third baseman Brooke Strasburger plays the role of returning standout among a squad of promising but unproven underclassmen, including several freshmen.
But catcher Kristina Poe proved last spring that first-year players can make an immediate impact, and Poe is back behind the plate to provide a template for her rookie teammates.
Three of those four primary contenders, meanwhile, are led by new coaches. Bryan Morvay takes over for Vicenza, Diana Lanzelotte is in charge in Naples and Steve Kennedy is the new head coach at Ramstein.
Among the field's other primary contenders is a pair of well-established Division I contenders led by long-tenured head coaches.
Jim Hall's Vilseck Falcons finished third in 2014, improving on a 6-6 regular season with a strong tournament run. A core of eight varsity returnees fuel the 2015 Falcons, who will get an immediate evaluation of their title hopes as they take on Patch, Naples and host Vicenza on March 27-28.
John Culbreth's Kaiserslautern Raiders pushed Ramstein to the limit in last year's tournament, and they'll have five solid starters back for another attempt.
Pitcher Tori Liggins and all-around standout Nina Knight, both juniors, headline a roster featuring a equitable mix of youth and proven talent.
Seniors Shannon Cox and Jade Julien are back to lead a Lakenheath team looking to jump fully back into contention after several years of rebuilding. New coach Carla Nau-Redman is looking to launch a similar project at Wiesbaden. SHAPE, meanwhile, might struggle to compete at the higher level after being regularly routed by Division I opposition last season.
Division II/IIIFor the Rota Admirals and Hohenfels Tigers, the logic is simple. With the 2014 Division II/III champion and runner-up out of the way, the next-highest finishers move to the front of the line.
That's the third-place Admirals, last year's tournament upstarts, and fourth-place Tigers.
Hohenfels is particularly optimistic with six varsity starters back from a team that gave Vicenza the toughest test of its tournament run. Latisha Williams and Chloe Holland give the Tigers an enviable pair of starting pitchers.
Beyond the Admirals and Tigers, the Division II/III ranks are an unpredictable brew of teams with seemingly equal chances of coalescing into contenders or fading into obscurity. AFNORTH, Ansbach and Baumholder are young, with just 10 returning varsity players between them. But any of the three could emerge as this year's tournament darling, especially in a streamlined bracket.
Aviano and Sigonella bring relative experience and added motivation as they vie to assume the vacant throne of Italy's premier lower-division program. Two recent powers – former Division II title-game mainstay Bitburg and 2013 Division III champion Alconbury – are intent on recapturing former glory.
Twitter: @broomestripes