D-I girls championship
Warriors go on rampage in rout of Patch
---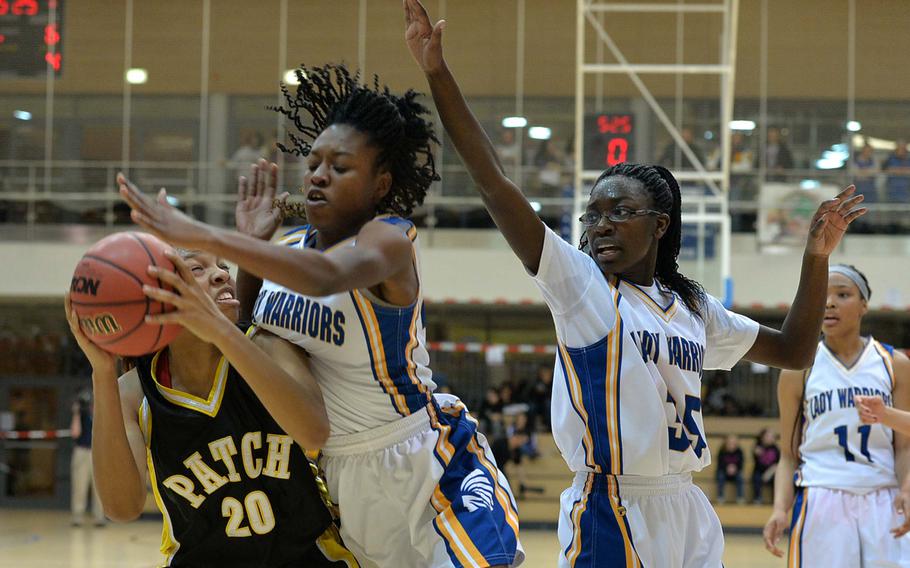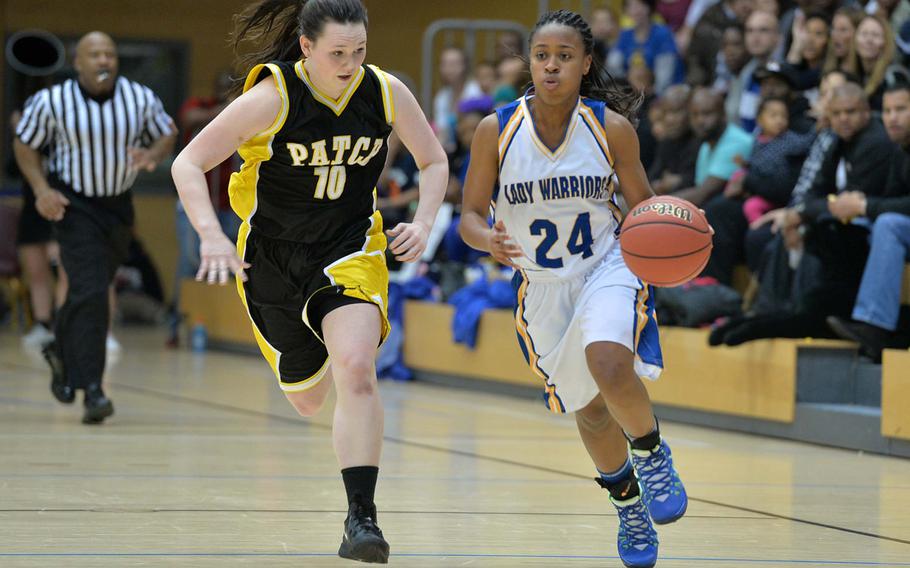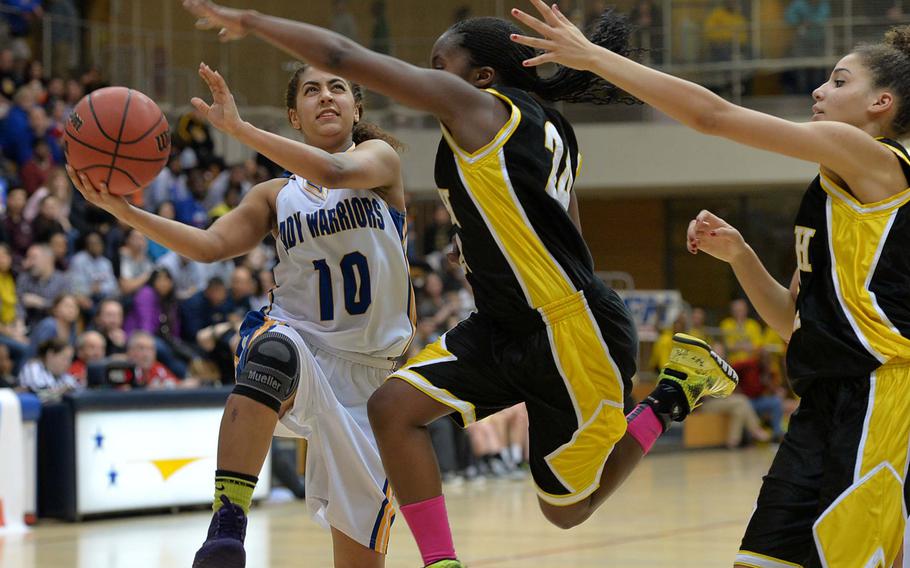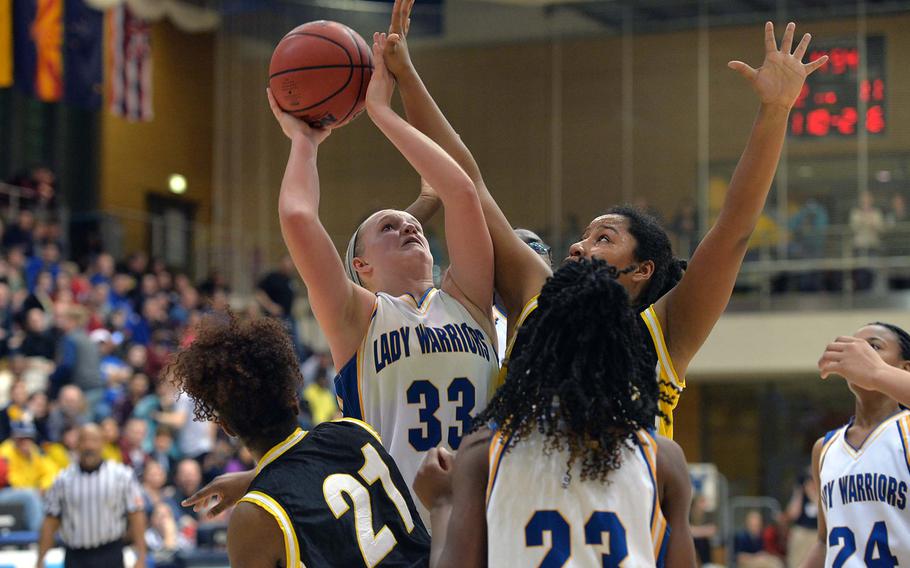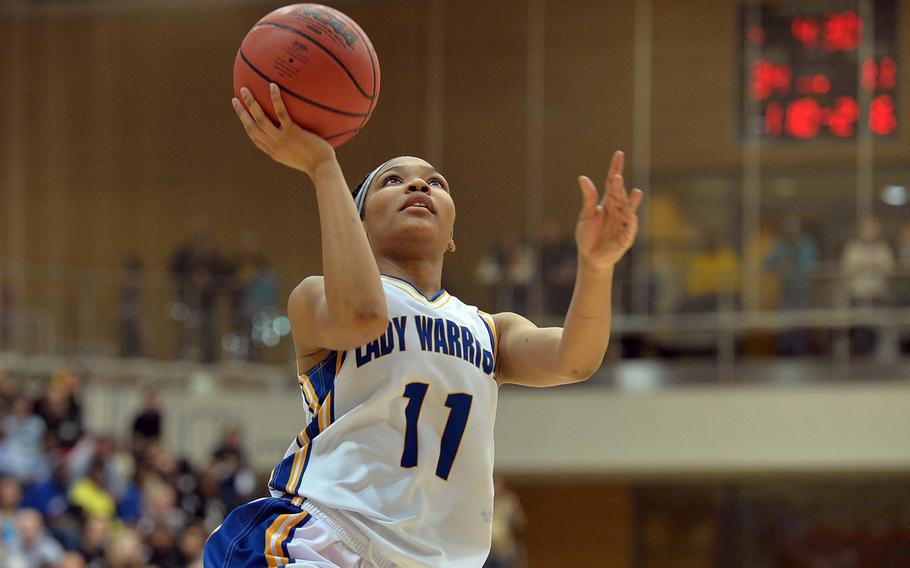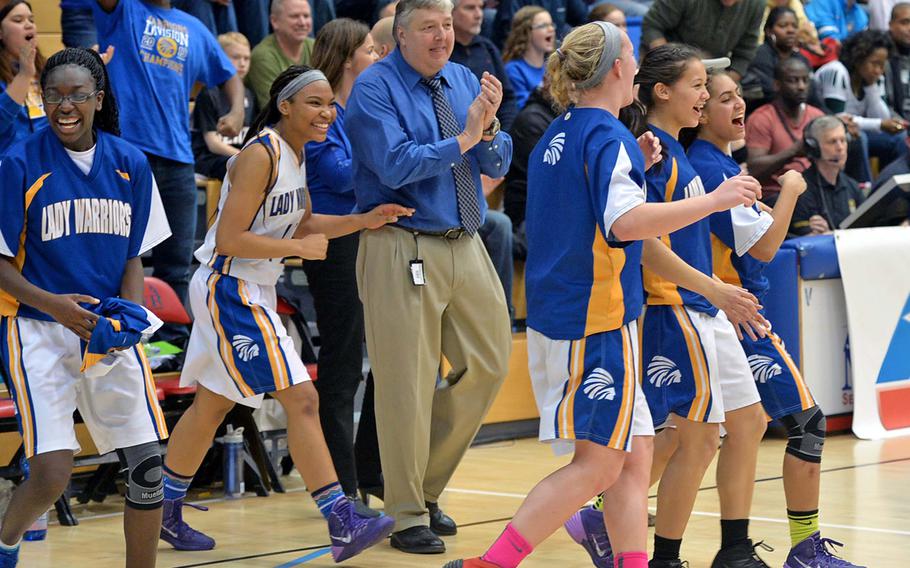 WIESBADEN, Germany – A year after losing by two points to Kaiserslautern in the Division I championship game, the Wiesbaden girls prevailed Saturday with a decisive 40-17 win over Patch before a rowdy home crowd.
The victory was especially sweet for five returning players, who were part of last year's heartbreaking defeat: seniors Dominique Baldwin and Phylecia Faublas, juniors Cierra Martin and Rebecca Russell, and sophomore Crisheena Rolack.
"Cool, it feels amazing," said a beaming Martin, who was named the Division I tournament's Most Valuable Player. "We came out for vengeance and we got it."
Though the Warriors' offensive output was an impressive mix of perimeter and inside shots, players said the game – and the Warriors' undefeated run in this year's championship tournament - was decided on defense.
"Our defense killed everything," Martin said. "Rebounds, free throws; sometimes they just didn't fall."
But usually they did.
Wiesbaden head coach Jim Campbell said the Warriors, coming into this season, adjusted their defensive strategy to aggressive man-to-man coverage.
"They bought into the defensive plan," he said of his players. "I told them we may not hit all of our shots, but if we can keep them from scoring, we can win."
And that's precisely what the Warriors did. They limited Patch to only six points in the second half – and none at all in the third quarter - all but sealing the victory after only three quarters of play.
Early on, however, Patch looked as if it might hang on to challenge.
Patch never had the lead, but it was still very much a game through two quarters of play, at which point Wiesbaden had built an18-11 advantage.
But the Warriors owned the rest of the game. Less than three minutes into the third quarter, they went up 22-11, on field goals by Baldwin and Faublas. Junior Sydney Hill added a three-pointer, making it 25-11 at the end of three.
Patch ended its scoring drought when senior guard Rebecca Hess went two-for-two at the charity stripe, making it 40-13 with 1:36 left.
The Panthers added two more field goals before time expired but it was too little, too late.
"We didn't shoot well," Patch coach Bill Ratcliff said. "We shot 12 percent. You can't win a championship game" shooting so low a percentage.
The Panthers also turned over the ball 25 times, he said, with Wiesbaden converting many of those turnovers into points.
"It just wasn't in the cards today," Ratcliff said.
Senior Breanna Rodriguez, a Patch forward, said the Panthers "hung in there, but I guess we just lost focus toward the end. Wiesbaden is a really good team."
Klein led all scorers with 14, while Faublas had eight, and Rolack added six. Martin had 11 rebounds, five steals and four blocks; sophomore Catherine Klein added 12 rebounds and five steals.
The Warriors were without junior point guard and team captain Rebecca Russell, who was injured in the team's last regular season game and looked on from the bench with crutches.
"She is a huge part of our team," Campbell said. "We rallied around her."
---
---
---
---