Vilseck boys finally beat Ramstein, but Royal girls romp
by
Michael S. Darnell darnell.michael@stripes.com
March 21, 2015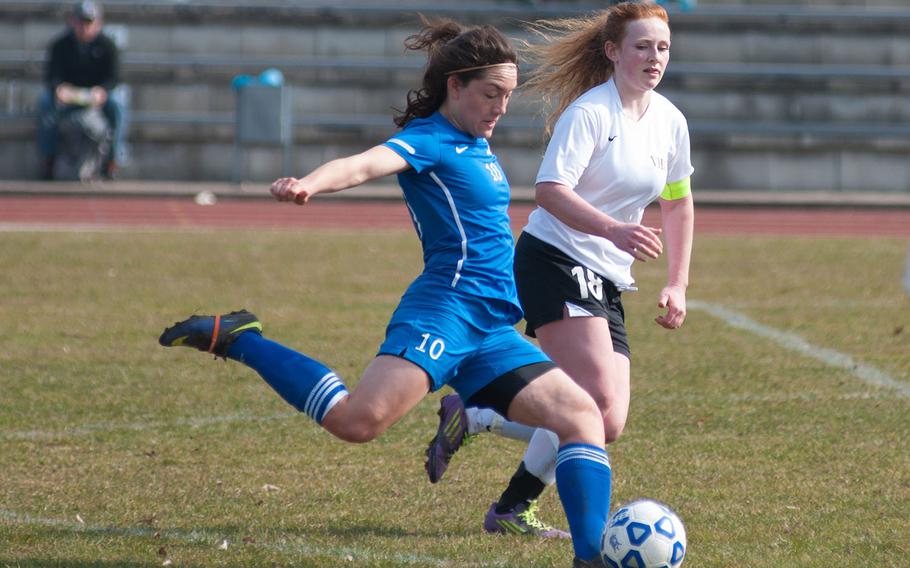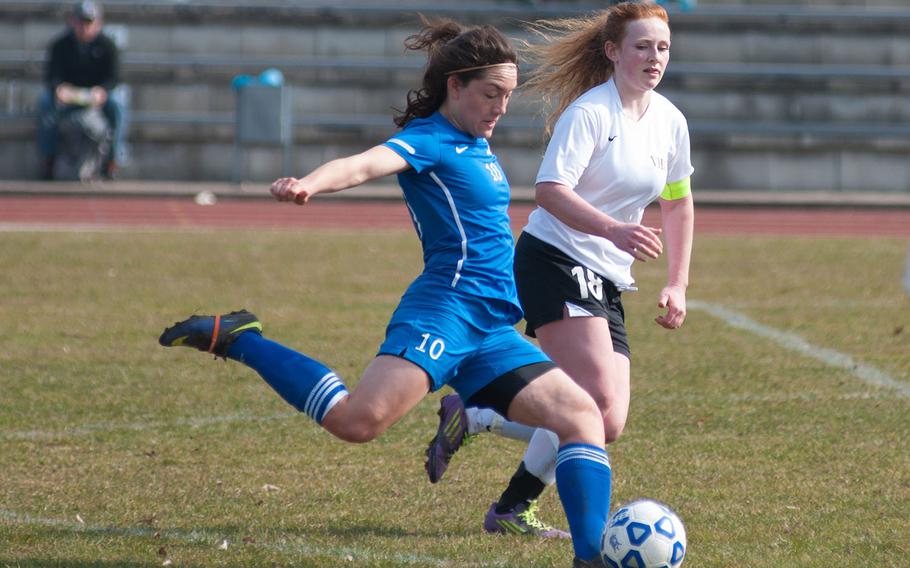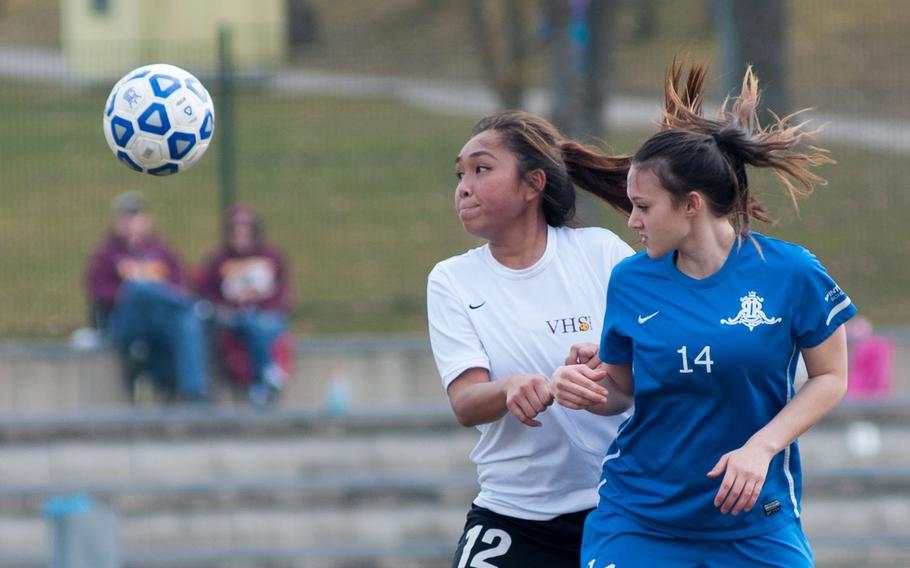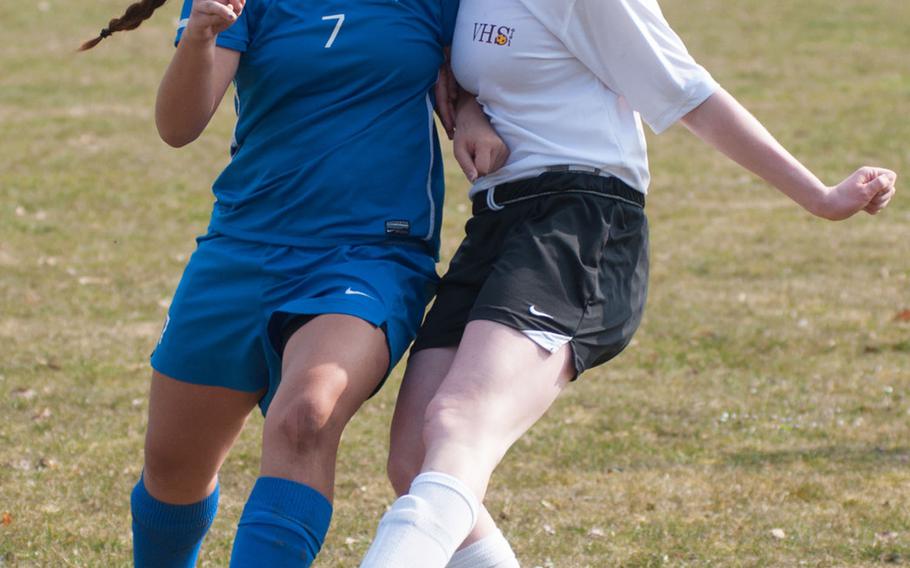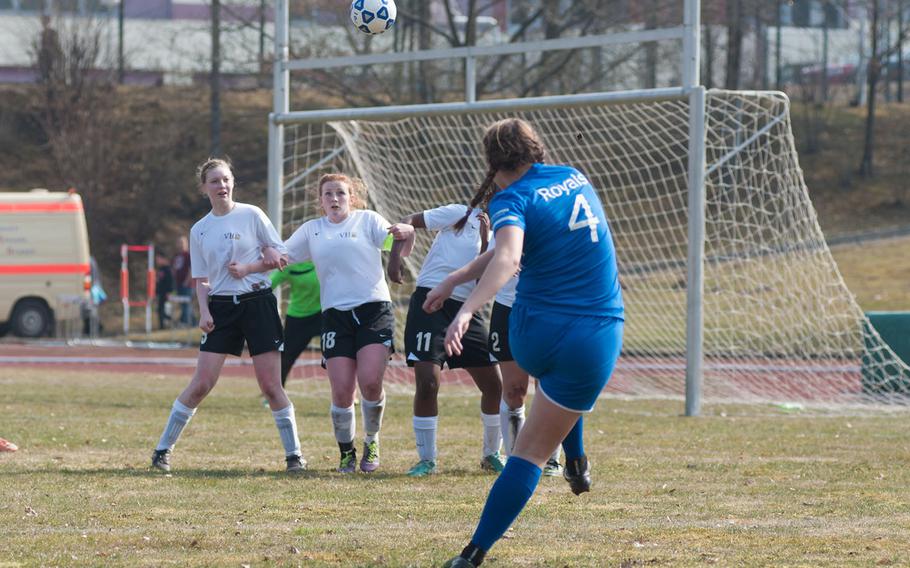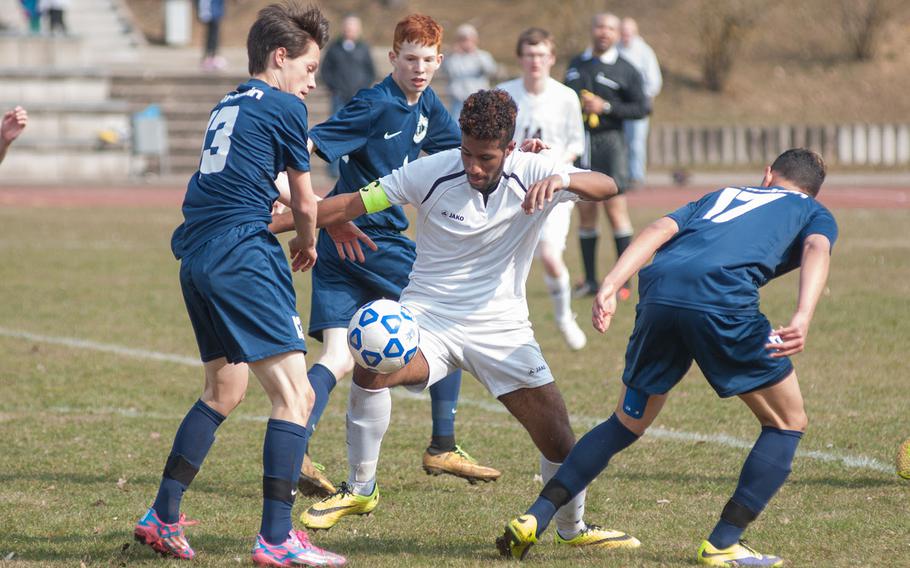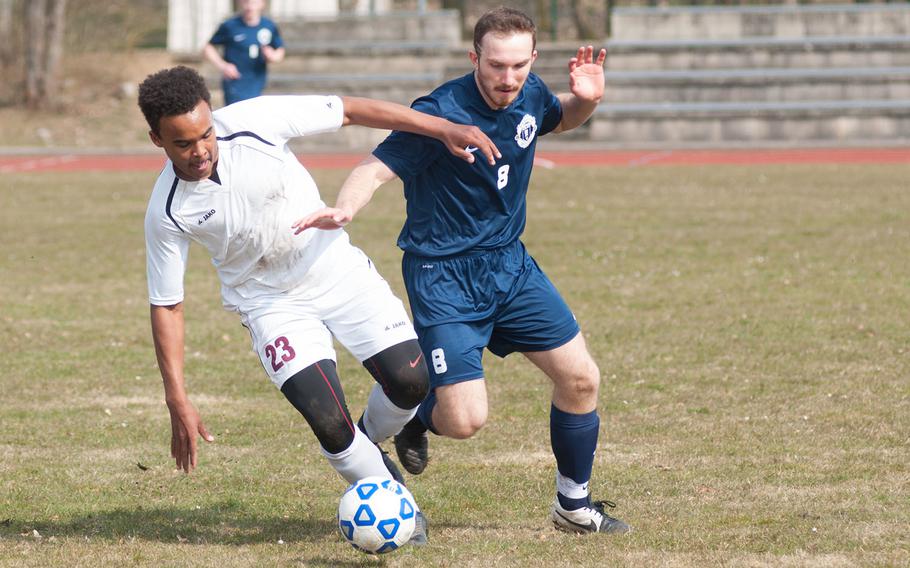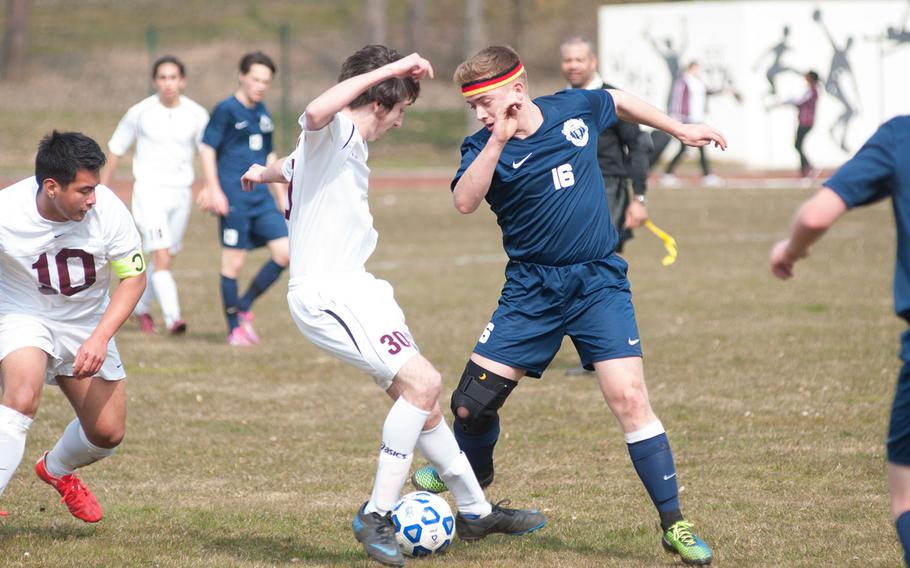 VILSECK, Germany – The Vilseck Falcons upset the Ramstein Royals, 2-1 Saturday in a physical season opener that set the stage for a tumultuous year of DODDS-Europe boys soccer.
Historically speaking, the Royals have had Vilseck's number, winning every contest between the two clubs this decade.
Vilseck's impressive win over the defending Division I champions proved that there is just no such thing as a sure win in DODDS-Europe sports.
Malachi Alston threaded a header through two defenders and the outstretched hands of the Ramstein keeper early in the second half to draw first blood for the Falcons. Alston said nothing was going to stop him from scoring in this game and proved it with that one play.
"Last year when we faced Ramstein … we got blown away," Alston said. "I really wanted to give everything I could give to help us score."
Teammate Eddie Castaneda scored a fluke goal to put the Falcons up 2-0 midway through the second half. Ramstein's defenders got mixed up over responsibilities and several let the ball go by them into the net.
That would end up as the winning goal as the Royals weren't able to mount enough offense to get back into the game.
Part of that was due to the superb play by freshman goalkeeper Timothy Simmons. He stopped nine shots on goal and said he was just happy to have played his part in keeping Ramstein at bay. Keal Collins brought the Royals within one in the second half on a solid goal that ended up being the only thing Simmons couldn't stop all day. But despite Collins' efforts, the Royals are starting 2015 with an 0-1 record.
The Royals are an exceptionally young team, with only four returning players from last year's championship squad. A fact both coach Dominic Ludes and returning senior Dillon Thompson had to remind the younger players about following their loss.
"They played exceptionally well as far as I'm concerned," Thompson said. "I'm telling them to stay confident, stay positive, because those goals will come as long as we keep working at it, because we have the talent to get there, it's just getting the experience."
Girls
While the boys game was hotly contested up until the final whistle, the same could not be said about the girls matchup.
The Royals overwhelmed the Falcons 7-0, with all goals coming in rapid succession in the first half. Ebony Madrid had a hat trick on back-to-back-to-back scores and she was helped out with goals from April Baik, Kendall Spohr, Lakyn Parker and Gabby Janes.
Overall, it was a total team effort that resulted in the Royals making 27 shots on goal and only having to defend a single shot from the Falcons.
"I think we did really well and I'm excited to see how we are throughout the season," Madrid said. "The season just started, so let's hope it stays this way."
Vilseck came together in the second half defensively, disallowing any more scoring from the high-powered Royal offense.
To their credit, the Falcons never stopped fighting and said captain Kaylaah Capindo, who said they're already looking forward to the next game on their schedule.
"This game is just a learning experience and we have a whole season ahead of us," she said. "We need to play as one. We rise and fall as a team and we win and lose as a team."
The Royals already looked to be in midseason form. Coach Ricardo Buitrago attributed that to his focus on building the team concept early on.
"My goal is not to score goals," he said. "I mean, if we win games, that's wonderful. But my main objective it have them play as a team and I think that's something they accomplished today."