Vicenza coasts to win as Hohenfels self-destructs
---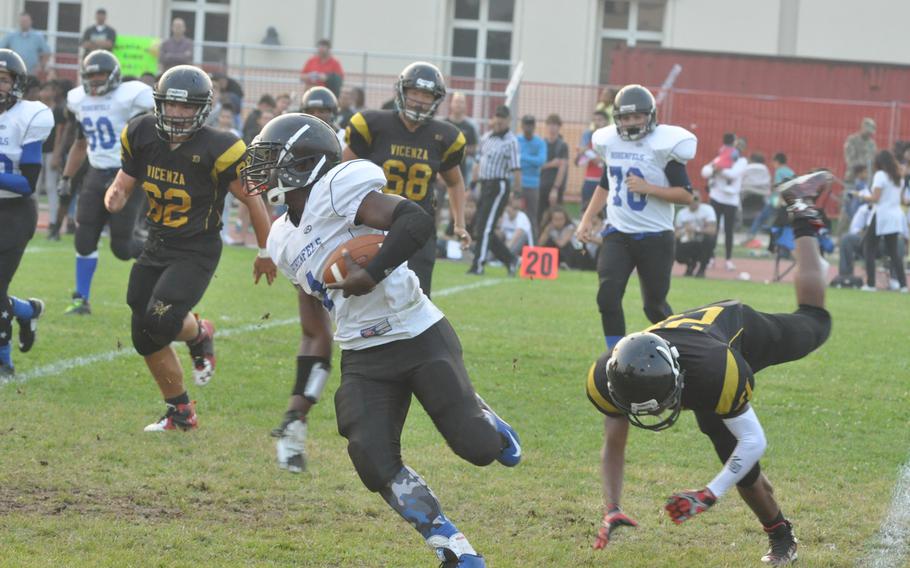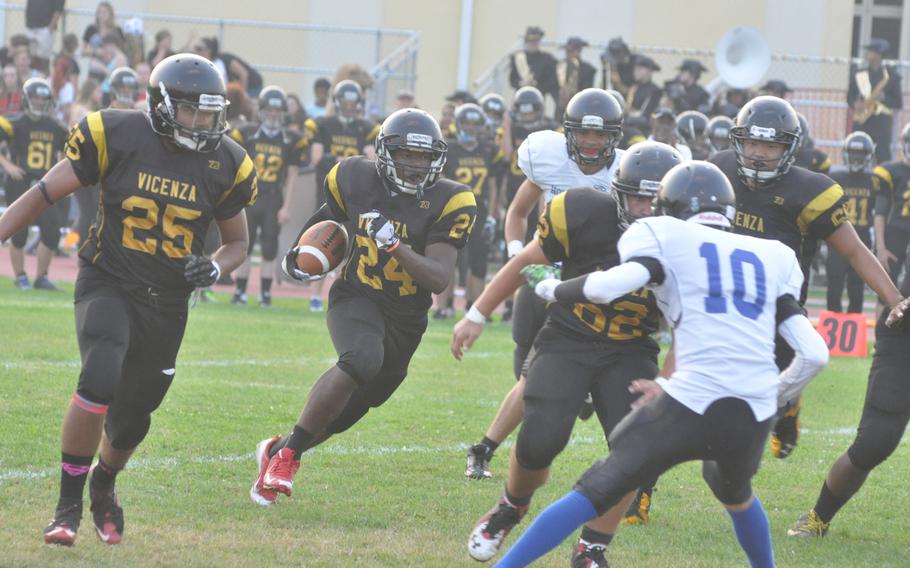 VICENZA, Italy – A single play doesn't often determine the outcome of a football game. Especially one where the final score is 31-3.
But one in the final seconds of the first half of the game between the Vicenza Cougars and Hohenfels Tigers on Friday night came pretty close.
Down 6-3 and driving towards the goal line with the clock close to expiring, Hohenfels quarterback Landon Ott fired a strike right on target to Jean Morales. Morales, on the 1-yard-line and streaking across the middle of the field towards the end zone, put his hands on the ball just before getting drilled by Vicenza freshman Osaeon Maldonado.
The ball dropped to the ground, the clock expired and the Tigers never threatened to score again.
"We were looking to take the lead at halftime," Hohenfels coach Phil Rigdon said. "The momentum went back to them. We came out in the second half and started breaking down."
That might be putting it mildly.
Hohenfels' possessions in the second half ended in the following ways: fumble, fumble, interception, fumble, interception, fumble and clock running out.
Of course the Cougars, who stumbled badly themselves last week in a 17-6 loss to Naples after a 2-0 start, had a little to do with the Tigers' struggles as well.
"They broke our line down," Rigdon said. "I think that's the difference between the first half and second half."
Vicenza sophomore Arthur McDonald was another reason. He finished the game with 149 yards and three touchdowns. Sixty-seven of those yards came in the first half, but he really broke through later in the game, scoring on two 24-yard runs (matching his uniform number) and once from 13 yards out.
He's been a revelation to Vicenza coach Jessie Woods, who said his team was going to have to rely on defense to overcome some shaky offense before the season began.
Senior quarterback Ta'marion Hardin-Bears had his moments as well, completing five passes and rushing for 31 yards. Mason Suarez added a 2-yard run and Christian Williams scored after recovering a fumble late in a game that was falling apart for Hohenfels.
Woods said the Cougars "have a lot of work to do, but I'm much happier today than last week."
He said the Tigers, who fell to 1-1 in regional play with the loss, "are a really hard-hitting, tough team, they just ran out of juice at the end."
Jordan Kelly provided just about all the highlights for the Tigers on offense, rushing for 154 yards – 111 in the first half. Hunter Rigdon's 37-yard field goal with 41 seconds left in the first quarter opened the scoring, but the Cougars owned the scoreboard after that.
---
---
---
---