Europe volleyball - Day 2
Underdogs look to turn tables on favorites in title games
---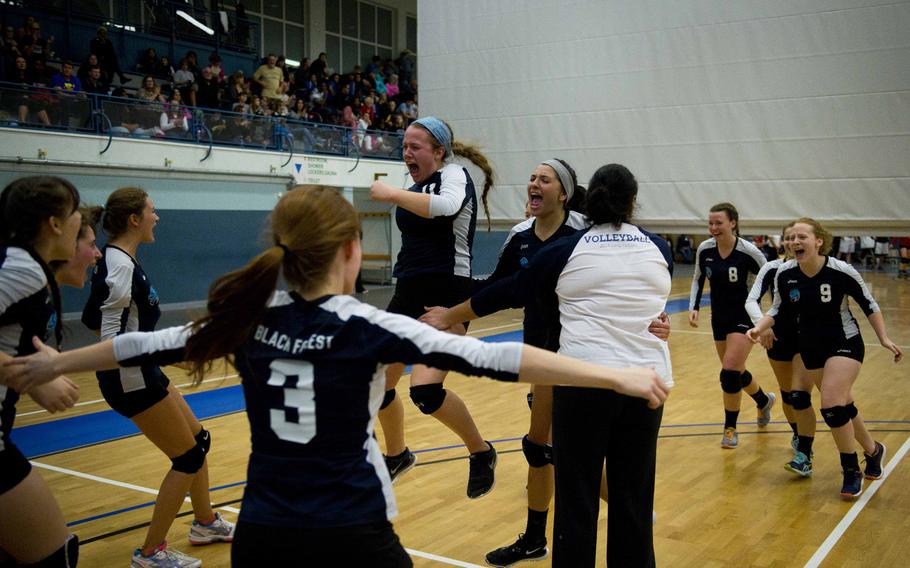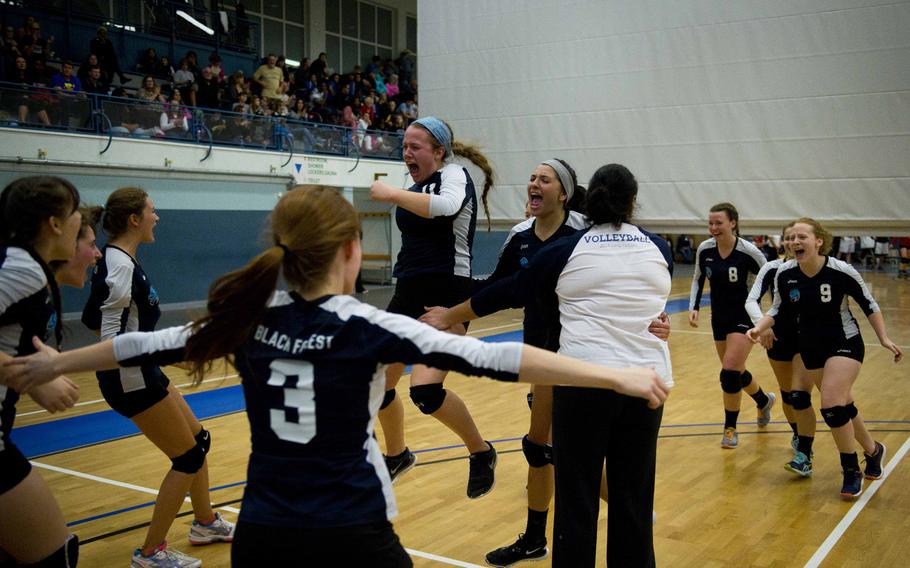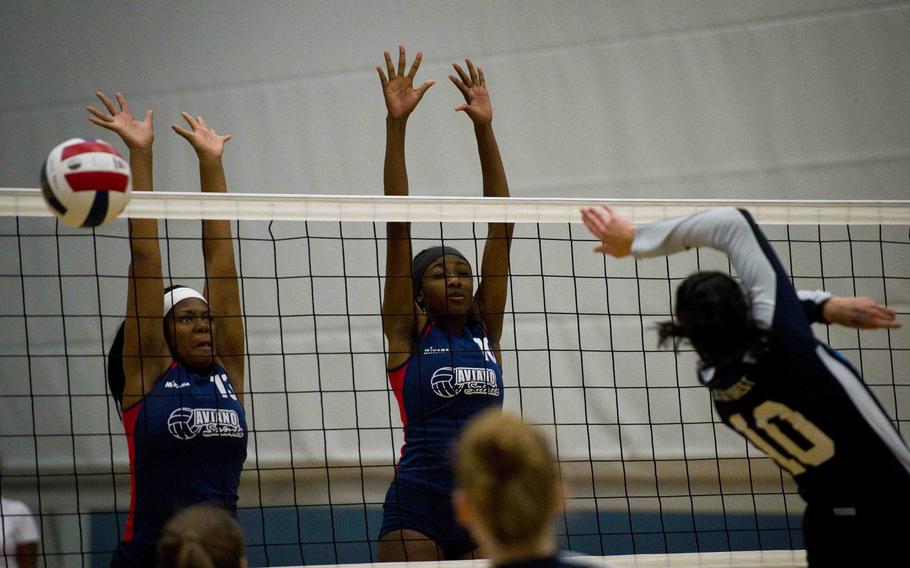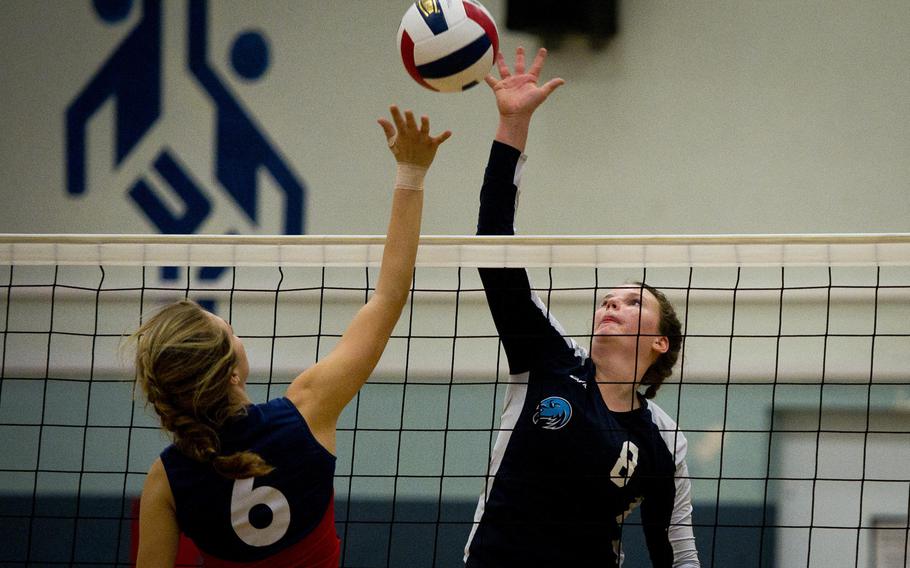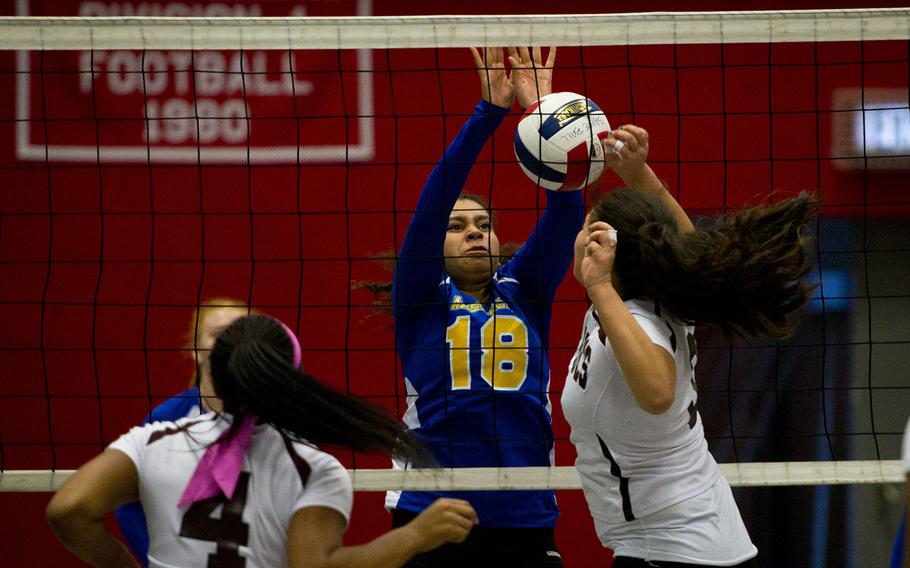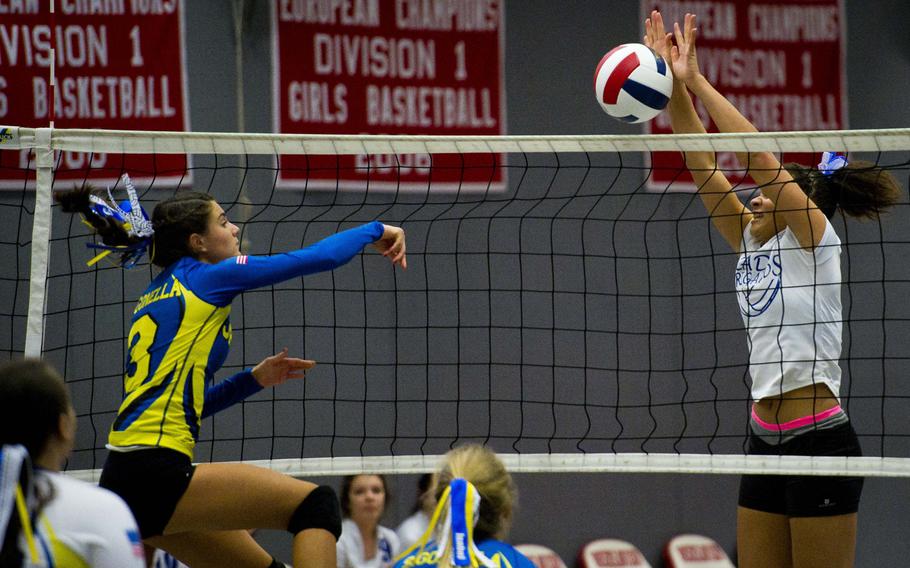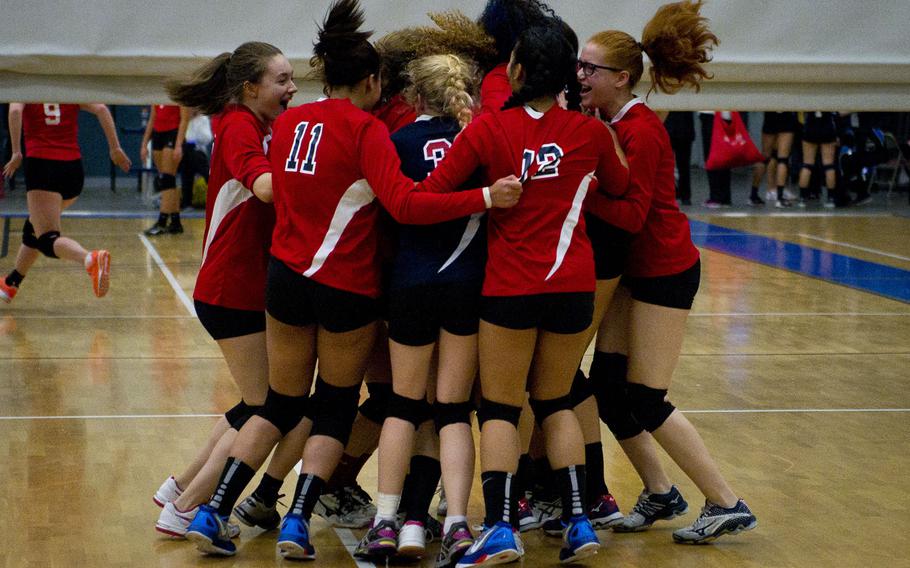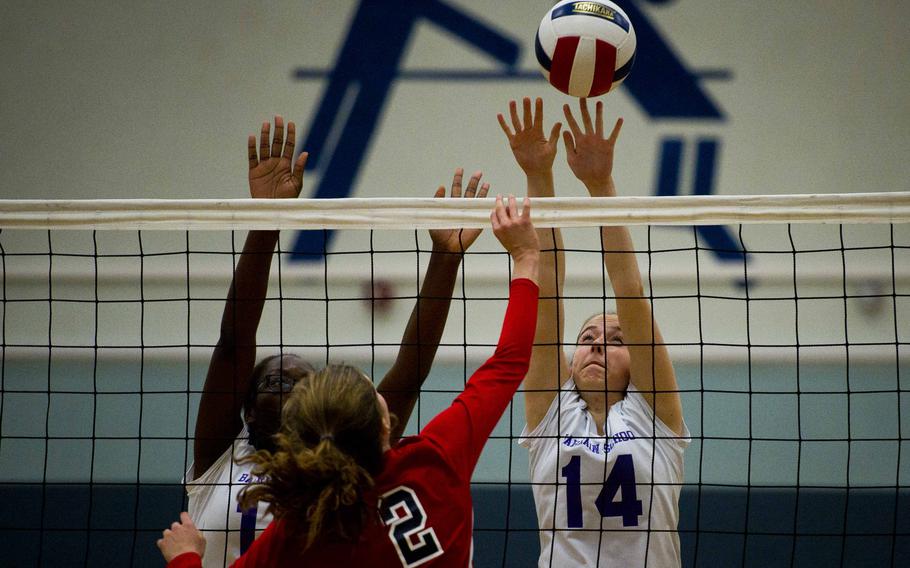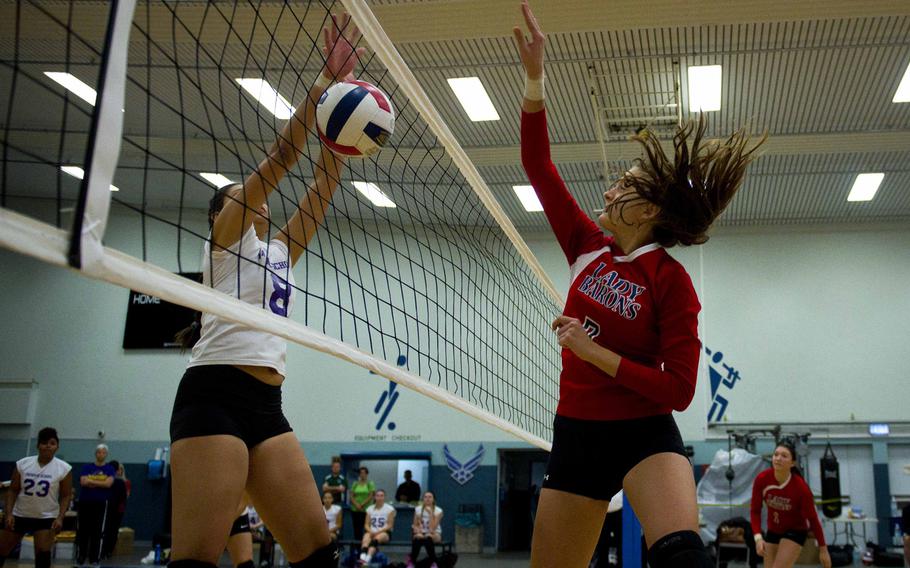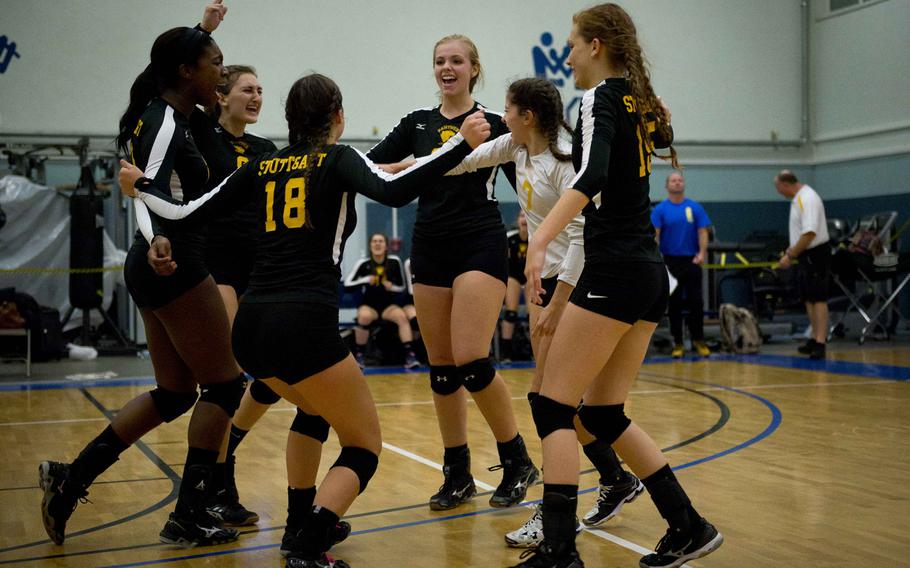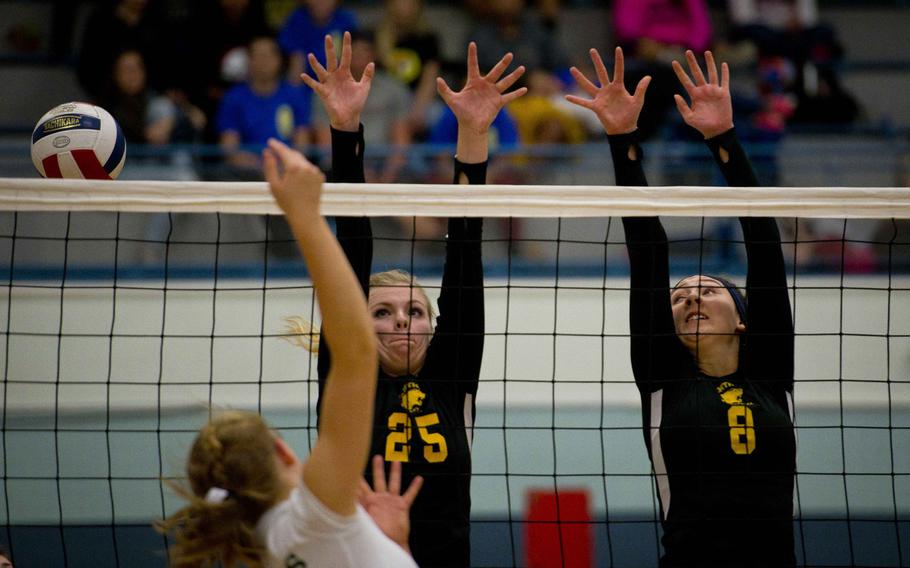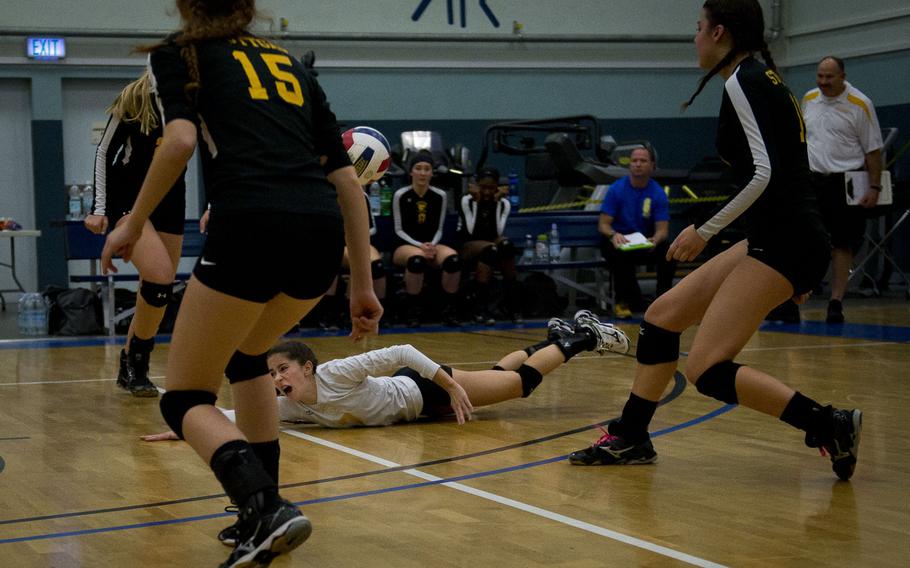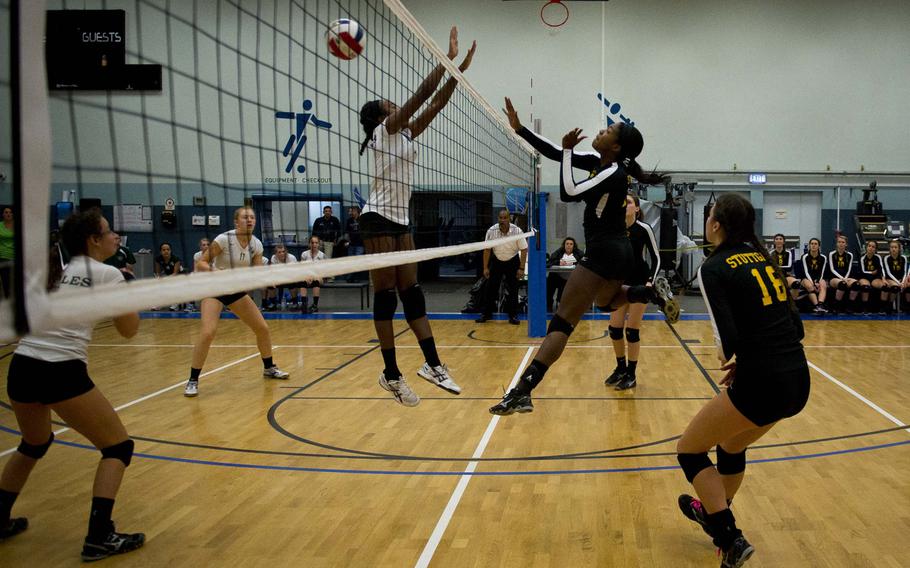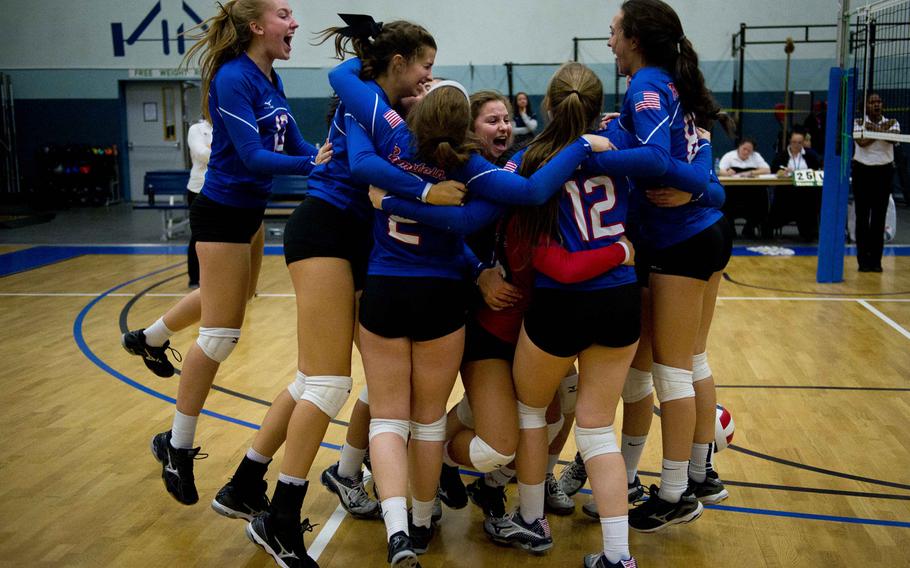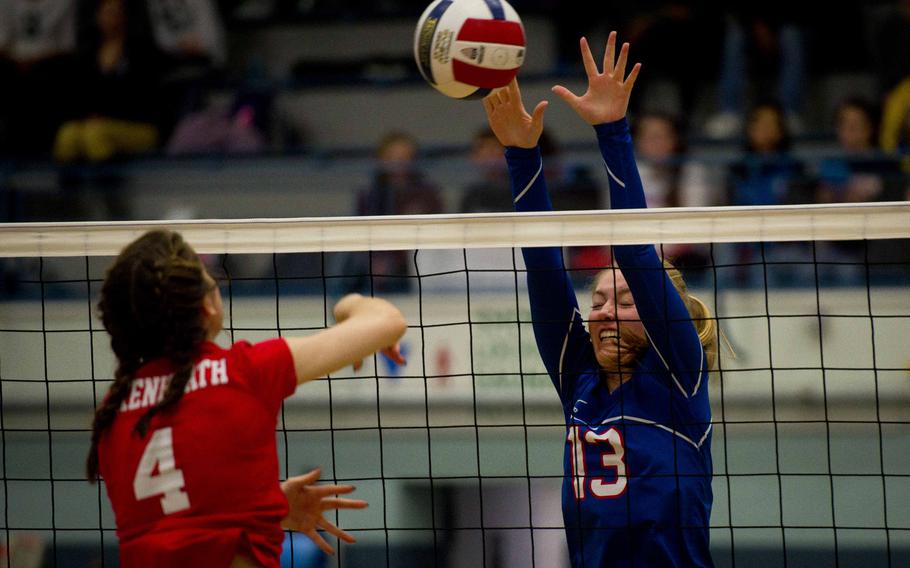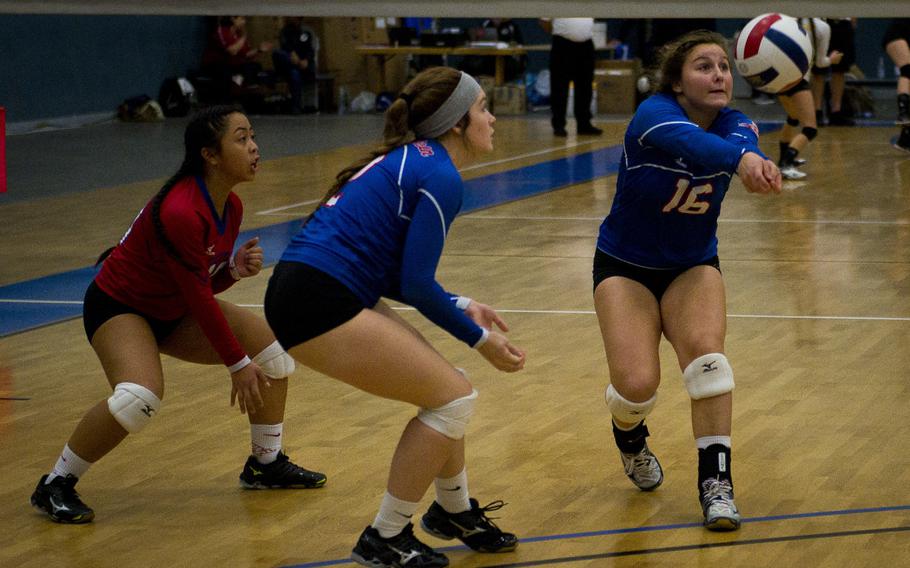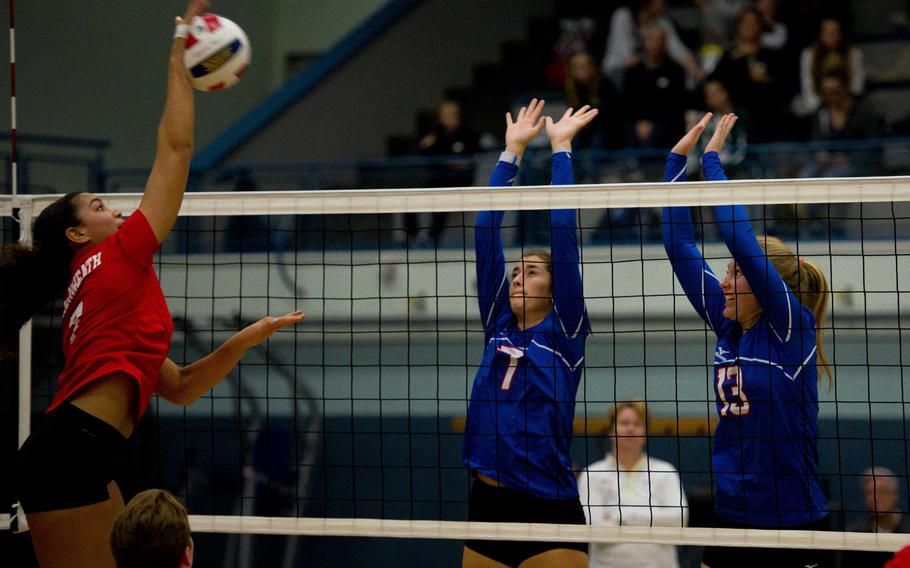 KAISERSLAUTERN, Germany -- The DODEA-Europe girls volleyball field was thinned to six championship hopefuls Friday as the Division I and II semifinals and Division III round-robin play produced two finalists apiece.
Reigning Division I champion Stuttgart will defend its title against Ramstein, Division II will produce a fresh champion between rivals Bitburg and Black Forest Academy and Baumholder will challenge defending champion Sigonella for the Division III crown.
Saturday's championship tripleheader starts with the Division III game at 10 a.m. CET at Vogelweh Fitness Center.
Division IStuttgart def. Naples 25-15, 19-25, 25-16, 25-16: The Panthers continued their unbeaten march through Division I with a solid four-set defeat of the Wildcats.
Larissa Brandt delivered 13 aces for the Panthers, while Peyton Burnett produced 17 kills and Janey Greenberg totaled 34 digs.
The triumph was just the latest milestone for a young Panther team that turned a season that might have been a rebuild into what very well may be a repeat.
"We just play our game, and I don't know, we just always come out with a win," Stuttgart senior Alexa Smith said. "Just keep doing what we're doing I guess."
But with great success came great responsibility - and pressure to live up to its perfect regular season record and No. 1 tournament seed.
"It was definitely nerve-wracking, because we were undefeated and we won last year," Smith said. "We were pretty collected because we practice hard and we play hard."
They needed it against the frisky second-seeded Wildcats, who clawed into the elimination round by sweeping Kaiserslautern in one of the day's final pool matches. That landed them in a tie with Wiesbaden for the pool's second semifinal berth, and Naples advanced on the strength of its 25-23, 13-25, 25-18 defeat of the Warriors earlier Friday.
But the Wildcats couldn't match the ferocity of the Panthers, and Stuttgart now moves on to the target it has spent the fall stalking - the archrival Royals.
"We've been preparing for it all season," Burnett said.
Ramstein def. Lakenheath 25-20, 21-25, 25-15, 25-16: The third-seeded Royals outlasted the fourth-seeded Lancers to reach their first European championship match since they won the 2013 championship.
Amelia Jones had 11 kills, Cristeana Reyes totaled 36 digs and Emily De Rosa dished out 29 assists in the Ramstein victory.
Like most of the teams that advanced to the finals Friday, the Royals ran into some trouble early in their semifinal before settling into a groove and overwhelming their overmatched opponent.
"We definitely kept each other up, which is what helped us get through a lot of it," senior setter De Rosa said. "We knew we could make it and we did."
The win was the penultimate step in a Ramstein tournament blueprint that has played out exactly as hoped. The Royals cruised through preliminary play, dropping just two sets along the way. In their semifinal, the Royals drew a Lancers team they'd handled in the regular season and deferred their clash with Stuttgart until the finals.
Now just one step of the plan remains to execute - to end the reign of the archrival Panthers, even after Stuttgart claimed both regular-season meetings between the teams. .
"I want to beat them so bad," De Rosa said. "I think our team is beyond ready."
The Stuttgart-Ramstein final will be a rematch of one of the most intense and hard-fought matches in recent tournament history – Stuttgart's five-set defeat of the Royals in the 2015 semifinals. That dramatic win set up a Stuttgart sweep of Vicenza for the title the Panthers will now defend Saturday against those same persistent Royals.
Division IIBlack Forest Academy def. Aviano 24-26, 25-20, 25-9, 25-14: The Falcons found their way out of their own heads and into the European finals.
BFA senior Erin Fortune admitted that the pressure of the elimination match had the team "in our own heads" as it dropped the opening set. But the fifth-seeded Falcons persevered, and by the end were no longer anxious but "ecstatic" as they ousted the third-seeded Saints.
"We realized that we're in this and we deserve to be here," Fortune said. "We had such a blast, and we played like a team."
Much of BFA's trepidation Friday stemmed from its experience in this space a year ago, when the Falcons fell to eventual champion Rota in a three-set semifinal sweep.
"We lost and we were devastated," Fortune said. "This game we just came in with so much hope and so much excitement."
Now they're approaching their finals opponent with the same attitude.
"We know Bitburg very well, and we know how they play," Fortune said. "We'll be ready for them and we'll give them a game that they have to work for."
Bitburg def. Bahrain 23-25, 25-15, 21-25, 25-8, 15-6: The top-seeded Barons survived a test from the upstart sixth seed – and their own unforced errors – to earn their expected return trip to the European championship match.
"It wasn't so much them, it was just us. We were off to a slow start," said Barons senior Elise Rasmussen, who collected 10 kills and three blocks in the match. "But once we started doing things right, communicating and moving our feet, we got back in a rhythm."
Bitburg fell to Rota in last year's title game, but it can claim this year's title by beating a team it's managed to handle in the past. The Barons beat the Falcons in the regular season, albeit by a slim 25-10, 11-25, 10-25, 25-14, 15-12 margin, and swept BFA 25-15, 25-12, 26-24 in a pool-play matchup earlier Friday.
Still, the Barons are preparing for a resurgent challenge from one of their most familiar rivals.
"Make sure that we're on our feet and we're really talking," Rasmussen said. "That way we can react to whatever they're giving us, because they usually throw something new every time."
Division IIIThe defending champion Sigonella Jaguars punched their return ticket to the final well before their pool-play finale against Alconbury, an anticlimactic rematch of last year's European title match.
That fact afforded Jaguars coach Shawn McCarthy a rare luxury – some low-pressure live-action reps for his full roster.
"In high school sports, when you're competing, not everybody gets to get in," Sigonella coach Shawn McCarthy said. "We can get some kids that normally don't play in without the threat of, if they mess up they'll be crushed."
So far it's been nothing but good times for the Jaguars.
Sigonella survived its only significant test earlier Friday in a 25-20, 21-25, 15-6 win over Brussels that the Jaguars approached as a de facto semifinal. Kisiah Chandler totaled eight kills, three aces, two blocks and four digs in that key victory, while Korley Jones added seven kills and two aces.
Now the Jaguars will head into the final a clear favorite over Baumholder, having dispatched the Bucs 25-15, 25-17 in pool play Thursday.
The Bucs, paced by the overwhelming front row presence of Eliyah Tillman, ran the table after that opening loss to the Jaguars, beating Brussels 25-12, 26-24 later Thursday and knocking off Alconbury and Hohenfels on Friday to secure their spot in the finals. Like Sigonella's match with Alconbury,
Baumholder's late pool-play finale against Ansbach was devoid of consequence, a final tune-up for a Saturday showdown that is anything but.
Twitter: @broomestripes
---
---
---
---