Division I girls semifinals
Unbeatens Ramstein, Vicenza will finally clash
by
Dan Stoutamire
February 26, 2016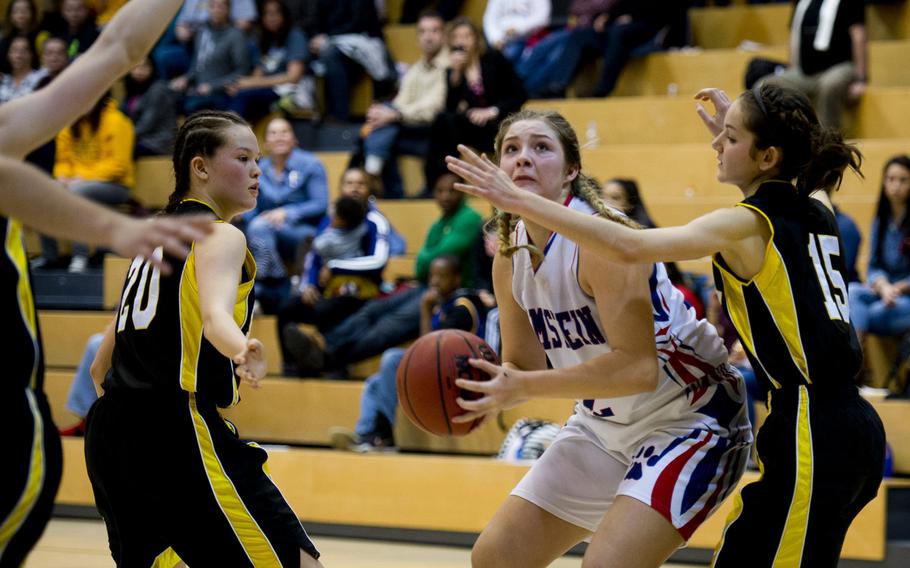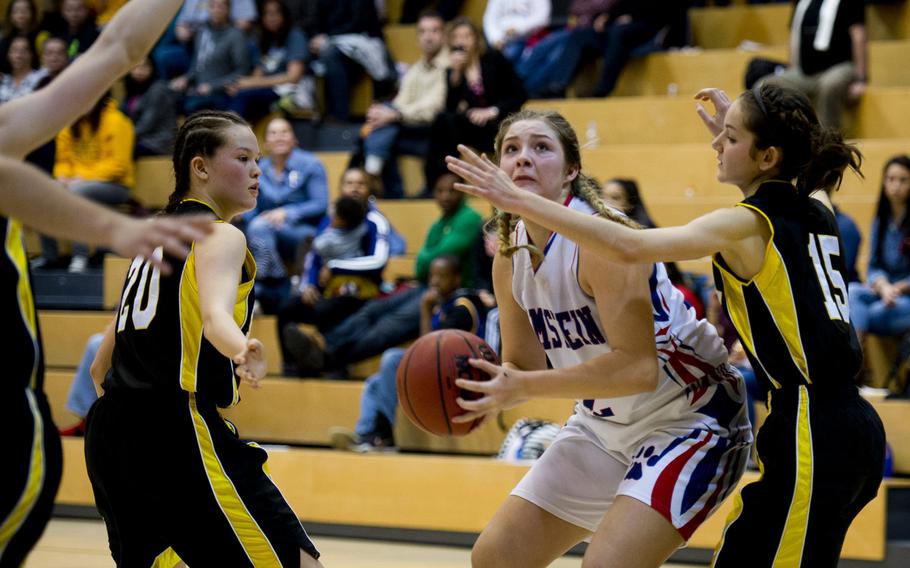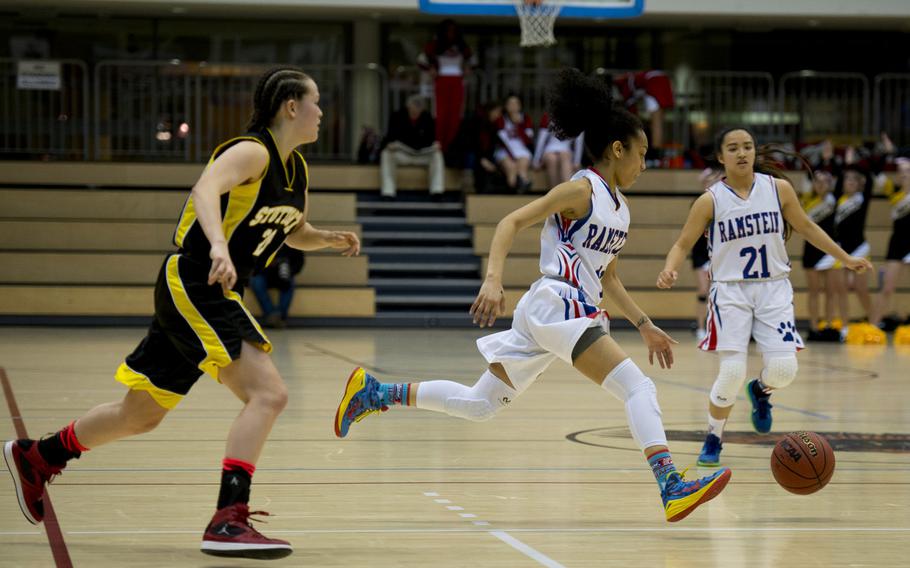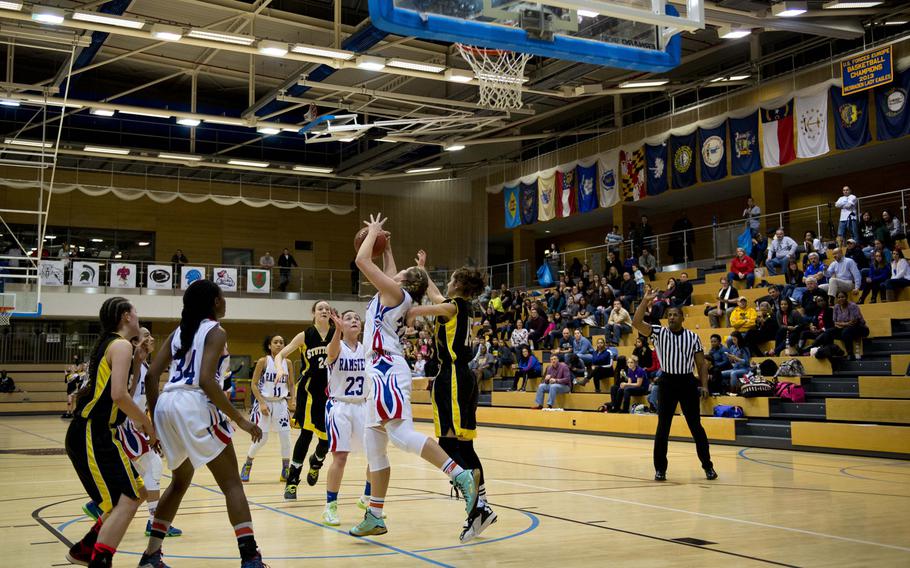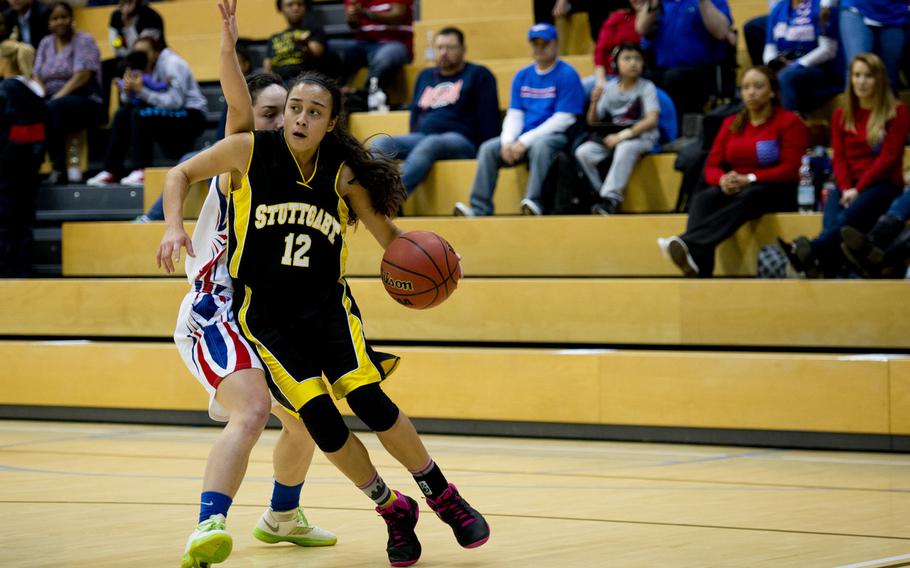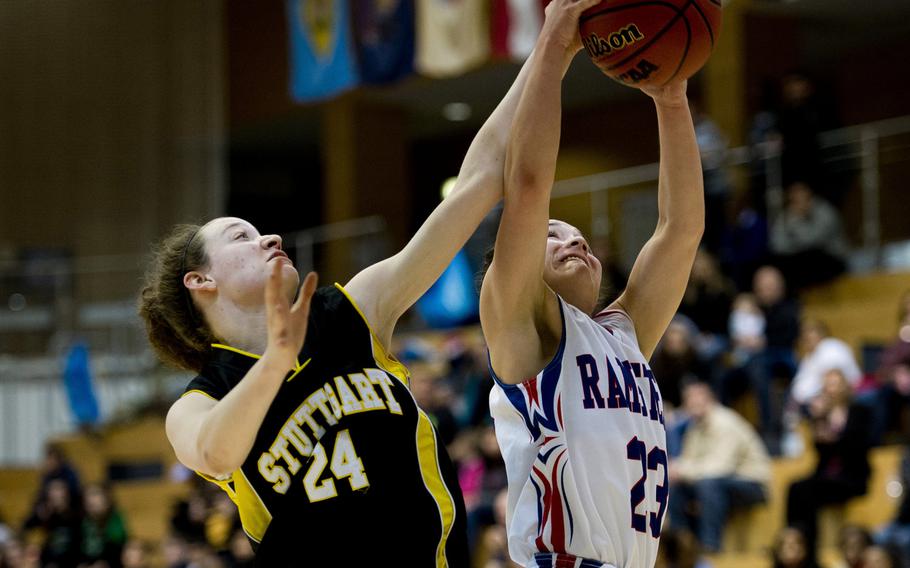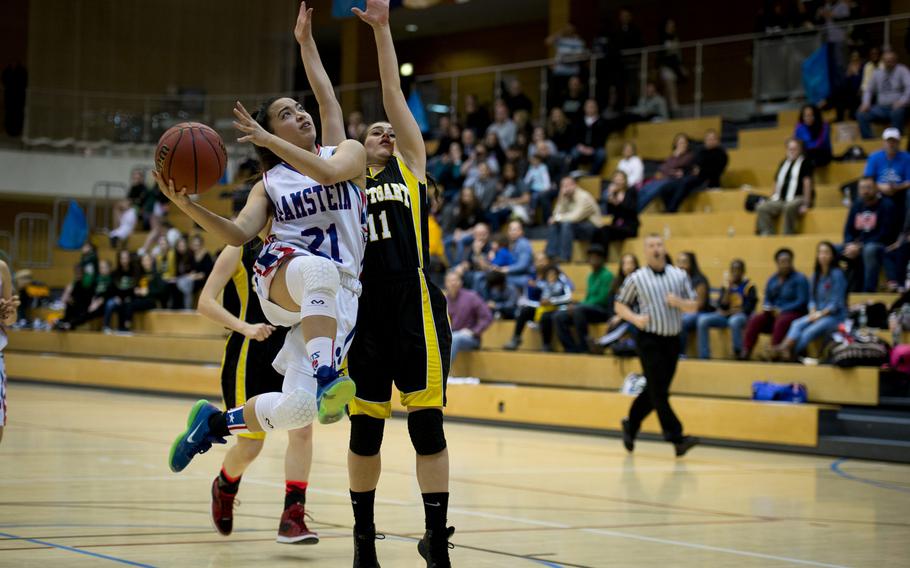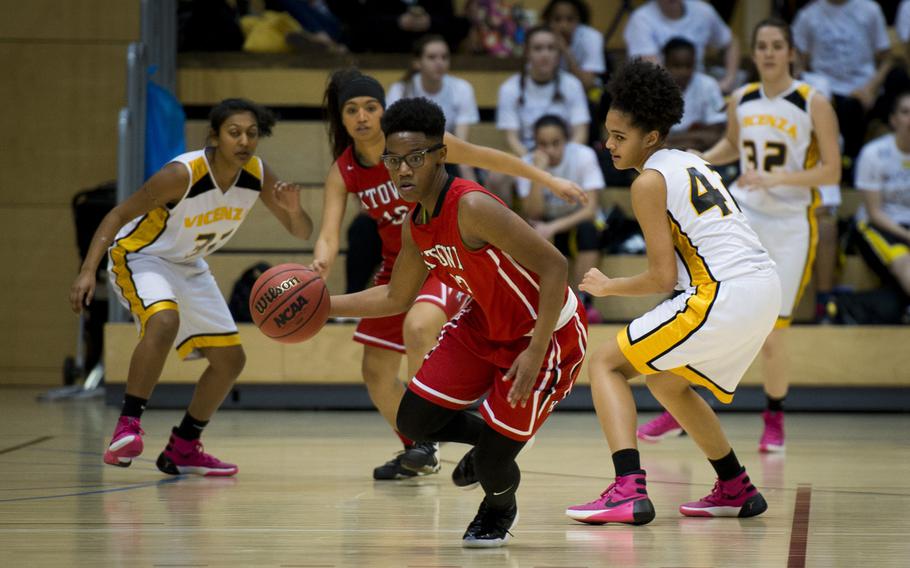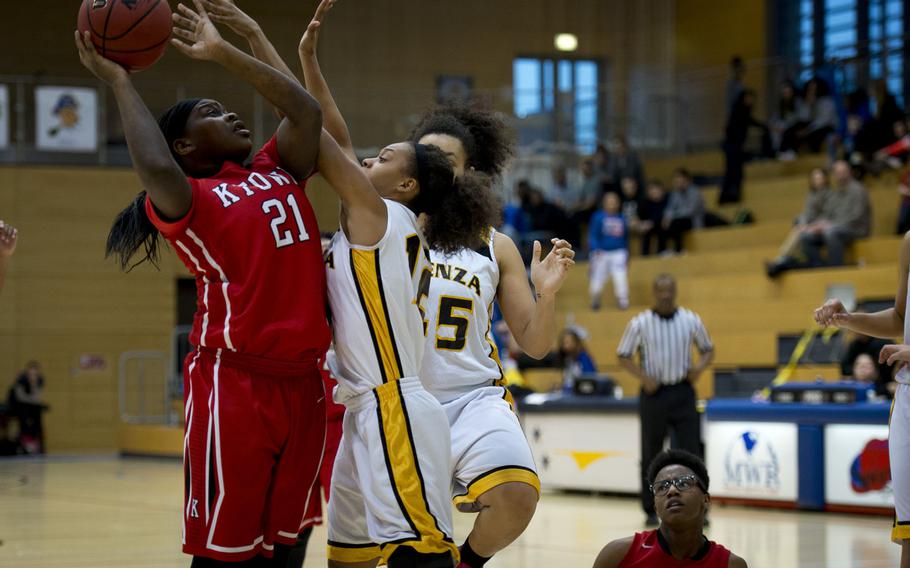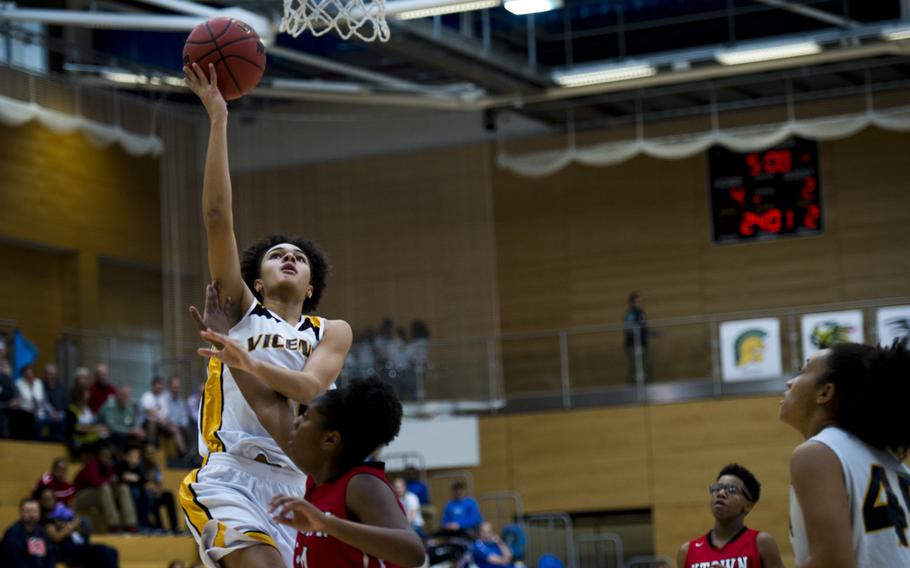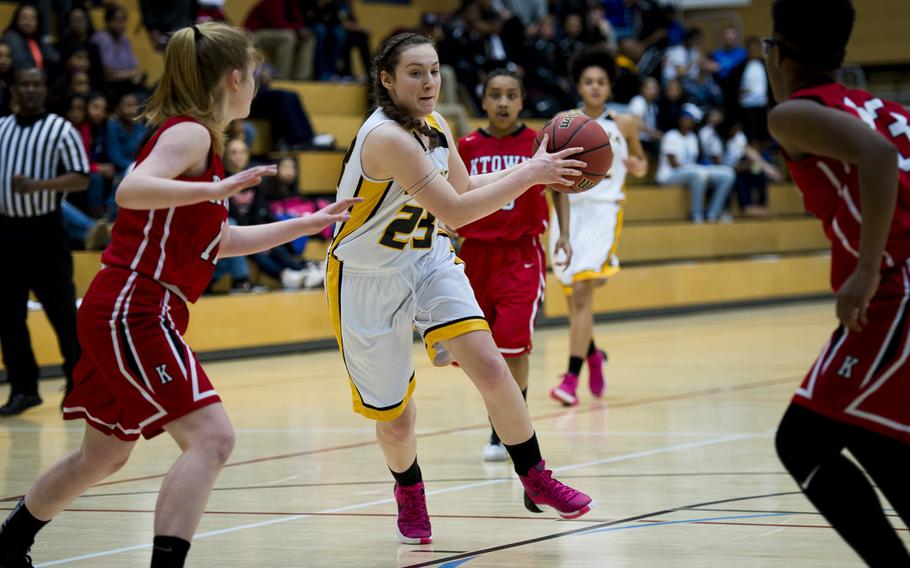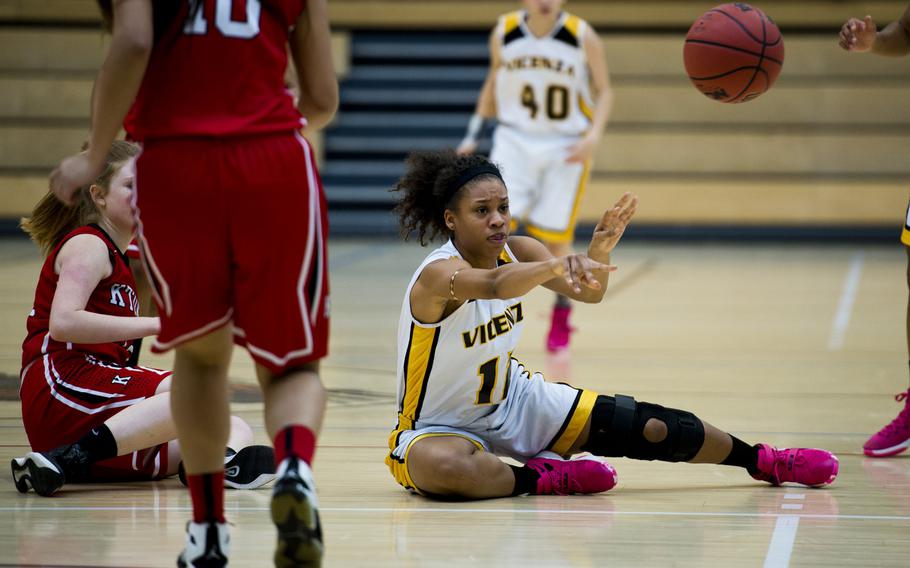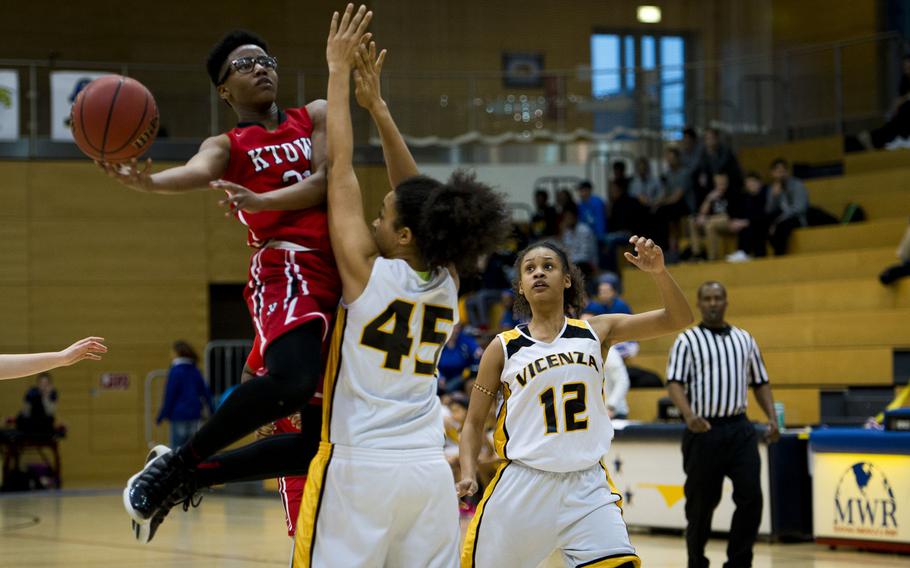 WIESBADEN — Last year's runner-up Ramstein will take on Italian representative Vicenza in the finals of the DODDS-Europe Division I basketball championship, scheduled for 6 p.m. Saturday at Clay Kaserne Fitness Center.
While second-seeded Vicenza enjoyed a relatively smooth win over Kaiserslautern, 46-27, top-seeded Ramstein won its place with a dramatic offensive rebound and putback by senior Amethyst Rorie with 4 seconds left, downing Stuttgart 31-30.
Vicenza 46, Kaiserslautern 27: The undefeated Lady Cougars continued their march through DODDS competition with a convincing win over a much-improved Kaiserslautern team.
Twenty-eight combined rebounds by post players Adrianna Lovelace, a junior, and senior Aerial Rouse enabled Vicenza to get lots of easy points on putbacks and fast breaks.
Freshman point guard Jordan Wakefield was the team's most dangerous player on both ends of the floor, collecting six steals throughout the game and setting the tone early by scoring Vicenza's first eight points.
Assistant coach Eric Wakefield, Jordan's father, said after the game he and head coach Greg DeJardin preach process over results, and it's paid off.
"We always tell the girls there will be ups and downs, and we never really talk about the score or wins or losses," he said. "It's always about doing the right things that are going to make you successful, whether it's practice, playing local scrimmages or in a game."
Not many would have predicted Kaiserslautern making the final four early in the year, as the Raiders struggled to gel. However, they pushed Vicenza all the way here.
"We had some problems with execution, movement, some fundamental things today," coach Daniel Vasquez said, "but overall I'm pleased with where these ladies are from where we started. They've learned to trust each other and become a team."
Ramstein 31, Stuttgart 30: In what was one of the top games of the tournament so far, the Royals' Rorie grabbed an offensive rebound over a Stuttgart defender and in spite of the tension of the moment, calmly put the ball in the basket to put her team ahead for good.
It was a seesaw fourth quarter, with Stuttgart at one point scoring eight straight points to take the lead, 28-27, after being down for most of the game. Junior guard Marissa Encarnacion and freshman Autumn Kearny made key buckets for the Panthers.
It wasn't enough in the end, however.
"It was heart wrenching because of the end, but regardless of the score, in ten years we'll remember this team and how hard we fought, the camaraderie there," Stuttgart coach Melody Green said. "It's such a dynamic unit, they are such an amazing group, and they play so well together."
The win for the Royals puts them in the same position as they were in last year: in the final against a strong opponent.
Point guard Desiree Palacios led the way in scoring with 10 points, while guard Bella Rodriguez grabbed six steals and Rorie got 13 rebounds, none bigger than the last one.
"I told them all year that you have to beat the best to be the best, and certainly they stuck with it all the way to the end," Ramstein coach Nathan Brewster said. "It's a cliché but adversity doesn't build character, it reveals it, and these girls showed what their character was about."