Europe girls soccer - Day 1
Top teams generally find few surprises as tourneys open
by
Dan Stoutamire
May 21, 2018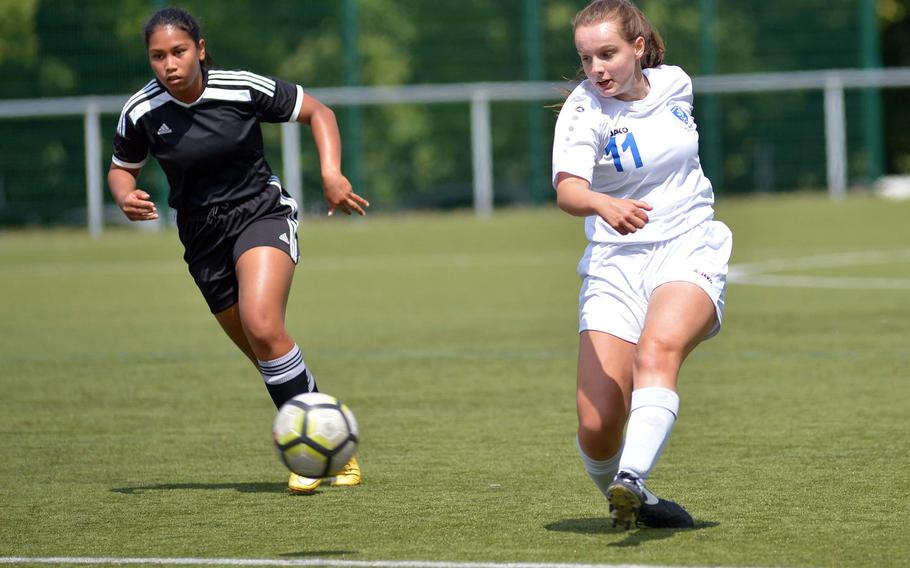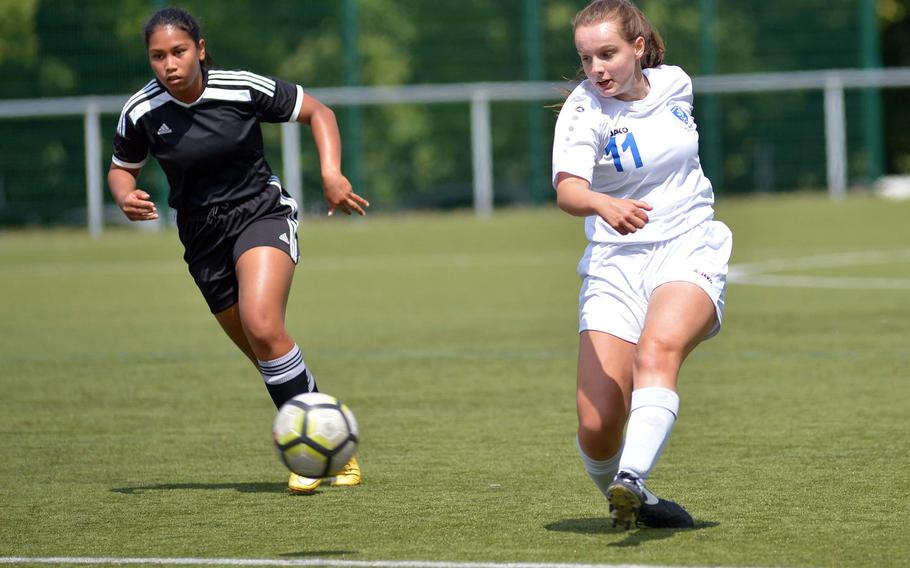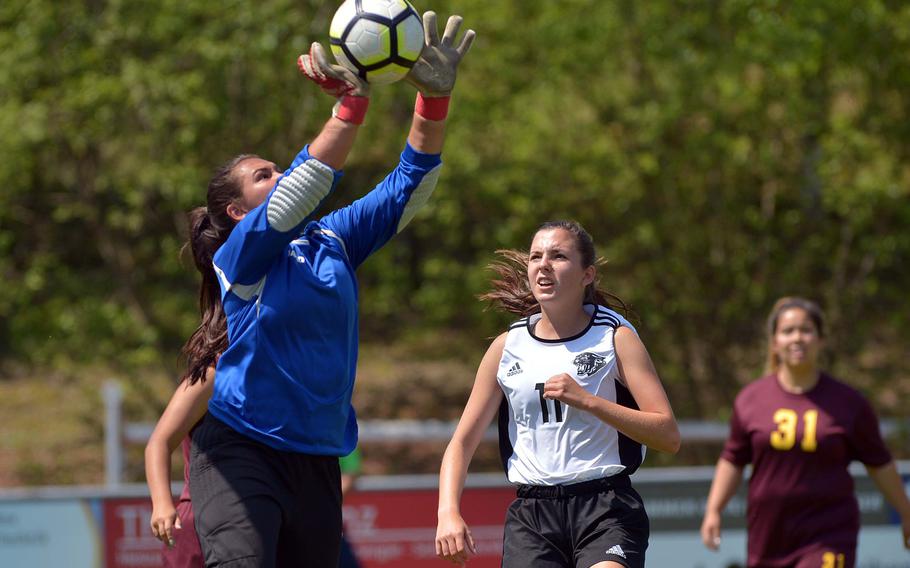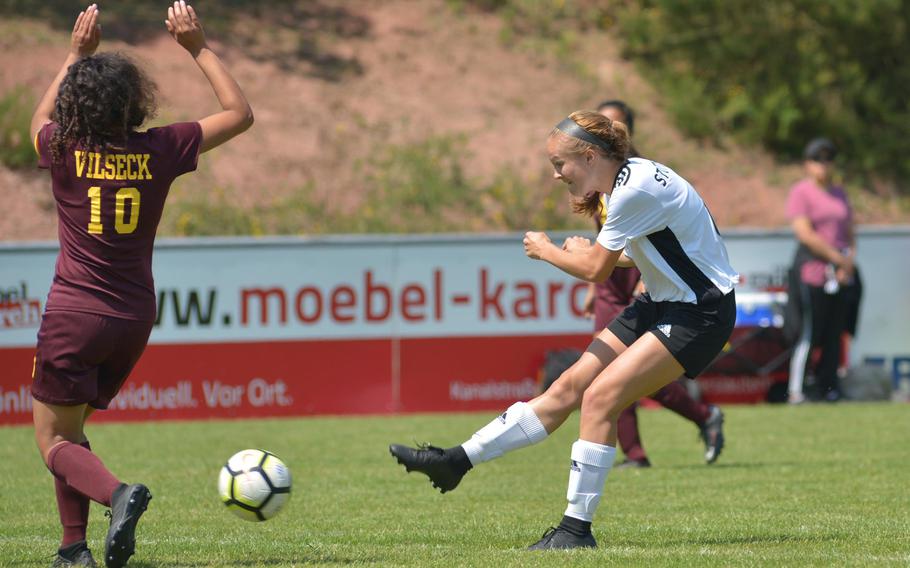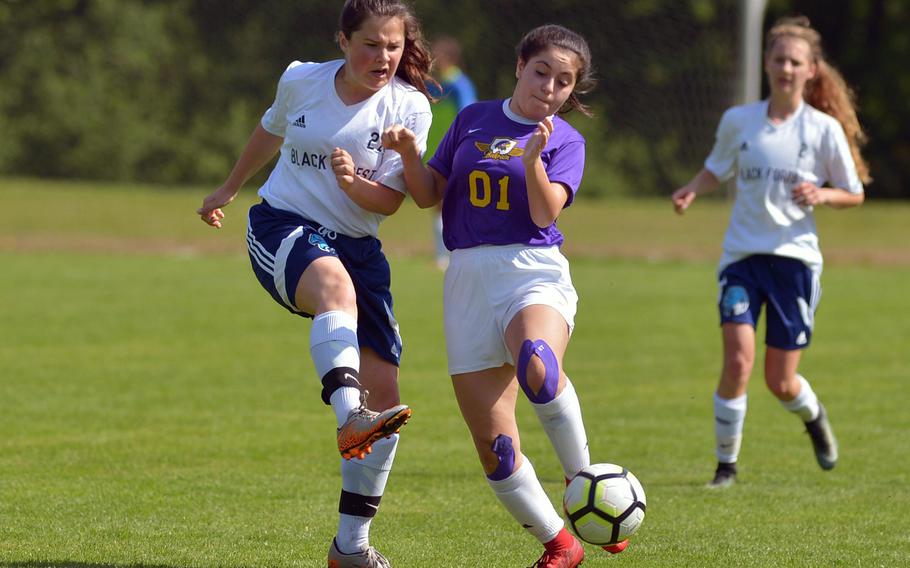 WIESBADEN, Germany — Traditional girls' powers find themselves in a familiar position after Day 1 of the 2018 DODEA-Europe soccer championships.
Last year's Division I champion Wiesbaden won its two matches without giving up a score, while Ramstein thrashed rival Kaiserslautern 8-1 in its only game of the day. 2017 runner-up Stuttgart looked clinical in a 4-0 takedown of Vicenza and Naples scored five in a shutout against SHAPE.
Those four teams look to be in pole position for the semifinals Wednesday, but anything can happen Tuesday.
In Division II, top-seeded Rota defeated Aviano 5-0, and the Admirals need that form to continue into Tuesday, where they'll face an impressive Spangdahlem team – last year's Division II champion, which dispatched American Overseas School of Rome 5-1 on Monday afternoon.
Elsewhere, Bahrain surprised second-seeded Marymount with a gritty 1-0 win after falling 2-1 to Black Forest Academy, which in turn later defeated AFNORTH 3-0.
In Division III action, defending champion Alconbury topped Sigonella 3-0, while Baumholder and Brussels went to penalty kicks – which Baumholder won. Sigonella was able to restore some pride with a 1-0 win over Hohenfels. Tuesday will feature five round-robin games, Sigonella against Baumholder among them.
Kaiserslautern 2, SHAPE 0: A relatively low-scoring affair – both teams' first game of this years' tournament – turned on several key minutes in the second half.
First, SHAPE's Jennifer Kacher was brought down in the box by a Kaiserslautern defender, leading to a penalty kick. Raiders goalie Jaymie Bulley saved Abigail Ganzemuller's shot, however, and just minutes later Kalin Olsen put Kaiserslautern ahead.
Eleana Rodriguez added an insurance goal from a tight angle later in the half and SHAPE was unable to respond.
"I think during the game we did really well, we were working on possession and had a lot of shots," said Olsen, who went off with a minor injury but hopes to return for Tuesday's games. "They just weren't going in, but thankfully we got those two goals in the end."
She admitted the penalty award was initially nerve-wracking.
"I had a mini heart attack," Olsen said. "I was freaking out, but when our goalie blocked it I was so happy."
Kaiserslautern later lost heavily against rival Ramstein 8-1 and will play its final pool game against Naples on Tuesday morning, while SHAPE fell to Naples 5-0 and will take on Ramstein on Tuesday.
Stuttgart 4, Vilseck 0: Stuttgart, last year's runner up and top contender for another finals berth this season, showed off its tactical flexibility against Vilseck, which despite a strong early defensive performance eventually succumbed. The Panthers were paced by the midfield pair of Camille Pereira and Annika Seifart and the energetic wing play of Emily Smith.
"Our core game is in the middle, because it connects everything," Pereira said. "We also try and make space – Vilseck, their goal was to shut down the middle, so that's what they were giving us."
The Panthers consistently were able to find through balls for Smith and other wingers, whose crosses were always dangerous. Their second goal of the game, a cross from Mara Bartell to Natalie Eddy, came via a cross. Seifart scored a pair and Pereira added another to pad the scoresheet for the Panthers, who look in good form early in the tournament.
"It would mean everything (to win the championship)," Pereira said. "There are a lot of girls leaving this year, and I want nothing more than to become champs."
Bahrain 1, Marymount 0: In something of an upset, a young Bahrain squad surprised the second-seeded Royals through a looping header late in the game by senior Valentine Lucas, which lingered in the air seemingly forever before finally going in via the post.
The Falcons were then able to grind out the game's final minutes and keep the shutout courtesy of a good late save by goalie Natalya Wilson.
"I just saw the ball and knew I wasn't going to be able to get it with my torso, so I just thought I'd head it… I just sprinted to the ball," Lucas said. "I was really nervous but then so excited when it went in."
Marymount started strongly, looking to exploit the speed of forwards Lucia Loyola and Arna Mathiesen, but the Bahrain defense, led by Christina Carpenter-Lopez, was stingy.
Bahrain is always a bit of a wild card because it has a unique regular season and doesn't face DODEA-Europe opposition until the championships, but Lucas said despite the long flight, she and her team are happy to be here.
"It took us 12 hours to get here, so we were all very tired," she said. "But coming here is an honor and we love representing our school, especially as there aren't many opportunities where we live in Bahrain, because it's so small."
Spangdahlem 5, AOSR 1: If Bahrain's win was a surprise, there wasn't much of a shock with the way Spangdahlem dismantled the American Overseas School of Rome, scoring early and often to win 5-1 behind a hat trick from Emma Passig and a goal apiece from Ava Bohn and Chloe Smith.
The Sentinels won last year's Division II crown, playing as Bitburg in the final year before moving to the new Spangdahlem High School nearby.
"Our quick passes, our speed – it's a new team but it's really developed over the course of the season and it's really exciting to see it finally come together," said midfielder Amanda Zubowicz, who had a pair of assists.
Zubowicz is the team's only senior, but despite the team's relative inexperience, she thinks the Sentinels can go all the way if they play their cards correctly.
"We have the potential to reach whatever we want, honestly," she said. "I'm just excited to continue to get better and better and hopefully reach the championship."
Twitter: @DKS_Stripes