Top seeds will meet with titles on the line
---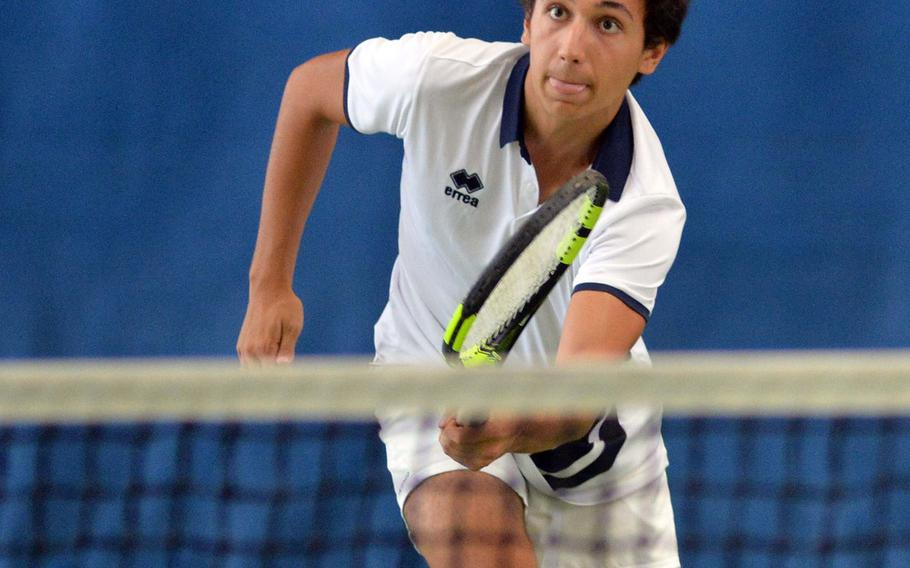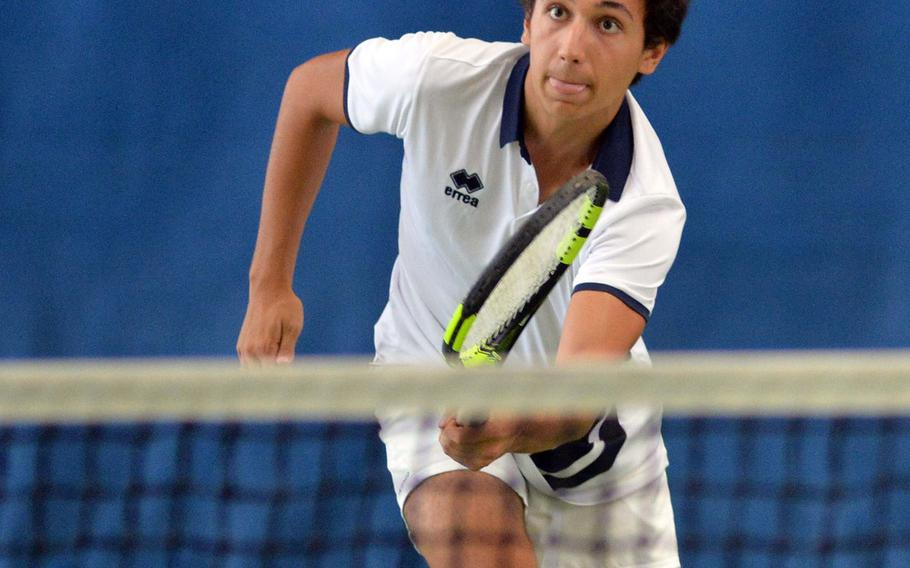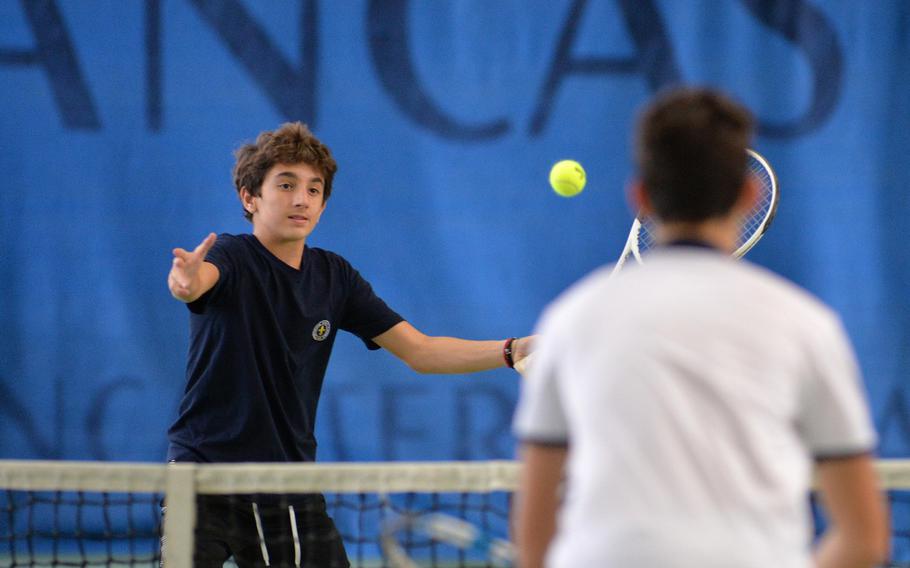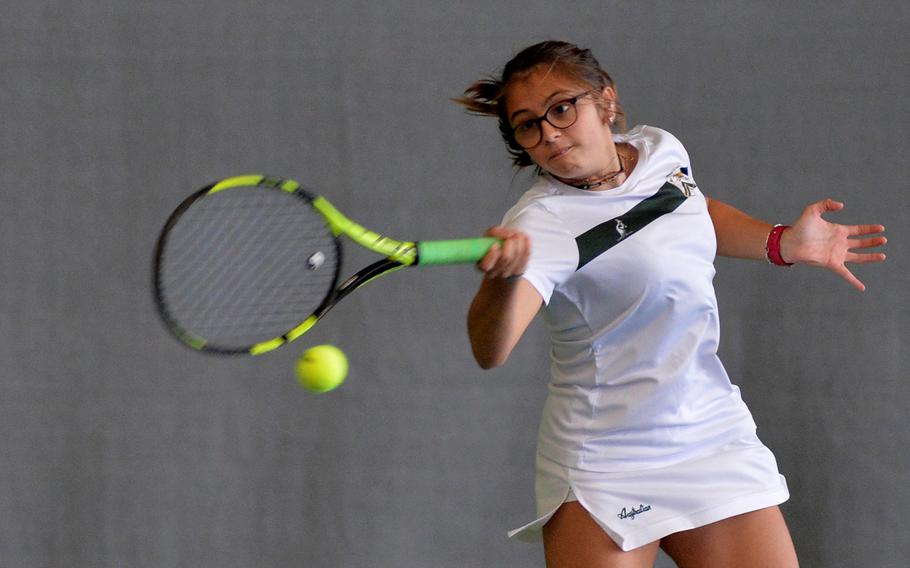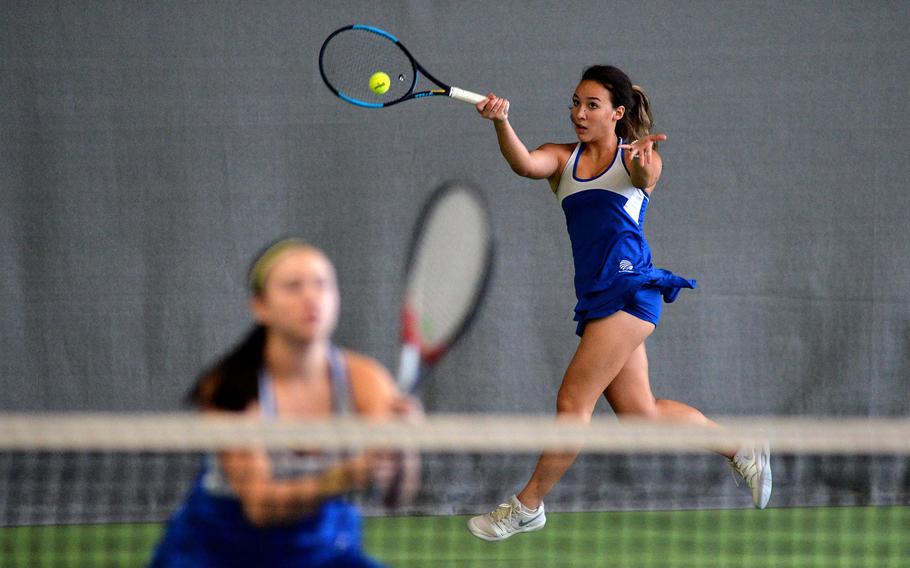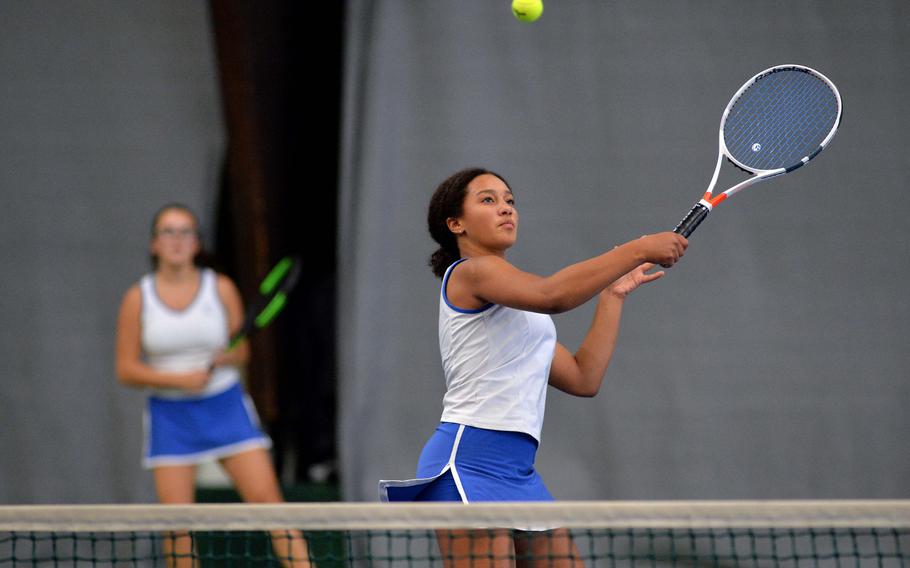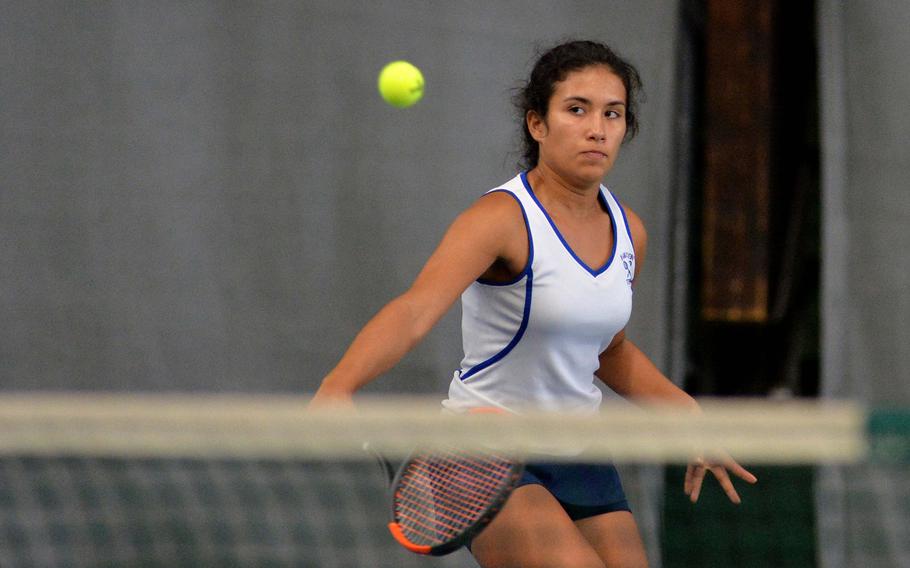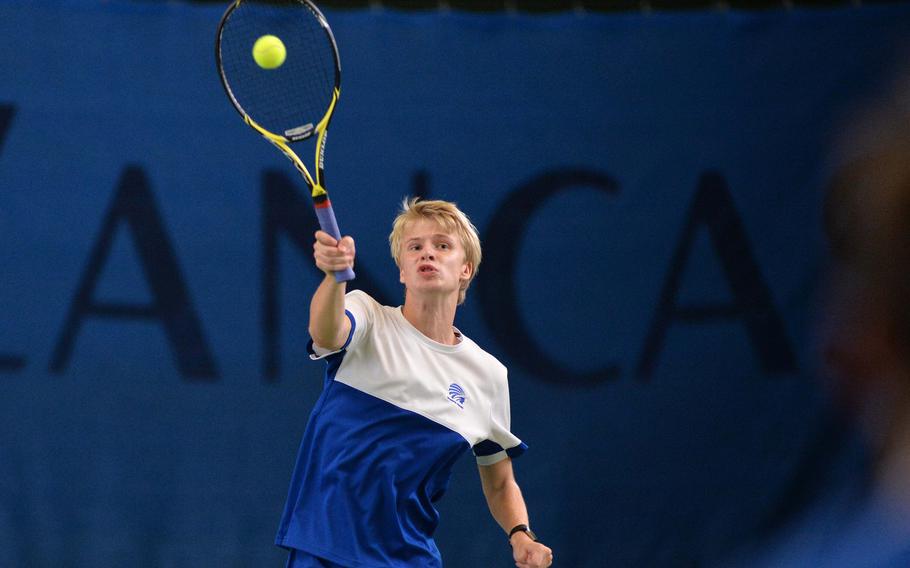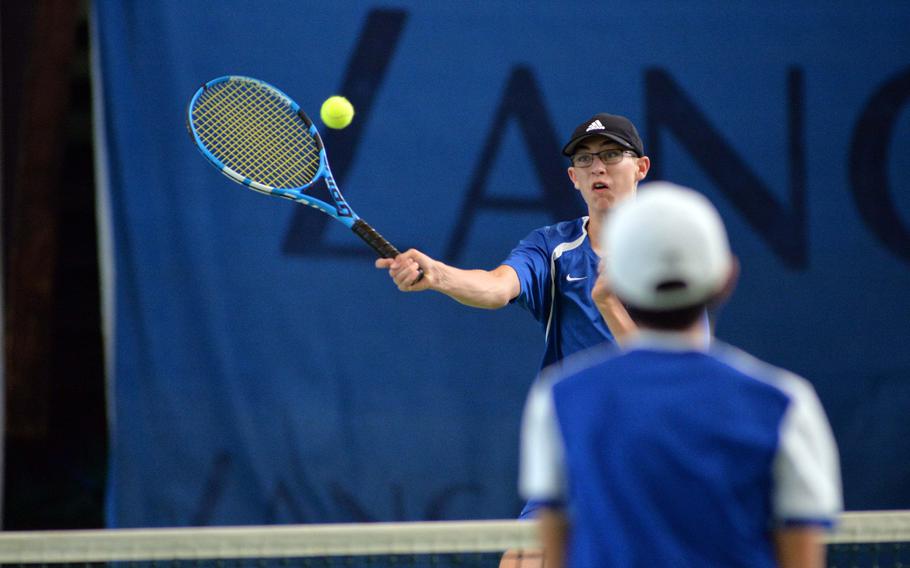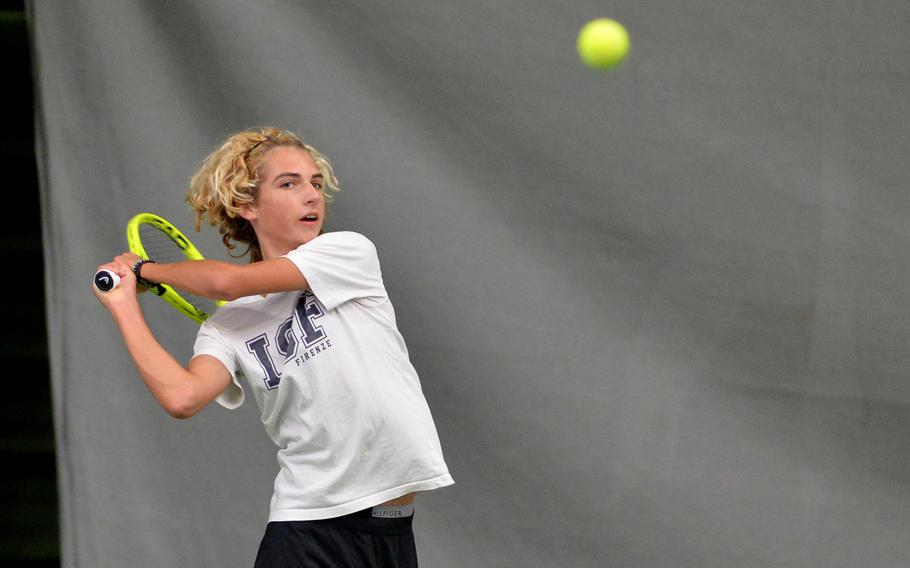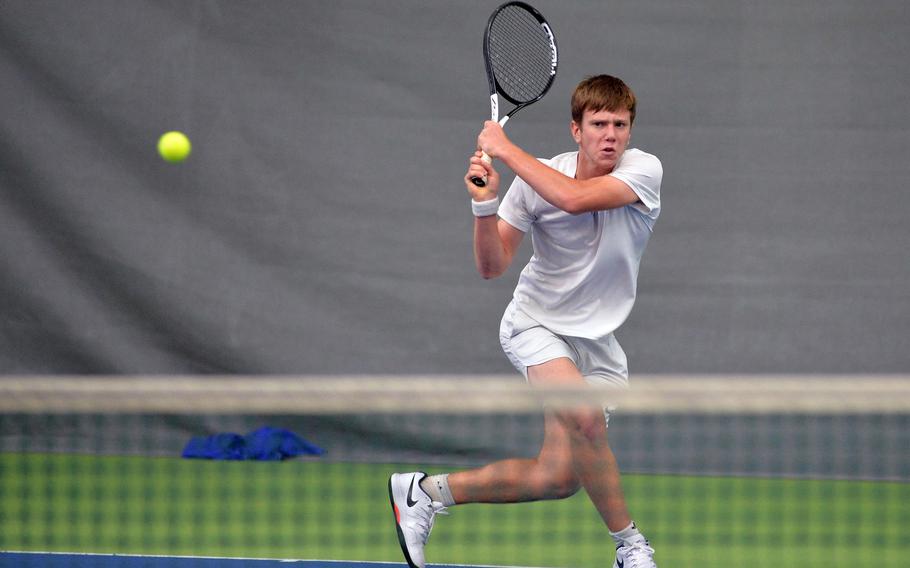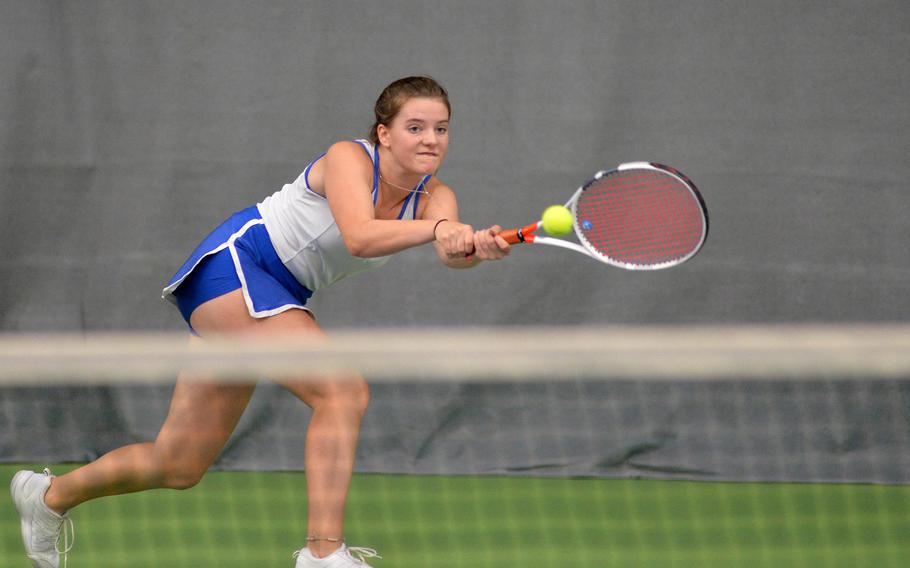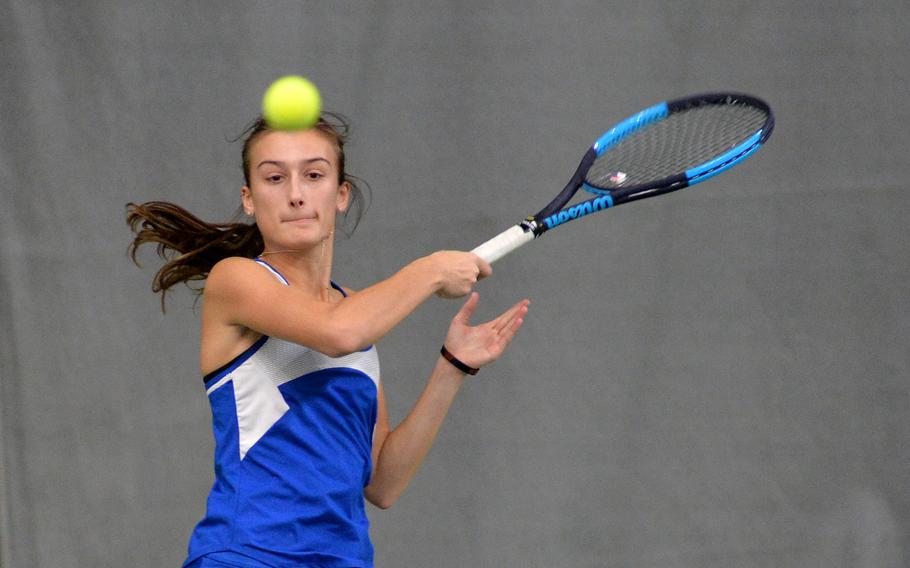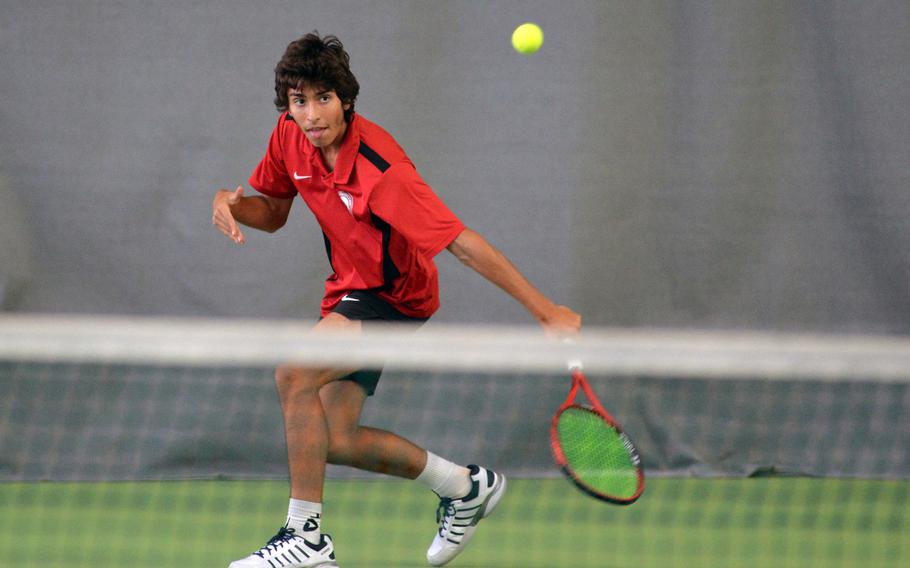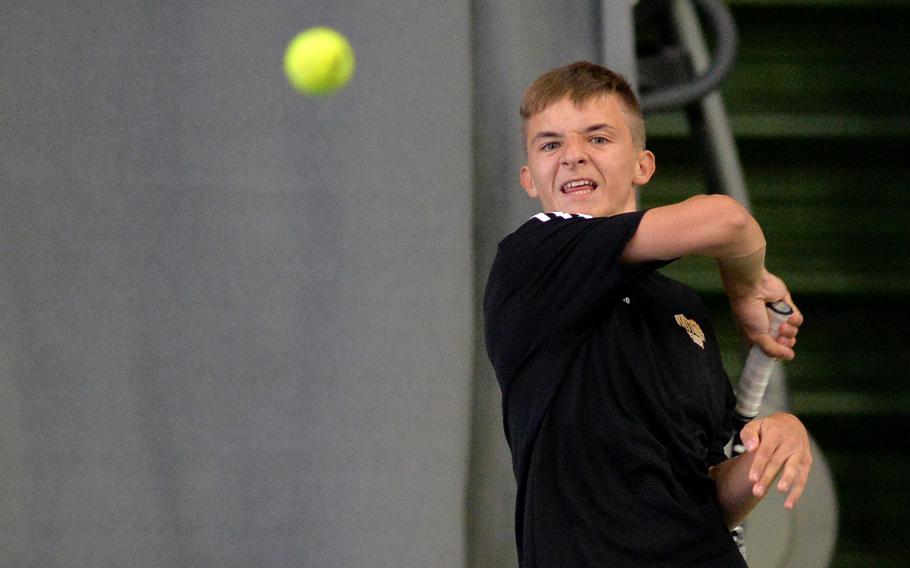 WIESBADEN, Germany — The finals are set in the 2019 DODEA-Europe tennis championships after a flurry of concurrent Friday afternoon semifinal matches.
Reigning champions Aiva Schmitz of Kaiserslautern and Amar Tahirovic of Stuttgart will defend their singles titles in Saturday's championship matches. Schmitz will take on Wiesbaden's Charlotte Kordonowy in a rematch of last year's European final, while Tahirovic will take on Marymount's Marco Garofalo.
The girls doubles finals will pit Wiesbaden's Hope Goodwin and Jordan Bennett against Ramstein's Dougie Allison and Isabella Guzaldo.
Ramstein's Colin Kent and Troy Boehne will face Pietro Reali and Brando Fabri-Corigliano of Florence for the boys doubles crown.
Girls singlesThe anticipated rematch between reigning champion Schmitz and top overall seed Kordonowy was arranged in short order Friday. Schmitz handled Marymount's Priscilla Ago 6-0, 6-1, while Kordonowy knocked off Ramstein's Kassianna Von Eicken 6-0, 6-3.
Schmitz bested Kordonowy 7-5, 6-1 to claim a European title as a freshman. But Kordonowy earned a measure of revenge this fall, beating Schmitz 6-1, 6-3 in a September regular-season meeting. That result hasn't affected the reigning champ's confidence.
"I'm going to play my game and play to my strengths," Schmitz said Friday. "A big part of it is that I believe that I can do it. And so I'll go into it positive."
Schmitz said her second European tournament has been a far different experience than her remarkable debut of a year ago.
"This year I can definitely feel a lot more pressure than I did last year," Schmitz said while emphasizing that she's still "having fun" under the new circumstances. "Last year I was a freshman and everyone kind of underestimated me. This year everyone knows me and has certain expectations."
Boys singlesStuttgart sophomore Tahirovic made quick work of his semifinal opponent in a 6-1, 6-0 defeat of American Overseas School of Rome's Guido Plebani. But it took quite a while to identify his next opponent.
Garofalo outlasted Florence's Robert Been 6-7, 7-6, 6-4 in an epic match that lasted well over an hour after all of the seven other semifinal matches had concluded.
While his results are pretty much the same as last year's dominant run to the final, Tahirovic said this year's European tournament field is a more impressive group overall.
"There are many different players this year, and better ones, I think," Tahirovic said.
A challenge from Garofalo, his eventual finals opponent, in Thursday's preliminary round put Tahirovic under some amount of pressure, though he won that match in 6-1, 6-3 fashion. Tahirovic said that mild scare taught him to "be constant" with his game.
"I learned from that to not stop how I'm playing," Tahirovic said.
Girls doublesGoodwin and Bennett formed their doubles team just this season and have spent the last few months developing chemistry and teamwork. Needless to say, it's going well.
The Warrior duo defeated Marymount's Eri Ishi and Francesca Buonpensiere 6-1, 6-3 to advance to the European final.
"I think her and I play really well together and we get along great," said Bennett, a senior, of her alliance with her hard-hitting sophomore partner. "I think we played as well today as we would have if we'd known each other five years."
The other semifinal saw Ramstein's two participating doubles teams go head-to-head for a finals berth. Allison and Guzaldo outlasted classmates Madalin Svan and Lydia Woodfork for a highly competitive 6-4, 7-5 victory.
Wiesbaden is looking for a repeat as girls doubles champions after Melissa Pritchett and Shelby Albers took the title a year ago.
Boys doublesKent and Boehne overcame a rough first set and relentless pressure from Wiesbaden rivals Benjamin Petrik and Yumin Kim to advance to the final with a 1-6, 6-4, 6-4 victory.
Kent was complimentary of the Warriors' strong play at the net and consistent serving, saying that both teams "all around played really well."
The Royals, he said, had to dig deep to earn the win.
"It was all because we just kind of put our hearts in it, started moving our feet, ran for it," Kent said. "I guess that's how we took the game."
The Florence team of Reali and Fabro-Corigliano took a clean 6-4, 6-2 decision over Marymount's Sergio Nogales and David Lopez Post.
broome.gregory@stripes.com Twitter: @broomestripes
---
---
---
---